Wyloo Metals wants to sweep the board clean at Noront Resources – SooToday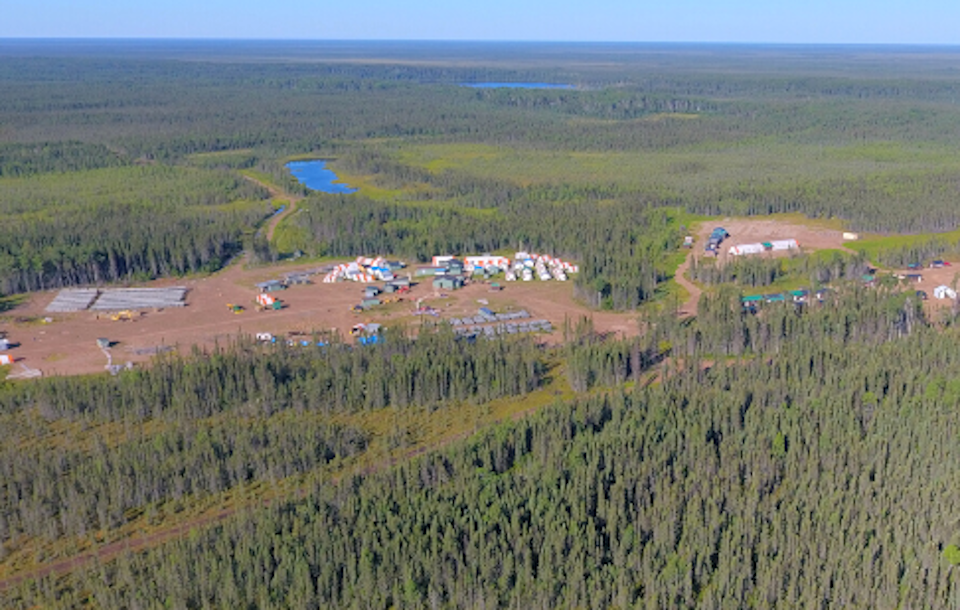 The Ring of Fire is now a hands-on project for Australian mining magnate Andrew Forrest.
Wyloo Metals, a subsidiary company of Forrest's Tattrarang private investment outfit, is promising new leadership to bring the promise of the James Bay mineral belt to reality as part of its takeover bid of Noront Resources.
In its latest pitch to Noront investors, Perth-headquartered Wyloo wants to clean house at Noront and appoint Forrest as chair of a new board of directors.
While in the early stages of a bidding war with rival BHP, Wyloo issued a new acquisition offer to Noront shareholders on Aug. 30 to acquire the Toronto junior miner's assets in the remote mineral belt 500 kilometres north of Thunder Bay.
In its news release, Wyloo said Forrest intends to "replicate" his success with Noront's Ring of Fire projects just as he did at Fortescue Metals in Western Australia, turning a junior mining company into a $65-billion mining giant in the process.
"After years of little progress, it's understandable that shareholders have lost hope in Noront," said Forrest, who vowed to overcome the infrastructure challenges in the Far North much like his company accomplished 17 years ago to open up the Pilbara region to iron ore production.
"We proved the critics totally wrong and we want to the same in the Ring of Fire," said Forrest.
Privately-held Wyloo is Noront's largest shareholder at 23 per cent and intends to increase that to 37 per cent shortly by converting a US$15-million convertible loan note into shares.
At $0.70 in cash per share,Wyloo said their latest offer to Noront shareholders represents a 192 per cent markup to Noront's closing price on May 21 and a 27 per cent premium to BHP's $0.55 per share take-over bid price.
Noront shareholders will have the option of either selling their shares or holding onto them and, in Andrew Forrest's words, "come along for the ride."
Luca Giacovazzi, the head of Wyloo, echoed the sentiment of his boss in an interview with Northern Ontario Business; Noront, in his eyes, has accomplished very little since the discovery of the flagship Eagle's Nest deposit more than 10 years ago.
"If you look at it, the company's made very little progress, especially when we first made our investment in the company (last December). For us, that's a clear indication there needs to be a change at the leadership level and that's why we've proposed an alternative board."
Since coming aboard as Noront's largest shareholder late last year, Wyloo's relationship with Noront began to sour in the following months.
It was learned that Noront was in discussions with BHP about a partnership opportunity surrounding Noront's largely untapped greenfield properties in the Ring of Fire. A strategic exploration alliance was being considered that would make BHP a 19.9 per cent equity investor with cash-strapped Noront.
Wyloo wouldn't grant permission to that partnership.
Want to read more stories about business in the North? Subscribe to our newsletter.
Giacovazzi said it spurred Wyloo to make an all-out offer to acquire Noront's assets, the most prized possession being the Eagle's Nest high-grade nickel deposit.
"They (Noront) put us in a very difficult position. Instead of seeing our value eroded, we decided to make that intention toward a bid."
In April, Giacovazzi said he was informed by Noront CEO Alan Coutts that BHP had approached them to "farm out" their exploration assets for $25 million.
"We obviously see huge potential in the Ring of Fire and would love to be part of that story…and to sort of be confronted with that board wanting to just give away…
"The way I describe it is, they had stars in their eyes and it was very hard to shake them from doing this deal with BHP."
He accuses the current Noront board of creating a "roadblock" in denying them access to due diligence information in order make a better offer to shareholders. Giacovazzi said what they know of the actual value of Noront's projects is based on information that's in the public domain.
In siding with BHP's offer, Noront replied earlier this month it's customary for two parties to enter into a confidentiality agreement, something that Wyloo has declined to do.
Wyloo counters the confidential agreement contains an unacceptable standstill clause preventing them from making initial and subsequent offers to shareholders.
The ultimate prize for Wyloo and BHP is Eagle's Nest, regarded as one of the best undeveloped nickel sulphide deposits in the world.
It contains a proven and probable 11,131,000-tonne reserve of nickel, copper, platinum and palladium with an 11-year mine life, according to a 2012 feasibility. But that's only scratching the surface since the majority of Noront's 156,000-hectare land package hasn't come close to being fully explored, largely due to a lack of exploration capital.
Sign up for the Sudbury Mining Solutions weekly newsletter here.
Mine production is tentatively scheduled for 2026, the goal posts pushed back again due to delays in the start of the environmental assessments (EA) for a 300-kilometre north-south access road. The EA's are supposed to be completed by the end of 2023, immediately followed by a 30- to 36-month construction period of the roads, slated to start in early 2024.
"We've got a strong view on the geology," said Giacovazzi, "and we'd like to be able to verify that, but we'd also like to be able to see how the company's progressed with road development, the discussions they've had with First Nation communities and the agreements they've entered into with the host communities."
Giacovazzi said Wyloo wants to take a deep dive into any project-related studies Noront has completed and wants to review historical exploration data that Noront inherited when they acquired the Cliffs Natural Resources claims and exploration camp in 2015.
He didn't express any difficulty with Noront's exploration strategy, it's more a case of the lack of actual on-the-ground activity due to the lack of financing.
"When you say, are we happy with how they've gone about exploration, I almost say, what exploration? Because they've done very little over the last couple of years.
"For us, that's where we come with a different mentality, we want to put our energy in and resources behind progressing the Ring of Fire, there will be more discoveries. It is hugely prospective, which is why BHP is interested in the area."
Giacovazzi said if shareholders choose Wyloo, they'll see a company with a different management style as evidenced by their concept to develop Eagle's Nest as a zero emissions mine, award $100 million in contracts to First Nation businesses, and devote $25 million to study battery metal processing opportunities in Ontario.
"We want to see this to be a success," said Giacovazzi, "and there's no stronger endorsement than our chairman offering to step forward to chair Noront."
"I don't think I can stress enough the energy that Andrew will bring to the project is immense. He's been hugely successful at Fortescue (Metals) and he's going to bring that same mentality to Noront."
On the First Nations consultation front, Giacovazzi said they regret not being having a team on the ground for face-to-face discussions, but the pandemic has prevented them from flying to Canada.
"That's probably the biggest shame out of this whole process, that we've had to do everything virtually. He urges their Indigenous partners to ignore the noise and focus instead on building the relationship.
"We will always approach our First Nation partners with a lot of respect and lot of patience. Building our relationship with them is the most important thing to us. We're trying not to let the whole BHP-Wyloo bidding situation intervene with the conversations we're having with them. "
GM extends EV Bolt production halt to mid-October
WASHINGTON (Reuters) –General Motors Co said on Thursday it will extend a shutdown of a Michigan assembly plant to mid-October following a new recall of its Chevrolet Bolt electric vehicles over battery issues after 12 reported fires.
The largest U.S. automaker said the extension of the production halt at its Orion Assembly plant will go through at least Oct. 15. GM also said it was cutting production at six other North American assembly plants because of the ongoing semiconductor chips shortage.
GM said it will not resume Bolt production or sales until it is satisfied that the recall remedy will address the fire risk issue. It said Thursday it had reports of 12 fires and three injuries.
GM shares were largely unchanged in late trading.
GM in August widened its recall of the Bolt to more than 140,000 vehicles to replace battery modules, at a cost now estimated at $1.8 billion. The automaker said it would seek reimbursement from battery supplier LG.
It is not clear how long it will take GM to obtain replacement battery modules for recalled vehicles and whether it will have diagnostic software that will allow it to certify some modules do not need replacing.
GM said the additional three-week production halt at its Bolt plant comes as it continues "to work with our supplier to update manufacturing processes."
Earlier this month GM was forced to halt production at most North American assembly plants temporarily because of the chips shortage.
The new production cuts include a Lansing, Michigan, plant that builds the Chevrolet Traverse and the Buick Enclave.
GM is also cutting production of SUVs like the Chevrolet Equinox, Blazer and GMC Terrain at plants in Mexico and Canada. It will also make further production cuts at Michigan and Kansas plants that make Chevrolet Camaro and Malibu cars.
The Commerce Department said on Wednesday it plans a Sept. 23 White House meeting with automakers and others "to discuss the ongoing global chip shortage, the impact the Delta variant has had on global semiconductor supply chains and the industry's progress toward improving transparency."
(Reporting by David Shepardson; Editing by Dan Grebler)
Present Yourself as a 'No Brainer' to Hire
A few jobs back, HR had scheduled four interviews, throughout my day, for a position I had open. The first interview went "okay." The second candidate, however, impressed me so much I hired him on the spot. I instructed HR to cancel the remaining two interviews.
The second candidate did something I rarely see—they presented themselves as a 'no brainer' to hire.
How?
Their resume was result-oriented (Not a list of opinions — "I'm a team player," "detail-oriented," "hard-working," etc.).
They dressed as if they were already employed with my company. (In this case, a global multi-brand tour operator.)
They clearly articulated their value.
They told me several STAR (Situation. Task. Action. Results.) stories I could envision and relate to.
If your resume (skills and experience) impressed the employer, and after reading your LinkedIn profile to determine if you're interview-worthy, you'll be invited to an interview—the first most likely being via Zoom or Skype.
Impressing someone on paper and via your LinkedIn profile has its challenges, especially since you're competing against many other candidates just as qualified as you. However, where the rubber meets the road is when you're sitting face-to-face with the hiring manager.
Presenting yourself in a way your interviewer can envision you fitting with the company's culture and the current team, as well as gives them confidence you'll hit the ground running, will substantially increase your odds of receiving a nod of approval.
Regardless of whether you're interviewing via video, sitting in a boardroom, a coffee shop or the interviewer's office, focus on the following:
Your attire
Your body language
Articulating how you meet the employer's needs and will solve the problems the position exists to solve
Being mindful of your interviewer's time.
As I've mentioned in a previous column, being deemed "a fit" supersedes your experience and qualifications. Your image is paramount in giving the impression you're "one of them."
Make sure your attire is in line with the company culture. Obviously, this will differ from company to company, as well as between industries. If you're interviewing for a position in a bank or insurance company, formal attire, even in 2021, is appropriate, such as a business suit, shirt, and tie. On the opposite end of the spectrum, casual clothing, even jeans and sneakers, can be acceptable if you're interviewing with a design studio or tech start-up. The key is to dress as if you already work for the employer.
Body language.
Your body language, along with your words, greatly influences the first impressions someone has about you.
If you're seated, say in the reception area, stand to greet your interviewer. Firmly shake your interviewer's hand, or each member of your interview panel, while maintaining a broad smile and steady eye contact. Say something along the lines of, "Nice to meet you, Alice." Remember your interviewer's name and use it naturally throughout your interview. Maintain eye contact during the interview. This shows your interviewer(s) you're engaged in the conversation. Speak in a clear and audible voice. Your posture can portray you as arrogant, so be conscious of the way you sit or stand. During the interview, display a natural body language with relaxed shoulders and open arms by your side.
Articulate how you meet the employer's needs. 
This is where you solidify, you're a 'no brainer' to hire. 
If you're interviewing with the person you'd be reporting to, keep this piece of human psychology in mind: A person is more likely to want to build a relationship with you if you understand their situation, problems, and goals.
Start with the job description. Now that you've landed an interview, refer to the job description, paying close attention to job qualifications and duties.
Have STAR stories ready regarding specific situations in which you used each of these skills. Try to keep your STARs short and vivid. The best STAR ever said to me: "I sold Corvettes in Las Vegas." (Yes, I hired the person.)
Be mindful of the time.
Always be punctual for your scheduled interview time! Being punctual is a sign of being a professional, as well as respect for the other person. Stick within the time frame your interview was scheduled for. (usually 45 minutes to 1 hour)
In 2021 employers are looking for candidates who'll mesh with their workplace culture. Showing you belong will go a long way in making yourself a 'no brainer' to hire.
______________________________________________________________
Nick Kossovan, a well-seasoned veteran of the corporate landscape, offers advice on searching for a job. You can send him your questions at artoffindingwork@gmail.com.
Kansas City Southern terminates deal with CN, opting to merge with CP Rail – Yahoo Canada Finance
Canadian National Railway said Wednesday that Kansas City Southern has terminated its merger agreement, bringing an end to the takeover battle between it and rival Canadian Pacific Railway.
CN (CNR.TO) said in a statement released Wednesday morning that KCS (KSU) will pay the railway a US$700 million termination fee as a result of the failed agreement. KCS will also refund CN the US$700 million break fee it received from the railway after it terminated its agreement with CP. (CP.TO)
CN chief executive J.J. Ruest said in a statement that while the company is disappointed the deal will not come into fruition, the decision to bid for KCS was "a bold and strategic move that still resulted in positive outcomes for CN."
"We believe that the decision not to pursue our proposed merger with KCS any further is the right decision for CN as responsible fiduciaries of our shareholders' interests," Ruest said.
"CN will continue to pursue profitable growth and opportunities for excellence as a leading Class I railroad, and we look forward to outlining more details on our strategic, operational and financial priorities in the near future."
CN's bid was dealt a major blow after the U.S. Surface Transportation Board (STB) rejected the use of a voting trust that would allow the company to hold and operate KCS while it waited for additional regulatory approvals. CN's decision not to raise its offer for the U.S. railway now paves the path for a merger between the KCS and its rival CP, who originally proposed merging with the railway in March.
KCS said Wednesday it has re-entered a merger agreement with CP, which will cover the US$1.4 billion in break frees owed to CN. CP, which has received approval for its voting trust from the STB, has agreed to acquire KCS in a stock-and-cash transaction valued at US$31 billion, including US$3.8 billion in debt. If shareholders approve the transaction, the deal would result in the first railway in North America connecting Canada, the U.S. and Mexico.
"By combining, we will unlock the full potential of our networks and our people while providing industry-best service for our customers," CP chief executive Keith Creel said in a statement on Wednesday.
"This perfect end-to-end combination creates the first U.S.-Mexico-Canada rail network with new single-line offerings that will deliver dramatically expanded market reach for CP and KCS customers, provide new competitive transportation options, and support North American economic growth."
Shareholder blowback
CN has come under fire from one of its biggest shareholders over its decisions to bid for KCS. TCI Fund Management, a U.K.-based hedge fund, has called for Ruest to be replaced, as well as several board members. This week, TCI unveiled its proposed replacements, saying that a new board of directors will "help ensure CN is put on the right track."
"The bid for KCS exposed a basic misunderstanding of the railroad industry and regulatory environment," TCI founder Christopher Hohn said in a statement.
"The board consistently misjudged the STB and displayed flawed decision making, committing billions of dollars to an ill-conceived pursuit of an unattainable asset. CN should focus on getting better rather than bigger."
Alicja Siekierska is a senior reporter at Yahoo Finance Canada. Follow her on Twitter @alicjawithaj.
Download the Yahoo Finance app, available for Apple and Android.