Xiaomi Announces the Mi 11: First Snapdragon 888 Device – AnandTech
Today Xiaomi held the Chinese launch announcement of the new Mi 11 – the company's new mainstream flagship phone for 2021. The new phone features a new super-high-end OLED screen that ticks off every checkmark feature that you'd expect from a 2021 design, including 1440p resolution and 120Hz refresh rates, features the new Snapdragon 888 SoC at its heart – as well as comes in a new thinner, lighter, and more stylish industrial design compared to its predecessors.
Xiaomi Mi Series
Mi 10
Mi 11
SoC
Qualcomm Snapdragon 865
1x Cortex-A77 @ 2.84GHz
3x Cortex-A77 @ 2.42GHz
4x Cortex-A55 @ 1.80GHz

Adreno 640 @ 587MHz

Qualcomm Snapdragon 888
1x Cortex-X1 @ 2.84GHz
3x Cortex-A78 @ 2.42GHz
4x Cortex-A55 @ 1.80GHz

Adreno 660 @ 840MHz

DRAM
8GB LPDDR5-5500
8/12GB LPDDR5-6400
Display
6.67″ AMOLED
2340 x 1080 (19.5:9)

90Hz Refresh

6.81″ AMOLED
3200 x 1440

120Hz Refresh

480Hz Touch
HDR10+ / 10-bit panel

Size
Height
162.58mm
164.3mm
Width
74.80mm
74.6mm
Depth
8.96mm
8.06mm
Weight
208g
196g
Battery Capacity
4780mAh (Typical)

30W Charging

4600mAh (Typical)

55W Charging

Wireless Charging
30W
50W
Rear Cameras
Main
108MP 1/1.3″ 0.8µm
4:1 Binning to 27MP / 1.6µm

f/1.69 w/ OIS

108MP Module

f/1.85 w/OIS

Telephoto
–
5MP

50mm eq.
f/2.2

Extra
Telephoto
–
–
Ultra-Wide
13MP 1.12µm

f/2.4
117° FoV

13MP

f/2.4
123° FoV

Extra
2MP Depth Camera

2MP Macro Camera

–
Front Camera
20MP 0.8µm
f/2.3
f/2.2
Storage
128 / 256GB
UFS 3.0
128 / 256GB
I/O
USB-C
Wireless (local)
802.11ax (Wifi 6),
Bluetooth 5.1
Cellular
4G + 5G NR NSA+SA Sub-6GHz
Special Features
Under-screen fingerprint sensor
Full-range stereo speakers
Splash, Water, Dust Resistance

No rating

Dual-SIM
2x nano-SIM
Launch OS
Android 10 w/ MIUI
Android 11 w/ MIUI
Launch Price
8+128GB: 799€
8+256GB: 899€
?
At the heart of the new Mi 11 lies the new Qualcomm Snapdragon 888 SoC. The new 5nm chip is the first to use Arm's new Cortex-X1 cores, with Qualcomm also claiming large GPU performance boosts this generation. What's more different from the previous Snapdragon 865 flagship design is that the new S888 reverts back to a monolithic SoC design that integrates the 5G modem back into the SoC – in turn this means that there's more PCB component space in available inside the phone and vendors can optimise their designs better.
The new Mi 11 also features either 8GB or 12GB of the new LPDDR5 memory at its full 3200MHz speed (6400MT/s), and comes in either 128GB or 256GB storage variants, although we're missing details on the specifications of the modules used here.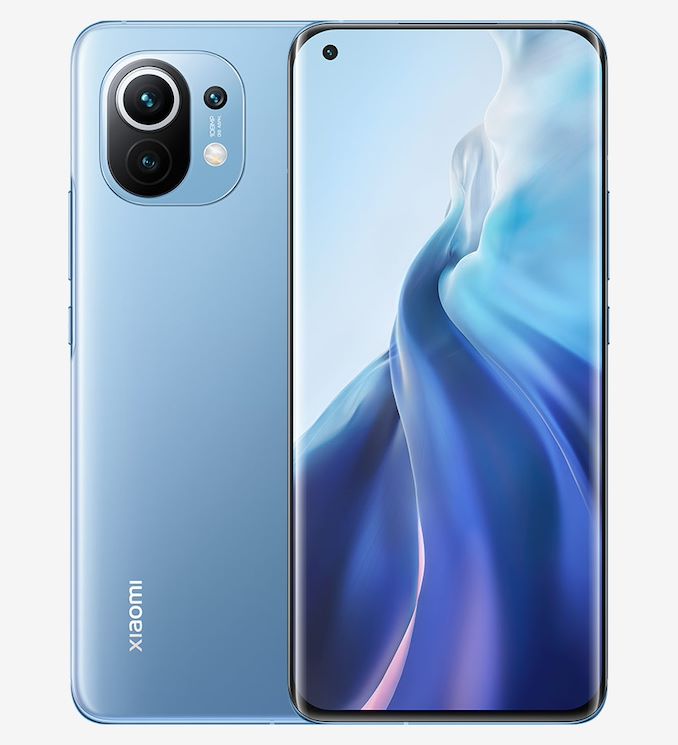 The new Mi 11 also features either 8GB or 12GB of the new LPDDR5 memory at its full 3200MHz speed (6400MT/s), and comes in either 128GB or 256GB storage variants, although we're missing details on the specifications of the modules used here.
In terms of design, the new Mi 11 is quite a departure from the Mi 10, being a much sleeker device than its predecessor. Xiaomi has been able to reduce the bezels of the device on all sides, still using a curved front and back glass design that fits well into your palms. The new design is actually 0.9mm thinner than its predecessor, now coming in at 8.06mm, and also shaves 12g off its weight at 196g – still relatively heavy, but not as much as its predecessor.
The most exciting feature of the Mi 11 has to be the new OLED screen. It's grown a bit compared to its predecessor, filling in the space in place of the bezels, going from 6.67" to 6.81", but the most important aspect of the phone is the fact that this is now a QHD class resolution at 3200 x 1440 – a first from Xiaomi OLED screen and a resolution we haven't seen used by the company since back in the LCD days.
Furthermore, this is a bleeding-edge display, featuring a 120Hz refresh rate, and is advertised as being a new generation 10-bit panel that also features up to 8192 brightness levels – pointing out to a new generation DDIC. The panel also is advertised as using a new next-generation emitter material, and Xiaomi claims it goes up to 1500 nits brightness, which is a notch above what we've seen from 2020 phones.
Lastly, like a cherry on top of the cake, the panel features a staggering 480Hz touch input rate, which is the highest we've heard of in the mobile industry, and hopefully results in outstanding touch input and scrolling fluidity.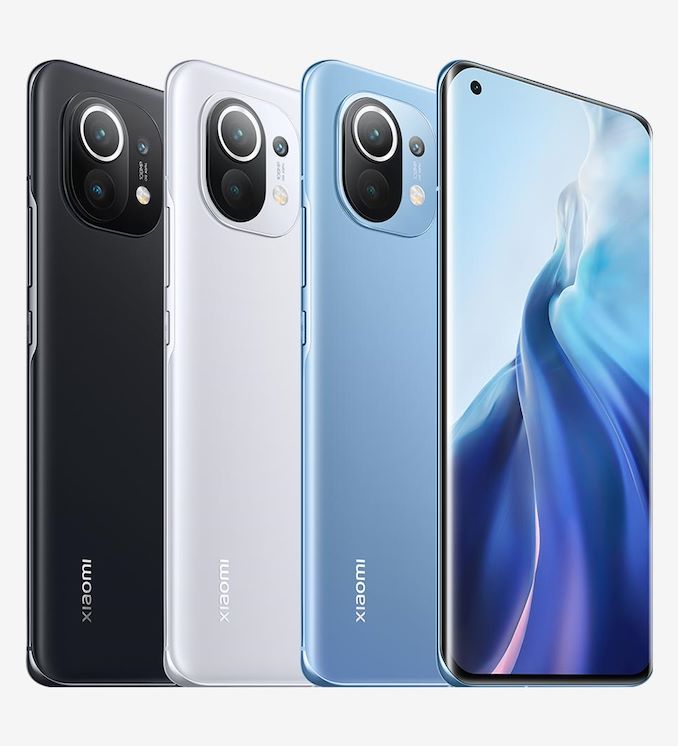 Other features of the new design includes a redesigned camera setup, which transitions from a completely vertical camera arrangement to a new rounded square element with three camera modules.
Instead of having a large camera bump edge and a single glass element protecting the whole camera arrangement, Xiaomi uses a three-step glass element, each thicker than the other, protecting the three cameras modules. It looks quite interesting and gives off a much more organic feel compared to other rectangular or more symmetric camera arrangements out there.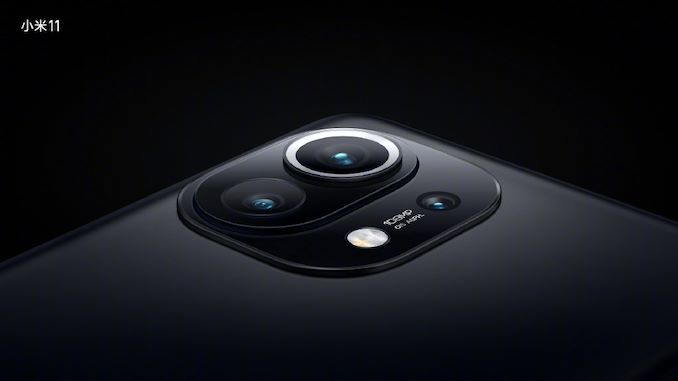 Unfortunately for today's announcement the Mi 11's camera specifications were quite sparse. What we do know is that the main camera is again a 108MP module, similar to that of its predecessor, but we don't know if it's the exact same sensor, or a newer iteration. What we do know is that the optics are definitely different as the aperture now lands in at f/1.89 instead of f/1.69 – an actual positive change in my view as the optics of the Mi 10 was one of its main weaknesses.
Alongside the main camera there's a 13MP ultra-wide angle with a 123° FoV and F/2.4 aperture, as well as a 5MP 2x optical 50mm equivalent telephoto module with f/2.2. That latter module sounds a bit lacklustre – maybe we'll see an eventual Mi 11 Pro with a stronger telephoto module.
Today's announcement covers the Chinese variant of the phone, with the global and European variants certainly to follow in the next few weeks. Pre-orders for the Chinese models start today with delivering going out the 1st of January, with the Mi 11 with an 8+128GB variant coming in at ¥3999.00, or USD $611. Western prices are certainly set to be different, but that's already a quite promising start for the new flagship.
Related Reading:
Britain in talks with 6 firms about building gigafactories for EV batteries
Britain is in talks with six companies about building gigafactories to produce batteries for electric vehicles (EV), the Financial Times reported on Wednesday, citing people briefed on the discussions.
Car makers Ford Motor Co and Nissan Motor Co Ltd, conglomerates LG Corp and Samsung, and start-ups Britishvolt and InoBat Auto are in talks with the British government or local authorities about locations for potential factories and financial support, the report added .
(Reporting by Kanishka Singh in Bengaluru; Editing by Himani Sarkar)
EBay to sell South Korean unit for about $3.6 billion to Shinsegae, Naver
EBay will sell its South Korean business to retailer Shinsegae Group and e-commerce firm Naver for about 4 trillion won ($3.6 billion), local newspapers reported on Wednesday.
EBay Korea is the country's third-largest e-commerce firm with market share of about 12.8% in 2020, according to Euromonitor. It operates the platforms Gmarket, Auction and G9.
Shinsegae, Naver and eBay Korea declined to comment.
Lotte Shopping had also been in the running, the Korea Economic Daily and other newspapers said, citing unnamed investment banking sources.
South Korea represents the world's fourth largest e-commerce market. Driven by the coronavirus pandemic, e-commerce has soared to account for 35.8% of the retail market in 2020 compared with 28.6% in 2019, according to Euromonitor data.
Shinsegae and Naver formed a retail and e-commerce partnership in March by taking stakes worth 250 billion won in each other's affiliates.
($1 = 1,117.7000 won)
(Reporting by Joyce Lee; Editing by Edwina Gibbs)
Canada launches long-awaited auction of 5G spectrum
Canada is set to begin a hotly anticipated auction of the mobile telecommunications bandwidth necessary for 5G rollout, one that was delayed more than a year by the pandemic.
The 3,500 MHz is a spectrum companies need to provide 5G, which requires more bandwidth to expand internet capabilities.The auction, initially scheduled for June 2020, is expected to take several weeks with Canadian government selling off 1,504 licenses in 172 service areas.
Smaller operators are going into the auction complaining that recent regulatory rulings have further tilted the scales in the favour of the country's three biggest telecoms companies – BCE, Telus and Rogers Communications Inc – which together control around 90% of the market as a share of revenue.
Canadian mobile and internet consumers, meanwhile, have complained for years that their bills are among the world's steepest. Prime Minister Justin Trudeau's Liberal government has threatened to take action if the providers did not cut bills by 25%.
The last auction of the 600 MHz spectrum raised C$3.5 billion ($2.87 billion) for the government.
The companies have defended themselves, saying the prices they charge are falling.
Some 23 bidders including regional players such as Cogeco and Quebec's Videotron are participating in the process. Shaw Communications did not apply to participate due to a $16 billion takeover bid from Rogers. Lawmakers and analysts have warned that market concentration will intensify if that acquisition proceeds.
In May, after Canada's telecoms regulator issued a ruling largely in favour of the big three on pricing for smaller companies' access to broadband networks, internet service provider TekSavvy Inc withdrew from the auction, citing the decision.
Some experts say the government has been trying to level the playing field with its decision to set aside a proportion of spectrum in certain areas for smaller companies.
Gregory Taylor, a spectrum expert and associate professor at the University of Calgary, said he was pleased the government was auctioning off smaller geographic areas of coverage.
In previous auctions where the license covered whole provinces, "small providers could not participate because they could not hope to cover the range that was required in the license," Taylor said.
Smaller geographic areas mean they have a better chance of fulfilling the requirements for the license, such as providing service to 90% of the population within five years of the issuance date.
The auction has no scheduled end date, although the federal ministry in charge of the spectrum auction has said winners would be announced within five days of bidding completion.
($1 = 1.2181 Canadian dollars)
(Reporting by Moira Warburton in Vancouver; Editing by David Gregorio)