Xiaomi Announces the Mi 11: First Snapdragon 888 Device – AnandTech
Today Xiaomi held the Chinese launch announcement of the new Mi 11 – the company's new mainstream flagship phone for 2021. The new phone features a new super-high-end OLED screen that ticks off every checkmark feature that you'd expect from a 2021 design, including 1440p resolution and 120Hz refresh rates, features the new Snapdragon 888 SoC at its heart – as well as comes in a new thinner, lighter, and more stylish industrial design compared to its predecessors.
Xiaomi Mi Series
Mi 10
Mi 11
SoC
Qualcomm Snapdragon 865
1x Cortex-A77 @ 2.84GHz
3x Cortex-A77 @ 2.42GHz
4x Cortex-A55 @ 1.80GHz

Adreno 640 @ 587MHz

Qualcomm Snapdragon 888
1x Cortex-X1 @ 2.84GHz
3x Cortex-A78 @ 2.42GHz
4x Cortex-A55 @ 1.80GHz

Adreno 660 @ 840MHz

DRAM
8GB LPDDR5-5500
8/12GB LPDDR5-6400
Display
6.67″ AMOLED
2340 x 1080 (19.5:9)

90Hz Refresh

6.81″ AMOLED
3200 x 1440

120Hz Refresh

480Hz Touch
HDR10+ / 10-bit panel

Size
Height
162.58mm
164.3mm
Width
74.80mm
74.6mm
Depth
8.96mm
8.06mm
Weight
208g
196g
Battery Capacity
4780mAh (Typical)

30W Charging

4600mAh (Typical)

55W Charging

Wireless Charging
30W
50W
Rear Cameras
Main
108MP 1/1.3″ 0.8µm
4:1 Binning to 27MP / 1.6µm

f/1.69 w/ OIS

108MP Module

f/1.85 w/OIS

Telephoto
–
5MP

50mm eq.
f/2.2

Extra
Telephoto
–
–
Ultra-Wide
13MP 1.12µm

f/2.4
117° FoV

13MP

f/2.4
123° FoV

Extra
2MP Depth Camera

2MP Macro Camera

–
Front Camera
20MP 0.8µm
f/2.3
f/2.2
Storage
128 / 256GB
UFS 3.0
128 / 256GB
I/O
USB-C
Wireless (local)
802.11ax (Wifi 6),
Bluetooth 5.1
Cellular
4G + 5G NR NSA+SA Sub-6GHz
Special Features
Under-screen fingerprint sensor
Full-range stereo speakers
Splash, Water, Dust Resistance

No rating

Dual-SIM
2x nano-SIM
Launch OS
Android 10 w/ MIUI
Android 11 w/ MIUI
Launch Price
8+128GB: 799€
8+256GB: 899€
?
At the heart of the new Mi 11 lies the new Qualcomm Snapdragon 888 SoC. The new 5nm chip is the first to use Arm's new Cortex-X1 cores, with Qualcomm also claiming large GPU performance boosts this generation. What's more different from the previous Snapdragon 865 flagship design is that the new S888 reverts back to a monolithic SoC design that integrates the 5G modem back into the SoC – in turn this means that there's more PCB component space in available inside the phone and vendors can optimise their designs better.
The new Mi 11 also features either 8GB or 12GB of the new LPDDR5 memory at its full 3200MHz speed (6400MT/s), and comes in either 128GB or 256GB storage variants, although we're missing details on the specifications of the modules used here.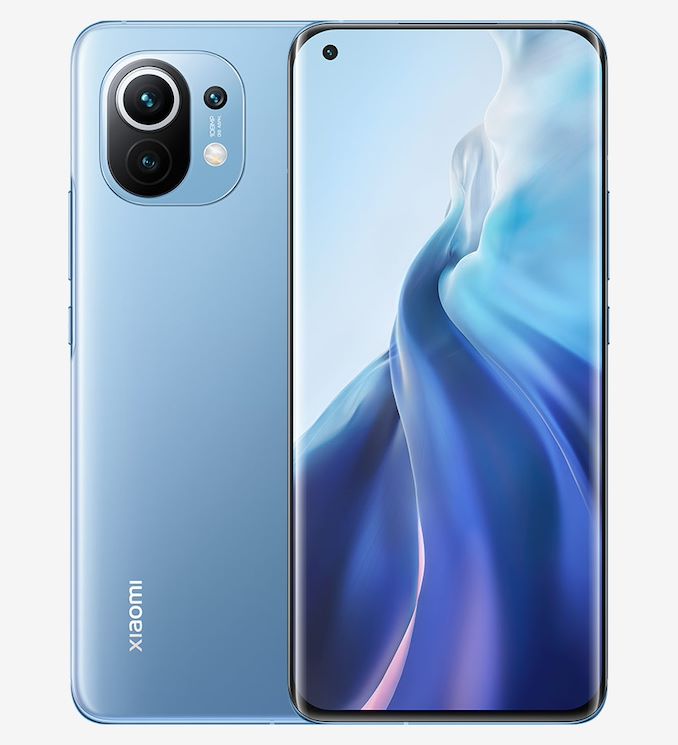 The new Mi 11 also features either 8GB or 12GB of the new LPDDR5 memory at its full 3200MHz speed (6400MT/s), and comes in either 128GB or 256GB storage variants, although we're missing details on the specifications of the modules used here.
In terms of design, the new Mi 11 is quite a departure from the Mi 10, being a much sleeker device than its predecessor. Xiaomi has been able to reduce the bezels of the device on all sides, still using a curved front and back glass design that fits well into your palms. The new design is actually 0.9mm thinner than its predecessor, now coming in at 8.06mm, and also shaves 12g off its weight at 196g – still relatively heavy, but not as much as its predecessor.
The most exciting feature of the Mi 11 has to be the new OLED screen. It's grown a bit compared to its predecessor, filling in the space in place of the bezels, going from 6.67" to 6.81", but the most important aspect of the phone is the fact that this is now a QHD class resolution at 3200 x 1440 – a first from Xiaomi OLED screen and a resolution we haven't seen used by the company since back in the LCD days.
Furthermore, this is a bleeding-edge display, featuring a 120Hz refresh rate, and is advertised as being a new generation 10-bit panel that also features up to 8192 brightness levels – pointing out to a new generation DDIC. The panel also is advertised as using a new next-generation emitter material, and Xiaomi claims it goes up to 1500 nits brightness, which is a notch above what we've seen from 2020 phones.
Lastly, like a cherry on top of the cake, the panel features a staggering 480Hz touch input rate, which is the highest we've heard of in the mobile industry, and hopefully results in outstanding touch input and scrolling fluidity.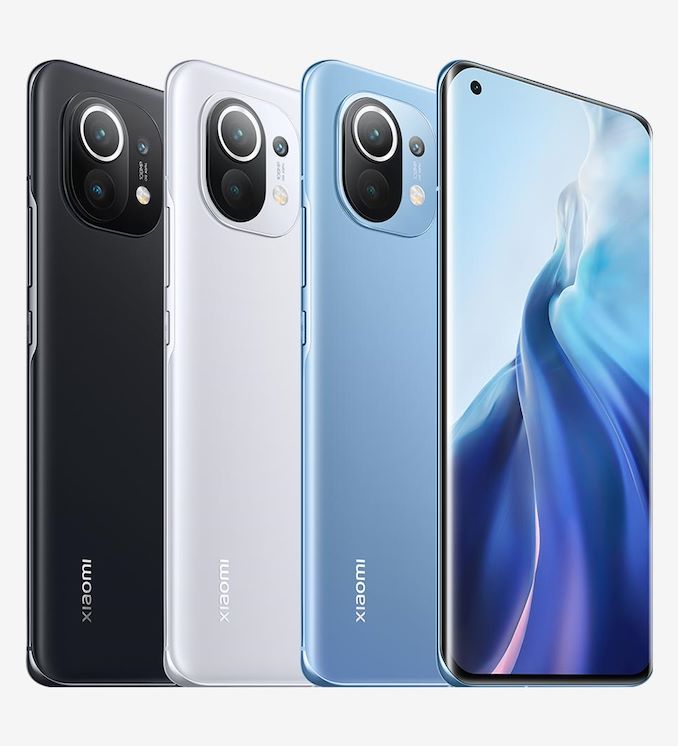 Other features of the new design includes a redesigned camera setup, which transitions from a completely vertical camera arrangement to a new rounded square element with three camera modules.
Instead of having a large camera bump edge and a single glass element protecting the whole camera arrangement, Xiaomi uses a three-step glass element, each thicker than the other, protecting the three cameras modules. It looks quite interesting and gives off a much more organic feel compared to other rectangular or more symmetric camera arrangements out there.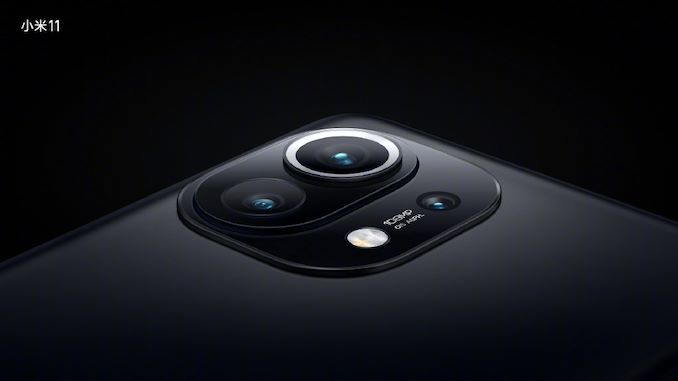 Unfortunately for today's announcement the Mi 11's camera specifications were quite sparse. What we do know is that the main camera is again a 108MP module, similar to that of its predecessor, but we don't know if it's the exact same sensor, or a newer iteration. What we do know is that the optics are definitely different as the aperture now lands in at f/1.89 instead of f/1.69 – an actual positive change in my view as the optics of the Mi 10 was one of its main weaknesses.
Alongside the main camera there's a 13MP ultra-wide angle with a 123° FoV and F/2.4 aperture, as well as a 5MP 2x optical 50mm equivalent telephoto module with f/2.2. That latter module sounds a bit lacklustre – maybe we'll see an eventual Mi 11 Pro with a stronger telephoto module.
Today's announcement covers the Chinese variant of the phone, with the global and European variants certainly to follow in the next few weeks. Pre-orders for the Chinese models start today with delivering going out the 1st of January, with the Mi 11 with an 8+128GB variant coming in at ¥3999.00, or USD $611. Western prices are certainly set to be different, but that's already a quite promising start for the new flagship.
Related Reading:
Here are the free games hitting Xbox Games with Gold in February 2021 – MobileSyrup
Every month, Microsoft offers four Xbox games at no additional cost to those subscribed to its Xbox Live Gold service.
In February 2021, however, the company is offering five titles as part of its Games with Gold program.
Here are the games:
Gears 5 (regularly $49.99 CAD) — Available February 1st to 28th [also on Xbox Game Pass]
Resident Evil (regularly $25.99) — Available February 1st to 28th
Dandara: Trials of Fear Edition (regularly $14.99) — Available February 16th to March 15th
Indiana Jones and the Emperor's Tomb (regularly $9.99) — Available February 1st to 15th (original Xbox game playable on Xbox One via backward compatibility)
Lost Planet 2 (regularly $19.99) — Available February 16th to 28th (Xbox 360 game playable on Xbox One via backward compatibility)
Notably, the inclusion of Resident Evil — an enhanced version of the 2002 GameCube remake of the series' first game — comes hot on the heels of Capcom's announcement that Resident Evil Village is releasing on May 7th.
The addition of Indiana Jones and the Emperor's Tomb, meanwhile, comes just one week after Lucasfilm announced a partnership with Bethesda on a brand-new Indiana Jones game.
It's also worth noting that Gears 5 — which recently got a downloadable story add-on — was developed by Vancouver's own The Coalition.
Keep in mind that all of the Games with Gold titles are playable on Xbox One as well as Microsoft's new consoles, the Xbox Series X and S, thanks to backward compatibility.
It's important to note, however, that alongside the new Games with Gold announcement, Microsoft is also increasing the price of Xbox Live Gold. Until now, Xbox Live Gold cost $11.99/month in Canada or $29.99/three months.
Now, one-month Gold memberships are increasing by $1 USD (about $1.27 CAD) and the price of a 3-month membership is being raised by $5 USD (roughly $6.34 CAD). More information on that can be found here.
That said, Xbox Live Gold is also included in a $16.99/month Xbox Game Pass Ultimate membership alongside Game Pass for Console and PC, game streaming on Android and EA Play.
Additionally, you can read more on what's come to Games with Gold in January here.
Image credit: Capcom
Source: Xbox
Report: The MacBook Air is getting a major redesign, too – Ars Technica
There's been on onslaught of Apple leaks out of business publication Bloomberg over the past week, and the latest goes into a little more detail about an upcoming MacBook Air redesign.
Like the others, the report cites anonymous people familiar with Apple's plans. It claims a newly redesigned MacBook Air (presumably with either Apple's M1 chip for Macs or a successor to that chip) will "be released during the second half of this year at the earliest or in 2022."
But buried in this MacBook Air report is perhaps equally big news for a certain set of Mac users: it claims that Apple plans to reintroduce the SD card slot in new MacBook Pros—a detail that was left out of a story on those computers earlier this week.
The current M1 MacBook Air will remain in the lineup, while this new MacBook Air will be a "higher-end" alternative that will be sold alongside it. Why is it higher-end, you might ask? Well, Bloomberg's sources claim that it will be even thinner and lighter than the model that's available now.
Further, the footprint of the laptop will be smaller because the bezels will be reduced, but the screen will still measure 13 inches. This is a different approach than Apple has taken before (and is expected to continue to take) with its MacBook Pro line. In November of 2019, Apple launched a 16-inch MacBook Pro to replace the prior 15-inch model, but the footprint was the same, while the screen occupied much of the space that was previously bezel, bringing the display size up.
The report also says the new MacBook Air will have MagSafe—something that was stated by the same publication a few days ago about upcoming MacBook Pro models. MagSafe was a key feature of Apple laptops of yore, but Apple gradually removed it from the product line over the past few years before reintroducing it in the iPhone 12 in 2020.
In the Mac, MagSafe is a power port and accompanying cord that lightly, magnetically attach. The cord is easy to slot in, but if the cord is pulled on, it will pop out gently rather than tugging the laptop with it. The goal was to prevent situations where an owner of the device might trip on the cord and accidentally yank the laptop off a desk or table, damaging it.
Finally, today's Bloomberg report says that Apple "considered" making a MacBook Air with a 15-inch screen, but that plan won't happen this generation after all.
The reports earlier this week claimed that Apple plans to introduce a new iPhone in 2021 with an in-screen fingerprint reader.
They also said we should expect a 14-inch MacBook Pro with a larger, better display to replace the current 13-inch model, as well as faster graphics and CPU performance. Also coming is a successor to the 16-inch MacBook Pro, which would also have a better screen and which would bring Apple's own silicon to that product.
Finally, the leaks predicted that an iMac redesign is coming, with Apple Silicon and a new design, as well as a cheaper alternative to Apple's ProDisplay XDR monitor aimed at consumers.
Looked out your window lately? There's bound to be something wild – CBC.ca
In a drawing that stretches 35 feet long, B.C. artist Sarah Ronald has sketched a ghostly night-time universe. In this inky landscape — which is comprised of 14 connected scenes — nocturnal creatures come out to play: bats, coyotes, bears … and a garden gnome.
Let it be a reminder: there's a whole world outside your window if you take the time to look. And from Ronald's house in the Vancouver suburbs, all those animals (plus garden statuary) are a common sight.
"That panorama is about the [animal] activity that's come and gone through my backyard," says Ronald. And it appears in Territory, her current solo exhibition, which is on now at the Gibsons Art Gallery to Feb. 7.
The show includes paintings, animation and several more of her drawings — many rendered in white pencil crayon and pastel to mimic the eerie blur of animals caught on security cams.
Animals have long been her favourite subject matter, and while researching another project several years ago, she was struck by the incredible wildlife footage that people were getting by rigging cameras in forests and front decks. She loved the blown-out, night-vision aesthetic. "It's so dreamy and haunting," says Ronald.
But another aspect was even more intriguing: there was something powerful about seeing an animal in such a candid way. "These [images] exist because we're not there," she says. "It really got me thinking about how to incorporate this into my work."
Sometime in 2019, Ronald began mimicking the look of this found footage in her art. She has her own cameras installed outside her house, actually — though her home security system pre-dates this project. "I know there are a lot of critters out there," she says, even though the yard itself is not especially big. She estimates it's roughly 30 feet deep — so a little shorter than the panoramic drawing in Territory. But she's observed a sort of "wildlife corridor" between her street and a townhouse complex up the hill.
"They travel through the neighbourhood behind my fence," she says. "I'll go out and see a coyote pop his head around. Or, more often, it's raccoons. Sometimes I think the raccoons just come here to hang out," she laughs. The cameras, she explains, just confirmed what she already knew — while capturing all the fauna-drama on video. And when she experiences a wildlife encounter — on camera, or in person — she says that's usually her cue to hit the studio.
The panorama drawing, she says, was especially inspired by those backyard happenings. Created over November and December this past year, it actually captures a much longer timeline of her outdoor space. A detail might document specific events: a fallen tree, a visit from a family of raccoons. Other scenes are more speculative. (She confesses, for example, that she's never seen a bear back there, though they have been known to invade her neighbour's place.)
"You kind of get a sense of the space when you've been there long enough, what kind of activities happen," says Ronald, but she explains that the image serves as more than a journal. The piece uses her yard as a stand-in for the natural world at large, a place forever churning with change.
With two further exhibitions planned for later this year, Ronald says that she's continuing to add new works to Territory, and she's especially interested in producing hand-drawn animation for the series.
A 17-minute piece (Encounter) appears at the exhibition in Gibsons, and the film aims to capture the sensation of crossing paths with a coyote. "Imagine being out in the woods in the middle of the night. Or even on the street at two in the morning when there's nobody out there," she says. "I'm interested in using animation as a way to almost have a one-on-one with wildlife."
[embedded content]
The entire series is an invitation to connect with the wild world around us, and one could argue the pandemic's already prompted more of that. Yard space is precious. Birdwatching is trending. A knife-wielding Toronto squirrel can capture international headlines. And prior to lockdown, was there ever a time when gawping out a picture window was such a mainstream pastime?
Ronald was already working from home when the pandemic struck, but she understands what happens when you spend a lot of time within your own property lines. It is, after all, a driving creative force behind Territory. "When you stay in a space for a really long time, you don't feel ownership — you feel like you're a part of that space. So to spend time outside, you're part of it."
"There's something about that — that connection — where you can just be present with [nature] instead of trying to control it. Maybe with COVID a lot more people are being present."
Sarah Ronald. Territory. To Feb. 7 at Gibsons Art Gallery, Gibsons, B.C. www.gpag.ca