Xiaomi's Mi 11 has a 55W charger and an incredibly bright screen – CNET
The Mi 11 is Xiaomi's inaugural global flagship for this year and it's a phone for a "new generation of movie lovers," whatever that means. It has a 6.5-inch OLED display, and houses Qualcomm's newest Snapdragon 888 chipset, and with a 120 Hz display that features a peak brightness of 1,500 nits, it might just be the brightest phone available yet.
I spent a couple of days with the Mi 11 ahead of its global launch on Monday, and can say it delivered a solid all-round experience packed in a sleek device with premium build quality. From the bright display, long-lasting battery life, dependable cameras, zippy processor to its exceptional speaker system, this is Xiaomi's latest tour de force. The Mi 11 is missing an IP rating for water- and dust-resistance, however Xiaomi says the device is splash-proof just like its predecessor.
Of course we still have to wait for Xiaomi to reveal pricing, which hasn't been disclosed as of this writing, before we can understand the complete package and write a review. This is the international version of a phone released in China a couple of months ago, where it fetched 3,999 yuan which converts to approximately $610, £440 or AU$790. But note that Xiaomi tends to bump up its prices for Western markets.
Xiaomi has no current plans to bring the Mi 11 stateside, and this is unlikely to change any time soon considering its ongoing legal tussle with the US government. As of this writing, Xiaomi revealed only a single device as part of the Mi 11 series, but I expect at least one more model in the form of Mi 11 Pro based on the company's past launches. Last year, Xiaomi debuted the Mi 10, Mi 10 Pro and Mi 10 Ultra.
Plenty of bundled accessories
When Xiaomi launched the Mi 11 in China, it followed Apple and Samsung's example and didn't include a wall adapter. It's putting its best foot forward for international markets, though, and this global version comes with a 55-watt wired charger, a USB-C adapter and one case, though the media kit I received contained two.
Take that, Apple (and Samsung).
Xiaomi also took an opportunity to make what I think is a thinly veiled jab against Huawei, which was famously banned from using Google apps including Gmail and Google following US sanctions levelled by the Trump administration. On the side panel of the box, you'll see, "with easy access to the Google apps you use most" inscribed.
What Xiaomi changed in the Mi 11
The Mi is Xiaomi's main flagship line, as opposed to its budget Redmi and Poco sub-brands. Last year's phone, the Mi 10, also served up many top-shelf specs like a smooth display and fast charging, but here's what the Mi 11 changes.
Three cameras on the rear — as opposed to four in the Mi 10 — and a reshuffled rear camera module.
Bumped up wireless charging support to 50W compared to 30W in the Mi 10 line.
Improved display: Higher resolution and speedier refresh rate.
Codeveloped speaker system with Harmon and Kardon.
Faster processor.
Lighter than the Mi 10.
For more details on what Xiaomi changed, scroll down to CNET's specs chart below.
The Mi 11's 3 rear cameras
The Mi 11 boasts a revamped camera bump taking the form of a "squircle" and a reshuffled camera array consisting of three rear lenses: a 108-megapixel wide-angle camera, a 13-megapixel ultrawide-angle camera and a 5-megapixel telemacro lens, which is the equivalent of a 55mm lens. Xiaomi ditched the macro and depth lenses seen in the Mi 10 in favor of what Xiaomi calls a "telemacro" lens in the Mi 11. Keep in mind that that absence of a telephoto lens in the Mi 11 means that all zoom is digital.
Flip the phone around, and you'll see a barely there notch on the upper left of the display that houses a 20-megapixel selfie camera. Take a look at the pictures below to see the cameras in action.
The Mi 11 runs on Snapdragon 888

Under the hood, the Mi 11 carries Qualcomm's newest Snapdragon 888 chipset backed by 8GB RAM and 128GB or 256 GB of storage, making it a bona fide powerhouse. You probably won't notice an immediate difference from a Snapdragon 865 processor, which is already blazing fast, but Qualcomm promises 25% to 35% better CPU and GPU performance with the 888.
The Mi 11's flagship-level display and solid batteries
The Mi 11 boasts a stunning waterfall screen complete with an 6.5-inch OLED panel that's exceptionally bright and clear whatever the lighting conditions. With a peak brightness of 1500 nits, the Mi 11 might just be the brightest phone available yet. In addition, the Mi 11 has wide quad HD plus resolution (3,200×1,440 pixels) and 120Hz refresh rates, which can be used together or dialed back a notch if you're trying to preserve battery life. Most phones have refresh rates of 60Hz, which means the screen refreshes 60 times in a second. 120Hz displays can look a lot smoother when scrolling though webpages by comparison. There's also an in-screen fingerprint reader, which Xiaomi says doubles up as a heart-rate sensor.
The battery lasted me about a day and half with mild use. That means I made a few calls, sent some emails, watched a couple of YouTube videos and browsed the internet. Even when you eventually run out of juice, refilling the Mi 11's 4,600-mAh battery is relatively quick work thanks, in part, to that 55-watt wired charger I mentioned earlier. Based on my tests, 15 to 20 minutes of time was sufficient to recharge the battery by 50% to 60%. Within 50 minutes, the battery had been completely revitalized. Safe to say that battery anxiety will be a thing of the past when you're using the Mi 11. Keep in mind, the Mi 11 also supports 50W of wireless and reverse-wireless charging.
Mi 11's loud and crisp speakers
One of the features that stood out in last year's Mi 10 Pro was a pleasantly loud and crisp speaker system complete with one speaker on each end of the phones. This year Xiaomi says it has levelled up its speaker game by refining its audio experience together with Harman Kardon, a decades-old audio equipment manufacturing company. I'm no audiophile, but I was impressed by the audio quality on the Mi 11 even if it isn't the loudest set of mobile speakers out there. Still, the speakers were loud enough, and audio remained crisp even when I cranked the volume all the way up. Plus it has a tight bass to boot.
Mi 10 vs. Mi 10 Pro vs. Mi 11
| | Mi 10 | Mi 10 Pro | Xiaomi Mi 11 |
| --- | --- | --- | --- |
| Display size, resolution | 6.67-inch AMOLED, 2,340×1,080 pixels (Full HD) | 6.67-inch AMOLED; 2,340×1,080 pixels (Full HD) | 6.81-inch AMOLED 3,200×1,440 pixels (WQHD plus) |
| Pixel density | 386ppi | 386ppi | 515ppi |
| Dimensions (Inches) | 6.4x3x0.35 in | 6.4x3x0.35 in | 6.4×2.9×0.32 in |
| Dimensions (Millimeters) | 162.58×74.80×8.96mm | 162.58×74.80×8.96mm | 164.3×74.6×8.06mm |
| Weight (Ounces, Grams) | 208 grams | 208 grams | 196 grams |
| Mobile software | Android 10 | Android 10 | Android 10 |
| Camera | 108-megapixel (primary), 13-megapixel (ultrawide), 2-megapixel (macro) , 2-megapixel (depth) | 108-megapixel (primary), 20MP (ultrawide), 12-megapixel (telephoto), 8-megapixel (telephoto) | 108-megapixel (wide), 13-megapixel (ultra-wide), 5-megapixel (telemacro) |
| Front-facing camera | 20-megapixel | 20-megapixel | 20-megapixel |
| Video capture | 8K | 8K | 8K |
| Processor | Snapdragon 865 | Snapdragon 865 | Snapdragon 888 |
| Storage | 256GB | 256GB | 128GB/256GB |
| RAM | 8GB | 8GB | 8GB |
| Expandable storage | None | None | None |
| Battery | 4,780 mAh (30W wired and wireless charging) | 4,500 mAh (50W wired, 30W wireless charging) | 4,600 mAh (55 wired, 50W wireless charging ) |
| Fingerprint sensor | In-screen | In-screen | In-screen |
| Connector | USB-C | USB-C | USB-C |
| Headphone jack | None | None | None |
| Special features | 30W wired and wireless charging, dual stereo speakers,5G enabled, reverse wireless charging | 50W wired, 30W wireless charging, dual stereo speakers ,5G enabled, reverse wireless charging, 90 Hz | 5G enabled, 120Hz display, dual stereo speakers, 55W wired charging, 50W wireless charging, 10W reverse wireless dual SIM |
| Price off-contract (USD) | starting at 799 euros, converts to $960 | starting at 999 euros, converts to about $1,200 (8GB RAM/256 GB) | N/A |
| Price (GBP) | £700 converted | £880 converted | N/A |
| Price (AUD) | AU$1,250 converted | AU$1,570 converted | N/A |
Report: New Nintendo Switch With 4K Output, OLED Screen Will Release Before Christmas – Kotaku
Last year, Bloomberg reported that a new model of the Nintendo Switch would be out sometime in 2021. Today, they're reporting some more specific details, like the size of the screen and some 4K news.
The original report was very light on details, saying only that Nintendo "has looked into including more computing power and 4K high-definition graphics", but that has now been clarified to say that this new model will feature an OLED screen made by Samsung, which will be seven inches across (current Switch models are 6.2 and 5.5 inches for the regular and Lite respectively) and feature a 720p resolution.
It will also, perhaps even more importantly, output 4K visuals when connected to a TV, which will make for one hell of a resolution change when switching between docked and handheld mode.
Bloomberg's report says production on the new screens will commence in June, with the "displays slated for shipment to assemblers around July", meaning this new model would be ready "in time for the holidays".
Nintendo reportedly plans to release new Switch with larger Samsung OLED display – MobileSyrup
It seems there might be at least some level of truth to rumours that Nintendo is working on a new version of the Switch.
According to a recent report from Bloomberg, the company plans to release a new version of the Switch with a larger display in time for the 2021 holiday season.
This time around the console's 7-inch, 720p display will be OLED and manufactured by Samsung Display. Bloomberg says that the displays are set to ship in July to the various companies that assemble the Switch.
Making the jump to OLED would give the Switch better battery life and likely improve the screen's contrast ratio. The current version of the Switch features a 6.2-inch LCD screen, while the Switch Lite's LCD display measures in at 5.5-inches.
Though the current Switch's LCD screen is passable, moving to a Samsung panel would almost certainly improve its overall picture quality given the South Korean company's prowess in the TV and smartphone display space.
The report also mentions that this new version of the Switch will be capable of outputting 4K visuals to a television, hinting that at least its dock will feature a faster processor. While interesting, this could potentially splinter the Switch's installed base and result in few developers taking advantage of the increased graphical power, similar to the 3DS and the New 3DS.
It's unclear if anything else about the actual Switch console will change beyond the larger screen and the 4K output. Though the Switch continues to sell well and recently hit 79.87 million consoles sold as of February 1st, it faces stiff competition from Microsoft's more recent Xbox Series X/S and Sony's PlayStation 5.
This could be an effort on Nintendo's part to build excitement surrounding the home console-portable hybrid system while moving into the holiday season.
However, Shuntaro Furukawa, the Japanese gaming giant's president, recently stated that Nintendo has no plans to announce a new version of the Switch "anytime soon."
Last year The Wall Street Journal reported that Nintendo was working on two Switch models, the Switch Lite and the Switch Pro. Though the Switch Lite eventually released, the company has repeatedly denied a more powerful Switch is on the way.
According to previous rumours, the upgraded version of the Switch features a more powerful processor, an improved design and possibly a dock with built-in hardware.
Source: Bloomberg
Nintendo Plans Switch Model With Bigger Samsung OLED Display – Bloomberg

Follow Bloomberg on Telegram for all the investment news and analysis you need.
Nintendo Co. plans to unveil a model of its Switch gaming console equipped with a bigger Samsung OLED display this year, hoping the larger touchscreen can prop up demand in time for the holidays, people familiar with the plan said.
Samsung Display Co. will start mass production of 7-inch, 720p-resolution OLED panels as early as June with an initial monthly target of just under a million units, said the people, who asked not to be identified discussing internal matters. The displays are slated for shipment to assemblers around July, the people said. Representatives for Nintendo and Samsung Display declined to comment.
Nintendo seeks to sustain a Switch lineup that continues to sell well against the Xbox and PlayStation, thanks to pandemic-era breakout hits like Animal Crossing and a chip crunch that's plagued supply of rival devices. But the gadget is now into its fifth year, while Microsoft Corp. and Sony Corp. both have new and more powerful machines in the market.
The gaming community has speculated online about the introduction of an OLED or organic light-emitting diode screen, but Nintendo has stayed mum and President Shuntaro Furukawa said in February his company has no plans to announce a new Switch "anytime soon." Samsung's involvement is the strongest indication that Nintendo is serious about updating the console, and on a large scale.
Shares of the Kyoto-based games maker fell 3.6% in Tokyo on Thursday amid a wider market selloff.
What Bloomberg Intelligence says

"The release of a more premium version of Nintendo's Switch console with an OLED display and support for 4K graphics for the holiday 2021 selling season could drive the company's sales above consensus for the fiscal year ending March 2022 and extend the life cycle of the Switch platform for many more years."

– Matthew Kanterman and Nathan Naidu, analysts

In February, Nintendo raised its annual forecasts after the Switch helped the company to its best quarterly earnings since 2008. The games maker hopes to sustain that run in 2021 despite stiffening competition and an ebbing pandemic.
Read more: Nintendo Raises Outlook After Surpassing High Expectations
"The OLED panel will consume less battery, offer higher contrast and possibly faster response time when compared to the Switch's current liquid-crystal display," said Yoshio Tamura, co-founder of display consultancy DSCC.
Nintendo decided to go with rigid OLED panels for the new model, the people said, a cheaper but less flexible alternative to the type commonly used for high-end smartphones. The latest model will also come with 4K ultra-high definition graphics when paired with TVs, they said. That could intensify a longstanding complaint of developers, who have struggled with the difference in resolution between handheld and TV modes and now face a bigger gap between the two.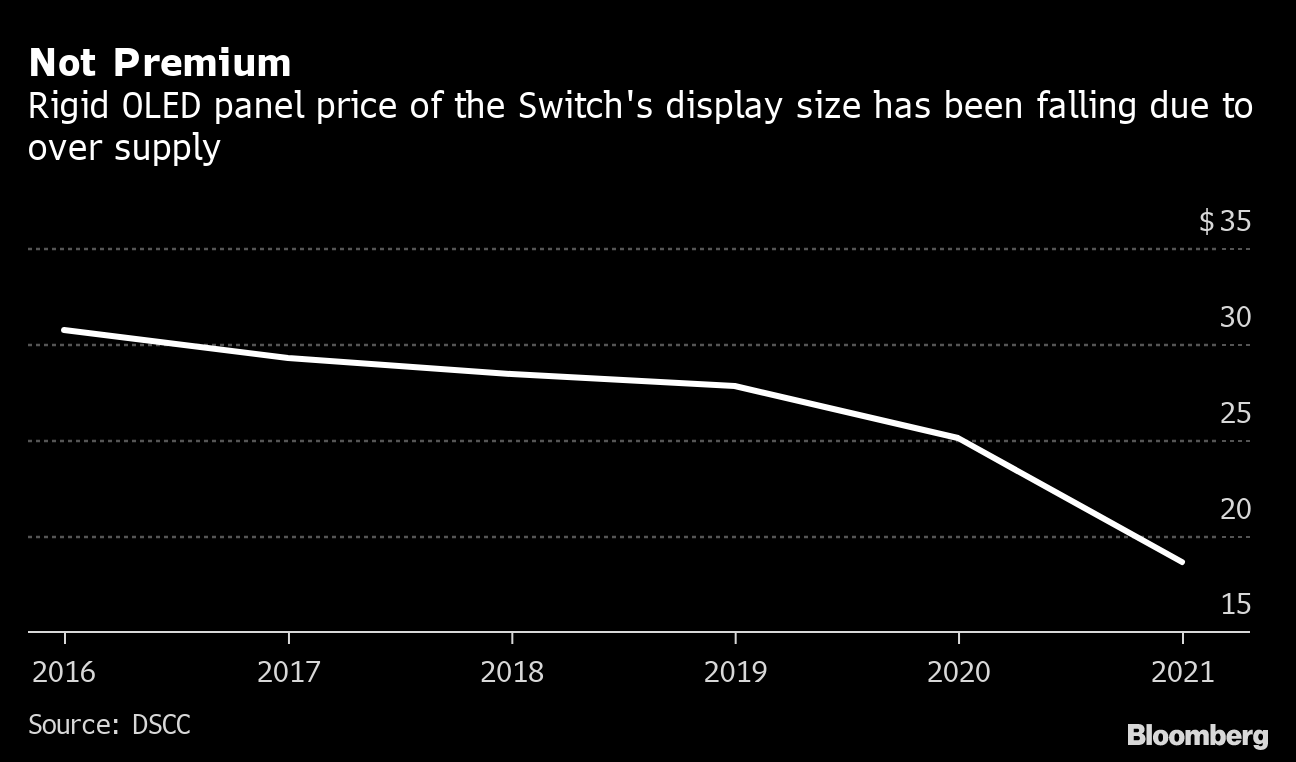 The deal benefits Samsung Display because market prices for so-called rigid OLED panels have been falling due to excess supply. Winning a customer like Nintendo also helps the Korean giant — an affiliate of Samsung Electronics Co. — firm up production plans. Nintendo in turn secures a valuable partner and supplier at a time semiconductor shortages are squeezing the supply of display-related components.
The new display's resolution mirrors the current Switch and Switch Lite but is an upgrade from the Switch's 6.2-inch and Lite's 5.5-inch size. If the console's housing remains unchanged, the new Switch is likely to sport a thinner bezel.
(
Updates with share price and analyst comment
)