Year of tumult in politics: 2020 changed the U.S., creating 'a big fork in the road' with challenges for Biden, Trump – USA TODAY
Remember when impeachment was going to be the seismic political event of 2020?
Neither does anybody else.
President Donald Trump's impeachment trial, which seemed so important in January, was overwhelmed in short order by even more tumultuous developments: A deadly pandemic that hardened the nation's partisan divide and upended the economy. A racial reckoning that reverberated through American governance and culture. A president's baseless attacks on the election itself, raising doubts about the legitimacy of his successor among millions of voters.
The past 12 months have left the United States a different place than it was when the year began. An unfathomable 330,000 Americans have died of COVID-19. The government is bigger after passage of the most expansive relief packages in the nation's history to address the costs of the virus, still not under control. In the wake of politics of the most brutal sort, some scholars and citizens worry that fundamental democratic institutions have been bruised.
The year that was: A global pandemic, racial protests, a president-elect. Oh, and impeachment.
Will the changes stick? Will 2020 turn out to be an aberration or a turning point?
Americans recognized the high stakes set by a year that was shaped by a combination of forces no one had experienced. "We've seen a pandemic before; we've seen economic crisis; we've seen racial turmoil," Princeton historian Kevin Kruse said in an interview. "But not all at once, not all together."
COVID-19 deaths: Comprehending the 300,000 people killed by coronavirus in America
The year was so turbulent that some newsworthy developments commanded less attention than they would have in calmer times, from U.S.-brokered diplomatic breakthroughs between Israel and its neighbors to record-breaking storms and wildfires. The arrival of "murder hornets" in Washington state and the birth of a baby panda in Washington, D.C., were only an instant's diversion.
Asked for the single word that described 2020, the most frequent response in a USA TODAY/Suffolk University Poll this month was "awful" or "terrible" or "horrible," adjectives chosen by nearly one in four. Fifteen percent used expletives that can't be repeated here. Nearly all of the 1,000 registered voters surveyed Dec. 16-20 cited words that reflected strain or pain.
Only 7% chose positive words such as "OK/wonderful/good" or "enlightening/awakening." Another 5% used neutral words, like "unprecedented" and "different."
"We're going to look back in 50 years and say this was the year of fundamental changes," predicted Jim Messina, a veteran political strategist who ran President Barack Obama's reelection campaign in 2012. Those changes have affected the contours of the economy, the power of social media, the strength of political parties' bases and Americans' views of the role of government.
"There's this conception in Washington, D.C., that we're going to go back to 'normal' now that Joe Biden is president," Messina added. "But I just don't think that is true."
"We're at a crossroads," said Susan Stokes, director of the Chicago Center on Democracy at the University of Chicago, calling the moment "a big fork in the road."
Here are four of the significant questions ahead about what direction the country will take next.
Was democracy damaged?
Trump challenged traditions and smashed norms from the moment he rode down the escalator at Trump Tower and launched his long-shot presidential bid in 2015. Never in modern times has an American politician provoked such heated controversies and survived, his political base unshaken. But nothing matched the potential repercussions of his assault on the democratic process itself during the final two months of his tenure, when he refused to recognize the results of the November election or to commit to the peaceful transfer of power.
Trump and his supporters filed dozens of lawsuits in eight battleground states; none of them gained legal traction. He lobbied governors and legislative leaders to take unprecedented maneuvers to overturn the certified count in battleground states. Even now, he is urging congressional Republicans to challenge the final Electoral College proceedings on Jan. 6.
While he has no realistic prospect of changing the outcome, Trump has succeeded in raising doubts among millions of his supporters about whether Biden won the White House fair and square. In the USA TODAY poll, a third of registered voters, including three in four Republicans, said Biden wasn't legitimately elected, an assertion that has been repeatedly debunked by fact-checkers.
EXCLUSIVE: As Trump exits, 50% of Americans say he'll be seen as 'failed' president
Those doubts could erode trust not only in the new president but also in the democratic process itself, political scientists and political practitioners warn.
"A lot of times the loser feels there was something wrong with the election, but usually the leadership gets itself up and dusts itself off and gets ready for the next time around," Stokes said. "But if the leadership turns around and says, 'This was stolen, this was fraudulent' without any basis in truth or real kind of process or evidence, then the public will follow that – at the very least with a kind of ongoing decay in our democratic culture, and at the worst, violence."
That "national culture of distrust" will test both parties and the next election, she said.
Was there a turning point on race?
On May 25, the final moments of George Floyd's life were caught on a cellphone video. He pleaded for breath, and then for his mother, as a Minneapolis police officer knelt on his neck for nearly nine minutes.
Within days, thousands of protesters in dozens of cities joined marches demanding police accountability and justice. Statues honoring Confederate generals were toppled in Baltimore and Richmond, Virginia. Mississippi retired the last state flag to feature the Confederate battle emblem. When professional basketball resumed, every NBA player knelt during the national anthem. The District of Columbia government painted "Black Lives Matter" in 50-foot yellow letters on the downtown street leading to the White House.
George Floyd protests: How did we get here?
Other cases of police misconduct toward Black people gained new attention and sparked more outrage, including the shootings of Breonna Taylor in Louisville, Kentucky, Rayshard Brooks in Atlanta and Jacob Blake in Kenosha, Wisconsin.
"That homemade video recording [of Floyd] shook the world," said Michael Eric Dyson, a Vanderbilt professor and author of "Long Time Coming: Reckoning with Race in America," published by St. Martin's Press this month. "There's no question that this year has been a game-changer in the first year of a new decade. There is no question that when you look at the pandemic of COVID, and the pandemic of race, and the presidential race, and all that it revealed about us as a nation – we're astonished. We're looking at each other."
Not since the civil rights movement in the 1960s has there been such a powerful public response to and scrutiny of the nation's record on race, and one that resonated with Black and white Americans. The debate that began on police reform also focused attention on the disproportionate impact of the coronavirus on people of color and on signs of systemic racism in housing, education and employment.
Dyson is optimistic about the future, but he and other advocates say the protests of the year won't lead to lasting changes without difficult and sometimes controversial action ahead.
"I just hope that everyone understands that the symbolic gestures actually are important," Sherrilyn Ifill, president of the NAACP Legal Defense Fund, said in August, "but they do not end the conversation."
Will COVID-19 be vanquished?
In recent weeks, the initial distribution of two FDA-authorized vaccines for COVID-19 has given Americans hope that they can see a light at the end of the tunnel, of an end to the pandemic that has upended almost everything in American life.
At the same time, though, the tunnel has gotten darker than ever. The numbers of new cases, of hospitalizations and of deaths all reached new heights in December. The vaccines alone won't bring the coronavirus under control for months or more.
Biden vows that the pandemic will be his first priority. It is likely to define his presidency, as it has defined Trump's tenure. No new president has ever taken office in the midst of such a broad and deadly public health crisis with repercussions that are shaping other pressing challenges. The pandemic has thrown millions out of work and widened the nation's economic divide.
Biden says he'll start by asking all Americans to wear face masks, a common-sense measure that has become a bitter partisan divide. He'll also have to persuade people to take the vaccine, another plea that will test their trust of him and their government.
In the USA TODAY poll this month, the percentage of those willing to take the vaccine as soon as they could jumped to 46%, up from 26% in late October. One in three wanted to wait. But one in five said they would never take it. Among Republicans, the partisan group that presumably will be the most resistant to Biden's entreaties, 36% said they would never take it.
Dr. Anthony Fauci, the nation's top infectious disease specialist, now estimates that 70% to 90% of Americans need to be immune for the virus to fade and life to return to normal.
Allen Matthews, 42, an engineer from Lone Tree, Colorado, who was called in the survey, is among those who still needs to be convinced. "Probably just wait," he said about taking the vaccine, unsure of its safety. "It needs to be out there for longer."
Will voters be exhausted or engaged?
Nearly 160 million voters cast ballots in 2020, a record.
In an unexpected turn, the pandemic seems to have boosted turnout because it prompted many states to make voting easier, including an enormous expansion of mail voting, used by nearly half of all voters. Some states already have begun to debate whether to adopt or roll back some of those changes in future elections.
The partisan impact of higher participation – a good thing for democracy in general – was more complicated than pundits predicted beforehand. Democrats won the White House but Republicans gained ground down the ballot, including in the House of Representatives.
Biden received more than 81 million votes, nearly 12 million more than Obama got in 2008, the previous high-water mark. Even though Trump lost the popular vote, he broke the previous record, too, receiving more than 74 million votes.
More: Four maps that show how America voted in the 2020 election with results by county, number of voters
The turnout rate was historic as well. In all, 66.7% of those eligible to vote did. That's the highest in more than a century, since 1900, and part of a new trend. Turnout in the 2018 election had hit a midterm record, too, only four years after the 2014 midterms had scored the lowest turnout in seven decades.
Why the turnaround?
"There's only one variable that changed between 2014 and 2018, and that's Donald Trump," said Michael McDonald, a University of Florida political scientist who runs the United States Election Project. "It's clear that people have a visceral reaction to him: Love him or hate him."
That raises the question of whether the jump in turnout will continue after Trump no longer stands at center stage in politics. He has energized voters both for and against him, but he has also left some exhausted by his shifting policies, provocative rhetoric and chaotic style of decision-making – all of those epitomized by his favored 280-character means of communication, Twitter.
McDonald, for one, predicts that the Trump turnout effect will persist. "A lot of research shows voting is habit-forming," he said. "When you vote once, you're more likely to vote again."
Contributing: Sarah Elbeshbishi
Democrats Stop Playing the Politics of Fiscal Restraint – Bloomberg
Get Jonathan Bernstein's newsletter every morning in your inbox. Click here to subscribe.
President-elect Joe Biden rolled out his first big legislative priority in a Thursday night speech: A $1.9 trillion virus-fighting and economic bailout package.
The first thing to say is that Biden's speech drove the final nail into the coffin of mainstream liberal attempts to make Democrats the party of fiscal restraint, efforts that began in earnest after Republicans adopted big-deficit policies at the beginning of Ronald Reagan's presidency in 1981. For almost 40 years, Democrats tried and failed to convince journalists and pundits that they were the party that cared about federal budget deficits. Over the same period, Democrats occasionally sought credit from voters for lowering (and even, when Bill Clinton was president in the 1990s, erasing) deficits.
To be sure, Democrats were still Keynesians, favoring expanded deficits during hard times. But they also came to believe in paying for new spending even when that meant supporting higher taxes when they thought increased revenues were needed. As recently as Barack Obama's presidency, they tried to rein in deficits when they got high.
That seems over. Congressional Democrats in 2020 spent freely (and tried to spend even more) to fight the coronavirus pandemic and rescue the economy. New rules in the House of Representatives de-emphasize the costs of new programs. Biden not only asked for a large bill only a few weeks after Congress passed a $900 billion round of virus-relief spending, but took on the argument head-on, saying that economists supported larger deficits right now. I don't think that Democrats will flip all the way to simply ignoring deficits, and some moderate Democrats may split with mainstream liberals over fiscal policy as time goes on, but it really does sound like the center of the party has moved.
The other thing to say about Biden's rollout was just how professional it was. The speech wasn't particularly memorable or well-delivered in my view, but it was solidly constructed and won't give the fact-checkers much to do. Nor was it undermined by nonsensical ad-libs. Oh, and Biden does know how to use a teleprompter. His staff also knows how to build (and demonstrate) support, as NBC News correspondent Garrett Haake noted in this tweet Thursday night: "My inbox and Twitter timeline are flooded with statements from Democrats (and even the Chamber of Commerce) in support of the Biden COVID rescue plan. I had almost forgotten what a coordinated policy rollout looks like."
That doesn't guarantee it will wind up passing. The Biden team is apparently hoping to treat the relief legislation as a regular bill, which means that it will need to get through the narrow Democratic majority in the House and then find 60 votes to defeat a Senate filibuster in a chamber where each party will have 50 members. And while there are some items that will appeal to many Republican senators, and others they will be reluctant to vote against, a deal requiring at least 10 Republicans to sign on seems unlikely.
Unless that's wrong, Democrats will either have to eliminate the legislative filibuster, or accept only what they could get under the current rules governing the "reconciliation" procedure that can avoid a filibuster — or loosen those reconciliation rules. It's possible that moderate Democrats might be willing to support Senate rules changes to pass funding for vaccination and other emergency health-care needs, and for some economic relief. But they almost certainly would demand that some liberal priorities in Biden's plan be dropped.
Biden and his team — and for that matter, both House and Senate Democratic leaders — are experienced deal-makers. For the most part, the coronavirus package is built for negotiations; it's relatively easy to bargain over financing levels as long as both sides want eventual passage. But whether a sufficient number of senators will really want a deal? That's hard to know at this point.
1. Davin L. Phoenix at the Monkey Cage on anger and race.
2. Reid Wilson talks to Biden's Chief of Staff Ron Klain about how the administration intends to get to work. A must-read. Key fact: Klain says that Biden will have more people in the agencies (political appointees who don't need Senate confirmation) from Day 1 than Obama had after 100 days. Obama was bad about filling vacancies. President Donald Trump was terrible. Biden, it seems, might be be good at it. We'll see.
3. Jonathan Cohn on the vaccine rollout.
4. Katlyn Marie Carter at Made By History revisits the Sedition Act of 1798.
5. Bloomberg's Joshua Green on Liz Cheney's vote for impeachment.
6. My Bloomberg Opinion colleague Elisa Martinuzzi on Deutsche Bank AG and Trump.
7. And Peter Jamison, Carol D. Leonnig and Paul Schwartzman have the epic story about why the Secret Service has been renting toilets in Kalorama.
Get Early Returns every morning in your inbox. Click here to subscribe. Also subscribe to Bloomberg All Access and get much, much more. You'll receive our unmatched global news coverage and two in-depth daily newsletters, the Bloomberg Open and the Bloomberg Close.
To contact the editor responsible for this story:
Jonathan Landman at jlandman4@bloomberg.net
Bumble disabled its politics filter after it was used to out Capitol rioters – Yahoo Tech
TipRanks
The major U.S. equity-indexes are hovering around all-time highs, and a question that frequently pops up these days, is whether some companies' valuations might be overstretched. However, some operate at the opposite end of the spectrum, and could yet offer investors untapped opportunities. H.C. Wainwright analyst Ram Selvaraju points in the direction of Sorrento Therapeutics (SRNE), as one such company. Selvaraju rates SRNE a Buy along with a $30 price target, which implies a 275% upside from current levels. (To watch Selvaraju's track record, click here) So, what's behind the optimistic outlook? Well, for starters, Sorrento has a stake in two cell-based immunotherapy companies that could "drive value in Sorrento shares over the coming months." One is Celularity, a clinical-stage cell therapeutics company focused on cellular medicines for cancer, infectious diseases, and degenerative diseases. Celularity is expected to go public later this year via a SPAC merger with GX Acquisition Corp. The merged company's equity value following the transaction's closure will land at roughly $1.7 billion. Selvaraju estimates Sorrento's position should be worth in the $200 million region. The second company is NantKwest, which recently signed a deal to merge with ImmunityBio. The transaction is expected to close in 1H21. Sorrento owns roughly 8.2 million shares of the clinical-stage immunotherapy company. These are currently worth around $121 million, going by NantKwest's recent share price. Additionally, the analyst highlights Sorrento's "burgeoning portfolio of assets spanning three distinct therapeutic areas (non-opioid pain management, oncology and COVID-19)." In fact, on the Covid-19 front alone, Sorrento has taken a broad-based approach and has a long list of diagnostic, prophylactic and therapeutic offerings in the pipeline, with "updates likely to come fast and furious." These include two rapid detection tests; COVI-STIX, for which the company filed for Emergency Use Authorization (EUA) in the U.S. in December, and COVI-TRACE, which Selvaraju claims could come in handy at any mass gathering event. "We believe that the incentive to facilitate the large-scale and indeed ubiquitous deployment of the COVI-TRACE test is extremely high and governments worldwide may seek to implement this in their respective regions," the 5-star analyst opined. Other Covid-19 candidates include COVIGUARD – a SARS-CoV-2 neutralizing antibody, COVI-AMG – an affinity-matured version of the COVIGUARD neutralizing antibody, a neutralizing antibody cocktail named COVI-SHIELD and COVIDTRAP, an ACE2 receptor decoy, intended to imitate the mammalian ACE2 receptor that acts as the primary portal for the SARS-CoV-2 virus to penetrate human cells. It has been relatively quiet when it comes to other analyst activity. In the last three months, only 2 analysts have issued ratings. However, as they were both Buys, the word on the Street is that SRNE is a Moderate Buy. Based on the $25.50 average price target, shares could climb 219% higher in the next twelve months. (See SRNE stock analysis on TipRanks) To find good ideas for healthcare stocks trading at attractive valuations, visit TipRanks' Best Stocks to Buy, a newly launched tool that unites all of TipRanks' equity insights. Disclaimer: The opinions expressed in this article are solely those of the featured analyst. The content is intended to be used for informational purposes only. It is very important to do your own analysis before making any investment.
Politics This Morning: Trudeau not eyeing retirement from politics anytime soon – The Hill Times
In 2019-20, federal departments and agencies met 1,352 performance targets, missed 556, and tracked 431 more that didn't have available results.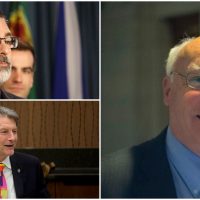 Liberal MP Ken Hardie, former broadcaster, says he doesn't want to see lawmakers or social media companies 'running rampant over free expression,' but there is a 'fine line' that needs to be walked.