Why even just a little alcohol is a risk
With alcohol-related deaths at an all-time high in Canada, and mounting pressure to put cancer warnings on alcohol containers, Canadians have questions about the specifics after a drastic shift in messaging.
In one fell swoop, an expert group has shifted the safe drinking range from 10 to 15 drinks per week, depending if you are a man or a woman, to fewer than two. Even small amounts of alcohol are now linked to up to nine kinds of cancer, according to the Canadian Cancer Society.
That has some Canadians pointing to aged lifelong drinkers in their family with consternation.
Dozens of people wrote to CBC News asking just how many and which drinks are a danger and why cancer does not affect all big drinkers.
Dr. Tim Naimi, a physician and the director of the University of Victoria's Canadian Institute for Substance Use Research, understands the confusion.
"We understand that there's going to be anxiety," he said. "A lot of people really, really enjoy drinking alcohol."
Naimi says alcohol needs clearer labels so drinkers know what they are ingesting and understand the risks.
The Boston native said he is surprised that Canadian alcohol does not even report sugar levels, much less cancer risks, despite the fact that booze is "an intoxicating, addictive, carcinogenic thing that kills lots of people."
He believes it's related to the focus on alcohol revenue over safety.
"A can of peas in a supermarket has information about how much magnesium or calcium is in the peas, and those aren't even toxic carcinogenic products," said Naimi.
He said ingesting two standard servings with 14 grams of ethanol — the chemical name for alcohol — per week is OK, but after that health risks increase.
How does alcohol affect the human body?
The journey of alcohol through the human system is explained in an alert issued by The National Institute on Alcohol Abuse and Alcoholism (NIAAA). When a human drinks alcohol, the body works to process and eliminate it.
Enzymes help break apart the ethanol molecule into other compounds that the body can process, but some intermediate steps can damage the body.
Alcohol is metabolized by the brain, the stomach and the pancreas — but mostly by the liver. This organ converts alcohol into a short-lived but toxic compound — acetaldehyde, a known carcinogen — which is then broken down into a less toxic compound. But the speed at which that happens depends on many factors, including metabolism rates.
The body can only metabolize a certain amount of alcohol every hour, and that amount varies depending on factors that include the liver size, body mass and enzymes in the human body. Some people can break down alcohol faster than others.
The new guidelines
Experts who launched updated guidance on alcohol and health say people deserve to know the current facts about drinking alcohol — given new research that's emerged linking booze to cancer and heart issues since 2011.
Peter Butt, associate professor at the College of Medicine at the University of Saskatchewan, and co-chair of Canada's Guidance on Alcohol and Health, says Canada is actually following the lead of other countries such as Australia, France and the U.K. and U.S., which have already updated their guidelines. He says alcohol has gotten a "free ride" when it comes to safety labelling for too long.
"We certainly have a problem, and it's hiding in plain sight. So this is why we want to shine light on it, provide information to Canadians so that they can make better informed decisions. They have a right to know," said Butt.
And the cancer risk related to alcohol can be higher depending on genetic factors.
"We're presenting this information based upon population health data, but if a person has a family history of breast cancer or indeed a personal history of breast or [gastrointestinal] cancer, they would be well advised to think very, very carefully about whether or not they want to engage with alcohol at all," Butt said.
Cancer risks understated for years
Elizabeth Holmes, senior manager of health policy at the Canadian Cancer Society, says drinking any kinds of alcohol hikes the risk for cancers, including those of the head, neck, breast, colorectal, esophageal, liver, stomach and pancreas.
"Drinking any type or amount of alcohol — so that's beer, wine and spirits — increases your risk for at least nine different types of cancer," said Holmes.
"It is the ethanol that is increasing your cancer risk."
The International Agency for Research on Cancer notes that some heavy drinkers never develop cancer while some moderate drinkers do, in part because the very genes that protect some people against alcoholism are now thought to make some humans more vulnerable to alcohol's carcinogenic effects.
Canada's alcohol-related deaths hit highs not seen in 20 years and kept rising during the COVID-19 pandemic, according to Statistics Canada, with a record 3,875 in 2021.
New U.S. research shows excessive alcohol use caused about 140,000 deaths per year in the United States between 2015 and 2019. About 60 per cent of those deaths were caused by chronic conditions attributed to alcohol, such as liver disease, cancer and heart disease, according to the New York Times.
The number of Canadian alcohol-related deaths is less than tobacco-related deaths — estimated at 48,000 per year, according to the Canada Gazette.
"The relative risk or the likelihood of tobacco increasing cancer risk, it's higher. Tobacco is linked with more cancer types, 16 compared to nine," said Holmes.
Cost of alcohol abuse cost Canada $16B in 2017
But the overall cost of alcohol abuse to Canadian society is the highest of any substance abuse. It cost Canada $4 billion in 2017 — or about $1,258 per person, according to Butt, citing the Canadian Substance Abuse Cost and Harms Report.
"When you look at the costs and harms of each particular substance in each jurisdiction. And what we find is that across the board, nationally and in every province except in the Maritimes, alcohol is number one," he said.
Of all the legally available and oft used psychoactive substances, alcohol and tobacco accounted for 63 per cent of the costs. Alcohol use alone cost Canada the most at $16.6 billion (36.2 per cent), about $12.3 billion (26.7 per cent) with other substances combined making up the remainder.
Butt says a lot of alcohol-related costs — such as trauma and heart disease — are not even part of the current tabulation.
"People are reflecting very deeply about this," said Butt.
Canada politics: Billions not spent on promised programs – CTV News
OTTAWA –
The federal government failed to spend tens of billions of dollars in the last fiscal year on promised programs and services, including new military equipment, affordable housing and support for veterans.
Federal departments are blaming a variety of factors for letting a record total of $38 billion in funding lapse in 2021-22, including delays and disruptions caused by the COVID-19 pandemic.
They also say much of the money remains available for future years.
The unspent funds also played a big part in the Liberal government posting a smaller-than-expected deficit in the year ending March 31, 2022.
Canada rang up a $90.2 billion deficit — $23.6 billion less than had been projected in the budget.
The unprecedented amount of lapsed funding, much of which has been returned to the federal treasury, has one observer suggesting it is a sign of long-standing challenges delivering on big federal projects for the country.
The amount of lapsed funds across government is spelled out in the most recent iteration of the public accounts, a report on federal revenues and spending by every department and agency tabled in the House of Commons every year.
The $38.2 billion that was reported as lapsed in the last fiscal year marks a new record over the previous year, which was $32.2 billion. That was a dramatic increase over the previous record of $14 billion in 2019-20.
That compares to around $10 billion about a decade ago, when Stephen Harper's Conservative government was accused by political opponents and experts alike of using large lapses to make cuts by stealth.
Health Canada and the Public Health Agency of Canada reported the largest lapses of all departments and agencies, with nearly $11.2 billion of their combined $28.2 billion budgets going unspent.
Much of that had been set aside for COVID-19 initiatives that were not needed, said Health Canada spokeswoman Tammy Jarbeau. Those include vaccines, personal protective equipment and rapid tests.
"Both Health Canada and the Public Health Agency of Canada have rigorous internal financial management controls designed to prevent, detect and minimize errors and financial losses, and ensure the funding is spent in the best interests of Canadians," she wrote in an email.
The pandemic figured in the responses and explanations from many other departments and agencies, with many blaming COVID-19 for delays.
One of them was the Defence Department, which reported a lapse of $2.5 billion in the last fiscal year. Much of the money wasn't spent due to delays in the delivery of new military equipment such as Arctic patrol vessels and upgrades to the Army's armoured vehicles.
There were also delays on major infrastructure projects for the military, according to Defence Department spokeswoman Jessica Lamirande. Those include upgrading and rebuilding two jetties for the Navy in Esquimalt, B.C., and a new armoury in New Brunswick.
"The COVID-19 pandemic has had a significant impact on many of our business lines," Lamirande said.
"The impacts of the pandemic on supply chain and industry capacity are causing manufacturing backlogs and delays."
Lamirande added most of the unspent funds are expected to be available in future years through a process called reprofiling, in which schedules are revised to reflect planned spending in future years due to those delays.
Former parliamentary budget officer Kevin Page said the government's handling of lapsed funding now is "a little more relaxed" than in previous years, when unspent funds were not reprofiled and even used to justify budget cuts in Ottawa.
But defence analyst David Perry of the Canadian Global Affairs Institute said the Defence Department's lapse, which has been steadily growing in recent years, is a symptom of Ottawa's continued difficulties purchasing new military equipment.
"If we're not getting those procurement projects through, we're not getting new equipment into the inventory, so we don't actually have the gear for our troops," he said, noting many of the delayed projects were launched under the Harper government.
Perry also noted the current rate of inflation, which is already naturally higher for military equipment and the defence sector than most other parts of the economy. Not spending money now means Canada will have to pay more for the same gear and services later, he said.
The Infrastructure Department, the Canadian Mortgage and Housing Corp. and the Fisheries Department, which includes the Canadian Coast Guard, also reported delays with different capital projects, including on affordable housing and broadband internet.
"Due to the unprecedented circumstances over the last few years such as the COVID-19 pandemic, disbursing funds to proponents for many projects are expected to and will take longer," CMHC spokeswoman Claudie Chabot said in an email.
Perry suggested a bigger problem.
"The government of Canada's ability to actually deliver services to the public, especially when it comes to large projects, large capital projects, be it for equipment or infrastructure or IT projects, is struggling across the board," he said.
Other federal entities with large lapses included Indigenous Services Canada, which failed to spend $3.4 billion, and Crown-Indigenous Relations and Northern Affairs Canada, which reported a lapse of $2.2 billion.
Spokesman Vincent Gauthier attributed much of the latter lapse to "the timing and progress of negotiations for specific claims and childhood litigations," adding that funds will be available "in some instances" in future years.
Gauthier did not say why Indigenous Services, which is responsible for delivering federal services to First Nations, Inuit and Metis, failed to spend billions of dollars. He did say most of the money had been reprofiled "so that it will be available when recipients need it."
Veterans Affairs Canada also reported a nearly $1 billion lapse last year, which the department blamed on fewer ill and injured ex-soldiers applying for assistance than expected.
However, critics have described earlier lapsed funding as evidence of the challenges many veterans face in accessing benefits and services. In 2014, the Royal Canadian Legion demanded the Harper government explain why $1.1 billion went unspent over seven years.
This report by The Canadian Press was first published Jan. 30, 2023.
Forecast: Coldest temperatures this winter coming to Eastern Canada – CTV News
The beginning of February is expected to bring Arctic-like temperatures across much of Eastern Canada, thanks to frigid air from the polar vortex.
"I think it will be a real punch in the face for easterners," Environment Canada senior climatologist David Phillips told CTVNews.ca. "It's going to be pretty short-lived and it's going to be right across the east."
The cold snap will descend on Eastern Canada between Thursday night and Friday, with temperatures becoming seasonable again on Sunday. In between, much of Ontario, Quebec and Atlantic Canada can expect the coldest days yet this winter.
"We'll see temperatures that are really, brutally cold," Phillips said from Toronto. "It's really a one-and-a-half-day wonder."
According to Environment Canada, as the cold air tracks east, daytime highs will only reach -13 C in Toronto, -20 in Ottawa, -21 in Montreal and -23 in Quebec City on Friday, and -18 in Fredericton, -15 in Halifax, and -18 in Charlottetown on Saturday.
"It'll be sunny and bright, because it's Arctic air," Philips said. "It's very dry, and it will be crisp"
Overnight temperatures on Friday night could dip as low as -20 in Toronto, -31 in Ottawa, -30 in Montreal, -34 in Quebec City, -28 in Fredericton, -21 in Halifax, and -23 in Charlottetown – all more or less double what's normal for this time of year.
"The last time it was that cold in Ottawa was 27 years ago," Phillips explained. "You can go year after year after year and not see a temperature of -20 in Halifax."
These temperatures do not factor in wind chill, which could make things feel even icier.
"It's going to be very punishing," Phillips said. "It's clearly an Arctic invasion of frigid air."
The short-lived and bitter winter blast is being blamed on a weakened polar vortex, which causes icy Arctic air to push south, leading to rapid and sharp temperature drops.
There is a silver lining for those who have been missing out on winter activities.
"The second half of winter, according to our models, seems certainly a little colder, more winter-like, than what we saw at the beginning of the winter," Phillips said. "But everywhere in Canada, we're now well the beyond the halfway point. There's more winter behind us than ahead of us!"
While much of Western Canada has been shivering through the winter, it's been a different story in the unseasonably mild east. Phillips says December and January in Ottawa, for example, were the third warmest on record in 150 years; and both Ottawa and Montreal have experienced no days below -20 this winter, when normally they would each have about 10. Ottawa's Rideau Canal Skateway is also still closed when it typically opens in January. Warmer winter temperatures, however, have also brought abundant snow.
"If you're in the east, it's looking like winter, but it doesn't feel like winter," Phillips said. "But it's going to feel like winter when the cold arrives."
Canada province experiments with decriminalising hard drugs – BBC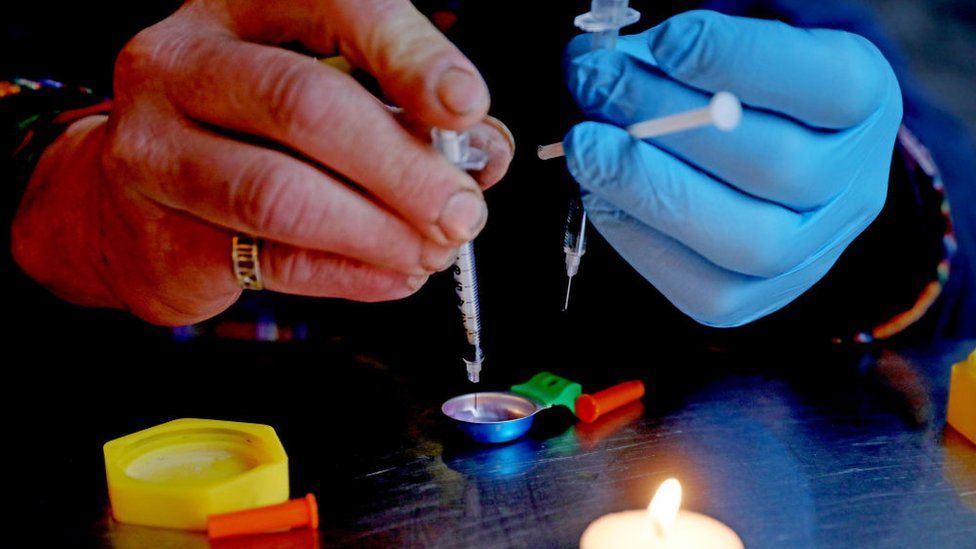 Canada's province of British Columbia is starting a first-in-the-nation trial decriminalising small amounts of hard drugs such as cocaine and heroin.
From Tuesday, adults can possess up to 2.5g of such drugs, as well as methamphetamine, fentanyl and morphine.
It follows a similar policy in the nearby US state of Oregon, which decriminalised hard drugs in 2020.
Ahead of the pilot's launch, British Columbia and federal officials outlined the rules under the federally approved exemption from the Controlled Drugs and Substances Act.
While those substances will remain illegal, adults found in possession of a combined total of less than 2.5g of the drugs will not be arrested, charged or have their substances seized. Instead, they will be offered information on available health and social services.
Federal minister of mental health and addictions Carolyn Bennett on Monday called the move "a monumental shift in drug policy that favours fostering trusting and supportive relationships in health and social services over further criminalisation".
Some 10,000 residents have died from drug overdoses since British Columbia declared drugs to be a public health emergency in 2016, officials said.
"Decriminalising people who use drugs breaks down the fear and shame associated with substance use and ensures they feel safer reaching out for life-saving supports," said Jennifer Whiteside, the British Columbia minister for mental health and addictions.
Thousands of police officers in the province have been offered training on the rule change, including those in Vancouver, the largest city in the province.
The programme will run from 31 January 2023 until 31 January 2026, unless it is revoked by the federal government.
Some experts have questioned the 2.5g limit, saying that it is not enough to account for the habits of many addicts.
There are some exemptions to the scheme.
The sale of drugs remains illegal. It is also illegal to possess drugs on the grounds of schools, childcare facilities and airports.
Canada legalised the use of recreational cannabis for adults nationwide in 2018.
But the four drugs now allowed in small quantities remain prohibited, meaning there are no plans to sell them in stores, unlike marijuana. Trafficking them across borders also remains illegal.
You may also be interested in: