You'll just have to take that double-double with you – BayToday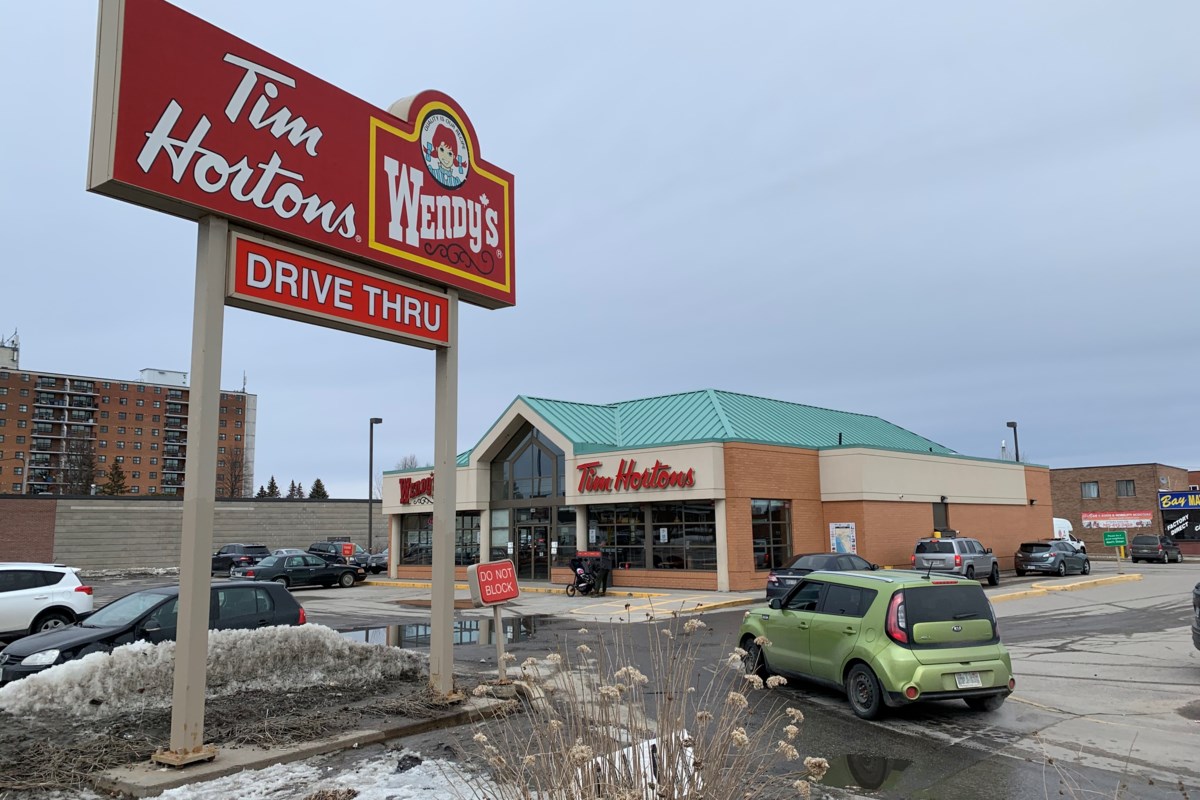 You'll notice a big difference when you satisfy your caffeine fix at Tim Hortons…no customers sitting and enjoying a cup of joe.
The restaurant says starting today, "All Tim Hortons restaurants will focus on take-out, drive-thru, and delivery service and will close all dining room seating in most locations until further notice. This is being done to contribute to social distancing that has been called for by public health officials.
"These measures will help us make a difference for the health and safety of the people we love, and the communities we live in and care deeply about, during this public health crisis."
Customers at the store on Lakeshore and Marshall were met with signs on the door explaining the policy.
In addition, they are hoping you pay with credit card instead of cash, although cash will still be taken. Wendy's has the same policy.
Meanwhile, they are telling sick employees to stay home.
"There is a lot of misinformation circulating and we want to make this very clear to all Tim Hortons team members and guests.
Our policy is clear. Team members should always stay home if they are sick – and do not require a doctor's note."
The move comes on the heels of a move by competitor Starbucks.
See: Starbucks limiting cafe access due to COVID-19 threat
"We will be closing our seating area and our condiment stand starting first thing Monday morning," Starbucks posted on its Starbucks North Bay Facebook page.
"Customers will still be able to come inside and order/pick up beverages and food items but will unfortunately not be able to sit in our cafe. Our Drive Thru and mobile order forum will also remain open. All orders will be prepared and finished with a lid behind the bar to prevent extra contact. We are doing all of this as a precaution for both our partners as well as you," the message continued.
Ontario COVID-19 deaths jump past 100; caseload more than 4,000 – 680 News
TORONTO — Another 25 people in Ontario have succumbed to COVID-19, bringing the provincial death toll for the virus to 119, health authorities reported on Sunday.
The fatalities come as the overall known caseload jumped past the 4,000 mark with more than 400 new ones reported. More than 150 people were on ventilators.
More than three dozen outbreaks have been reported in nursing homes across the province. The frail elderly are at particular risk for coronavirus, which can produce no or mild symptoms but can also cause lethal pneumonia.
About half the cases in the province are in Toronto, where the latest figures indicated 25 doctors, nurses, and other health-care workers in the city were infected.
Ontario has projected between 3,000 and 15,000 lives that could be lost to the pandemic even with stiff stay-home restrictions.
On Sunday, the union representing correctional officers said about 40 inmates of a large women's prison in southwestern Ontario were locked down due to an outbreak of COVID-19. Five inmates at Grand Valley Institution in Kitchener, Ont., were infected, Correctional Service Canada said.
The Union of Canadian Correctional Officers also said one guard was infected. Prison staff was being given protective equipment if they need to interact closely with inmates, the union said.
Correctional Service Canada did not immediately respond to a request to comment.
The pandemic has prompted most businesses and public facilities to close down, causing financial havoc across the country.
Ontario Opposition Leader Andrea Horwath called on the provincial government to spend up to $1.15 billion to help small and medium-sized businesses, charities and community-based non-profits survive.
"We not only want them to survive, we want them to be able to keep staff on the payroll as much as possible," Horwath said in a statement.
The previously announced federal wage subsidy was welcome but simply not enough, Horwath said. The NDP proposal calls among other things for a 75 per cent commercial rent subsidy of up to $10,000 a month for three months and a freeze on utility payments.
This report by The Canadian Press was first published on April 5, 2020.
Saudi Arabia, Russia Push Negotiations for Global Oil Pact – Yahoo Canada Finance
(Bloomberg) — Saudi Arabia, Russia and other large oil producers are racing to negotiate a deal to stem the historic price crash as diplomats said some progress was made on Sunday.
The talks still face significant obstacles: a meeting of producers from OPEC+ and beyond — delayed once — is only tentatively scheduled for Thursday. Russia and Saudi Arabia want the U.S. to join in, but U.S. President Donald Trump has so far shown little willingness to do so.
Oil diplomats are trying to stitch together a meeting of G20 energy ministers for Friday, as part of the effort to bring the U.S. on board, according to two people familiar with the situation.
Crude prices have fallen 50% this year, as the economic effects of the pandemic have knocked out about a third of global demand. The price crash is so dramatic that it's threatening the stability of oil-dependent nations, the existence of U.S. shale producers, and poses an extra challenge to central banks.
Even the International Energy Agency, which represents nations that consume oil, is calling for action. And oil officials know that if a deal to cut output in an orderly way isn't reached, the slump in prices will force some producers to shut down operations as storage on land and at sea is filling up.
The aim of talks, first revealed by Trump last week, is to cut oil production by about 10% — the biggest ever coordinated reduction. Oil rallied on Trump's comments last week, but then pared those gains as the diplomatic intricacies became clearer.
Cut Together
Saudi Arabia and Russia both say they want the U.S., which has become the world's largest producer thanks to the shale revolution, to join the cuts. But Trump had only hostile words for OPEC on Saturday, and threatened tariffs on foreign oil.
"If the Americans don't take part, the problem which existed before for the Russians and Saudis will remain — that they cut output while the U.S ramps it up, and that makes the whole thing impossible," said Fyodor Lukyanov, head of the Council on Foreign and Defense Policy, a research group that advises the Kremlin.
It's not clear if Russia and Saudi Arabia will require the U.S. to publicly commit to cut production — a challenge in the private, fragmented American industry — or if a compromise gesture would be enough. Alexander Dynkin, president of the Institute of World Economy and International Relations in Moscow, a state-run think tank, said Moscow would like the U.S. to lift some sanctions as a compromise.
Russia and Saudi Arabia — which sparred publicly between themselves over the weekend — have also disagreed about how they would calculate the cuts, according to a person familiar with the talks.
But in another sign of progress, Norway — which hasn't joined any production cuts since 2002 — signaled over the weekend it was ready to reduce unilaterally its output if others did. And a senior official from the oil-rich Canadian province of Alberta said it will dial into the oil meeting this week. Iraq's oil minister said he was optimistic about a deal.
Any agreement will require diplomatic agility at a time when nations are devoting massive resources to fighting the pandemic itself. It's also a battle of wills between Putin, Saudi Crown Prince Mohammad bin Salman, and Trump. On all sides, there are maneuvers to avoid blame if negotiations fail.
Trump said Saturday at a White House press briefing he's opposed OPEC his whole life, and characterized it as a cartel, or monopoly. "I don't care about OPEC," he said. He threatened to use tariffs if needed to protect the domestic oil industry, even as he predicted that Saudi Arabia and Russia would come to an agreement.
Meanwhile Saudi Arabia postponed its monthly price-setting event for exported oil. Saudi Aramco's official selling prices for May will be pushed to Thursday, according to people familiar with the situation. The OPEC meeting has also been tentatively rescheduled for Thursday.
The move allows the company to have a better idea of how negotiations are going before setting the prices that are its key weapon in its battle for market share. Last month, it also delayed the event in the midst of wrangling at OPEC+ and responded to the breakdown in those talks with a historic price cut — launching the price war negotiators are now trying to unravel.
(adds G20)
<p class="canvas-atom canvas-text Mb(1.0em) Mb(0)–sm Mt(0.8em)–sm" type="text" content="For more articles like this, please visit us at bloomberg.com" data-reactid="29″>For more articles like this, please visit us at bloomberg.com
<p class="canvas-atom canvas-text Mb(1.0em) Mb(0)–sm Mt(0.8em)–sm" type="text" content="Subscribe now to stay ahead with the most trusted business news source." data-reactid="30″>Subscribe now to stay ahead with the most trusted business news source.
©2020 Bloomberg L.P.
Ontario's hardware stores shift to curbside pickup, delivery during COVID-19 pandemic, – CTV News
OTTAWA —
Ontario's hardware stores, cannabis retailers and non-essential construction sites are now required to stay closed due to the COVID-19 pandemic.
The Ontario Government reduced the list of essential businesses allowed to remain open to 44 categories, including grocery stores, pharmacies, convenience stores and LCBO and Beer Stores.
Hardware stores and cannabis retailers are no longer allowed to stay open for in-store shopping, but can offer online service and curbside pick-up. All non-essential stores must stay closed for two weeks.
Here's a look at how stores have adjusted their business model due to the COVID-19 pandemic.
Ontario Cannabis Store
The Ontario Cannabis Store says you can order online for delivery.
The Ontario Cannabis Store is waiving delivery charges to make its service accessible.
Preston Hardware
Preston Hardware says you can place your order online or by email for curbside pick-up or delivery.
Canadian Tire
All Canadian Tire stores in Ontario must close for in-store shopping.
Canadian Tire says customers can still shop online with free curbside pick-up at stores or delivery
Home Depot
Hope Depot stores in Ontario remain open for curbside pick-up and delivery.
Lowe's Canada
All Lowe's stores in Ontario remain open, but only for curbside pick-up following an online order.
Lowe's also offers delivery options for purchases made online
Home Hardware
Home Hardware says some of its locations are offering delivery-only.
Shoppers are advised to check with their local store about online, phone or email orders.