Zimbabwe's scrap metal rush creates a circular economy, and headaches for authorities – chinadialogue
In the city of Bulawayo, a struggling steel industry has in the past few years found relief in small-scale producers. These producers have contributed to a rush for scrap metal that has brought problems of its own, including a spike in vandalism and metal theft.
Steel manufacturing companies once thrived in Zimbabwe's second city, which used to be celebrated as the nation's industrial hub. But over the past decade, hundreds of companies have shut down in Bulawayo, citing high energy costs and water shortages, reducing the city's once billowing furnaces to a silent wasteland of derelict structures. Pledges by the government to resuscitate industry have done little to help.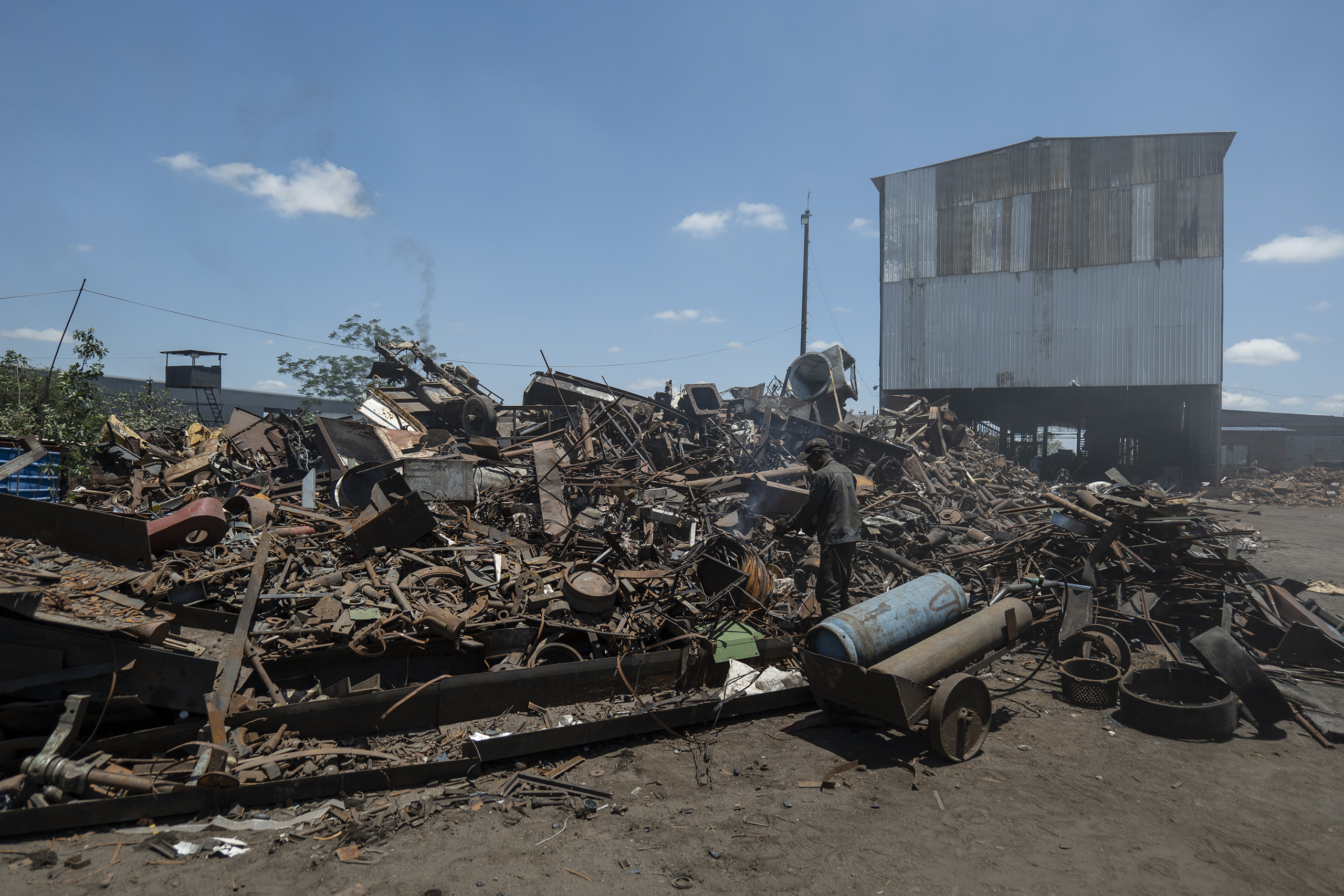 In recent years, small foundries and steel producers, including two owned by Chinese companies – Huamin Steel and Naisonale Investments – have set up in Kelvin West, an industrial area of the city where bargain hunters can source anything from car parts to coffins to a lunch consisting of cow heels.
Naisonale Investments, which employs about 150 workers, recycles scrap to supply steel products such as beams to the domestic construction sector. At peak output, the company produces 30 to 40 tonnes of steel per day, according to Pritchard Murayirwa, the general manager.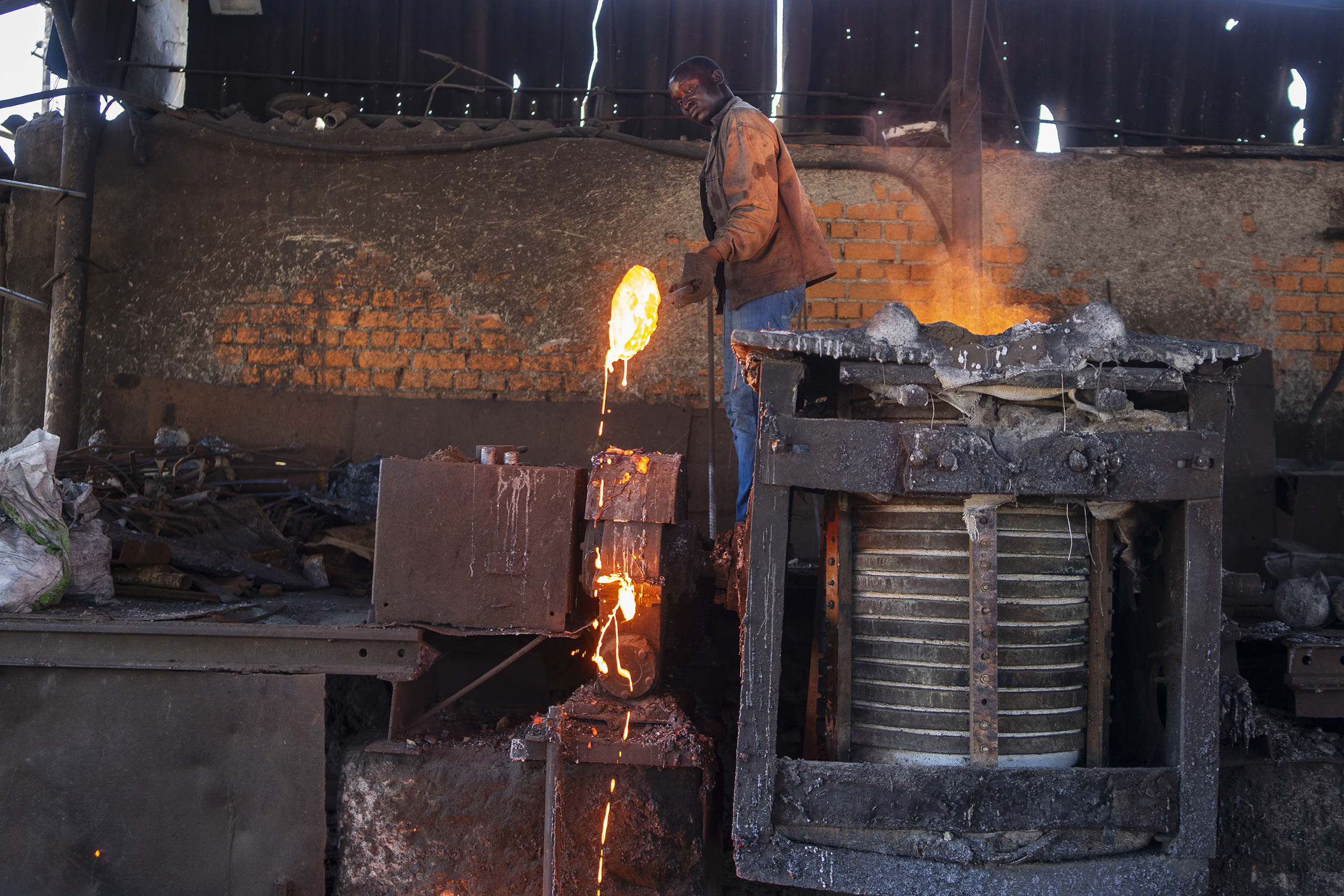 A tour of the company's premises revealed a busy production cycle running 24 hours per day, in which scrap metal is sorted and prepared for the furnaces, ready to make new steel products. Steel is considered by the government to be a critical industry, so companies such as Naisonale have been exempted from the planned power outages which have crippled other industries in Zimbabwe. Their success has, however, caused headaches for other sectors in Bulawayo and the wider nation.
Increased steel crime
The growth in operations at steel companies such as Huamin and Nasionale has created strong demand for scrap steel, which may have inadvertently contributed to a rise in vandalism, including of state-owned enterprises such as the struggling National Railways of Zimbabwe (NRZ). Theft cost the railways more than US$3.5 million last year, according to Martin Banda, a company spokesperson.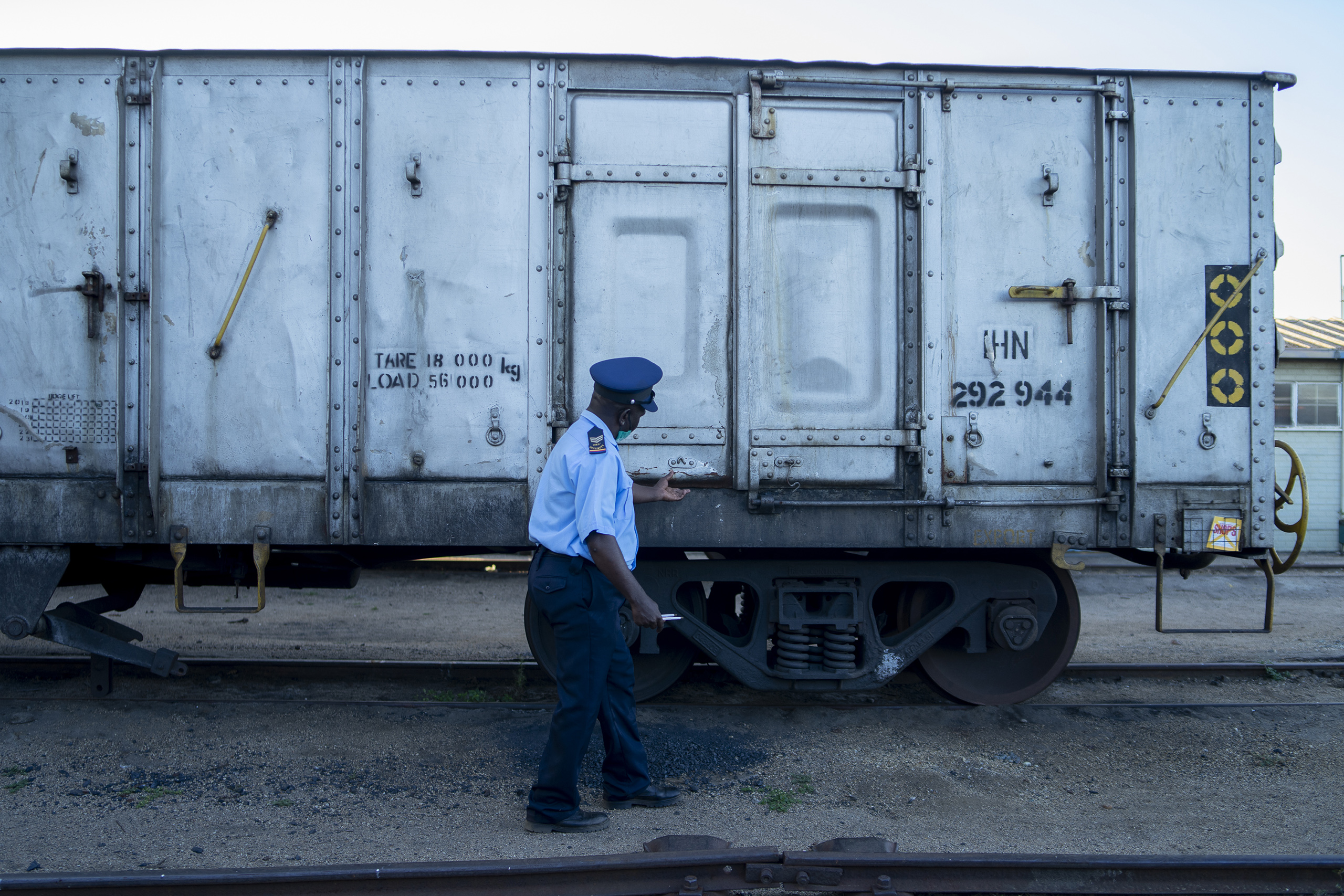 "The railways continue to lose infrastructure to vandalism and, from what we gather, the vandalised steel is sold to scrap yards where it is recycled and turned into other steel products," Banda told China Dialogue.
It's not only steel items that are being sought in this new rush for scrap. "Brass bearings in our trains are also being targeted because we are told brass handles are always in demand with funeral parlours for coffin handles," Banda said.
There is a certain irony in the railway system falling victim to vandalism, as Judith Ncube, Bulawayo's minister of state for provincial affairs, recently pointed out. "NRZ locomotives once transported key raw materials for the foundry sector," she told a meeting of the Zimbabwe Institute of Foundries (ZIF) last month.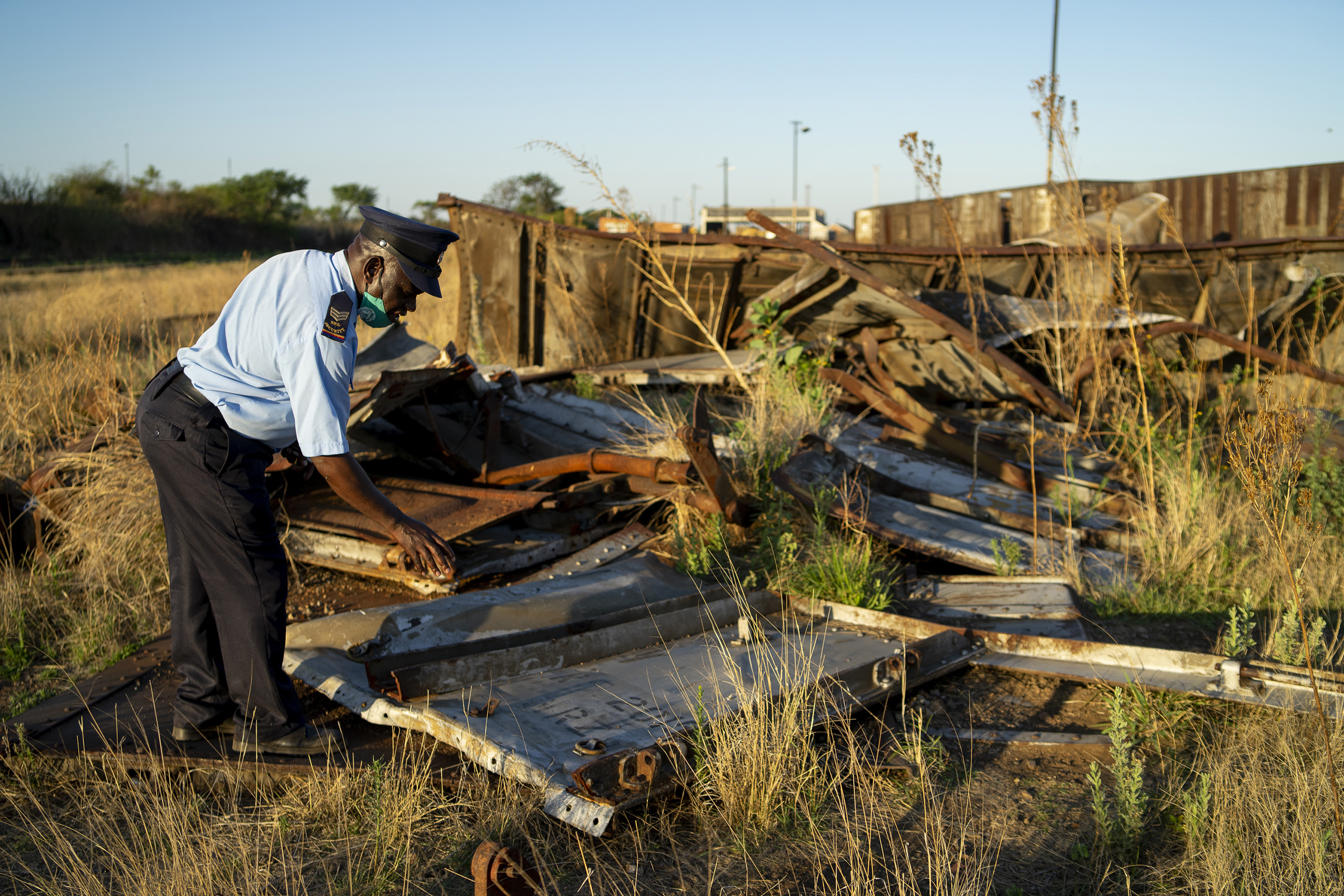 At the Naisonale Investments scrap heap, parts from haulage trucks and railways, such as tracks and train components, can be found, before they are transferred to the furnaces and cast into new steel products.
According to its manager, Murayirwa, a tonne of scrap metal sells for US$150, but dealers can get up to US$300 depending on the day's market price.
"We get scrap from big companies, some of whom have abandoned their operations, but also from individuals who have scrap to sell. No one can say we are promoting vandalism," said Murayirwa.
One scrap metal dealer located close to Naisonale Investments told China Dialogue he sells most of his scrap to the Chinese companies in Bulawayo. Some also goes to buyers in the small town of Kwekwe, a little over 200km southeast of Bulawayo and home to the perennially troubled state works, the Zimbabwe Iron and Steel Company, or Ziscosteel. Kwekwe has in recent years seen the establishment of several small foundries amid continuing efforts by the government to revive the steel sector.
In a country where, according to international aid agencies, millions survive on less than a dollar a day, scrap metal collection has emerged as a potential source of income. But while this presents an economic lifeline for many, the prices offered for scrap by new companies in the domestic steel sector appear to have provided an incentive for vandalism and theft.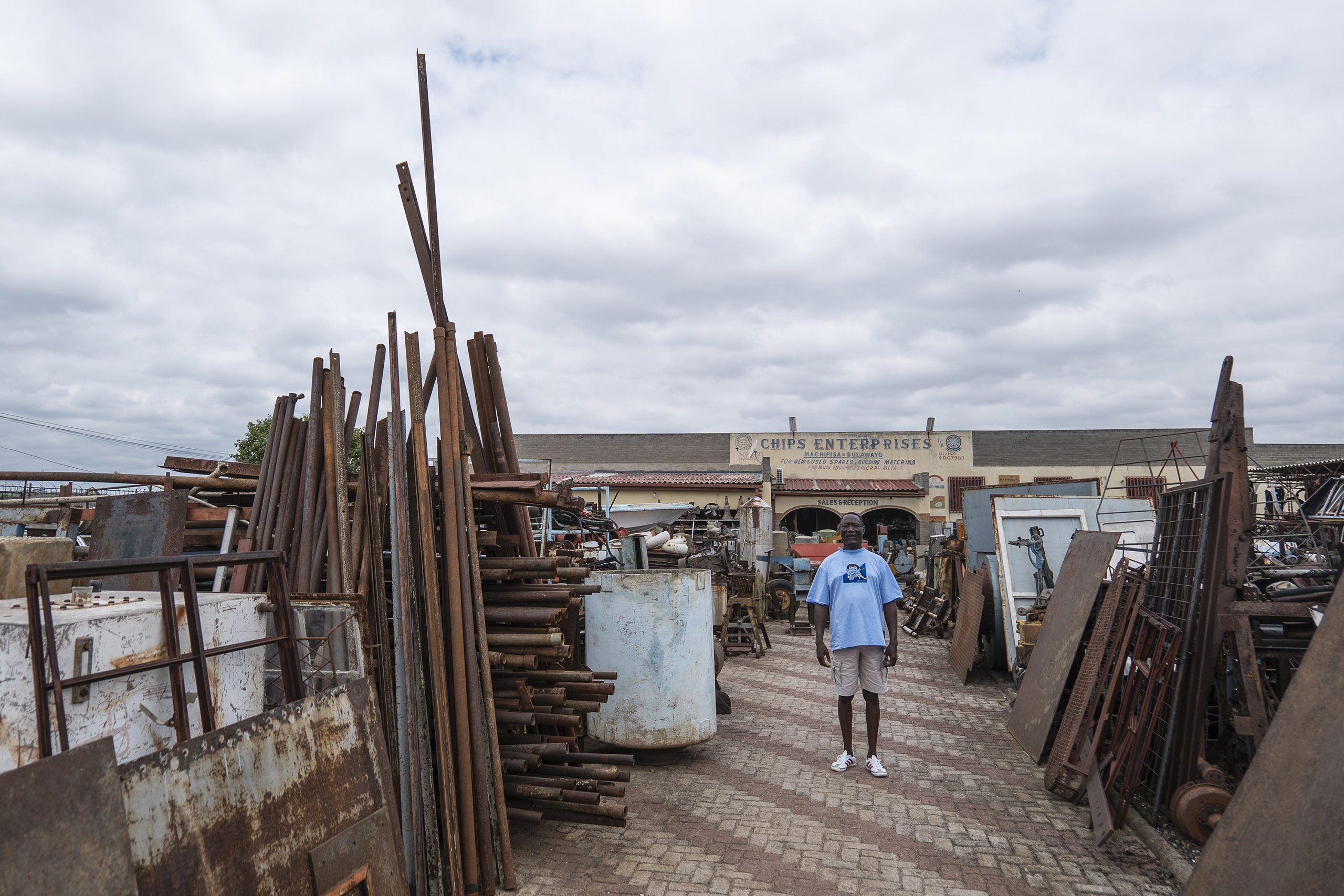 Local industry leaders have also complained about the government issuing permits to companies that allow them to export scrap metal to neighbouring countries, and circumvent an official but loosely enforced ban. Illegal exports by unlicensed dealers also present a significant problem. These leakages, sanctioned or otherwise, deprive the domestic industry of much needed materials, and may have caused Zimbabwe losses as high as US$5 billion over the past two decades, according to the country's mining minister.
The fluctuating availability of scrap metal presents challenges that exports only aggravate, according to Itai Zaba, president of the ZIF. He is clear about the action needed: "We want a [total] ban on exports, to supply local demand."
Like Minister Judith Ncube, Zaba also notes the particular difficulties faced by the railway industry, whose parts were made in foundries, which has been "cannibalised" by scrap theft.
According to local media reports, vandalism of everything from transport parts to power and telephone infrastructure has likely cost the country many millions of dollars, amid a host of economic and political challenges over the past two decades.
Backyard workshops
Zimbabwe's downward economic spiral has led to an unintended circular economy where anything from plastic bottles to soda cans now provide a source of income. Amid the uncertainty about supply of steel and related alloys, small-scale metal workers have found ways to create a living for themselves, in a country where millions are jobless.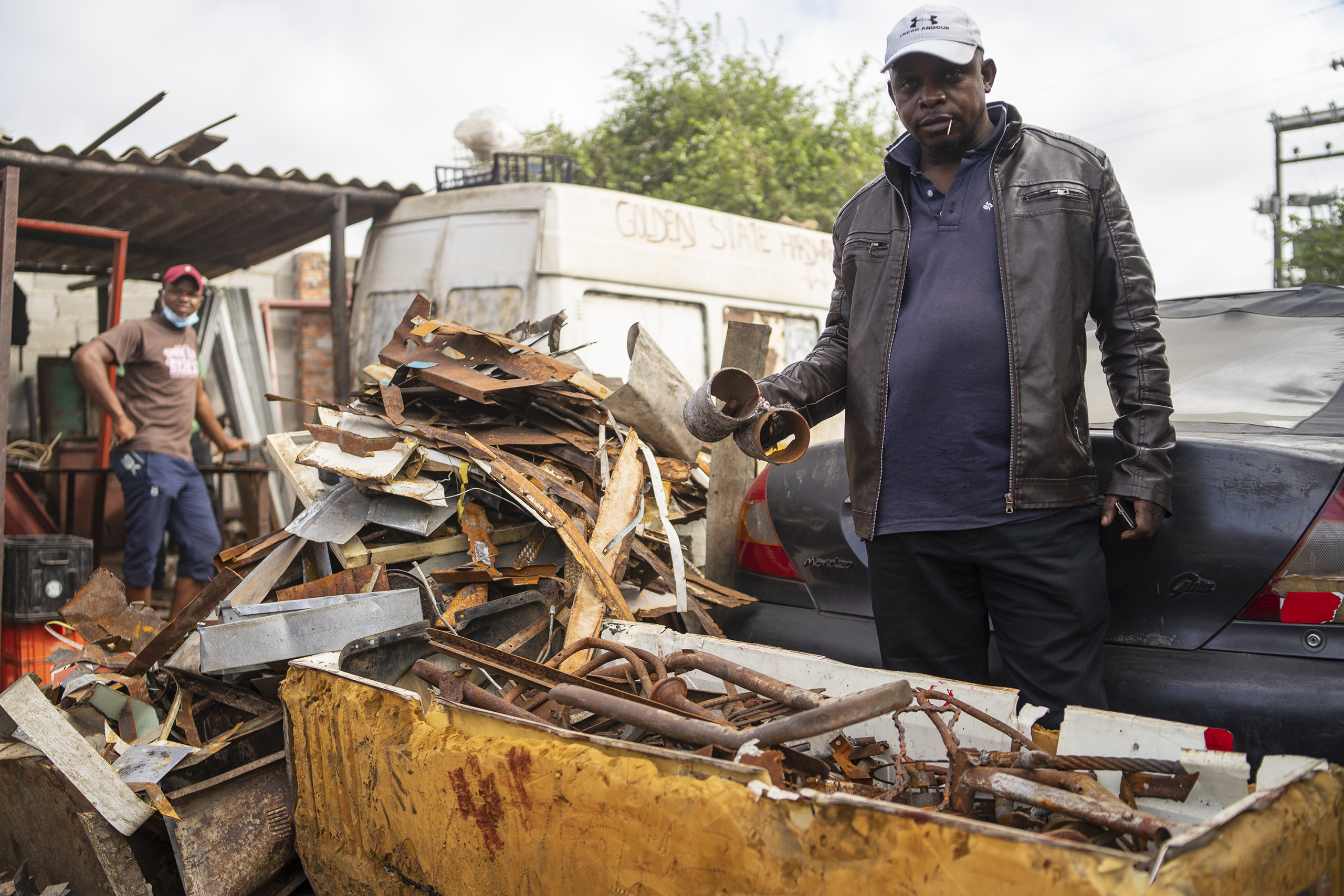 Lowani Ncube, who makes aluminium pots at one of the thriving informal backyard workshops in Bulawayo's Renkini area, says he buys and melts scrap from car breakers.
"The Chinese businesses who operate in the city deal with heavy metal that requires a lot of electricity [to melt]," he told China Dialogue. "For small metal workers like us, we melt our scrap using coal."
While larger businesses such as the city's Chinese-owned operators work with larger items, backyard workers such as Ncube largely deal in smaller goods. "I use soda cans which I buy from collectors and melt them to make three-legged pots," he told China Dialogue from his workshop. Across the city, local residents can be found digging through commercial waste looking for discarded soda cans.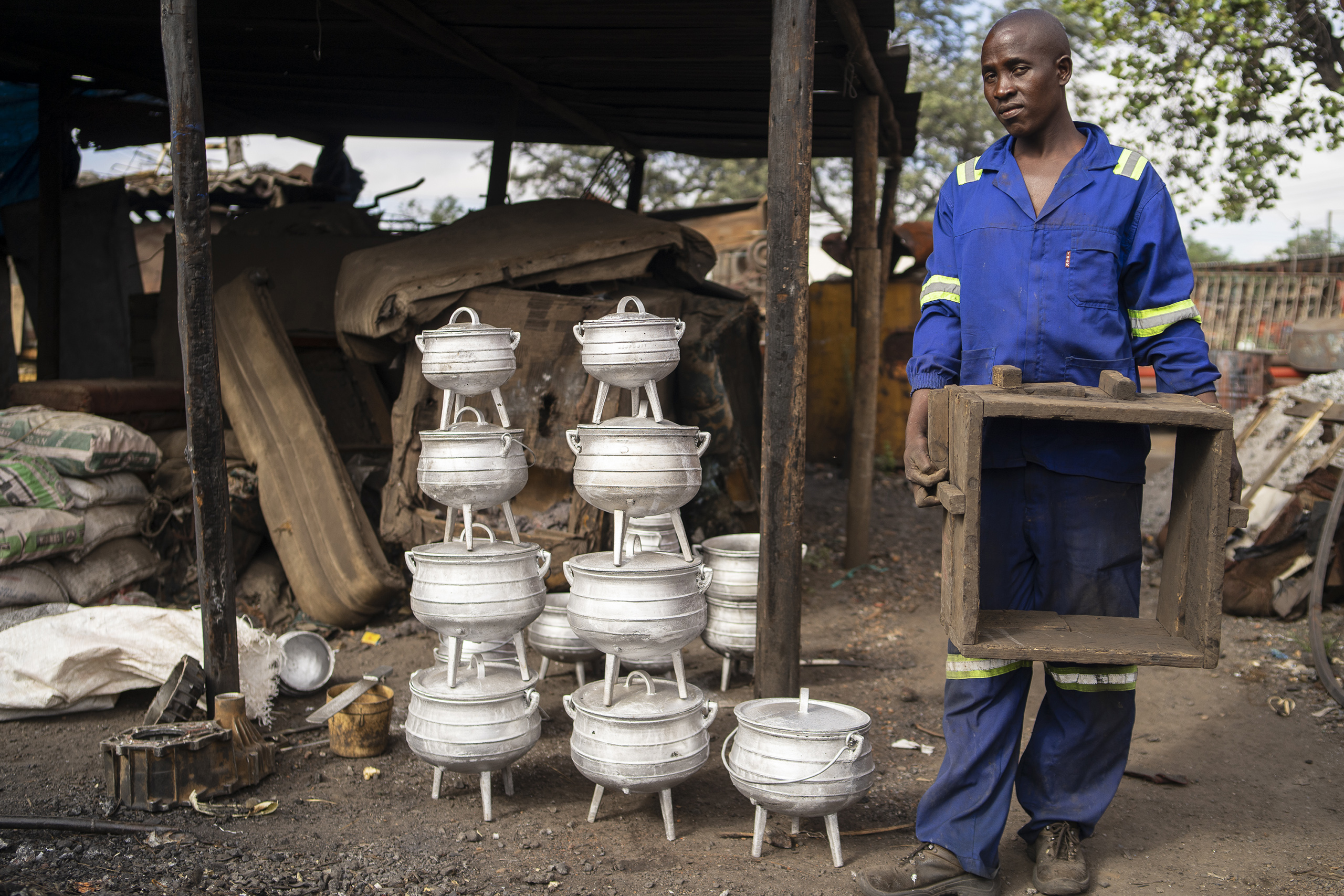 Just around the corner from Ncube's workshop, 27-year-old Kumbirai Siziba can be found working on tough steel products such as pick-axe heads. His methods are more traditional: using blacksmith muscle, and with the assistance of a group of other workers, he melts iron scrap using coke, then bangs it into shape to make a variety of products.
"We buy the scrap from people who go around collecting it for resale, while we get the coke collected from a Zimbabwe Electricity Supply Authority [the country's power utility] dump site," Siziba told China Dialogue. His workshop is a far cry from the industrial-scale output of other steelmakers in the city, but is still a part of a growing trade attracting ever increasing numbers of the city's residents.
Reviving a steel sector in decline
Zimbabwe used to be one of southern Africa's biggest steel producers until Ziscosteel shut down its production more than a decade ago. At its peak, Ziscosteel employed more than 5,000 workers.
Although the company has long been beset by instability and management issues, its absence costs the Zimbabwean economy. Last year, Sekai Nzenza, the country's minister of industry, complained that, following the closure of Ziscosteel plants and the drop in domestic production, steel imports to support local industry were costing the nation more than US$1 billion a year.
The government has made successive attempts to resuscitate the majority state-owned company but with limited success. The latest attempt to revive the steel works was in April last year, when the company's board announced it was looking for new investors.
Aside from Ziscosteel, production in Zimbabwe does continue, but the steel industry is a shadow of its former self. According to Dosman Mangisi, chief operating officer of the ZIF, there are now a total of 55 foundries operating in the country, of varying size and capacity, which process over 340,000 tonnes of scrap annually.
"We are however operating below capacity, at 40%, because of operational challenges that include high rentals and shortage of raw materials," Mangisi said, adding that the sector contributes more than US$1.5 billion to the national economy annually.
Elsewhere, several domestic and international companies have stepped in to revive large-scale steel-making in the country. Tsingshan Holding Group, one of China's largest corporations and a major global producer of stainless steel, is investing heavily in iron ore and coke production in Zimbabwe, as well as a steel plant that alone is worth more than US$1 billion. It will become the country's largest steel-making enterprise, and should create hundreds of jobs.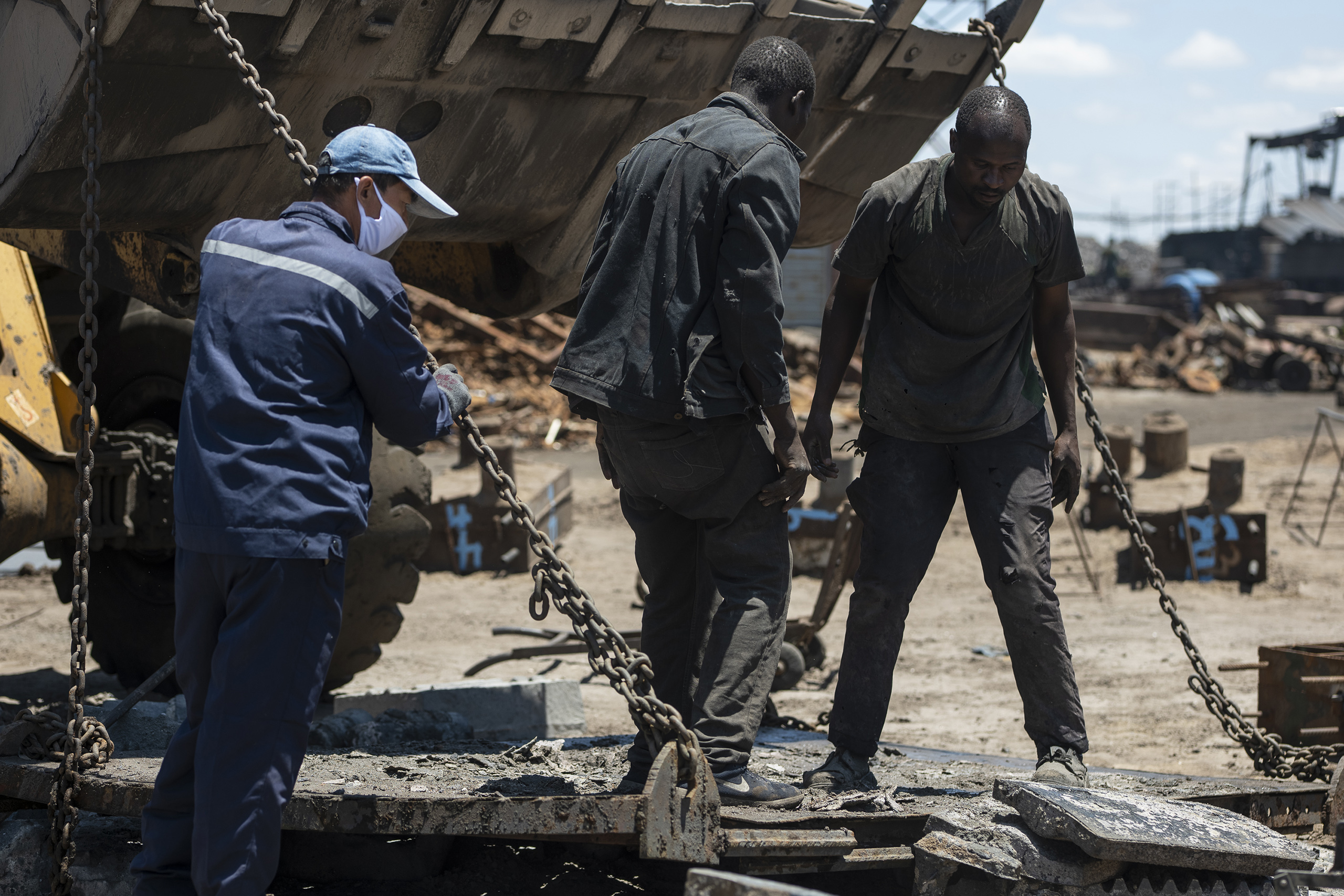 No timeline has been offered as to when Tsingshan's new operations will start, but according to statements issued by company officials in March last year, the plant will have capacity to produce 1.2 million tonnes of steel under its subsidiary Zhejiang Dinson Holdings, which already runs a ferrochrome plant in Zimbabwe.
ZIF could not provide the number of Chinese foundries operating both in the city of Bulawayo and across the country, but Mangisi told China Dialogue they are in the process of preparing an inventory that will detail the foreign investors involved in the sector, including the Chinese entities.
The impacts of these new investments in large-scale steel-making in Zimbabwe will become clearer in time, but it may bring a boost to a currently moribund sector. A return to more reliable steel output and its potential associated economic benefits, as well as the creation of jobs in the industry, could provide a stability that may steady the rush for scrap metals. However, with an increasing number of people making their livelihood in scrap collection, the situation will also require careful management.
Ahead of election, Macron banks on rosy French economy, new jobs – Financial Post
Article content
PARIS — President Emmanuel Macron will on Monday tout 21 new foreign investment projects in France and a booming economy as proof his economic reforms have been bearing fruit less than three months before a presidential election in which he is expected to run.
During a visit to Alsace in the east, Macron will announce a 300-million-euro ($342 million) industrial project by German chemical giant BASF, one of 21 new projects worth 4 billion euros and 10,000 jobs as part of a drive to attract foreign investors, his office said.
Article content
As the presidential race heats up, his aides are keen to shift the debate away from immigration and law-and-order issues and put the spotlight on the economy, which has been recovering strongly from the COVID-19 pandemic.
"This is the result of all the reforms that were carried out since the start of the mandate," a presidential aide told reporters.
"Three months before an election, we could have expected investors to be in wait-and-see mode because of the uncertainty of an election. Instead, we see very strong confidence from foreign investors in the president's economic policy," he said.
Since 2017, Macron has pushed through a cocktail of supply-side economic reforms meant to boost businesses' competitiveness, cut taxes on investors and loosen strict labor market rules.
Article content
Critics say he has acted as "president of the rich" who wants to do away with France's cherished social safety nets and has cut welfare benefits for some of the poorest.
But three months ahead of the April election, indicators show the French economy is booming, with growth expected to have hit 6.7% in 2021 and France having returned closer to pre-pandemic levels than any G7 peer bar the United States.
Macron supporters also received an unexpected boost from economist Paul Krugman on Friday.
"In fact, among major advanced economies, the star performer of the pandemic era, arguably, is … France," he wrote in his New York Times column https://www.nytimes.com/2022/01/14/opinion/france-economy-pandemic-socialism.html. ($1 = 0.8761 euros) (Reporting by Michel Rose; Editing by Emelia Sithole-Matarise)
Dollar finds a footing as traders brace for hawkish Fed
The dollar clung to a late week bounce on Monday as investors braced for January's U.S. Federal Reserve meeting and raised bets it will chart a year ahead holding several rate hikes, while China surprised analysts with a benchmark cut.
Chinese economic growth data, due later on Monday (0200 GMT), a Bank of Japan policy meeting which concludes on Tuesday, British inflation data on Wednesday and Australian jobs figures on Thursday are also in view as traders gauge the global policy outlook.
The dollar was 0.2% higher at 114.45 yen early in the Asia session, about 0.8% above a Friday low. It also edged about 0.1% firmer on the euro to $1.1403.
The moves follow the dollar's jump on Friday along with U.S. yields and underscore support for the greenback from the hawkish rates outlook, even if momentum for gains has started to wane.
The U.S. dollar index, which declined sharply last week until Friday's leap, sat at 95.225 in Asia on Monday.
"Friday's move suggest to me that the interest rate driver for dollar strength is not dead and buried," said National Australia Bank's head of foreign exchange strategy Ray Attrill.
He said it may not necessarily return to drive new dollar highs, but added: "We've had a hawkish twist out of every Fed meeting since June last year."
The Fed meets Jan. 25-26 and is not expected to move rates, but there is a growing drumbeat of hawkish comments coming from within and outside the central bank.
Last week, J.P. Morgan CEO Jamie Dimon remarked that there could be "six or seven" hikes this year and billionaire hedge fund manager Bill Ackman floated on Twitter over the weekend the possibility of an initial 50 basis point hike to tame inflation.
The cash Treasury market was closed for a holiday on Monday but 10-year futures were sold to a two-year low and Fed funds futures also fell, reflecting a strengthening conviction in the market of at least four hikes in 2022.
The Australian and New Zealand dollars, which dropped sharply on Friday, remained under pressure on Monday. The Aussie was last down 0.2% at $0.7200, ending for now a brief foray above resistance around $0.7276. [AUD/]
The kiwi edged 0.2% lower to $0.6791.
In China, bonds rallied and the yuan slipped after the central bank cut borrowing costs for medium-term loans for the first time since April 2020, defying market expectations.
Ten-year government bond futures rose to their highest since June 2020 after the move and the yuan began onshore trade marginally softer at 6.3555 per dollar.
Chinese gross domestic product figures due at 0200 GMT are expected to show annual growth at its slowest in 18 months as a property downturn drags on demand.
Elsewhere a month-long rally for sterling has petered out around its 200-day moving average. It held at $1.3669 on Monday, but analysts say it could resume gains if inflation data makes the case for higher interest rates.
"Interest rate markets are currently pricing an 80% + chance of a 25 bp rate hike by the Bank of England on 3 February," said Commonwealth Bank of Australia strategist Joe Capurso.
"A quicker pace of inflation could see pricing move closer to 100%."
========================================================
Currency bid prices at 0139 GMT
Description RIC Last U.S. Close Pct Change YTD Pct High Bid Low Bid
Previous Change
Session
Euro/Dollar
$1.1402 $1.1417 -0.13% +0.29% +1.1425 +1.1401
Dollar/Yen
114.4500 114.2250 +0.20% -0.50% +114.5050 +114.2800
Euro/Yen
130.51 130.36 +0.12% +0.15% +130.5500 +130.3200
Dollar/Swiss
0.9156 0.9140 +0.17% +0.37% +0.9158 +0.9143
Sterling/Dollar
1.3665 1.3685 -0.14% +1.05% +1.3675 +1.3665
Dollar/Canadian
1.2549 1.2557 -0.06% -0.74% +1.2555 +1.2539
Aussie/Dollar
0.7200 0.7218 -0.24% -0.95% +0.7224 +0.7199
NZ
Dollar/Dollar 0.6790 0.6810 -0.28% -0.78% +0.6820 +0.6791
All spots
Tokyo spots
Europe spots
Volatilities
Tokyo Forex market info from BOJ
(Reporting by Tom Westbrook; Editing by Jacqueline Wong)
China's Economy Slowed Late Last Year on Real Estate Troubles – The New York Times
Economic output climbed 4 percent in the last quarter of 2021, slowing from the previous period that ran July through September. Growth has faltered lately as home buyers and consumers become cautious.
BEIJING — Construction and property sales have slumped. Small businesses have shut because of rising costs and weak sales. Debt-laden local governments are cutting the pay of civil servants.
China's economy slowed markedly in the final months of last year as government measures to limit real estate speculation hurt other sectors as well. Lockdowns and travel restrictions to contain the coronavirus also dented consumer spending. Stringent regulations on everything from internet businesses to after-school tutoring companies have set off a wave of layoffs.
China's National Bureau of Statistics said Monday that economic output from October through December was only 4 percent higher than during the same period a year earlier. That represented a further deceleration from the 4.9 percent growth in the third quarter, July through September.
The world's demand for consumer electronics, furniture and other home comforts during the pandemic has kept exports strong, preventing China's growth from stalling. Over all of last year, China's economic output was 8.1 percent higher than in 2020, the government said. But much of the growth was in the first half of last year.
The snapshot of China's economy, the main locomotive of global growth in the last few years, adds to expectations that the broader world economic outlook is beginning to dim. Making matters worse, the Omicron variant of the coronavirus is now starting to spread in China, leading to more restrictions around the country and raising fears of renewed disruption of supply chains.
The slowing economy poses a dilemma for China's leaders. The measures they have imposed to address income inequality and rein in companies are part of a long-term plan to protect the economy and national security. But officials are wary of causing short-term economic instability, particularly in a year of unusual political importance.
Next month, China hosts the Winter Olympics in Beijing, which will focus an international spotlight on the country's performance. In the fall, Xi Jinping, China's leader, is expected to claim a third five-year term at a Communist Party congress.
With growth in his country slowing, demand slackening and debt still at near-record levels, Mr. Xi could face some of the biggest economic challenges since Deng Xiaoping began lifting the country out of its Maoist straitjacket four decades ago.
"I'm afraid that the operation and development of China's economy in the next several years may be relatively difficult," Li Daokui, a prominent economist and Chinese government adviser, said in a speech late last month. "Looking at the five years as a whole, it may be the most difficult period since our reform and opening up 40 years ago."
China also faces the problem of rapid aging that could create an even greater burden on China's economy and its labor force. The National Bureau of Statistics also said that China's birthrate fell sharply last year and is now barely higher than the death rate.
Private Sector Struggles
As costs for many raw materials have risen and the pandemic has prompted some consumers to stay home, millions of private businesses have crumbled, most of them small and family owned.
That is a big concern because private companies are the backbone of the Chinese economy, accounting for three-fifths of output and four-fifths of urban employment.
Kang Shiqing invested much of his savings nearly three years ago to open a women's clothing store in Nanping, a river town in southeastern China's Fujian Province. But when the pandemic hit a year later, the number of customers dropped drastically and never recovered.
As in many countries, there has been a broad shift in China toward online shopping, which can undercut stores by using less labor and operating from inexpensive warehouses. Mr. Kang was stuck paying high rent for his store despite the pandemic. He finally closed it in June.
"We can hardly survive," he said.
Another persistent difficulty for small businesses in China is the high cost of borrowing, often at double-digit interest rates from private lenders.
Chinese leaders are aware of the challenges private companies face. The central bank is taking steps to encourage the country's state-controlled commercial banks to lend more money to small businesses. Premier Li Keqiang has promised further cuts in taxes and fees to help the country's many struggling small businesses.
On Monday, China's central bank made a small move to reduce interest rates, which could help reduce slightly the interest costs of the country's heavily indebted real estate developers. The central bank pushed down by a tenth of a percentage point its interest rate benchmark for some one-year loans, to 2.85 percent.
Construction Stalls
The building and fitting out of new homes has represented a quarter of China's economy. Heavy lending and widespread speculation have helped China erect the equivalent of 140 square feet of new housing for every urban resident in the past two decades.
This autumn, the sector faltered. The government wants to limit speculation and deflate a bubble that had made new homes unaffordable for young families.
China Evergrande Group is only the largest and most visible of a lengthening list of real estate developers in China that have run into severe financial difficulty lately. Kaisa Group, China Aoyuan Property Group and Fantasia are among other developers that have struggled to make payments as bond investors become more wary of lending money to China's real estate sector.
As real estate companies try to conserve cash, they are starting fewer construction projects. And that has been a big problem for the economy. The price of steel reinforcing bars for the concrete in apartment towers, for example, dropped by a quarter in October and November before stabilizing at a much lower level in December.
The decline in home prices in smaller cities has hurt the value of people's assets, which in turn made them less willing to spend. Even in Shanghai and Beijing, apartment prices are no longer surging.
Understand the Evergrande Crisis
---
Card 1 of 6
What is Evergrande? The Evergrande Group, a sprawling Chinese real estate giant, has the distinction of being the world's most debt-saddled developer. It was founded in 1996 and rode China's real estate boom that urbanized large swathes of the country, and has millions of apartments in hundreds of cities.
There have been faint hints of renewed government support for the real estate sector in recent weeks, but no sign of a return to lavish lending by state-controlled banks.
The financial distress of Evergrande "is a signal that money will be pushed from real estate to the stock market," said Hu Jinghui, an economist who is the former chairman of the China Alliance of Real Estate Agencies, a national trade group. "The policies can be loosened, but there can be no return to the past."
Local Governments Feel the Pinch
The slowdown in the housing market has also hurt local governments, which rely on land sales as a key source of revenue.
The International Monetary Fund estimates that government land sales each year have been raising money equal to 7 percent of the country's annual economic output. But in recent months, developers have curtailed land purchases.
Starved of revenue, some local governments have halted hiring and cut bonuses and benefits for civil servants, prompting widespread complaints on social media.
In Hangzhou, the capital of Zhejiang Province, a civil servant's complaint of a 25 percent cut in her pay spread quickly on the internet. The municipal government did not respond to a fax requesting comment. In northern Heilongjiang Province, the city of Hegang announced that it would not hire any more "low-level" workers. City officials deleted the announcement from the government's website after it drew public attention.
Some governments have also raised fees on businesses to try to make up for the shortfall.
Bazhou, a city in Hebei Province, collected 11 times as much money in fines on small businesses from October through December as it did in the first nine months of last year. Beijing criticized the city for undermining a national effort to reduce the cost of doing business.
Pockets of Strength in Exports
Exports are setting records. Families around the world have responded to being stuck at home during the pandemic by spending less on services and more on consumer goods now made mainly in Chinese factories.
Some areas of consumer spending have been fairly robust, notably the luxury sector, with sports cars and jewelry selling well.
Few anticipate that the government will allow a severe economic downturn this year, ahead of the Communist Party congress. Economists expect the government to soften its restrictions on lending and step up government spending.
"The first half of the year will be challenging," said Zhu Ning, deputy dean of the Shanghai Advanced Institute of Finance. "But then the second half will see a rebound."
Li You contributed research.