2021: Alberta eyes post-COVID economic rebound but faces big budget questions – The Tri-City News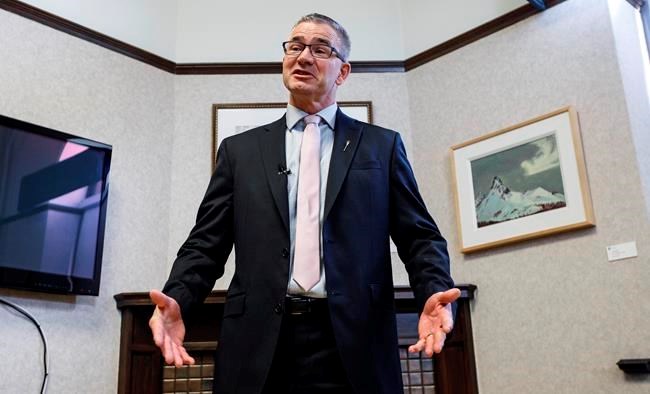 EDMONTON — Alberta Finance Minister Travis Toews says the goal in 2021 is to get vaccines out and put the COVID-19 pandemic in the rear-view mirror, then work to fix a battered and beleaguered economy.
But with a $21-billion deficit and Alberta's wellspring oil and gas economy still in flux, there's a red-inked elephant in the room: Where's the money going to come from?
"We will not cut our way out of a $21-billion deficit," Toews said in a year-end interview with The Canadian Press.
"We have to get the economy growing again. And economic recovery will very quickly become job No. 1 as we start to get past the pandemic."
Roll the tape back to the start of 2020. Premier Jason Kenney's United Conservative government was busy trying to resuscitate an already wheezing economy only to see COVID-19 blow everything apart and take with it Kenney's signature election promise to balance the deficit in his first term.
That goal is a distant memory with a projected budget deficit this year tripling an original forecast of $6.8 billion. COVID-19 has slashed demand for energy, shuttered businesses and demanded relief aid and job supports to keep people going.
Toews said the plan is to get Alberta out of the financial ditch in February with the budget.
In November, he laid out "fiscal anchors" for the journey: keeping the net-debt to GDP ratio under 30 per cent, reducing public sector spending to match comparable jurisdictions and setting a timeline to get the budget back to balance.
University of Calgary economist Trevor Tombe said Alberta is in the enviable position of having options. It's the lowest-taxed province, and oil and gas will continue to deliver billions of dollars to the treasury for the foreseeable future, though not in the same eye-popping amounts as boom times.
"But even if (the energy revenue) is significant, it won't be nearly enough, so we need to shift gears on how we fund public services."
By his number crunching, Tombe said if Toews is to meet his targets, Alberta will need to find an extra $7 billion a year if it wants to get the budget out of the red and start paying off a debt now projected to reach $97 billion in 2021.
Such talk raises again the spectre of a sales tax.
Alberta's Social Credit government brought in a two per cent levy in 1936 and quietly dropped it a year later. After the Second World War, Alberta's oil and gas economy exploded, allowing it to eschew the stability of a tax.
Sales tax is the third rail of Alberta politics and by law can't be brought in without a referendum. Toews said it's not in the cards, but he'll strike a panel to revisit Alberta's revenue generation.
Opposition NDP Leader Rachel Notley did not bring in a sales tax when she was premier before Kenney was elected in 2019. She agrees with the UCP that it would be a debilitating blow to a fragile economy.
Notley says the solution begins with further diversifying the economy and building on Alberta's strengths of a young educated workforce, a burgeoning tech sector and entrepreneurial business owners.
Oil and gas are key, she adds, but warns that Kenney's blinkered focus on them to the exclusion of other opportunities will be the province's undoing.
"If (Kenney) continues to insist on operating through an ideological lens, which is squarely focused backward by about 25 years … then we are in big trouble."
The economy is also a political question. The United Conservatives reach the midpoint of their mandate in 2021 and early initiatives, including a deep slash to the corporate tax rate, have yet to bear fruit.
Political scientist Duane Bratt said COVID-19 and the economy are destined to again slam into each other in 2021. The government has said that after the pandemic is over it will follow through on saving money in health care including reducing or outsourcing 11,000 jobs.
"How do you say, 'Thank you for all the hard work (during the pandemic). Here are your layoff papers?'" said Bratt with Mount Royal University in Calgary.
Broadly speaking, Bratt said, the NDP is more trusted by the electorate on the health file, while the United Conservatives own the economy. That raises future ballot box questions two years from now, if the UCP has angered Albertans with its health decisions while failing to get the economy going.
Said Bratt: "If the economy trumped everything in 2019, does health trump everything in 2023?"
This report by The Canadian Press was first published Dec. 27, 2020.
Dean Bennett, The Canadian Press
Investor Optimism Over German Economy Rises Despite Restrictions – Bloomberg

Germany risks severe economic consequences if it fails to contain the pandemic, according to one of the country's leading economists.
"I believe we massively underestimate the economic risks of the second wave," Marcel Fratzscher, president of the German Institute for Economic Research, or DIW, told journalists. "Many companies are over-indebted and have exhausted their reserves. I'm afraid we're too optimistic about getting out of this crisis quickly."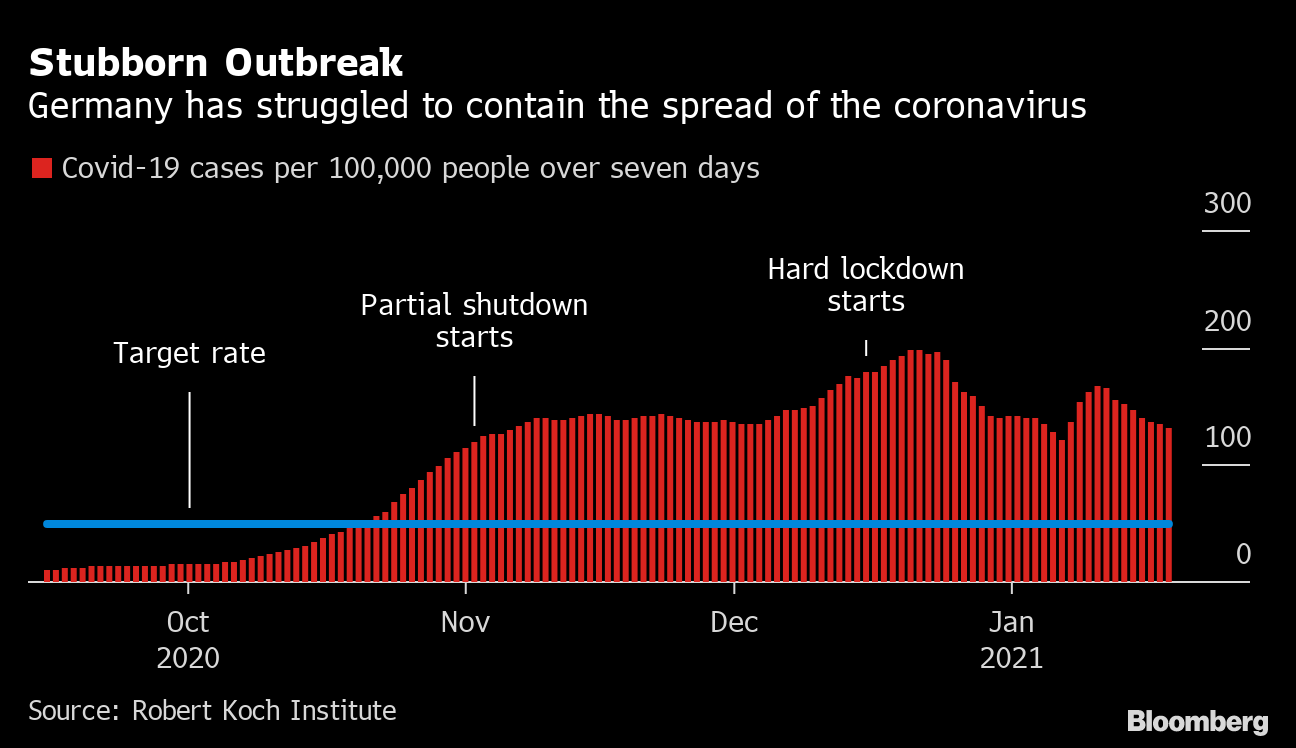 Fratzscher's warnings sharply contrast with a report published earlier on Tuesday showing investors grew more confident in Germany's outlook at the start of the year, betting that a nascent global recovery would bolster exports.
The German economy probably avoided a contraction in the fourth quarter, thanks in part to generous government support and a strong manufacturing sector that isn't as directly affected by virus curbs that have hit restaurants and the travel sector.
Prospects for the first quarter are dire though. Chancellor Angela Merkel and state premiers are likely to extend already tough restrictions until at least mid-February and may impose yet more stringent contact rules as well as nighttime curfews and curbs on the number of people going to the office.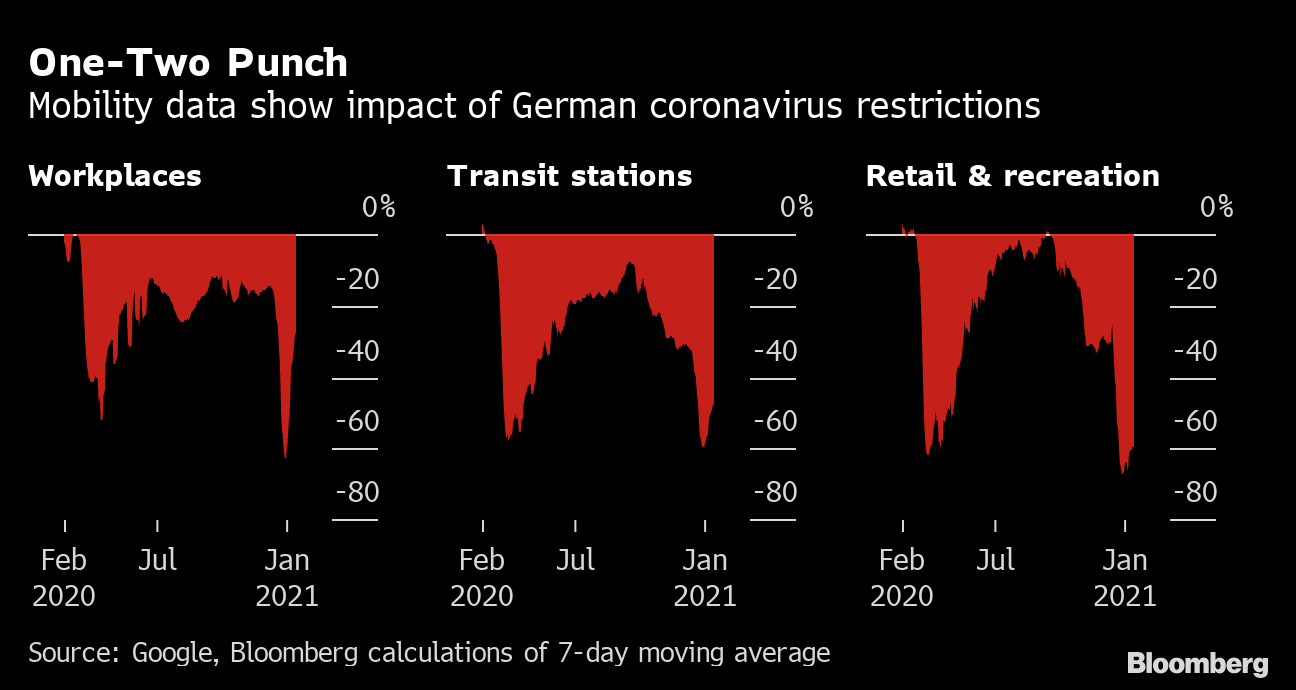 Even if the lockdown ended at the end of January as currently planned, output in the first quarter would shrink some 2%, Fratzscher said.
The country won't see an "economic reboot" until the third quarter at the earliest, he added — contingent on completing vaccinations and reaching herd immunity.
"Politicians must be prepared for and make people aware that if the second wave can't be contained, the consequences will be enormous," Fratzscher said.
The economy contracted 5% in 2020, the most since the global financial crisis, and most forecasts indicate it will take until 2022 to recover the ground lost.
— With assistance by Harumi Ichikura, and Kristian Siedenburg
China Says Its Economy, Recovering From The Pandemic, Grew 2.3% Last Year – NPR
Just over a year after the world's first coronavirus cases were identified in China, the country's economy has bounced back from the ravages of the pandemic.
China's economy grew by 2.3% last year, according to data published Monday by the country's National Bureau of Statistics. The steady economic recovery was largely expected, and puts China on a track that other countries haven't achieved.
"It's likely that China could be the only major economy that has significant positive economic growth in 2020," Nicholas Lardy, a China specialist at the Peterson Institute of International Economics, told NPR in May. "The U.S. is clearly going to be negative. Europe is negative. Japan is going to be negative."
When the pandemic first hit, however, China's economic outlook was a lot less sunny.
Thanks to sweeping and strictly enforced lockdowns, the country's year-on-year GDP for the first three months of 2020 shrank 6.8%, its biggest drop in decades. And as the economy constricted and unemployment rates rose, officials in the spring took the unprecedented move of scrapping their annual economic growth targets.
As the year progressed and the pandemic receded in China, the country saw an economic upturn helped largely by an increase in consumer spending. Its GDP went up by 3.2% in the second quarter, 4.9% percent in the third quarter and 6.5% for the fourth quarter.
China also reported a record $75.4 billion surplus in November, after exports to the rest of the world jumped $21.1% compared to the previous year. As NPR's Scott Horsley reported, much of that increase was accounted for by exports to the United States, despite the tariffs imposed by President Trump.
Still, an English translation of the statistics bureau report noted that "the changing epidemic dynamics and external environment pose a multitude of uncertainties and the foundation for economic recovery is yet to be consolidated."
As NPR's Emily Feng has reported, Chinese policymakers have pledged to continue policies that support private businesses and consumer demand, but will scale back certain credit-boosting policies in the months ahead.
The country has largely managed to bring the pandemic under control, allowing many businesses to reopen at pre-pandemic levels, according to Feng. And it still imposes strict lockdowns in regions with an uptick in cases: As of mid-January, a cluster of more than 600 cases in Hebei province has prompted the lockdown of some 11 million people.
Brent crude edges up as optimism over economy trumps demand concerns – TheChronicleHerald.ca
By Florence Tan
SINGAPORE (Reuters) – Brent crude futures edged up on Tuesday as optimism that government stimulus will buoy global economic growth and oil demand trumped concerns that renewed COVID-19 pandemic lockdowns globally could cool fuel consumption.
Brent crude futures for March rose 20 cents, or 0.4%, to $54.95 a barrel by 0351 GMT after slipping 35 cents in the previous session.
U.S. West Texas Intermediate crude was at $52.19 a barrel, down 17 cents, or 0.3%. There was no settlement on Monday as U.S. markets were closed for a public holiday. Front-month February WTI futures expire on Wednesday.
Investors are upbeat about demand in China, the world's top crude oil importer, after data released on Monday showed its refinery output rose 3% to a new record in 2020. China was also the only major economy in the world to avoid a contraction last year as many nations struggled to contain the COVID-19 pandemic.
"Yesterday's data out of China was a positive for oil prices," Michael McCarthy, chief market strategist at CMC Markets in Sydney said.
Investors are watching out for U.S. President-elect Biden's inauguration speech on Wednesday for details on the country's $1.9 trillion aid package.
OANDA's Asia-Pacific senior analyst Jeffrey Halley said: "Like other asset classes, oil has received a gentle U.S. stimulus tailwind in Asia."
Oil prices have also been supported by Saudi Arabia's additional supply cuts in the next two months which are expected to draw down global inventories by 1.1 million barrels per day in the first quarter, ANZ analysts said.
Concerns about rising COVID-19 cases globally and renewed lockdowns weighing down fuel demand kept a lid on oil prices.
ANZ analysts flagged concerns about falling fuel sales in India in January from December and rising COVID-19 cases in China and Japan that could dampen oil demand.
"In Europe and the U.S., the slow rollout of vaccines is also raising concerns that a rebound in demand will remain elusive," the bank said.
(Reporting by Florence Tan; Editing by Richard Pullin and Kenneth Maxwell)