2024 Ford Mustangs With V8s Get Price Bump Before Arriving on Dealer Lots
Do you remember back in February when we reported on pricing for the new 2024 Ford Mustang? You can forget about some of those prices, at least on the V8 models. Motor Authority reports that Ford has increased pricing on the '24 Mustang GT and Dark Horse.
Racing Tech | The Most Powerful Engines in Racing Can Be Found in the NHRA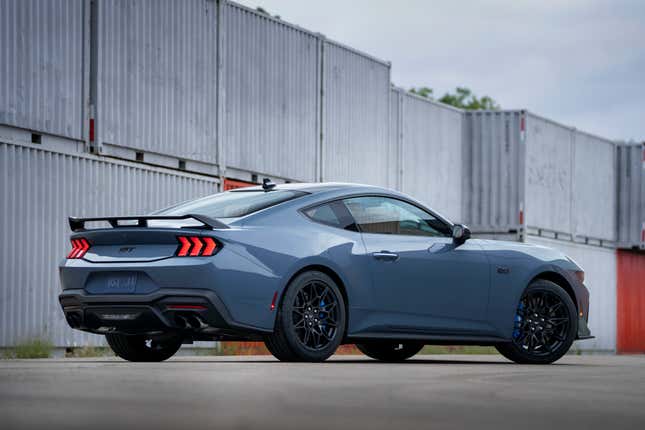 If you want any of the V8 trims of the new Mustang, they're going to cost you a bit more than previously reported. If you're wondering how the price of a car can be raised before it even goes on sale, Motor Authority confirmed with Ford the price increases are due to a gas guzzler tax — which the V8 models have been hit with due to not meeting fuel economy standards— and, as Ford puts it, "strong demand."
Including the $1,595 destination charge, pricing is up $1,000 on both the Mustang GT ($44,090; previously $43,090) and GT Premium ($48,610; previously $47,610). The Mustang Dark Horse's price is up $1,300 ($60,685; previously $59,565) while the Dark Horse Premium's price is up $1,400 ($63,460; previously $62,060).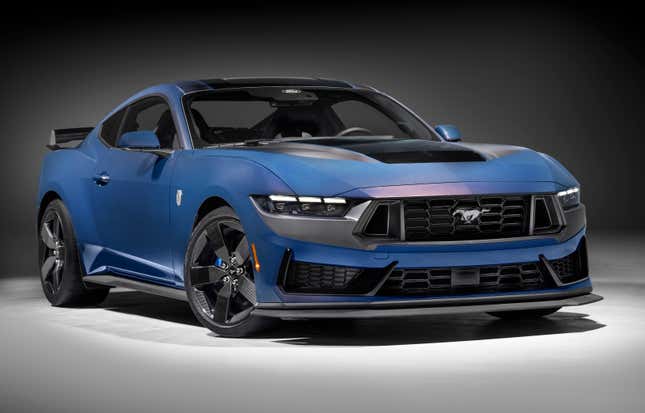 Ford confirmed that the prices for several Dark Horse options have increased as well. The appearance package is up $250 ($1,500), the handling package is up $495 ($4,995), and the most expensive option of them all, the carbon fiber wheels, has gone up another $500 ($8,995). This means a fully loaded out Mustang Dark Horse will be nearly $84,000.
For those with lighter bank accounts, pricing on the Ecoboost models is staying the same. The 2024 Ford Mustang is set to hit dealers this summer.
Motorola Says iPhone Owners Are Switching to Get Foldable Phones – CNET
From Samsung to Motorola and Google, just about every major Android phone maker has released a foldable phone. But there's one big, non-Android outlier: Apple. And according to Motorola, that's prompting some iPhone users to make the switch.
Specifically, Motorola has seen 20% of new Razr users coming from Apple products. That data point is from 2021 following the launch of the previous-generation Razr.
"This is definitely the family that we have the most amount of iPhone users switching to us," Allison Yi, Motorola's head of North America product operations, said to CNET ahead of the company's Razr Plus launch.
Foldable phones still account for a fragment of the global smartphone market, but the category is growing quickly as tech giants search for the next major evolution of the mobile phone. Market research firm International Data Corporation estimates that worldwide shipments of foldables will increase more than 50% in 2023 compared to 2022. Motorola's Razr line faces the most competition from Samsung's Galaxy Z Flip series, although Samsung hasn't broken out its sales numbers to specify its percentage of iPhone converts.
This year is shaping up to be a milestone moment for foldables with the arrival of newcomers including Google and OnePlus, giving Motorola and other early entrants like Samsung more competition. Apple, however, is still noticeably absent from the foldable phone race, and that isn't likely to change anytime too soon.
'Diablo 4' PS5 Players Hit With 'Unable To Find A Valid License' Error, Blizzard Comments – Forbes
I'll be honest, my jaw was hanging open a bit when I logged into Diablo 4 a minute after 7 PM ET, got a 4 minute queue which was…actually over in four minutes. I got in, created my Barbarian and I'm already level 4, pausing only to write this article. No wild wait times, no errors, no disconnects (yet).
But I'm on PC. PS5 players? They're no so lucky.
At the time of this writing, there is a widespread error that says "Unable to find a valid license for Diablo IV (Code 315306)." This is happening, obviously, to people who very much have indeed purchased the game, so something is going wrong here with an interaction between Blizzard and PlayStation it seems.
However, it may be Blizzard and console more broadly. I have heard of at least some Xbox players getting this error message as well, but overall players seem to be having more success with Microsoft. The PS5 error appears to be more widespread, for whatever reason.
Blizzard has indeed acknowledged the issue, via its community manager and a forum post here. They do say PlayStation specifically, even if a few Xbox folks are hitting it. The message just says:
"We are seeing reports regarding PlayStation users experiencing Invalid License errors. The team is looking into this right now and will update once we have more information."
If you've come here for advice on a fix, I'm sorry I can't help you yet, as there does not appear to be one. I would avoid drastic steps like reinstalling the 80 GB game or anything, as that is probably going to be unnecessary and not fix the problem anyway. But yes, there is a widespread problem, you are not alone.
Naturally, many Diablo players were concerned we could have another Error 37 issue on our hands, the old error code that endlessly crippled Diablo 3 at launch. It…doesn't seem likely that we're headed into something that bad. Given that this is a console-specific issues, it means that Blizzard's servers are not totally melting down as a whole. This time around they also did a "server slam" and this is early access launch which are mitigating factors. But that's cold comfort to PS players who can't play yet because of the "no valid license" error.
As soon as there's a new update on the situation I will post it here. Stay tuned, and hopefully this will be resolved soon.
Update: It seems this may be a PS-wide issue, as there are reports of many games returning the license error right now, not just Diablo 4. Bad coincidence or…sparked by a flood of Diablo logons? Not clear yet.
Follow me on Twitter, YouTube, Facebook and Instagram. Subscribe to my free weekly content round-up newsletter, God Rolls.
Pick up my sci-fi novels the Herokiller series and The Earthborn Trilogy.
Ahead of Apple's big VR debut, Mark Zuckerberg unveils Meta Quest 3 mixed-reality headset – Economic Times
Just days before Apple's big annual conference, WWDC 2023, Meta founder Mark Zuckerberg on Thursday announced brand new next-generation virtual and mixed reality headset, Meta Quest 3.
The new virtual reality headset, which features higher resolution and stronger performance, will launch later this year.
The Meta Quest 3 comes with Meta's breakthrough Reality technology and a slimmer, more comfortable form factor. The headset will start shipping in all countries where Meta Quest is currently supported.
The tech giant said that it will share more details on the product on September 27 at Meta Connect. The Meta Quest headset starts at $499.99 (Rs 41,159 approximately) for the 128GB variant.
"Meta Quest 3 is the supercharged all-in-one headset you've been waiting for — no wires required," the company said.
« Back to recommendation stories

While making the announcement, Meta claimed that Quest 3 is the company's highest resolution display and pancake optics that will make content look better than before. Quest 3 is also Meta's first headset to feature a next-generation Snapdragon chipset which has been developed in collaboration with Qualcomm Technologies to give power to those extra pixels."That next-gen Snapdragon chipset delivers more than twice the graphical performance as the previous generation Snapdragon GPU in Quest 2 — meaning you'll get smoother performance and incredibly crisp details in immersive games," Meta said.
Zuckerberg-led tech giant further claimed that the brand new headset are the company's best-in-class Meta Reality technology that will allow users to seamlessly blend the physical world with the virtual one.
"These new experiences go beyond today's mixed reality by intelligently understanding and responding to objects in your physical space and allowing you to navigate that space in natural, intuitive ways that were nearly impossible before," the company said.
The upcoming headset is compatible with Meta Quest 2 catalog of over 500 VR games, apps and experiences, whereas Meta has more exciting new VR and MR titles lined up for launch.