3 reasons the Bank of Canada may be set to pause interest rate hikes – CBC News
It's been almost exactly one year since the Bank of Canada began aggressively raising its key overnight lending rate. Since then, Canadian households have struggled with ever-increasing debt payments. Borrowing costs are up a stunning 425 basis points in the last 12 months.
But the days of relentless rate hikes may be about to draw to a close. On Wednesday, the Bank of Canada unveils its latest interest rate policy. Many expect it to make good on a promise to hit the pause button.
"The bank will almost certainly hold the key overnight rate at 4.50 per cent on March 8," said James Laird, CEO of Ratehub.ca and president of mortgage lender CanWise Financial.
In January, the central bank raised its key interest rate to 4.5 per cent, but it also indicated it was ready to end its year-long series of rate hikes.
"If economic developments evolve broadly in line with the MPR [Monetary Policy Report] outlook, Governing Council expects to hold the policy rate at its current level while it assesses the impact of the cumulative interest rate increases," the Bank of Canada wrote in its official statement.
---
That's a pretty significant caveat.
Since the bank's last decision on Jan. 25, we have seen job numbers, GDP data, home sales statistics and, of course, inflation numbers.
Inflation is way down from last summer's peak
The consumer price index spent most of the last several decades lumbering along between one and two per cent. As the effects of the COVID-19 pandemic began to take hold, inflation began to climb.
At first it was dismissed by many as merely "transitory." But prices never got the memo and just kept climbing. The year-over-year rate eventually peaked at 8.1 per cent last June.
By then, central banks everywhere were aggressively boosting interest rates. Global supply chain issues were coming under control, and the worldwide price of oil had begun to come down off the heights it reached after Russia invaded Ukraine one year ago.
By last week, the CPI had decelerated to 5.9 per cent annualized. The shorter trends were slowing even more.
Food prices are still way too high, but the overall trend was seen as a clear positive by economists like TD's Leslie Preston.
"This was another step in the right direction and in inflation starting to come down, so I was relieved to see it move in the right direction," Preston told CBC News.
More recently, we've seen Canada's economic growth data come in weaker than expected.
Weak GDP bolsters case for pause in rate hikes
GDP growth ground to a halt through the fourth quarter of last year. Economic growth flat-lined to end the year, coming in at precisely zero per cent.
December's monthly numbers actually showed a contraction. That means businesses didn't sell as much and consumers scaled back.
Counterintuitive though it may seem, that bad economic news may be the good news that variable rate mortgage holders have been waiting for.
"[This] mostly soft report won't be a disappointment to policy-makers, as the Bank of Canada is openly attempting to take some steam out of the economy," wrote BMO's chief economist Doug Porter. "And zero-point-zero growth is about as little steam as one could ask for."
So, he said, the GDP numbers simply "reaffirm" that the Bank of Canada won't increase rates when it announces its rate decision on Wednesday.
"And if growth remains below potential — as we expect — they will likely stay on the sidelines," he wrote in a note to clients.
WATCH | As Canadians face high food prices, Loblaw profits up 12%:
Profits are up again for Canada's largest food retailer. The Loblaw parent company says it earned nearly 12 per cent more last quarter compared to the same time a year ago, which is raising eyebrows for Canadians struggling with high food prices.
RBC's senior economist Claire Fan agrees that the bank is all but assured to go ahead with its expected pause next week.
Going forward, she said, the jobs market will be one of the things to watch.
Red-hot jobs market too hot for Bank of Canada
Canadian employers added 150,000 jobs in January. That was about 10 times what economists had been expecting.
A consensus of economists believe another 5,000 jobs will be added when February's numbers are released on Friday.
Fan said the real issue isn't just the raw number of jobs being added; it's whether wage growth continues to moderate.
Wages never rose as much as prices did. So workers have actually lost purchasing power over the last two years. Statistics Canada found wage growth peaked last November at 5.6 per cent.
WATCH | Canada's economy is slowing, new data suggests:
There are signs the Bank of Canada's plan to slow the economy is working as the gross domestic product has stalled, with a small dip in December, according to new data from Statistics Canada. That could mean a break from rising interest rates for struggling consumers.
Wages have now stabilized at about 4.5 per cent or so.
Fan said the central bank will look for that to moderate further. "If it's still coming down, that's probably enough to keep the Bank of Canada at its current position," she told CBC News.
So GDP is slowing, inflation is decelerating and wage growth is moderating.
None of that is particularly good news for workers. But economists agree it should be enough to convince the Bank of Canada to make good on its pause and finally give a bit of a break to households struggling with rising debt payments and looming mortgage renewals.
First Citizens acquires troubled Silicon Valley Bank – CP24
North Carolina-based First Citizens will buy Silicon Valley Bank, the tech industry-focused financial institution that collapsed earlier this month, rattling the banking industry and sending shockwaves around the world.
The deal could reassure investors at a time of shaken confidence in banks, though the Federal Deposit Insurance Corp. and other regulators had already taken extraordinary steps to head off a wider banking crisis by guaranteeing that depositors in SVB and another failed U.S. bank would be able to access all of their money.
Customers of SVB will automatically become customers of First Citizens, which is headquartered in Raleigh. The 17 former branches of SVB will open as First Citizens branches Monday, the FDIC said.
European shares opened higher Monday, with German lender Commerzbank AG up 2.4% and BNP Paribas up 1.2%.
Investors worry that other banks also may crumble under the pressure of higher interest rates. On Friday, much of the focus was on Deutsche Bank, whose stock tumbled 8.5% in Germany, though it was back up about 3.6% in early trading Monday. Earlier this month, shares of and faith in Swiss bank Credit Suisse fell so much that regulators brokered a takeover of by rival UBS.
In the U.S., SVB, based in Santa Clara, California, collapsed March 10 after depositors rushed to withdraw money amid fears about the bank's health. It was the second-largest bank collapse in U.S. history after the 2008 failure of Washington Mutual. Two days later, New York-based Signature Bank was seized by regulators in the third-largest bank failure in the U.S.
In both cases, the government agreed to cover deposits, even those that exceeded the federally insured limit of $250,000, so depositors were able to access their money.
New York Community Bank agreed to buy a significant chunk of Signature Bank in a $2.7 billion deal a week ago, but the search for a buyer for SVB took longer.
The sale announced late Sunday involves the sale of all deposits and loans of SVB to First-Citizens Bank and Trust Co., the FDIC said.
The acquisition gives the FDIC shares in First Citizens worth $500 million. Both the FDIC and First Citizens will share in losses and the potential recovery on loans included in a loss-share agreement, the FDIC said.
First Citizens Bank was founded in 1898 and says it has more than $100 billion in total assets, with more than 500 branches in 21 states as well as a nationwide bank. It reported net profit of $243 million in the last quarter. It is one of the top 20 U.S. banks and says it is the largest family-controlled bank in the country.
Shoppers Drug Mart moves away from medical cannabis, will send patients to Avicanna – CTV News
TORONTO –
Shoppers Drug Mart Inc. is moving away from its medical cannabis distribution business and preparing to transfer patients to a platform run by biopharmaceutical company Avicanna Inc.
The pharmacy chain owned by Loblaw Companies Ltd. announced the shift Tuesday, but did not say what prompted the change or how much money Toronto-based Avicanna is paying for Shoppers to refer patients to its MyMedi.ca platform.
"We are grateful for the trust placed in us by our medical cannabis patients over the past few years, and are confident we've found the right partner in Avicanna to continue to support them," said Jeff Leger, Shoppers' president, in a statement.
His company will start to send customers to Avicanna's platform in early May, with all of the patients set to be off-loaded from Shoppers' medical pot service by the end of July. Customers will be able to place orders on Shoppers' website through the transition period.
Avicanna said it will offer a similar range of products including various formats, brands and "competitive pricing." Like Shoppers, its online medical portal will strive to educate customers around harm reduction and provide specialty services for distinct patient groups like veterans.
Shoppers first launched its medical cannabis business in Ontario in January 2019, months after recreational pot was legalized in Canada (medical pot was legalized in Canada in 2001) at a time when many predicted the weed sector would be booming in the coming years.
The sector has instead struggled with profitability and as high numbers of recreational cannabis shops cluster in several cities, many retailers and licensed producers have had to drop their prices to stay competitive.
However, Shoppers said it racked up tens of thousands of patients in its four years of existence, providing them with access to cannabis from more than 30 brands including Aphria Inc., Hexo Corp.'s Redecan and the Green Organic Dutchman.
Shoppers' medical cannabis patients were required to obtain a prescription from a licensed health care provider such as a doctor to begin ordering pot from the company, which shipped orders to their homes.
But the company was unhappy with how medical pot regulations limited its model. Shoppers claimed Tuesday that medical cannabis remains the only medication that is not dispensed in pharmacies.
"As we move away from medical cannabis distribution, we remain firm in our belief that this medication should be dispensed in pharmacies like all others and will continue our advocacy to that end," said Leger.
Avicanna's statement did not outline its feelings on the matters, but its chief executive said it was "motivated" to "put our full efforts toward advancing medical cannabis and its incorporation into the standard of care."
"We are thankful to be selected as the partner for this transition and look forward to introducing MyMedi.ca, supporting patients and providing them with continuity of care," said Avicanna chief executive Aras Azadian in a statement.
This report by The Canadian Press was first published March 28, 2023
US charges Sam Bankman-Fried with bribing Chinese officials – The Guardian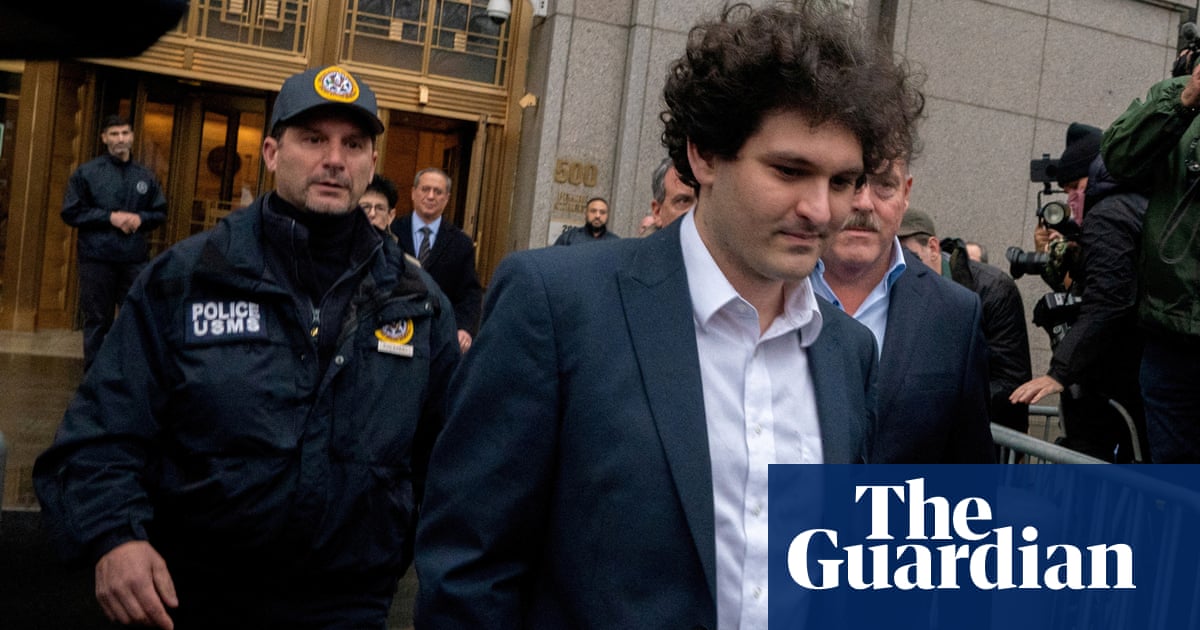 US prosecutors on Tuesday unveiled a new indictment against Sam Bankman-Fried, accusing the founder of now-bankrupt FTX cryptocurrency exchange of conspiring to bribe Chinese government officials with $40m worth of payments.
Federal prosecutors in Manhattan charged Bankman-Fried with directing the payment in order to unfreeze accounts belonging to his hedge fund, Alameda Research, that Chinese authorities had frozen. The accounts held more than $1bn of cryptocurrency, US prosecutors said.
The accounts were unfrozen after the bribe payment was transferred around November 2021 from Alameda's main trading account to a private cryptocurrency wallet, according to the new indictment.
After the accounts were unfrozen, Bankman-Fried authorized a transfer of tens of millions of dollars of additional cryptocurrency to complete the bribe, prosecutors said.
The new charge increases the pressure on the 31-year-old former billionaire, who had previously pleaded not guilty to eight counts over the collapse of FTX. Prosecutors say Bankman-Fried stole billions of dollars in customer funds to plug Alameda losses.
Lawyers for Bankman-Fried did not immediately respond to a request for comment. Bankman-Fried has acknowledged inadequate risk management at FTX, but has denied stealing money.
China's foreign ministry could not immediately be reached after normal business hours in Beijing.
District judge Lewis Kaplan scheduled a court hearing for Thursday after prosecutors asked for Bankman-Fried to be arraigned on the new 13-count indictment.
Prosecutors last month unveiled four new counts against Bankman-Fried, accusing him of orchestrating an illegal campaign donation scheme to buy influence in Washington DC. He has not yet been arraigned on the new charges.
The new count accuses Bankman-Fried of conspiring to violate the Foreign Corrupt Practices Act (FCPA), which makes it illegal for US citizens to bribe foreign government officials to win business.
Bankman-Fried is currently confined to his parents' Palo Alto, California, home on $250m bond ahead of his 2 October trial.
On Monday, his lawyers and prosecutors reached a new agreement on revised bail conditions, after Kaplan raised the prospect of sending Bankman-Fried to jail pending trial. That came after prosecutors raised concerns he may have been tampering with witnesses.