400 Marsquakes detected by UK sensors in one year – Famagusta Gazette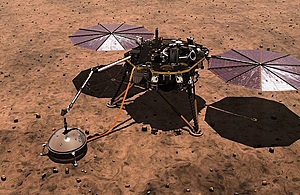 The seismic vibrations on Mars were detected by a set of silicon sensors developed in the UK for InSight's Seismic Experiment for Interior Structure (SEIS).
Imperial College London, Oxford University and STFC RAL Space worked in partnership, with £4 million in funding from the UK Space Agency, to develop three sensors which are sensitive enough to detect motion at sub-atomic scales.
Science Minister Amanda Solloway said:
Detecting hundreds of Marsquakes on a planet 140 million miles from Earth, using sensors developed in the UK, is an important achievement.

This is an example of how world-leading UK science and our growing space sector contribute to international missions, furthering human understanding of the Solar System.
The NASA Insight mission is the first to look deep beneath the Martian surface and detected the first ever recorded Marsquake on 6 April 2019. By the end of last year it was detecting an average of two quakes every day. The findings suggest that Mars experiences quakes more often, but also more mildly than expected with the largest measuring 4.0 on the Richter scale.
Seismic waves change as they move through different materials and this allows scientists to understand the inner structure of Mars. From this, they can also learn how other planets, moons and meteorites with rocky surfaces, including Earth, formed billions of years ago.
Professor Tom Pike, from Imperial College London, who leads the UK team, said:
From the tremors, we can build a picture of Mars' interior, building up a cross section of the planet all the way down to the core. The remains of a liquid core could suggest that Mars once had a magnetic field. Like on Earth, the field would have protected it from harmful solar winds billions of years ago. Back then, Mars then was much warmer and wetter, and much more hospitable for life.

Studying Mars lets us travel to the solar system's ancient past. While Earth and Venus' tectonic systems have destroyed most of the evidence of their early history, much of the Red Planet has remained static for more than three billion years.
Dr Neil Bowles, from the University of Oxford's Department of Physics, said:
The measurement of the first events from the surface of Mars by InSight are showing that the planet is still seismically active. As InSight continues to monitor the planet over the next year, we are working with our colleagues on the mission team to help understand the interior and atmosphere of the planet in a completely new way.
Dr Anna Horleston, Research Associate in Planetary Seismology at the University of Bristol, said:
The UK's involvement in InSight has given us a unique opportunity at the forefront of planetary science. Working for the frontline analysis team for the Marsquake Service, I've witnessed the quakes on a daily basis and I'm very pleased that we can share the results with the public today. Seeing seismic signals from another planet and using them to look inside it is an amazing experience.
InSight carries other instruments to measure the Martian wind, magnetic field and temperature. Scientists set out the findings from the mission in a series of six papers published today in Nature and Nature: Geoscience.
STEVE appears over Canada during 'surprise' solar storm – Livescience.com
In the dark of Sunday night and Monday morning (Aug. 7 and 8), a surprise solar storm slammed into Earth, showering our planet in a rapid stream of charged particles from the sun. The resulting clash of solar and terrestrial particles in Earth's atmosphere caused stunning auroras to appear at much lower latitudes than usual — and, in southern Canada, triggered a surprise cameo from the mysterious sky phenomenon known as STEVE.
Alan Dyer, an astronomy writer and photographer based in southern Alberta, Canada, caught the wispy ribbons of green and violet light on camera as they shot through the sky.
"STEVE lasted about 40 minutes, appearing as the … aurora to the north subsided," Dyer wrote on Twitter (opens in new tab) on Aug. 8. "STEVE was 'discovered' here so he likes appearing here more than anywhere else!"
Related: Earliest documented aurora found in ancient Chinese text
As Dyer noted, the strange sky glow called STEVE was first described by citizen scientists and aurora hunters in northern Canada in 2017. STEVE is typically composed of an enormous ribbon of purplish light, which can hang in the sky for an hour or more, accompanied by a "picket fence" of green light that usually disappears within a few minutes.
The glowing river of light may look like an aurora, but it's actually a unique phenomenon that was considered "completely unknown" to science upon its discovery. Today, scientists have a slightly better idea of what's going on.
STEVE (short for "strong thermal velocity enhancement") is a long, thin line of hot gas that slices through the sky for hundreds of miles. The hot air inside STEVE can blaze at more than 5,500 degrees Fahrenheit (3,000 degrees Celsius) and move roughly 500 times faster than the air on each side of it, satellite observations have shown.
Whereas the northern lights occur when charged solar particles bash into molecules in Earth's upper atmosphere, STEVE appears much lower in the sky, in a region called the subauroral zone. That likely means solar particles aren't directly responsible for STEVE, Live Science previously reported. However, STEVE almost always appears during solar storms like Sunday's, showing up after the northern lights have already begun to fade.
One hypothesis suggests that STEVE is the result of a sudden burst of thermal and kinetic energy in the subauroral zone, somehow triggered by the clash of charged particles higher in the atmosphere during aurora-inducing solar storms. However, more research is needed to uncover the true secrets of STEVE. In the meantime, we can simply bask in its otherworldly glow and wave back at its twinkling green fingers.
Originally published on Live Science.
Perseid meteor shower: when to catch it in Manitoba | CTV News – CTV News Winnipeg
The peak of a spectacular space light show is expected to happen by the end of the week.
The Perseid meteor shower is expected to be at its best and brightest the night of Aug. 12 going into the morning of Aug. 13.
Scott Young, an astronomer at the Manitoba Museum, said this is an annual event that will produce dozens of shooting stars throughout the night.
"Every meteor is a piece of dust from outer space that is crashing into the earth at tremendous speed and basically vaporizing in a poof and a flash of light, and that it is what we see as a meteor," he said. "On certain nights of the year, the earth in its orbit around the sun actually goes through a cloud of dust, sort of like an interplanetary dust bunny, essentially, and all that dust hits on the same night … and so we are basically crashing through the dust left behind by a comet."
The cloud of dust was left behind by the comet Swift-Tuttle, which last passed by the earth in 1992. Since then, the meteor shower has reached its peak between Aug. 11 and 13.
For those who are looking to enjoy the meteor show, Young suggests people get away from city lights, especially this year as the shower also coincides with a full moon.
"The moon can wash out those fainter meteors, and also if you are in the city, city lights will also wash out those fainter meteors. If you want to see the best show, you want to go late Friday after midnight, into the early morning hours of Saturday."
If people can't see the shower that night, Young says not to worry as the Perseid meteor shower is already happening right now and will continue to the end of August. As long as people are away from bright lights, Young says they should be able to see some shooting stars.
He recommends going to places like Birds Hill Provincial Park to enjoy the shower, but noted if people can find a place that is away from direct light, whether that be a park within the City of Winnipeg, or even a person's backyard, he suggests people will be able to see something.
Once the meteor shower is over, however, Young does have a cautionary tale to share.
"We get dozens calls of people seeing an interesting rock on the ground and thinking that they've found a meteorite. There are no meteorites that will fall and actually land on the ground from this shower. These are little pieces of dust and they completely vaporize in the atmosphere. You might find meteorites out there, but they are very, very rare and so don't get all excited about every rock that you find after this. The odds are it's a meteor-wrong and not a meteorite."
Young said weather-permitting, the Manitoba Museum will livestream the shower on its social media channels.
NASA's Hubble Space Telescope captured two festive-looking nebulas – Tech Explorist
The image shows NGC 248, about 60 light-years long and 20 light-years wide. They are two nebulas, situated to appear as one. The nebulas, together, are called NGC 248.
Initially discovered in 1834 by the astronomer Sir John Herschel, NGC 248 resides in the Small Magellanic Cloud, located approximately 200,000 light-years away in the southern constellation Tucana.
Small Magellanic Cloud is a dwarf galaxy that is a satellite of our Milky Way galaxy. The image is part of a study called Small Magellanic Cloud Investigation of Dust and Gas Evolution (SMIDGE).
The dwarf satellite galaxy contains several brilliant hydrogen nebulas, including NGC 248. Intense radiation from the brilliant central stars is heating hydrogen in each nebula, causing them to glow red.
The study's principal investigator, Dr. Karin Sandstrom of the University of California, San Diego, said, "The Small Magellanic Cloud has between a fifth and a tenth of the amount of heavy elements that the Milky Way does. Because it is so close, astronomers can study its dust in great detail and learn about what dust was like earlier in the history of the universe."
"It is important for understanding the history of our galaxy, too. Most of the star formation happened earlier in the universe, at a time when there was a much lower percentage of heavy elements than there is now. Dust is a critical part of how a galaxy works, how it forms stars."
The image is part of a study called Small Magellanic Cloud Investigation of Dust and Gas Evolution (SMIDGE). The data used in this image were taken with Hubble's Advanced Camera for Surveys in September 2015.