5 Canadian real estate market trends to watch in 2021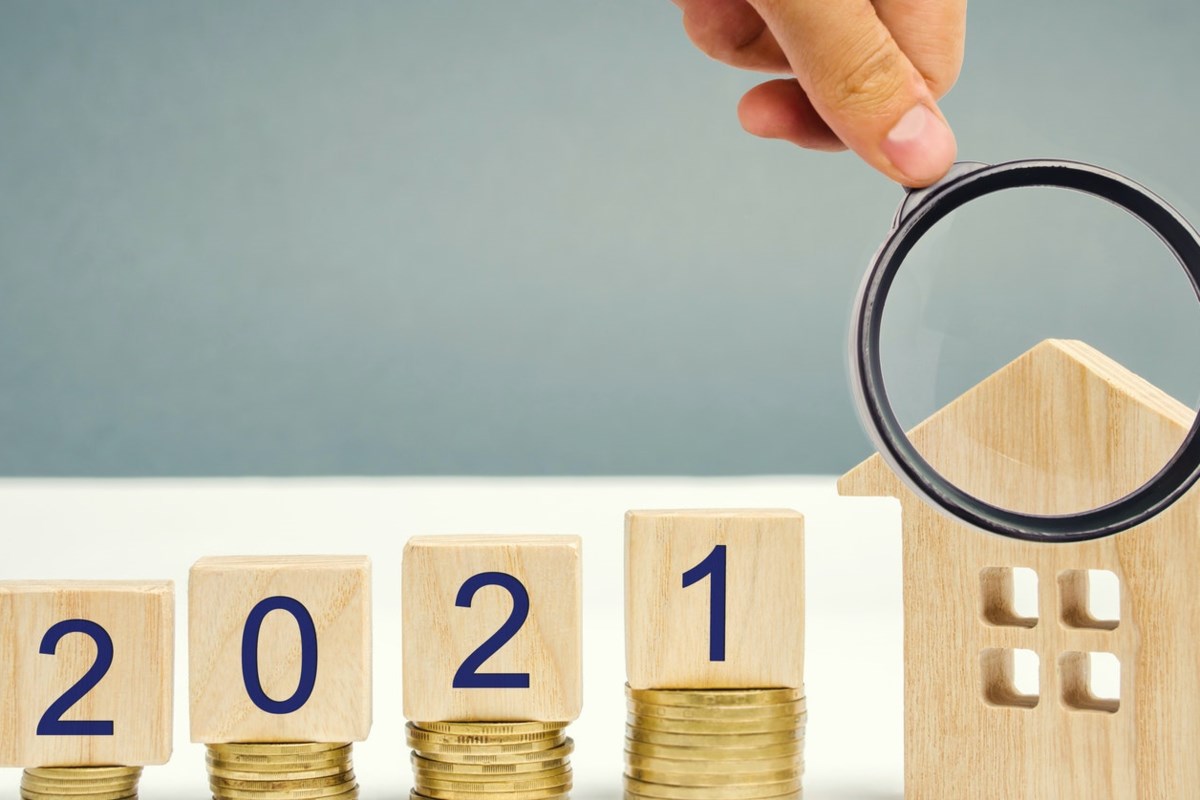 Every year is unique, but 2020 was truly unlike anything we've ever experienced in the Canadian real estate market. No one could have predicted that a pandemic would sweep across Canada, slowing the market initially and then driving prices upward in many regions across the country. Many markets across Canada even saw historically strong levels of activity as things picked up very quickly after a short period of inactivity.
Trying to foresee where things are headed this year is a difficult task, but we think these trends are certainly worth paying attention to over the next 12 months. If all five of these trends continue, it should be a very busy year for Canadian real estate.
Here are five Canadian real estate market trends to watch in 2021:
A steady increase in home prices
Detached homes will be in high demand
Monthly home sales numbers will fluctuate less
Mortgage rates will remain depressed
Potential rental resurgence could change trends
1.  A steady increase in home prices
The Canadian Real Estate Association predicts that the national average home price will rise 9.1% in 2021, and if you've been following the market, that's really not hard to imagine. Noting improving economic conditions, the association says that markets across Canada should either hold in terms of pricing or climb higher.
It's important to point out that this is one of the most bullish forecasts, but nevertheless, most models from industry professionals and economists are predicting increases. Royal LePage, for example, is predicting a 5.5% increase in home prices across the country, citing limited inventory and unmet demand as the major market drivers. The company is predicting a 9% rise in Vancouver, a 5.75% increase in the Greater Toronto Area, a 0.75% and 1.5% increase respectively in Calgary and Edmonton, and a whopping 11.5% increase in Ottawa. Their full forecast for major Canadian cities is projecting no aggregate losses at all.
2. Detached homes will be in high demand
Many factors should contribute to the expected increase in home prices across Canada this year, but it's hard to overlook the impact of detached home sales on the market. Detached homes are already typically more expensive than condos, so seeing their demand rise should bring up overall sales volume. While condos are expected to see modest gains over the next year, detached homes are expected to become even higher in demand in every major Canadian city. Young families looking for more space, more home offices, and places to entertain once the pandemic passes are expected to drive the demand for detached homes to new highs, so keep an eye on this trend in 2021. Should the pandemic continue into the summer and fall, this demand could easily continue well into 2022.
For sellers, this is big news. It will be a seller's market in most Canadian cities this year, and homeowners looking to downsize can expect to see a lot of interest in their detached homes. In a recent survey, 84% of RE/MAX agents and brokers agreed that 2021 would be a seller's market, largely due to the high demand for more space and low-interest rates.
3. Monthly home sales numbers will fluctuate less
One of the most notable things about the real estate market in 2020 was the wild monthly sale number swings, largely an effect of the COVID-19 pandemic. The CREA expects sales volumes to surge 7.2% to around 584,000 in 2021, but that total number will very likely be more evenly spread out over the year than in 2020. After things began to slowly open up last year after the initial lockdown period, interest in real estate peaked, and buyers flooded the market with offers. This year should have fewer fluctuations.
4. Mortgage rates will remain depressed
To further support borrowing, we'd expect mortgage rates to remain low throughout 2021. The extremely low rates that were introduced last March to calm the markets have enticed first time home buyers who didn't have their incomes affected by the pandemic. If mortgage rates do stay low throughout the year, which we'd fully anticipate, expect to see the real estate market remain very busy. For many, it's being viewed as a welcomed opportunity to enter the market.
Interest rates remain low when The Bank of Canada wants to encourage spending and stimulate the economy, and given the challenges Canadians have faced resulting from the pandemic, that's exactly what they intend to do. The Bank of Canada has stood by its comments last year where they claimed that rates would remain low until 2023, which is how long they expect it to take for the economy to make a full recovery.
"Canada's economic recovery will continue to require extraordinary monetary policy support," the bank said in October 2020. "We remain committed to providing the monetary policy stimulus needed to support the recovery."
Statements like this should give market watchers confidence that mortgage rates will remain low throughout 2021 and beyond.
5. A potential rental resurgence could change trends
Renters could seriously change how the market looks in 2021. We'd expect renters to return to cities in larger numbers once vaccination levels reach the point where a herd immunity to COVID-19 can be established, which would be a trend worth watching. Many people moved back home with family when the pandemic began, but don't expect that trend to stay around forever. When renters return to major city centres, investors should reenter the condo market, or at the very least be less inclined to sell. It may take until the end of 2021, but keeping an eye on where renters are choosing to live is a great way to tell where condo prices are headed in 2021 and beyond.
We'll be watching these five real estate trends very closely in 2021, especially given how fast we've seen things change in the last year. While markets across the country will experience different trends, 2021 could be a year where Canada's major real estate markets have more in common with each other than they have differences. Low-interest rates in many ways are the glue that holds many of these trends together, so buyers, sellers, and agents should be closely watching what The Bank of Canada is doing and planning accordingly.
For more real estate and lifestyle news, check out REW.ca.
Source:- Vancouver Is Awesome
What Is the Canada Mortgage and Housing Corporation (CMHC)
The Canada Mortgage and Housing Corporation (CMHC) is a Canadian Crown Corporation that serves as the national housing agency of Canada and provides mortgage loans to prospective buyers, particularly those in need.
Understanding the Canada Mortgage and Housing Corporation (CMHC)
The Canada Mortgage and Housing Corporation (CMHC) serves as the national housing agency of Canada. CMHC is a state-owned enterprise, or a Crown corporation, that provides a range of services for home buyers, the government, and the housing industry.
CMHC's stated mission is to "promote housing affordability and choice; to facilitate access to, and competition and efficiency in the provision of, housing finance; to protect the availability of adequate funding for housing, and generally to contribute to the well-being of the housing sector."1
A primary focus of CMHC is to provide federal funding for Canadian housing programs, particularly to buyers with demonstrated needs. CMHC, headquartered in Ottawa, provides many additional services to renters and home buyers, including mortgage insurance and financial assistance programs. CMHC acts as an information hub for consumers, providing information on renting, financial planning, home buying, and mortgage management.
CMHC also provides mortgage loan insurance for public and private housing organizations and facilitates affordable, accessible, and adaptable housing in Canada.2 Additionally, CMHC provides financial assistance and housing programs to First Nations and Indigenous communities in Canada.3
Professionals and Consumers
CMHC provides services to both professionals and consumers. For professionals, CMHC aims to work in collaboration with different groups to provide affordable housing. Services include project funding and mortgage financing, providing information to understand Canada's housing market, innovation and leadership networks to access funding and talent to spur housing innovation and increase supply, and providing speakers and hosting events for the industry.4
For consumers, CMHC seeks to provide all the tools an individual would need to either buy a home or rent a home and a variety of information and assistance for current homeowners, such as managing a mortgage, services for seniors to age in place, and financial hardship assistance.56
For financial hardship and mortgage assistance, CMHC provides tools that include payment deferrals, extending the repayment period, adding missed payments to the mortgage balance, moving from a variable-rate to a fixed-rate mortgage, and other special payment arrangements.7
Canada Mortgage and Housing Corporation (CMHC) and the National Housing Strategy
In November 2017, the Canadian government announced the National Housing Strategy.8 Rooted in the idea that housing is a human right, this 10-year, $70 billion project will largely be administered by CMHC, although some services and deliverables will be provided by third-party contractors and other Canadian federal agencies.9
Strategic initiatives of the National Housing Strategy include:
Building new affordable housing and renewing existing affordable housing stock
Providing technical assistance, tools, and resources to build capacity in the community housing sector and funds to support local organizations
Supporting research, capacity-building, excellence, and innovation in housing research

10
History of the Canada Mortgage and Housing Corporation (CMHC)
CMHC was established in 1946 as the Central Mortgage and Housing Corporation by the federal government in Canada with the primary mission of administering the National Housing Act and the Home Improvement Loans Guarantee Act and facilitating discounts to mortgage companies. Initially, CMHC began by providing housing to returning Canadian war veterans, and toward the end of the 1940s, CMHC began to administer a program providing low-income housing across Canada.11
In 1947, CMHC was responsible for opening Regent Park, a large low-income housing project, and Toronto's first urban renewal project. By the 1960s, CMHC introduced co-op housing and multi-unit apartment buildings throughout Canada.11
In 1979, the Central Mortgage and Housing Corporation changed its name to the Canada Mortgage and Housing Corporation
Canadian home price gains accelerate again in May
Canadian home prices accelerated again in May from the previous month, posting the largest monthly rise in the history of the Teranet-National Bank Composite House Price Index, data showed on Thursday.
The index, which tracks repeat sales of single-family homes in 11 major Canadian markets, rose 2.8% on the month in May, led by strong month-over-month gains in the Ottawa-Gatineau capital region, in Halifax, Nova Scotia, and in Hamilton, Ontario.
"It was a third consecutive month in which all 11 markets of the composite index were up from the month before," said Daren King, an economist at National Bank of Canada, in a note.
On an annual basis, the Teranet index was up 13.7% from a year earlier, the 10th consecutive acceleration and the strongest 12-month gain since July 2017.
Halifax led the year-over-year gains, up 29.9%, followed by Hamilton at 25.5% and Ottawa-Gatineau at 22.8%.
Housing price gains in smaller cities outside Toronto and its immediate suburbs again outpaced the major urban centers, with Barrie, Ontario leading the pack, up 31.4%.
On a month-over-month basis, prices rose 4.9% in Ottawa-Gatineau, 4.3% in Halifax and 3.7% in Hamilton.
The Teranet index measures price gains based on the change between the two most recent sales of properties that have been sold at least twice.
Canada's average home selling price, meanwhile, fell 1.1% in May from April, Canadian Real Estate Association data showed on Tuesday, but jumped 38.4% from May 2020.
(Reporting by Julie Gordon in Ottawa; Editing by Christopher Cushing)
Bank of Canada seeing signs of cooling in hot housing market
The Bank of Canada is starting to see signs that the country's red hot housing market is cooling down, although a return to a normality will take time, Governor Tiff Macklem said on Wednesday.
The sector surged in late 2020 and early 2021, with home prices escalating sharply amid investor activity and fear of missing out. The national average selling price fell 1.1% in May from April but was still up 38.4% from May 2020.
"You are starting to see some early signs of some slowing in the housing market. We are expecting supply to improve and demand to slow down, so we are expecting the housing market to come into better balance," Macklem said.
"But we do think it is going to take some time and it is something that we are watching closely," he told the Canadian Senate's banking committee.
Macklem reiterated that the central bank saw evidence people were buying houses with a view to selling them for a profit and said recent price jumps were not sustainable.
"Interest rates are unusually low, which means eventually there's more scope for them to go up," he said.
Last year, the central bank slashed its key interest rate to a record-low 0.25% and Macklem reiterated it would stay there at least until economic slack had been fully absorbed, which should be some time in the second half of 2022.
"The economic recovery is making good progress … (but) a complete recovery will still take some time. The third wave of the virus has been a setback," he said.
The bank has seen some choppiness in growth in the second quarter of 2021 following a sharp economic recovery from the COVID-19 pandemic at the start of the year, he added.
(Reporting by David Ljunggren and Julie Gordon; Editing by Peter Cooney and Richard Pullin)