5 Social Media Posts About Weather That Need To Go Away In 2020 – Forbes
I was inspired to write this piece after taking out the trash this morning. Our canisters were filled with post-Christmas wrapping paper and dinner scraps. As I looked up at the sky en route to the curb, it was filled with contrails. Occasionally, I see Tweets about these clouds, and how they are being "used by the government to control the weather or even our minds." Yep, seriously. Did this make the list of 5 weather or climate social media posts that need to disappear in 2020? Keep reading.
"The meteorologists are always wrong or just guessing." I continue to harp on this point because it is so pervasive in social media. I am amazed at how many people actually believe this. It means my colleagues and I may not be doing a good job conveying the dramatic improvements in weather forecast over the past 50 years. From my perspective, there are several factors driving such statements:
lack of understanding of probabilities (You would be surprised at how many people don't understand what 20% chance of rain or the hurricane cone of uncertainty actually conveys);
"wishcasting" or seeing desired outcomes in a forecast rather than what the data actually conveys (very common in snow forecasting);
unrealistic expectations for pinpoint forecasts at their exact location when the science is not quite there yet; and
the tendency to exhibit recency bias (remembering a recent "bad" forecast and overlooking the overwhelming number of good forecasts over the long haul).
For a deeper dive into this topic, my discussion in the Forbes article at this link is a good start
"It came without warning." This is a staple for many people and media outlets after a bad storm or tornado. For example, I heard claims of "it came out of nowhere" after the horrific 2018 Duck Boat tragedy in Missouri. I plowed through language from the National Weather Service the day before that tragedy. Here is what the NWS Convective Outlook said on July 18th, 2018 for the region:
The potential for one or more early day thunderstorm clusters complicates the forecast scenario on Thursday. Any such cluster may present a localized severe wind risk early in the day, especially across portions of MO … Further south down the Mississippi Valley, a more conditional severe risk will be present. Any early day thunderstorm cluster that survives may rejuvenate across portions of southern MO/northern AR during the afternoon. Later-day storms that initiate further north may also merge into a cluster that moves southeastward into this region. Some damaging wind risk would be possible in either scenario, with some marginal hail risk associated with any more discrete convection that may develop.
In 2019, it is rare that the potential for severe weather activity is going to be overlooked given the advances in short-range weather models, dual-polarization radar, and rapid-scan weather satellite imaging capabilities. I will concede that "out of nowhere" is a relative term. Though the possibility for severe weather or a tornado may have been warned for, if a person didn't receive the information or chose to operate in a "business as usual" fashion, the appearance of a 60-mph gust of wind might seem sudden. This is where emerging social science research within atmospheric sciences is so important. We must understand how people consume weather information and why they make the decisions. For example, "Turn Around, Don't Drown" is a cute little slogan, yet people still drive through flooded roadways. What risk assessment do they take (if any) before making that decision? For some people, the value proposition of not being late picking up a child at daycare may outweigh the risks because of optimism bias (the tendency to think a bad think won't happen to them).
Meteorologist and social scientist Kim Klockow-McClain says that social science work is starting to pay dividends. Klockow-McClain, a research scientist at The University of Oklahoma Cooperative Institute for Mesoscale Meteorological Studies, gave a real-world example in an interview a few years ago. She pointed out a study in the Delaware River basin:
Social scientists found that several flood warning tools, while scientifically state-of-the-art, were difficult for people to use because they were overly technical. Researchers recommended changes to key flood risk graphics that made these tools more understandable and useful to the public. Some of the changes involved clearer titles, better use of color, and more specific geographical information on flood risk forecast maps. The National Weather Service has made some of these changes to products offered in this region and the findings may help inform improvements in other areas.
"It's just a tropical storm." I am hopeful that the weather enterprise continues to hammer home that category or rating may not fully represent potential impacts. Tropical Storm Imelda (2019) never became a hurricane but dumped almost 4 feet of rain on parts of Texas still recovering from Hurricane Harvey (2017). When Hurricane Michael (2018) was approaching the Florida panhandle, some people were hesitant to leave because it was "just" a certain category storm. Unfortunately, Michael rapidly intensified to a Category 5. Each hurricane is different so past experiences do not prepare you for the next storm. It is increasingly important that the public consume weather information from the standpoint of "risk potential" rather than simple a category or number. A new study, of which I am a co-author, was recently published in the Bulletin of the American Meteorological Society. It presents an intuitive metric for conveying rainfall hazards in hurricanes that may not be captured in the Saffir-Simpson scale.
"It's snowing or cold outside so that means no global warming." Yes, I used global warming. I don't fall for the distracting tactic of saying "we changed the name to climate change." I deal with that in a previous Forbes article at this link. To be honest, I am still amazed that people still Tweet or say things about cold weather refuting climate warming. Numerous articles and social media explanations, including by this author, have been written to explain why weather in a given day or week doesn't refute or confirm climate change. Weather is your mood, and climate is your personality. Many of us use this little analogy to drive home the point, but my hunch is that Tweet and perspective will not go away any time soon. By the way, NASA climate scientist Gavin Schmidt, one of my favorite scientists to follow on Twitter, is projecting 2019 to finish as our 2nd warmest year on record. On December 17th, he tweeted:
With Nov GISTEMP anomalies posted, 2019 is #2 YTD, and this will be 99.9% likely to be the ranking for the full year.
– 5th year clearly > 1°C above late 19th C (Century)
– closes out warmest decade in record
"Earth always had hurricanes and extreme weather." While this is a true statement, it really doesn't mean anything within the context of a climate discussion. To me, that is like saying trees always fell in the forest or grass always grew naturally. Neither of those statements refutes that chainsaws can still cut a tree down or that fertilizer affects how grass grows on your lawn. Credible peer-reviewed articles, National Academy of Sciences reports, and virtually every professional society in weather-climate fields have noted that naturally-varying weather systems, including extreme events, are being affected by anthropogenic changes to our climate system. You may see "one-off" articles or studies disputing this statement, but I tend to stick with the larger body of evidence rather than confirmation bias. To be fair, there are exaggerated claims about extreme events on both sides of the ledger so consume your information carefully.
"The government is controlling the weather with chemtrails." If you think that I am exaggerating this, ask a meteorologist. National Weather Service and TV meteorologist colleagues tell me they respond to calls, messages, and tweets about these clouds all of the time. You also might be surprised at how much pops up after a quick Google search for the word. The chemtrail conspiracy is the flat earth corner of atmospheric sciences. In reality, there is a very simple explanation rooted in basic science explained by the National Weather Service below:
Condensation trails, commonly called contrails, are narrow cirrus cloud streamers that form behind high flying aircraft. Contrails are formed by two basic processes. The first method of formation relies on hot and humid engine exhaust mixing with air of low vapor pressure at low temperatures. As the added moisture and particulate matter from the exhaust mixes with the cold air, condensation occurs and the streamer is born. These types of contrails are sometimes called exhaust trails.
Fact or Fiction: Does Trump's social media ban threaten our freedom of expression? – Global News
Its been radio silence from @realDonaldTrump's Twitter account for a while.
The former U.S. president was permanently pink-slipped by the tech giant on Jan. 8, to prevent him from inciting further violence, following the riots in Washington, D.C. on Jan. 6.
Shortly after, Facebook, Snapchat, TikTok, and more than a dozen other platforms followed suit in kicking the politician to the curb.
For some, including Twitter CEO Jack Dorsey, the move was the right thing to do. But others argue it was too little too late because, you know, the United States Capitol had already been invaded and all.
"I think he got away with a lot because of his position, because he was the president," said Amarnath Amarasingam, assistant professor at the School of Religion at Queen's University, and an expert in radicalization and terrorism. "It was a kind of protected account in many ways, regardless of the hate speech he put out there, regardless of the misinformation he put out there."
While the debate continues on whether a permanent ban was necessary (as opposed to a temporary one), one thing is for certain: this sudden move by Big Tech has unleashed a tornado of questions about what censorship means for our rights to express ourselves in Canada.
So much so that David Fraser, a privacy lawyer at McInnes Cooper, says the term "freedom of expression" is being inaccurately thrown around.
"I think [people] need to be very careful with how they use terminology like 'freedom of speech' and 'freedom of expression'… because that has a particular legal meaning," Fraser said.
"[Freedom of expression] means that the government cannot restrict what it is that individuals say, subject only to certain limitations … so we do have laws related to hate speech and laws related to defamation."
The key word here is "government."
So tech giants like Twitter — a private corporation that is very separate from the government — can legally censor whomever they wish.
"Anybody who creates an online community has the right to create rules for that community. They have the right to determine who is allowed on that community, and who is not — as long as its not discriminatory, for example, related to race, religion, things like that," said Fraser.
Fraser also notes that when you're silenced on a specific platform, you're still free to go somewhere else to express yourself.
You can download the next public engagement app or belt out your thoughts at the town square, all while remaining uninterrupted by the government, which means your freedom of expression is still intact.
But even if social media censorship doesn't infringe on our free expression, it has definitely awakened many to the power that private corporations hold over public conversations.
"There's a monopoly on that conversation," said Richard Lachman, associate professor at the RTA School of Media at Ryerson University. "So if you are Google or Apple, you can control everything that happens on our mobile devices. That's not great. "
Lachman says the terms of service laid down by these platforms seem to apply to some users, and not to others, specifically world leaders.
That inconsistency leaves room for online abusers to run amuck and spread violence without getting censored, which leads the rest of the online community to believe that the platforms are picking and choosing who gets to stay.

1:21


Trump condemns 'unprecedented assault on free speech' in wake of social media crackdown



Cue a common argument on why the platforms should no longer be allowed to set the rules for themselves.
"The problem with letting the industry regulate itself is that we know full-well over the last several years, that has not worked very well," said Fuyuki Kurasawa, York University research chair and director of the Global Digital Citizenship Lab.
"Social media corporations are very good at convincing us that they have very rigorous procedures and rules when it comes to determining who is able to be on the platform. But the reality is that they don't. They are making up the rules as they go along, for the most part," said Kurasawa.
"There's too much power in the hands of a few platforms that allow this kind of misinformation to grow and spread too quickly … and so those companies need to be broken up," said Lachman.
Broken up through government regulation.
Advocates for this say it would lay down clear, consistent guidelines for all social media platforms on what exactly can and can't be said, and what consequences would be instore for violators.
It's not a new plea, but it is one that University of Waterloo assistant professor of Communication Arts Shana MacDonald says isn't happening fast enough.
"We know that misinformation spreads six to seven times more than facts," said MacDonald. "So I really do encourage and hope to see — with the kind of damage we've seen go on — that that relationship between governments and tech giants is taken more seriously."
Some say government regulation would mean we're one step closer to a George Orwellian society. But Lachman, Amarasingam, and MacDonald all say regulation would protect users from the rampant harms of social media, such as cyberbullying and doxing. It would also show that public figures cannot get away with spreading baseless claims online. And it would also decrease misinformation — since a Cornell University study found that the biggest driver of COVID-19 misinformation during the first half of 2020 was — you guessed it — Donald Trump.

2:02


Trump slammed for suggesting disinfectant ingestion as COVID-19



"We have medical regulations. We have regulations about vaccinations and whether your kids can go to school. We accept a lot of limitations in society, for the good of society," said Lachman. "It is past time for governments to decide this is important. This is not new media anymore."
"Radio is regulated, TV is regulated, but somehow social media gets to function completely untouched," said Amarasingam.
"That is probably going to start to change."
Still, Amarasingam and Lachman say some platforms have made an effort to take accountability.
We saw it in 2019, when Mark Zuckerberg penned an opinion piece in the Washington Post. We saw it in 2015, during Twitter's fight against ISIS. And we saw it on Jan. 13, when Jack Dorsey admitted Twitter's policies and enforcement have been inconsistent.
But Kurasawa, MacDonald and Lachman say moving towards safer online communities is going to cost platforms a lot more than just admitting failure.
The real price would be loss of revenue, which they say is a big factor in why these platforms are still shying away from government regulation, despite publicly calling for it.
"[The platforms] are in the business — not so much of protecting free speech or banning people — but they are in the business of data collection, data analysis, and selling that data. In other words, they need user engagement," said Kurasawa.
"Unfortunately the things that create the most user engagement are forms of content that generate strong emotions, often controversies."
"We know that things that make us angry — things that create tense conversations online — are the things that draw us into social media and keep us there, and so they are the things that make money," said MacDonald.
Could the events from Jan. 6 speed up conversations between tech giants and government?
Lachman and Amarasingam say perhaps … but the bottom line is that the Capitol siege has shown the world that we cannot afford to wait for regulation any longer.

1:26


Trump alludes to social media ban during farewell address



© 2021 Global News, a division of Corus Entertainment Inc.
How To Harness The Hot New Social Media App Clubhouse To Build Your Brand – Forbes
At age 27, Jessica Williamson already has established a six-figure business, Ete Swimwear. While running her company, she also coaches other female e-commerce entrepreneurs on how to scale and grow their businesses. Recently, Williamson received an invitation to join Clubhouse, one of the newest social media platforms.
After learning that Clubhouse can connect you with some of the world's most prominent business and industry leaders via live voice interaction, Williamson decided to give it a try. She quickly discovered that the app indeed enabled her to speak directly with numerous movers and shakers. So, she jumped in fully. In just two days, she already had gained hundreds of new followers – not just on Clubhouse, but on other social media platforms, as well.
Here is what Williamson has learned about Clubhouse so far.
1. Clubhouse is an authentic way to interact with famous people.
Everyone is on Clubhouse to give value. When I first joined, I entered a "room" dedicated to business growth. On the "stage" were Grant Cardone, Tiffany Haddish, Jim Kwik and several USA Shark Tank investors – people with millions of followers! Then, I asked and was granted access to the "stage" with them.
Because Clubhouse links directly to your Twitter and Instagram accounts, there are no DM functions or chat functions, comments or likes. The only way to interact with people through Clubhouse is via voice. That means you get to ask questions, seek advice, and tell people exactly what you have to offer.
Within minutes on the app, I got to speak directly to famous people, and it was all completely live. It was like a normal phone call. It was insane! I was speaking with the biggest business leaders in the world. I was blown away. Hearing people's real voices definitely helps to build connection.
2. Clubhouse helps potential followers understand the value you can offer.
In order to soak up the value you can get from the platform, put yourself out there as much as you can. Because of my experience in podcasting and doing Instagram live, I'm more than comfortable putting my hand up and hoping to be invited onto the "stage." And I have been. It has proven a great opportunity to share my business insights. Just being on stage got me 60 new followers. Even Tiffany Haddish followed me! (I doubled checked; it's not a fake account.)
Since the Clubhouse app links directly to Instagram, it quickly builds your follower count. In fact, I gained 200 new Instagram followers after just two days on Clubhouse. I also got about 50 new direct messages (DMs). In the past, I'd be lucky to get one or two DMs each month from people I don't follow. DMs are usually a more meaningful way to connect with followers, as they ask serious questions and genuinely want your expertise.
3. Getting in early means more opportunities.
There's so much opportunity on this app right now because you have to be invited by someone who is already on Clubhouse. Each person currently receives only a few invites, so it's still super exclusive. However, it is growing exponentially.
As a first mover, it feels very meaningful to me to be on Clubhouse, so I am making the most of it. I'm certain that as time goes on, we may not be able to access the featured speakers as easily as we can now, because the rooms will become crowded. This will mean fewer opportunities to get on to the stage and speak to the celebrities. I've therefore been spending a lot of time on the app to make sure I'm getting the most out of it.
4. You can learn how to use Clubhouse by listening in on different "rooms."
Honestly, I had absolutely no idea what I was doing or how the app worked when I joined. However, upon jumping into a few groups and putting myself out there, I got the hang of it very quickly. In several groups, people were chatting about all the functions of the app and how Clubhouse actually works, so that was really handy.
5. Quick tips on how to use Clubhouse.
· Round table discussions work best – not a hierarchy of someone speaking. When people can join in and speak, they stick around!
· Have as many moderators as possible to create a larger room.
· Raise your hand to ask moderators to let you speak. You can leave a room any time by "peacing out."
· Your bio shows up as SEO, so it is key to communicate what value can you offer in the first three lines.
· Showing up and actually participating in groups is vital. I asked one question and gained five to ten followers.
· Co-hosting groups is critical, as well. Partner with people to host rooms on a certain topic.
· You need to reset the room a few times for all the new people that have joined.
· A good length for a program is 60 to 90 minutes.
· Ask people to DM you a word. For example, "DM me for freebie" or whatever so you can send them the link to your resources.
Bernie Sanders' inauguration meme gets social media attention from sports world – Sporting News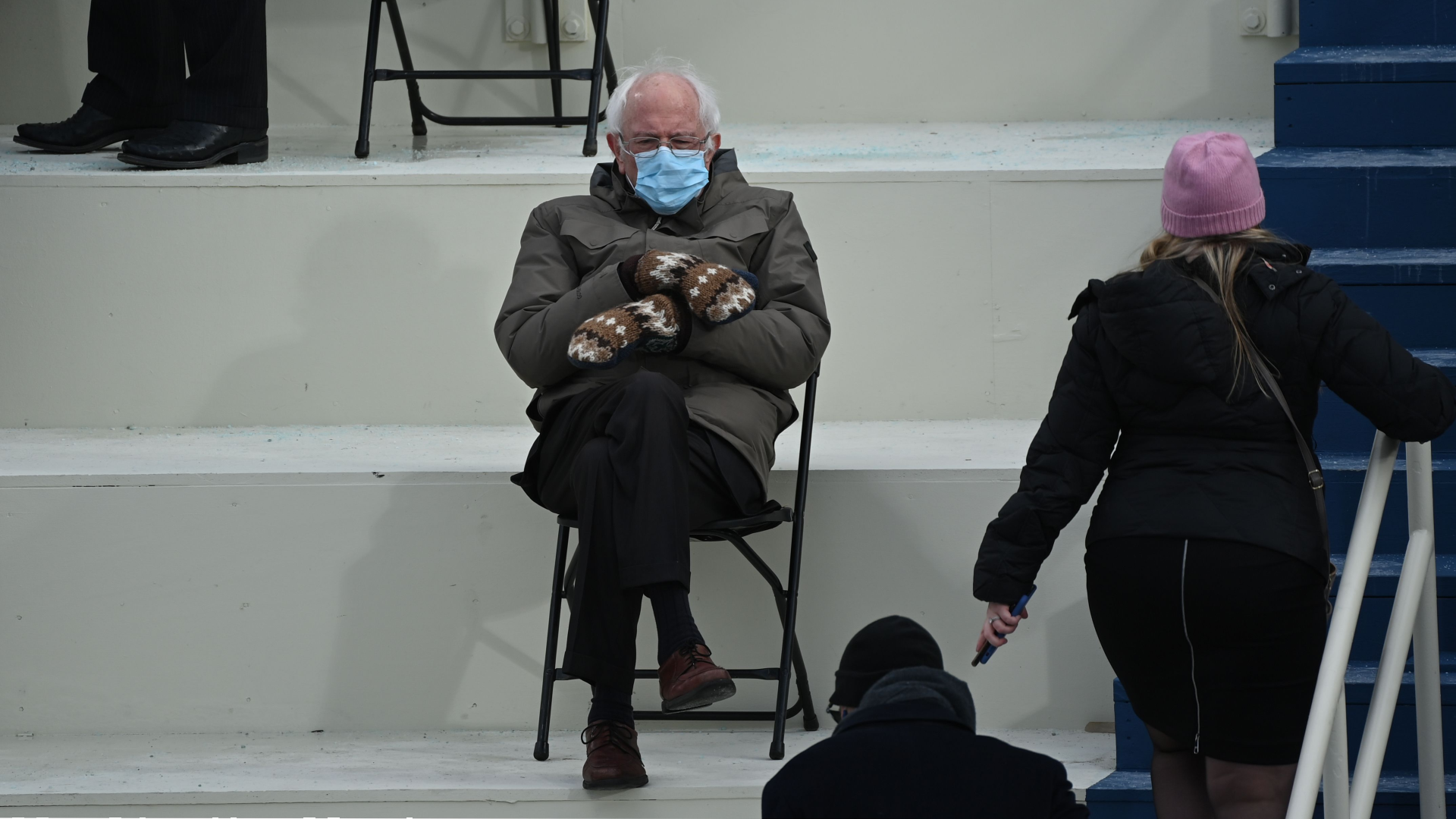 Bernie Sanders has a knack for online stardom.
The senator from Vermont is already the subject of one well-known meme — we'll get to that in a second — and on Wednesday, thanks to his inauguration outfit, socially-distanced spot and demeanor at the Capitol, he earned another one.
First off, props to Sanders who was sporting the same jacket from the original "I am once again asking" meme. If the jacket still fits and is in good shape from 2019, why not keep wearing it?
So aside from the coat, he's got a new meme thanks to a photo that popped up of the 79-year-old senator sitting in a folding chair socially distanced from everyone. He sat in said coat, with his arms crossed and warm mittens on his hands and his legs crossed — and, of course, he had on a mask.
Following COVID-19 protocols, Sanders became a social media sensation once again and the sports world was quick to follow suit as well.