5 Tips for Finding the Right Frame for Your Art – Artsy
Art Market
Osman Can Yerebakan
In the 1980s, Pictures Generation pioneer Sarah Charlesworth fostered a collaboration with downtown art framer Yasuo Minagawa. Edging her works with lacquer frames, her photographs' backgrounds seemed to bleed into their surroundings. The results were clean-cut, monochromatic sculptural works in which images energetically popped out of their flatness through their impeccably matching frames.
Minagawa's New York Times obituary in 2015 underlined the craftsman's relationship with artists who visited his Great Jones Street store, Minagawa Art Lines, for custom framing, including—in addition to Charlesworth—Elizabeth Murray, Dan Colen, and Jennifer Barlett. Today, contemporary artists such as Shilpa Gupta, Elad Lassry, and Todd Gray continue to push two-dimensionality towards a sculptural realm by incorporating frames into their photographic practices.
Art is made to be seen, so it's no surprise that framing—along with effective lighting, intelligent curation, and smart wall coloring—is of central importance to a work's presentation. But while institutions and galleries have the professional knowledge and resources to confidently navigate the framing process, for collectors it can be overwhelming: An ideal frame must safeguard the objet d'art while conjuring a visual symphony with the work and its surrounding, all while fitting a collector's budget. And, like any aesthetic industry, framing evolves through the decades and shape-shifts in response to different trends and needs.
Below are five tips to keep in mind the next time you frame an artwork.
Find a framer who knows your material
"Rule number one: identify the artwork," said Robert Benrimon of Skyframe, which has shops in Chelsea and New Jersey. It's important to find a fine-art framer who has an understanding of the work's monetary and intellectual value, as well as its medium. This means that collectors might need to use several different framers, depending on the kind of works that are in their collection: Framing a fragile Louise Bourgeois ink on paper from the 1950s is going to require a different approach than doing the same for a recent MFA graduate's editioned digital print, and the insight framers bring to the areas they work in is invaluable.
Galleries and museums return to established framers not only to benefit from their technical skillset, but also for their knowledge on specific subject matter. For example, Benrimon pointed out that "Andy Warhol or KAWS screen prints are always very delicate." Collectors should look for that level of expertise when searching for a framer—one reason the owner of the 39-year-old shop has clients such as Gagosian and Staley-Wise Gallery.
Think of art's relationship with the frame in the long term…
In addition to providing an aesthetic accent, framing shields the art. Protection from UV lights and the sun, dust, physical contact, and other outside harms is in fact the primary goal of any seasoned framer. "Look for an expert who offers conservation framing," said Daniel Beauchemin, the CEO of Chelsea Frames, which has been operating at the epicenter of New York's gallery circuit for a few decades. "Conservation framing not only protects the art but also makes sure the treatment is safely reversible—we have to protect the art from outside effects as much as from itself."
This includes mounting the art onto a surface without harming its back and corners. "Cardboard will leak acid to the paper, so support the art work with wood or acid-free boards made from cotton and avoid plastics," added Benrimon. He also explained that in the mounting process, he uses everything from pocket corners to rice paper hinges to mulberry hinging paper, depending on the piece he's working with. A seasoned framer will be able to make recommendations and explain the differences between these different methods, so don't be afraid to ask.
Haruo Kimura, who started his career with Minagawa and later opened his own frame shop in Brooklyn, East Frames, noted that the protective quality of plexiglass is constantly improving. "I recommend Optium Museum Plexiglass for those who can afford the material," he added. The anti-reflective, virtually invisible sheeting is a top choice among museums and high-profile collectors. And while it can be more expensive upfront than more budget options, future-conscious framing helps secure a damage-free lifespan for a work, which, according to Kimura, "is a way to guarantee that the art will not decrease in value."
…But work with framers who can make changes in the future if they're needed
Collectors should be sure to opt for reversible framing when having one of their pieces worked on. This allows art to have a facelift down the road—as framing trends change or to complement rooms that are redecorated, for instance—by giving it a new frame, and assures that a work isn't damaged during the process.
And while it's important to be proactive in asking for reversible options, there will likely be cases where collectors will need a work reframed that hasn't been handled as carefully in the past, whether that's because a previous owner opted for a less-than-desirable frame or a frame becomes damaged. That means it's crucial to work with framers who are comfortable dealing with the conservation elements of these more challenging cases.
For example, multiple framings of a work may result in a damaged back, which requires paper fillers for conversation, or a framer might suggest updating the way a work is mounted or the glass used to cover it—what Benrimon calls "sunscreen for art"—to better protect it. And when it comes to restretching canvases, an important but crucial detail is to do so using its existing holes rather than punching new ones.
Colors and materials are numerous, so listen to what the art—and your framer—suggests
Whether organic wood shades such as maple, walnut, and cherry, the timeless safe arms of black or white, or more experimental pastels, color options are more abundant than ever. "We have 10 shades of white," Kimura said. And there are similarly numerous decisions to be made on the materials front.
Today, many framers are trying to commit to more sustainable materials and use wood that meets the ethical sourcing standards approved by PEFC (Programme for the Endorsement of Forest Certification) and FSC (Forest Stewardship Council). Metal frames exist as well, and chrome is gaining popularity as a nostalgic nod to the 1980s. With so many choices and the extended amount of time spent at home due to the pandemic, Beauchemin has noticed that now collectors "take their time to really search different styles in framing as part of their home renovation projects."
While all those choices may seem daunting at first, a good framer will be eager to guide collectors to options that work best for the artwork, complementing instead of overshadowing it. "We should listen to the story the artist has provided us—we cannot tell a whole new one with the framing," explained Beauchemin. "Our work can be a punctuation to the work." Customers may knock on his door with the vision of a yellow frame that would match the blue and yellow cushions on their sofa.
But Beauchemin thinks stepping in is crucial at that stage. "If the artist intended for more yellow, they would already have more of it in the work," he explained. "Art should not become an interior design element." According to Benrimon, muted color palettes help achieve this humble effect: "Our goal is minimum interruption." And, for Kimura, unless an artist approaches him with a specific vision about custom framing which serves as a part of the art itself, "frames must respect the art and almost disappear."
Challenging art means challenging framing solutions, so use a pro
Contemporary art comes in various shapes, materials, and sizes, which may require innovative thinking for framing. Reframing a roughly handled or damaged work of art may require a surgeon's precision. Benrimon remembers cutting a zigzagged wooden frame for a Warhol. According to Kimura, who once handled a piece made out of spider nests, fragile materials with moving and/or unsteady parts are a major challenge. He also notices that artists are constantly enlarging the scale at which they work, which leads to wood-cutting challenges at his studio.
Of course, more difficult framing jobs, and the expertise to pull them off, won't be the cheapest option. On this front, Beauchemin said that customers should realize that they're paying for a premium service: "The client must understand that more complicated intricate projects raise the cost." But even for more straightforward jobs, the cost pays dividends in the long run. A film poster which cost the collector $15, he explained, "might turn into a collector's item in a few decades.…A straight $300 framing with metal or wooden frame for $20 a foot and UV plexiglass can in fact preserve that potential value." It's better to do framing—as with many things—the right way the first time around.
Youth get creative at summer art camp – Lakeland TODAY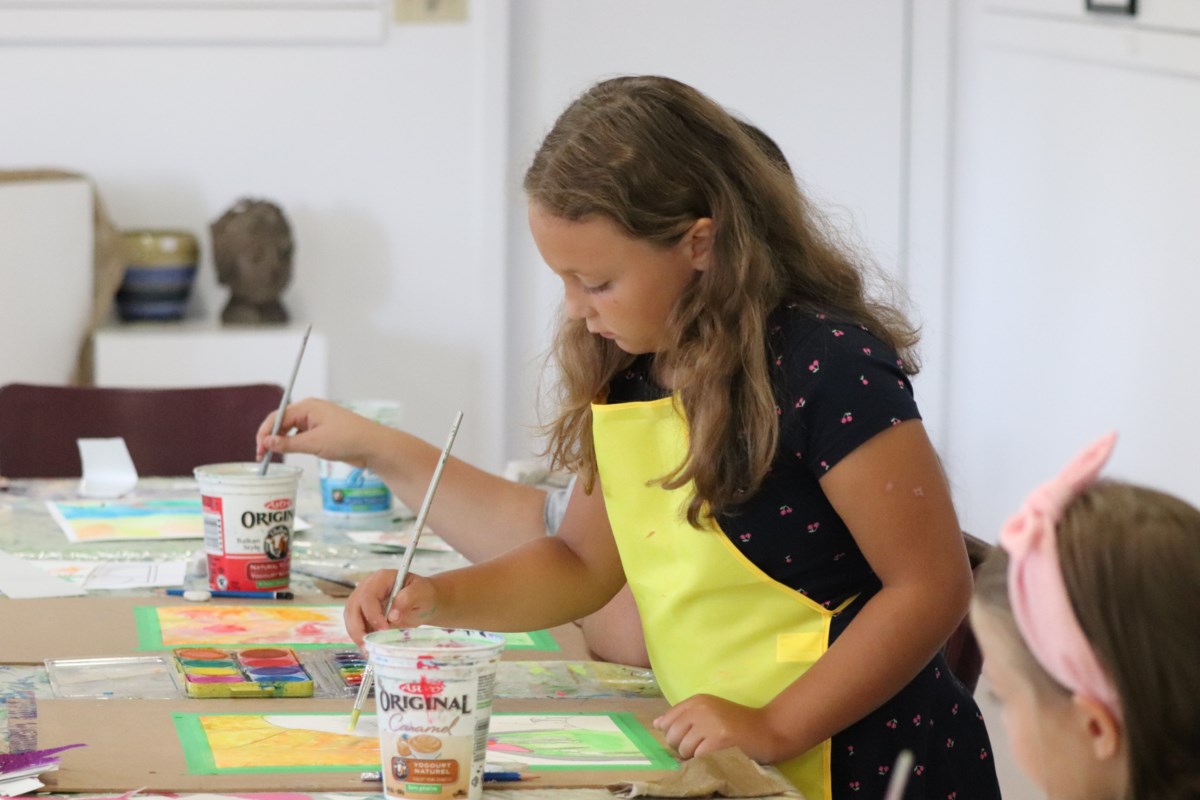 ST. PAUL – A variety of mediums were used to create unique works of art during a week-long Youth Art Camp held at the St. Paul Visual Arts Centre, last week.
Pam Bohn, the art instructor for the art camp, said the camp gives youth the chance to not only do art but form friendships.
"We also go outside to play and go to the park, and so it is also a day where they can make friends."
The art camp included acrylic painting, watercolour painting, mixed media projects, and much more.
"While I facilitate the classes, [the children] are free to create as they please," she said. "That allows those who like to do art that freedom to have different art mediums and try things that they may be unable to do at home."
Bohn said the participating youths have enjoyed the art camps, adding, "They all get excited when they come and take their [art] home to show their parents."
The Hive celebrates three new exhibitions at Art Gallery of Burlington | inHalton – insauga.com
Published August 15, 2022 at 2:41 pm
A special event celebrating three new exhibits is being hosted by the Art Gallery of Burlington.
The Hive is happening Saturday, Aug. 27, from 1 to 4 p.m. This free, all-ages event incorporates the organization, cooperation and energy of a beehive into an afternoon of art, activity, learning and fun.
The Hive will feature a special workshop led by Toronto's Clay and Paper Theatre, live arts and crafts demonstrations, a screen-printing presentation, live performance, food and drink.
The event is being held in celebration of the AGB's three new fall exhibitions:
The Future of Work, an exploration into how the pandemic has affected labour markets and our quality of life

ਨਜਰ ਨਾ ਲੱਗੇ

/Nazar na lage/Knock on wood, a vibrant and meaningful interpretation on the art of rangoli by artist Noni Kaur
Know your Place, an exhibit of cartoon-like clay sculpture that reveal the raw emotional experiences of the artist Sami Tsang
Known for work inspired by oral traditions, folk songs, poems and fables, Clay and Paper Theatre will charm participants and audiences with their original multi-disciplinary performance-based production. Guests who wish to participate with Clay and Paper Theatre should arrive early and be ready to create.
Visitors are invited to an interactive, screen-printing demonstration led by artist Jesse Purcell and are encouraged to bring any used clothing to be transformed into a bunting display to be hung in the gallery by the artist collective Works-in-Progress.
Arts Burlington will be opening its doors to guests with arts demonstrations and the Burlington Handweavers and Spinners Guild will guide guests through a natural plant-based dying demonstration, teaching attendees what they need to know to create from home.
The AGB parking lot will be free for the day. For more information, visit the AGB website.

insauga's Editorial Standards and Policies
Stay the know
Subscribe now to receive our daily email of today's top stories in your city!
advertising
'Miyo Nepin' (Good Summer) art show brings together Indigenous talent – battlefordsNOW
"[Nordstrom] contacted the artists; I contacted some. Then, she [decided] how it would look," Favel said.
"Miyo Nepin," which means Good Summer, is the theme of the show.
"We just came out of the pandemic, [so] it's a celebration of the freedom of movement, the freedom of the summer, and hopefully this freedom can stay in the future," Favel said.
He noted the theme is essentially about the freedom from health concerns, with the hope that everyone can enjoy good health again.
"It's a celebration of life and health," Favel said.
Some of the artists featured in the exhibition include Carl Thunderblanket from Sweetgrass, Meryl McMaster from Red Pheasant, Greg Tootoosis from Poundmaker, Charity Boxell from Poundmaker, and Dana Standinghorn from Sweetgrass.
The curators focused on showing pieces from artists with a substantial body of work.
Favel is particularly impressed with the calibre of the artists' projects in the show.
"We wanted to encourage, shed some light into this area of the talent that exists here," he said. "Hopefully, then, this work can keep going further, and their work can become more well-known provincially."
Favel added the artists are creating pieces of a national and international quality
"If you go to any gallery in Montreal or Toronto, you would see this is the quality of work we have here."
Favel hopes to keep putting the spotlight on many more of the Battlefords area's talented Indigenous artists going forward as well.
"In the future, like in my Performance Arts Festival, we will just keep going, and keep growing, and keep developing. That's our goal," he said.
The Miyo Nepin exhibition that features more than 20 pieces is on now through Sept. 4 at Fort Battleford.
–
Angela.Brown@pattisonmedia.com
On Twitter: @battlefordsNOW