Maria Qamar on How She Turned her Passion for Art Into a Sustainable Career – CanadianBusiness.com
Toronto-based artist Maria Qamar started doodling during meetings while working as a copywriter. After posting her comic-book style illustrations of South Asian women on Instagram under the handle Hatecopy, she gained a following and attracted international attention. In March, the Museum of Contemporary Art Toronto announced its debut NFT collaboration with Qamar. Here, she tells CB how she made a career in art happen.
---
I have wanted to be an artist since I was three years old. Drawing was always the way I liked to communicate my ideas. I started taking it more seriously when I was enrolled in an art class as a kid and met this girl who was really good at drawing the genie from Aladdin. I got weirdly competitive about it—I wanted to be better than her at drawing the genie—so I went through a phase where I drew the character over and over again. My brother and I were also really into making comics together growing up. I think to some extent all kids are artists, and then it kind of fizzles out in adulthood. But I just kept on doing it.
Despite my passion for art, my parents—who are scientists—encouraged me and my brother to get into medicine. They wanted me to become a pharmacist, so in high school, they helped me get a gig shadowing one near where we lived in Mississauga, Ont. I lasted two weeks before I got fired. I was sorting out pills when I sliced my fingers with scissors and bled everywhere—including on the medicine. (My brother did end up becoming a doctor, though.)
Career-wise, in high school, I wanted to be an art director. It was my idea of a compromise, because it was creative but seemingly business-y enough for my family's liking. But when I proposed it to my parents, they were not impressed because it still had "art" in the title. They wanted me to pick a career where I would be financially secure—and their idea of an artist was someone who becomes successful after they die. I settled on copywriting, because it was the closest I could get to something creative while convincing my parents I had a real job.
I landed my first copywriting gig in Toronto when I was 20, working on scripts for TV and radio, as well as billboards. I was really keen to get all my creativity out but quickly learned there were at least 30 people reviewing my ideas before anything got approved. During that time I would doodle during meetings: I made it look like I was taking notes but I was actually drawing the person in front of me, or myself with squiggly eyes. Sometimes I would post these drawings on my Instagram, under the username @hatecopy, which I chose because I didn't want my co-workers to find me. My office was right beside George Brown College, so I would work until 7 p.m. then take an illustration class until 9 p.m. I saved up money to buy a Surface Pro tablet so I could draw on the screen and instantly upload my illustrations to Photoshop. After that, I found myself drawing at work all the time—or watching Youtube videos of cute dogs—until I got laid off in 2015.
I had enough money saved to float me for three months. I used my free time to draw and post my illustrations to Instagram. At first, I was just doodling women but eventually I developed a style akin to comic books where the protagonists were always South Asian women like me. The first comic I drew that really resonated with my friends and family was a woman in the style of a Roy Lichtenstein painting, saying "I burnt the rotis." My friend sent me a message saying, "Dude, this is hilarious." But after a few days of waking up at 3 p.m., I realized I really needed to get a "real" job. I started browsing LinkedIn every day for hours, applying to roles that didn't even make sense for my experience, like the head of a fashion company in Germany. I was racing against the clock until money ran out.
Instead of finding full-time work, I started taking on copywriting contracts with agencies while continuing to draw. My Instagram following grew and I started getting international attention for my work: I was profiled by the BBC and Vogue India. In March 2016, I appeared on the cover of ELLE Canada magazine for my art alongside Wondagurl and Lilly Singh. My employer was like, "You're on the cover of a magazine? What are you doing here? Go pursue that."
At that point, I realized I could use my skills to build my own brand. I started posting my artwork regularly on Instagram and took every opportunity, like showing my work at coffee shops, that came my way. A lot of people reached out to me asking if they could buy prints of my work. I was still drawing in a sketchbook, so I decided to level up my sketches into paintings, take a photo of them, bring the photos to a printing shop and make posters for everyone who wanted one. There was enough demand that I made a website on Squarespace and started charging around $35 to $40 per poster. I sold quite a bit at first, which I didn't expect.
I went to zine fairs and art markets with a stack of posters to sell. Then I got an offer to curate an exhibit at Soho House in Toronto. The fact that people were interested in my work really gave me the self-confidence to continue doing art as a job. My whole life, I was told that art wasn't a valid career path, so it was really hard for me to gain the confidence that I could succeed in this.
In 2016, I got an email from someone who worked at the TV series, The Mindy Project, asking for some of my prints to hang in Mindy's apartment on the show. At first I thought it was spam, but I Googled the person's name, found their LinkedIn and it turned out they were legit. By the time I responded to the email, the person had already placed an order on my site. I ended up sending them a bunch of free stuff anyway.
After a few years of finding success as an independent artist, I was approached by a talent management agency after an interview I had done with the CBC on The National. Gaining representation allowed me to focus on doing art while having someone else run the business and e-commerce side, which allows me to make art a sustainable career.
Earlier this year, my solo exhibition, Dhamakedar, Superstar! opened at the Museum of Contemporary Art Toronto, or the MOCA. I painted a number of images of one woman who is obsessed with a pop star. One of the paintings, In Pyaar With a Superstar!, was also turned into a limited edition NFT. I never imagined I would have my own exhibition at the MOCA. I thought I would only end up at a museum after I was dead. But even though my career is going well and I definitely make more than I did as a copywriter, I still have this voice in the back of my mind telling me to get a "real" job.
Youth get creative at summer art camp – Lakeland TODAY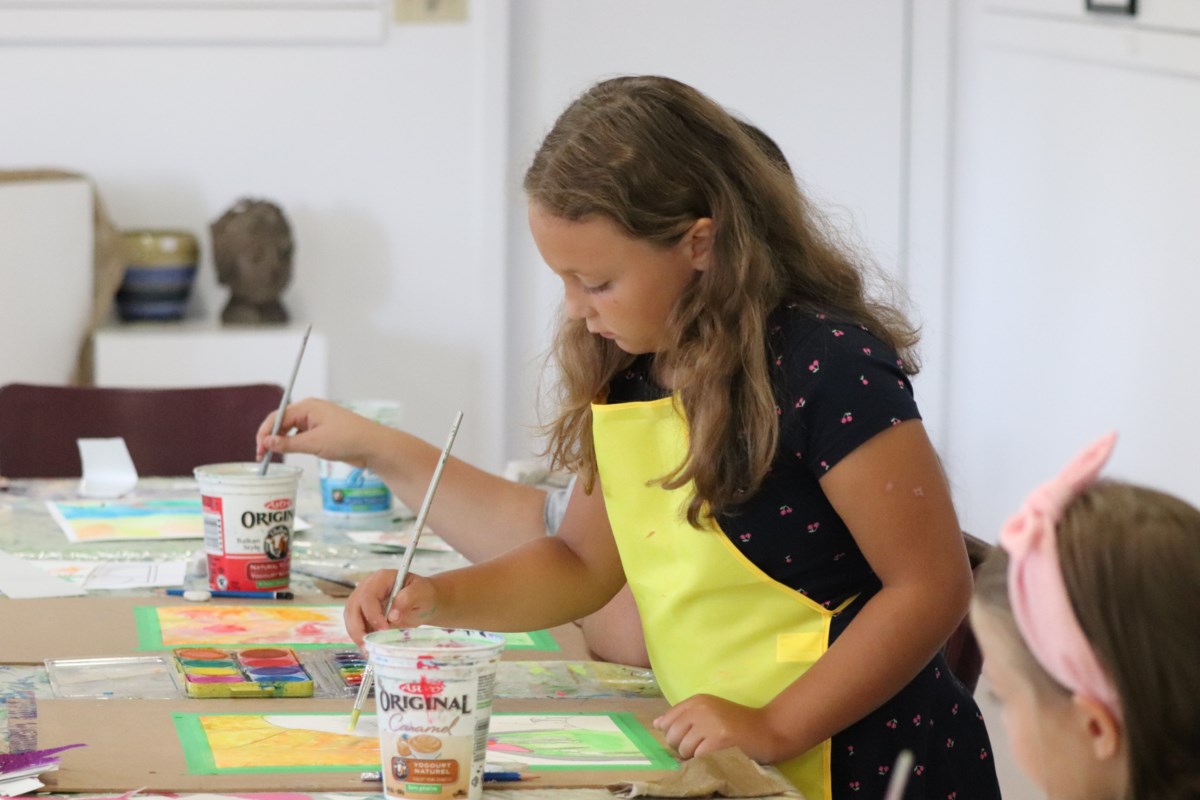 ST. PAUL – A variety of mediums were used to create unique works of art during a week-long Youth Art Camp held at the St. Paul Visual Arts Centre, last week.
Pam Bohn, the art instructor for the art camp, said the camp gives youth the chance to not only do art but form friendships.
"We also go outside to play and go to the park, and so it is also a day where they can make friends."
The art camp included acrylic painting, watercolour painting, mixed media projects, and much more.
"While I facilitate the classes, [the children] are free to create as they please," she said. "That allows those who like to do art that freedom to have different art mediums and try things that they may be unable to do at home."
Bohn said the participating youths have enjoyed the art camps, adding, "They all get excited when they come and take their [art] home to show their parents."
The Hive celebrates three new exhibitions at Art Gallery of Burlington | inHalton – insauga.com
Published August 15, 2022 at 2:41 pm
A special event celebrating three new exhibits is being hosted by the Art Gallery of Burlington.
The Hive is happening Saturday, Aug. 27, from 1 to 4 p.m. This free, all-ages event incorporates the organization, cooperation and energy of a beehive into an afternoon of art, activity, learning and fun.
The Hive will feature a special workshop led by Toronto's Clay and Paper Theatre, live arts and crafts demonstrations, a screen-printing presentation, live performance, food and drink.
The event is being held in celebration of the AGB's three new fall exhibitions:
The Future of Work, an exploration into how the pandemic has affected labour markets and our quality of life

ਨਜਰ ਨਾ ਲੱਗੇ

/Nazar na lage/Knock on wood, a vibrant and meaningful interpretation on the art of rangoli by artist Noni Kaur
Know your Place, an exhibit of cartoon-like clay sculpture that reveal the raw emotional experiences of the artist Sami Tsang
Known for work inspired by oral traditions, folk songs, poems and fables, Clay and Paper Theatre will charm participants and audiences with their original multi-disciplinary performance-based production. Guests who wish to participate with Clay and Paper Theatre should arrive early and be ready to create.
Visitors are invited to an interactive, screen-printing demonstration led by artist Jesse Purcell and are encouraged to bring any used clothing to be transformed into a bunting display to be hung in the gallery by the artist collective Works-in-Progress.
Arts Burlington will be opening its doors to guests with arts demonstrations and the Burlington Handweavers and Spinners Guild will guide guests through a natural plant-based dying demonstration, teaching attendees what they need to know to create from home.
The AGB parking lot will be free for the day. For more information, visit the AGB website.

insauga's Editorial Standards and Policies
Stay the know
Subscribe now to receive our daily email of today's top stories in your city!
advertising
'Miyo Nepin' (Good Summer) art show brings together Indigenous talent – battlefordsNOW
"[Nordstrom] contacted the artists; I contacted some. Then, she [decided] how it would look," Favel said.
"Miyo Nepin," which means Good Summer, is the theme of the show.
"We just came out of the pandemic, [so] it's a celebration of the freedom of movement, the freedom of the summer, and hopefully this freedom can stay in the future," Favel said.
He noted the theme is essentially about the freedom from health concerns, with the hope that everyone can enjoy good health again.
"It's a celebration of life and health," Favel said.
Some of the artists featured in the exhibition include Carl Thunderblanket from Sweetgrass, Meryl McMaster from Red Pheasant, Greg Tootoosis from Poundmaker, Charity Boxell from Poundmaker, and Dana Standinghorn from Sweetgrass.
The curators focused on showing pieces from artists with a substantial body of work.
Favel is particularly impressed with the calibre of the artists' projects in the show.
"We wanted to encourage, shed some light into this area of the talent that exists here," he said. "Hopefully, then, this work can keep going further, and their work can become more well-known provincially."
Favel added the artists are creating pieces of a national and international quality
"If you go to any gallery in Montreal or Toronto, you would see this is the quality of work we have here."
Favel hopes to keep putting the spotlight on many more of the Battlefords area's talented Indigenous artists going forward as well.
"In the future, like in my Performance Arts Festival, we will just keep going, and keep growing, and keep developing. That's our goal," he said.
The Miyo Nepin exhibition that features more than 20 pieces is on now through Sept. 4 at Fort Battleford.
–
Angela.Brown@pattisonmedia.com
On Twitter: @battlefordsNOW