A question of faith: Biden, Catholicism and the presidency – BBC News
Some bishops think America's second Catholic president should be denied the Eucharist. Are Biden's faith and job title an unworkable mix?
On the matter of faith, President Joe Biden is not shy.
Each weekend that he is in town, he goes to Mass in Washington. A motorcade takes him on Saturday evenings or Sunday mornings to Holy Trinity, the church where President Kennedy, the only other Catholic US president, used to attend services. He makes the sign of the cross at public events, and his Catholicism is woven into his speeches and policies.
Yet Biden's stance on abortion, and his support for reproductive rights, clash with church teachings. He has seemed to be personally troubled by the idea of abortion. Years ago he wondered aloud whether Roe v Wade, the landmark Supreme Court ruling that affirmed the right in US law, went "too far". But today he supports a woman's right to choose whether or not to have a child, one of the core tenets of progressive politics.
Liberal Catholics applaud Biden for his position on abortion while conservative ones denounce him. And now some bishops say he should be denied the Eucharist because of his views about reproductive rights. As a result, the Eucharist, a wafer that is made sacred through a church ritual, is now at the centre of a battle between conservative bishops and progressive Catholics.
Six months after moving into the White House, Biden's effort to mesh progressive politics and Catholic faith has become a lightning rod for controversy.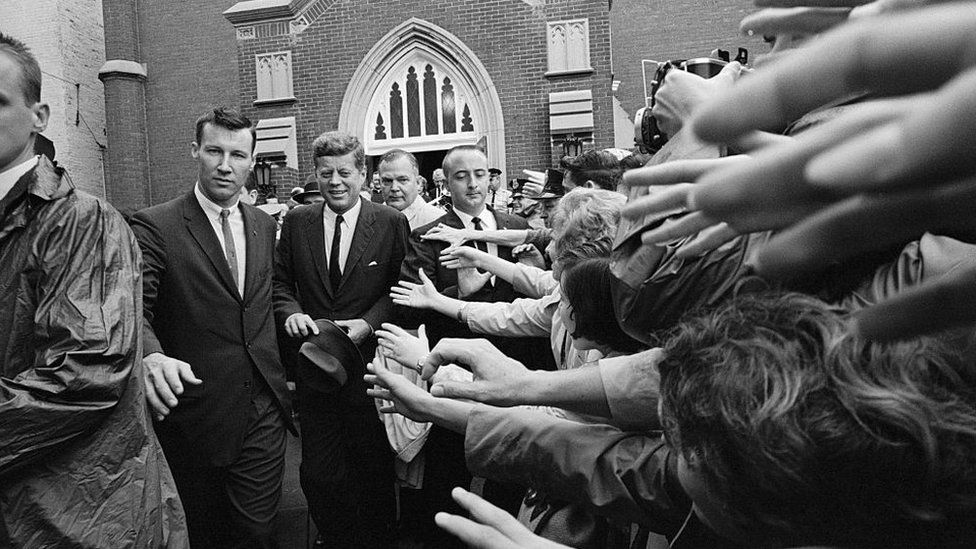 Decades ago, when Kennedy was in the White House, the president's faith was hardly ever in the news. Kennedy downplayed his religion, and made clear during his campaign that it would not play a significant role in his presidency. Kennedy minimised his religion, in part because he knew it could hurt his chances at getting elected. Many viewed Catholicism in a negative way at the time. "I am the Democratic Party's candidate for president, who happens also to be a Catholic," he said in a campaign speech.
In contrast, Biden has highlighted his faith. "Kennedy was more a Catholic, in the background, whereas it's very much in the forefront of President Biden's life," says Drew Christiansen, a Jesuit priest and Georgetown University professor.
Partly as a result, Biden's relationship with the church has been scrutinised during his time in office. At the same time, conservative bishops have criticised him for his progressive views, and say that he should be denied communion.
In June, clergy members voted to draft a statement about the Eucharist during a meeting of the US Conference of Catholic Bishops, an association that was chartered by the Vatican. A group of bishops are now writing a statement that explores the theology behind Holy Communion, as the ritual of the Eucharist is known.
"When someone is formally co-operating with abortion, that's a great offence within the church," says Anna Lulis, a data strategist and activist, sitting in her Washington living room, surrounded by dried palm leaves and images of the Virgin Mary. Biden is "living in mortal sin", she says, because of his support for abortion rights, and should not receive communion.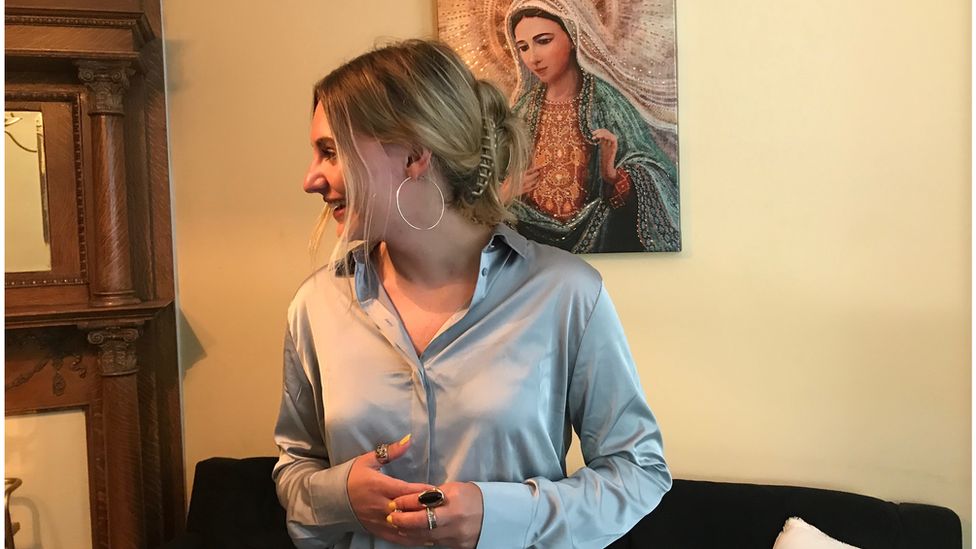 Biden was asked last month about the movement among conservative Catholics, and their efforts to deny him communion. He said he did not think that the church would implement a policy that would forbid him from receiving the Eucharist. "That's a private matter," he said, when asked about the issue. "I don't think that's going to happen."
But in fact, as the president knows, his relationship with the church is a subject of great interest to the public. That is unsurprising, given the way that politics and religion are mixed together in the US, a trend that has accelerated in recent years. Today, it can be hard to run for office without professing fealty to a Higher Power. Though America as a whole has become more secular, religious affiliation in politics is still important to many.
Even fictional US leaders are religious – President Josiah Bartlet of the TV drama The West Wing, was written as a devout Catholic for whom faith and politics collide.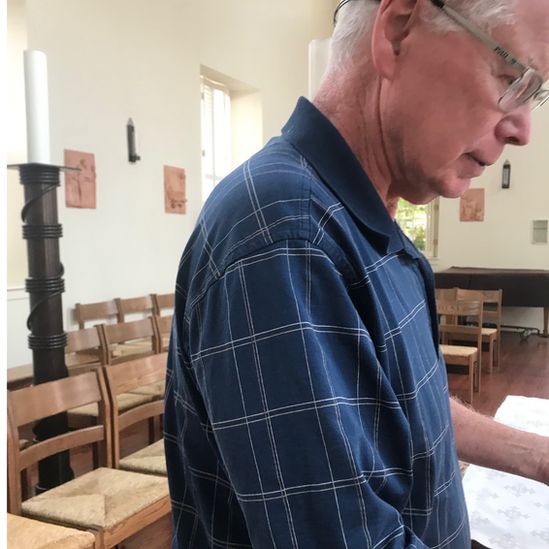 And off screen, less than half of Republicans say they would be willing to vote for an atheist, according to Gallup, arguably making faith an unspoken credential for winning office.
Within the structure of the Catholic church, archbishops and local priests would make their own decision on whether or not to give the president, or any politician, the wafer at Mass, or to send them away.
Father Kevin Gillespie, the pastor at Holy Trinity in Georgetown, welcomes the president, and so do those in the parish.
They are following the wishes of Washington's archbishop, Wilton Gregory, who has made it clear that he does not believe priests should deny the Eucharist to the president.
"We should be a church in dialogue, even with those with whom we have some serious disagreements," Gregory told the Catholic News Service.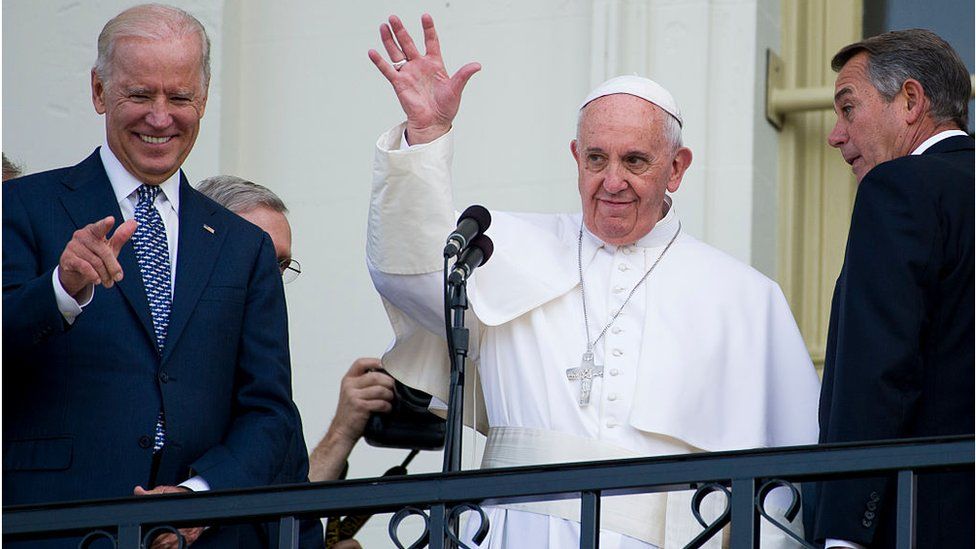 'Weaponising the Wafer'
Today there are some 51m Catholics in the US, about one-fifth of the population. These faithful are split down the middle, 48-47%, between Republicans and Democrats. Only a small portion, 14%, say it is very important for a candidate to share their religious beliefs, according to the Pew Research Center.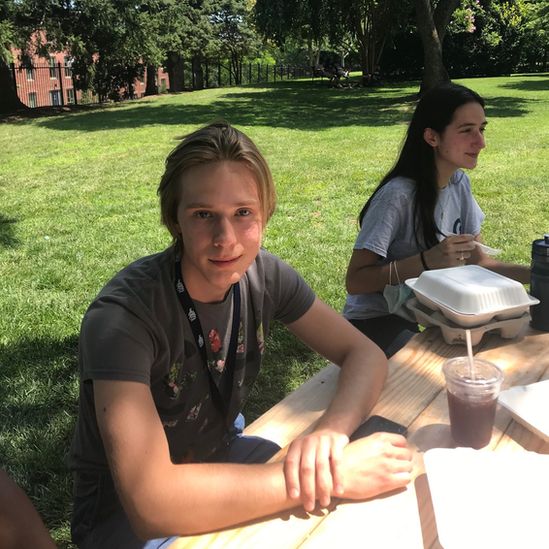 Adam Wozniak, a Latin major at Georgetown, a Jesuit university near Holy Trinity, says a hallmark of Catholicism is "faith that does justice". He thinks the president embodies this ethos through his efforts to help the middle class, and promote racial equity.
"I think that Biden really does represent that kind of faith, because he does a lot for society," he says. "Abortion is just one part, and I think if you just focus on that, you'll forget the bigger picture."
Manny Yrique, a self-described "cradle Catholic" who makes promotional products for companies in Phoenix, sees it differently.
Biden and other politicians who support reproductive rights are going against church doctrine, he says. The president should stand back during Mass, and not take the Eucharist: "He's placed himself above the teachings of the church."
Nate Tinner-Williams, who is studying black Catholicism at Xavier University in New Orleans, does not approve of Biden's stance on abortion.
Still, Tinner-Williams says that the president should decide for himself whether or not to receive communion, and that a church edict about the matter would be excessive, even harmful.
"You don't know what that person actually believes in that moment," says Tinner-Williams, describing the experience of waiting to receive communion, during Mass. "Biden could show up in line, and then change his mind about abortion."
Tinner-Williams adds: "A church policy could lend itself to misjudging a person."
Jamie Manson, an openly gay pro-choice activist, likes the way that Biden mixes faith with politics.
"I think he's a good Catholic because of the way he dissents," Manson says, adding that he "invokes his faith" on a regular basis and "uses his faith to understand his own suffering". She believes Biden should be able to receive communion.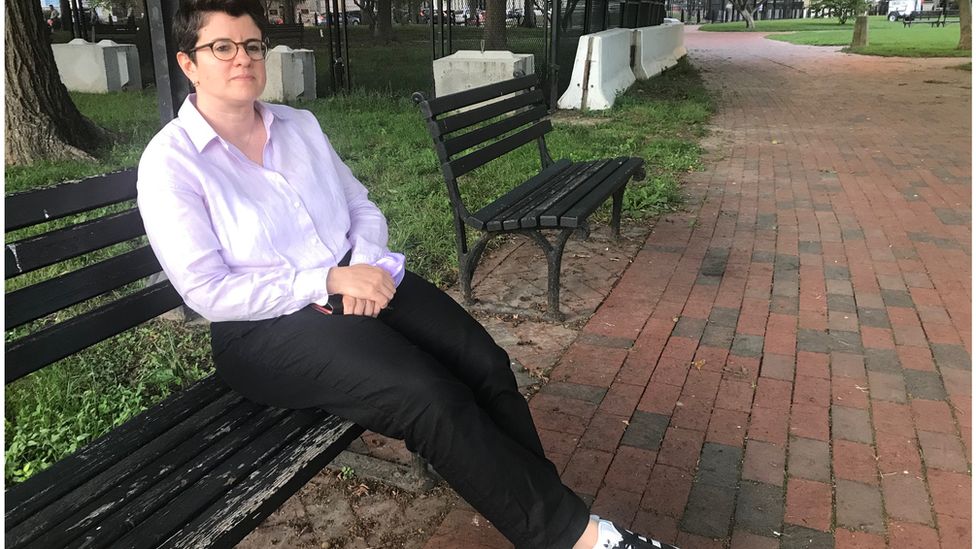 The faithful are now arguing with each other about the Eucharist, and the president. If the bishops take additional steps to deny him communion, many liberals will rebel against them. Regardless of how the bishops vote, however, one thing is clear: politics in the US has become increasingly divisive among Catholics, reflecting a national trend outside of the church.
The devout, at least, can pray for things to get better.
Jared Kushner to leave politics, launch investment firm – sources – Reuters
WASHINGTON, July 28 (Reuters) – Jared Kushner, a top adviser to former President Donald Trump, plans to launch an investment firm in coming months, a move that will take him away from politics for the foreseeable future, sources familiar with the plan said on Wednesday.
Kushner, the former chief executive of Kushner Companies, who served as the Republican president's senior adviser in the White House, is in the final stages of launching an investment firm called Affinity Partners that will be headquartered in Miami.
Kushner, who is married to Trump's daughter, Ivanka Trump, is also looking to open an office in Israel to pursue regional investments to connect Israel's economy and India, North Africa and the Gulf, said two people briefed on the plan, who spoke on condition of anonymity.
The sources had no details about potential investors and said the firm was still in the planning phase.
Kushner has spent the last six months with his family in Miami writing a book about his White House experiences that is expected to be published early next year.
Kushner helped broker deals between Israel and the United Arab Emirates, Bahrain, Sudan and Morocco in a six-month flurry last year. He also helped negotiate a new U.S.-Mexico-Canada trade agreement.
Kushner remains close with his father-in-law, the sources said, but by re-entering the private sector he is stepping away from politics for the foreseeable future.
The Republican Party has been divided over the deadly attacks on the U.S. Capitol on Jan. 6 by Trump supporters, and Trump's false claims that he beat Democrat Joe Biden in the 2020 presidential election.
Kushner and his family have been spending the summer as Trump's next-door neighbor at Trump's golf property in Bedminster, New Jersey.
People close to the former president say he is strongly considering another run for the Republican nomination in 2024.
Reporting by Steve Holland; Editing by Heather Timmons
Our Standards: The Thomson Reuters Trust Principles.
Trump and DeSantis choose politics over science as mask wars roar back to life – CNN
As soon as the US Centers for Disease Control and Prevention rolled back indoor unmasking guidance on Tuesday
for a majority of US counties
amid surging new coronavirus cases, the ideological conflagration over face coverings
roared back to life
.
Ex-President Donald Trump, in his latest attempt to damage his successor over a pandemic he himself basically ignored at the end of his own term while pushing his election lies, issued a statement saying, "Don't surrender to COVID. Don't go back!" If Trump's faithful followers accept his advice on ignoring mask guidance again, more of them will likely get sick and die.
House Minority Leader Kevin McCarthy, a California Republican,
tweeted that a directive
by the House's attending physician that masks now need to be worn again in all interior spaces of the chamber was not "based on science." Instead, he said, the decision was "conjured up by liberal government officials who want to continue to live in a perpetual pandemic state."
And in another high-profile clash, Florida Republican Gov. Ron DeSantis, who is presiding over his state's explosion of Covid-19 cases, moved into conflict with President Joe Biden, resisting new CDC recommendations for masking in schools.
The showdown not only augured a new struggle between science and politics — a disconnect that has plagued efforts to beat the worst public health crisis in 100 years. It also unleashed a face-off with extra partisan dimensions since it could preview a possible 2024 presidential election duel between DeSantis and Biden.
The latest GOP attacks were deeply ironic. Had more Republican leaders prioritized public health over politics and urged their voters to get vaccinated, the surge in new cases would likely have been avoided — meaning no reintroduction of measures to stem an again-accelerating pandemic.
Only two months ago, the CDC said vaccinated people didn't have to wear masks indoors with the pandemic apparently in retreat. But on Tuesday, with the highly transmissible Delta variant raging, the top public health agency said that even vaccinated people in areas of "substantial" and "high" transmission of the coronavirus should mask up. And it said that everyone — staff, kids and visitors — should wear masks in K-12 schools when the summer break ends.
The decision
was taken in the context of new data
showing that vaccinated people infected with the Delta strain can play a limited role in transmission, even if their chances of getting seriously ill and dying are still very low.
The announcement that masking is back for many Americans came as a devastating blow to morale and could have significant political implications for a White House that made ending the pandemic this year its signature goal.
Waning patience with vaccine holdouts
New tensions over masks are also almost certain to exacerbate the disconnect between the White House, which is urging everyone to get life-saving vaccines, and pro-Trump states, where there is deep resistance to public health precautions even as the virus exacts a disproportionate toll.
It will underscore the self-defeating reality that the people
least likely to wear masks are often those
most resistant to vaccines — a fact that is driving unnecessary new cases and deaths from the disease and now even restricting the lives of the vaccinated.
Political controversy is likely to ratchet up another notch on Thursday, when Biden is expected to announce that all federal employees and contractors must be vaccinated or face regular testing regimens.
The sign of a hardening White House line comes amid perceptible societal frustration among vaccinated Americans with those who refuse to get their shots. The most haunting realization after the CDC decision is that America, unlike many other areas of the world, has the means to end its pandemic — a plentiful supply of highly effective vaccines — but won't fully utilize it.
"We would not be in this situation if we already had, now, the overwhelming proportion of the population vaccinated," Dr. Anthony Fauci, the government's top infectious diseases expert, told "PBS NewsHour."
In a statement, Biden told the country he had unwelcome news but that he had promised to always level with citizens over the true state of the pandemic. He did offer reassurance that more mask-wearing and vaccinations would mean the country could forestall a full return to the nightmare of last year.
"Unlike 2020, we have both the scientific knowledge and the tools to prevent the spread of this disease. We are not going back to that," he insisted.
Biden also said that while masking in schools would be "inconvenient" it would allow kids to be able to learn and spend time with their classmates again.
But DeSantis, who has frequently sought to spin political advantage from the pandemic, styling himself as the scourge of health guidance unpopular with conservatives, including on vaccine passports, quickly contradicted Biden's advice.
"Governor DeSantis believes that parents know what's best for their children; therefore, parents in Florida are empowered to make their own choices with regards to masking," said DeSantis' spokesperson, Christina Pushaw.
She claimed that data showed Covid-19 was not a serious risk to healthy children but that they were at risk of bacterial infections from masks and from difficulty breathing. The statement contradicts CDC evidence that shows more children have already died from the disease, 517 so far, than even in a bad influenza year. Pushaw also retweeted a Fox News story in which she insisted the new CDC schools guidance "isn't based in science."
Covid-19 cases are shooting up in almost every state, but Florida is seeing a stunning revival of the pandemic, accounting for nearly 1 in 4 of the new infections in the nation over the last week. DeSantis is now adopting a strategy that seems almost contradictory as he walks a political knife edge ahead of his reelection race next year: urging vaccines, unlike some other conservatives, but opposing most other kinds of countermeasures toward the disease.
DeSantis is a protege of Trump, though his rising political profile might soon get him crossways with the ex-President, who is mulling another White House run in 2024. In resisting CDC mask recommendations, DeSantis is following in well-trodden footsteps. Trump undermined masking guidelines right from the start in the knowledge that there was political advantage for him among base voters who believed him when he downplayed the pandemic. Most notoriously, Trump ripped off his mask in a self-aggrandizing photo op when returning to the White House after his bout with Covid-19 last year.
While a masking showdown with Biden runs directly against the government's best health advice, it will likely do the Florida governor no harm as he continues to raise his political profile. A slump into an even deeper pandemic, however, could leave him more vulnerable ahead of his reelection race next year.
A new battle over schools
Across the nation, the new CDC guidance on masking in schools is likely to mean a highly charged start to the new semester that begins within days in some states. In New Jersey, for example, some parents are going to court to try to prevent the state's Democratic governor, Phil Murphy, from taking any steps to require masks in class.
"We live in a constitutional democracy. We do not have government by doctors meeting in conference rooms at CDC and issuing press releases," Bruce Afran, a lawyer for the parents, told CNN's Victor Blackwell on Tuesday.
But the new political clashes over masking are dismaying doctors on the front lines of the pandemic, who are tired of people resisting health guidance.
"I am so sick of this virus filling my emergency department and those of my colleagues around the country. I am sick of watching sickness, severe illness and death," Brown University Professor of Emergency Medicine Megan Ranney told CNN's Jake Tapper. Ranney urged people to accept masking so that the country could get the Delta variant under control.
Another physician, Dr. Jonathan Reiner — a professor of medicine at George Washington University — openly blamed people who are resisting vaccines for the CDC having to issue new guidance on masks.
"The problem is that 80 million American adults have made a choice … not to get the vaccine, and these same people are not masking — and that is the force that is propagating the virus around the country," Reiner said on CNN's "Erin Burnett OutFront."
Politics Briefing: From drought to deluge: Canada flush with vaccine doses – The Globe and Mail
Hello,
This is the daily Politics Briefing newsletter, written by Ian Bailey. It is available exclusively to our digital subscribers. If you're reading this on the web, subscribers can sign up for the Politics newsletter and more than 20 others on our newsletter signup page. Have any feedback? Let us know what you think.
There are now enough COVID-19 vaccine doses in Canada to fully inoculate everyone eligible, Prime Minister Justin Trudeau announced on Tuesday.
The federal government hit the critical milestone two months ahead of schedule and after a rocky start to vaccine purchasing in the winter. Since March, the country has moved from drought to deluge in vaccine supply and the focus has shifted to whether enough people will stick out their arms and help avoid a fourth wave of the novel coronavirus pandemic.
"These vaccines work and they're safe and they're also available," Mr. Trudeau told reporters at an event in Moncton. "So with enough doses for everyone, there's no more excuses to not get your shot."
Parliamentary Reporter Marieke Walsh reports here.
Reporter's Comment, Ms. Walsh: "In the last four months (and just in time for a widely expected election call) Canada has moved from vaccine drought to deluge. Up to the end of March, the country had yet to hit 10 million doses, four months later it now has more than 66 million doses. That breaks down to enough shots to fully vaccinate all eligible people – an achievement hit two months ahead of the government's self-imposed deadline. The milestone is a key box to check before a potential summer election call but with vaccination rates not yet at the levels needed to avoid overwhelming hospitals in a fourth wave, it's not yet mission accomplished for the jabs."
TODAY'S HEADLINES
RCMP PROBE ABUSE AT MANITOBA RESIDENTIAL SCHOOL – Manitoba Mounties say they have been conducting a large-scale, years-long investigation into allegations of sexual abuse at a residential school. RCMP said Tuesday that officers with the major crime unit began looking into the Fort Alexander Residential School, northeast of Winnipeg, in 2010 and a criminal investigation was launched the following year. Story here.
FEDS APPROVE WEAPONS SALE TO SAUDI ARABIA – The federal government last year approved a deal with Canadian business connections for the sale of nearly $74-million of weapons to Saudi Arabia, even as there were calls for Canada to stop arms transactions with the Saudis, one of the main combatants fuelling the war in Yemen.
SIMON READY TO BE G-G – Mary Simon says she is honoured, humbled and ready to be the first Indigenous person to serve as the Queen's federal representative in Canada. Her official installation as Governor-General took place in the Senate on Monday.
ERIN O'TOOLE MAKES PROMISES IN ST. JOHN'S – In St. John's, N.L., federal Conservative Leader Erin O'Toole promised changes to a fund intended to cushion province from sharp drops in revenue, CBC reports. The story is here.
PRIME MINISTER'S DAY
Private meetings in Moncton. Then the Prime Minister makes a vaccine announcement and holds a media availability. In Charlottetown, the Prime Minister meets with Premier Dennis King, and makes an announcement and holds a news conference with the Premier, federal Social Development Minister Ahmed Hussen and others.
LEADERS
Green Party Leader Annamie Paul holds a virtual roundtable discussion on the climate crisis and media availability.
NDP Leader Jagmeet Singh visits wildfire evacuees in Thunder Bay, Ont.
PUBLIC OPINION
New data from the Angus Reid Institute finds half of respondents in Michigan (48 per cent) and Ontario (49 per cent) want the embattled Line 5 pipeline to stay open. In Quebec, the 72 per cent who have an opinion are split on what the pipeline's fate should be. Details here.
OPINION
The Globe and Mail Editorial Board on how Vancouver could change the rules of bidding for he Olympic Games: "Democratic countries are running out of voters who will expose themselves to a parasitic organization that nourishes itself on the tax dollars of its host, while raking in billions and leaving behind scars like Montreal's Olympic Stadium, a white elephant that took the city 40 years to pay off. So, where does that leave a Vancouver 2030 bid? It could be a new type of Games for a new era, with all the sports drama and none of the financial pyromania. No additional infrastructure would need to be built; the existing facilities are barely a decade old."
John Ibbitson (The Globe and Mail) on why Mary Simon may be the Governor-General that makes a difference for Canada: "The duties of a governor general are largely ceremonial, though they can also be quite significant. Ms. Simon will preside over and attend public functions. She will, most likely, read a Speech from the Throne after a new ministry forms following an expected fall election. She may be required, as governors-general Julian Byng and Michaëlle Jean were, to decide whether to grant the wish of a prime minister during a constitutional dispute. These are roles and powers of the Queen's representative in Canada. But Ms. Simon has a greater duty as well: to help heal the hurt and anger of Indigenous Peoples over the discoveries of hundreds of children in unmarked graves at residential schools, along with the many other wounds that non-Indigenous Canadians have inflicted."
André Picard (The Globe and Mail) on why the time for debating COVID-19 vaccine passports is over: "The most efficient way to stave off this scenario in Canada is requiring proof of vaccination in many public and commercial venues. So let's dispense with the pointless rhetorical "debate" about whether vaccine certificates or passports are necessary, or represent some gruesome violation of rights and freedoms, and focus on how to make the rules as clear, simple and fair as possible. Canada has, to date, failed miserably on that count, with an incomprehensible jumble of wishful thinking, buck-passing and illogical public policies that vary by province and often by individual institution."
John Boyko (Contributor to The Globe and Mail) on how Canada is making the same mistakes in Yemen that it did in Vietnam: "Brock University assistant professor Simon Black has led protests against continuing our involvement in the Yemen war through continuing our arms sales to Saudi Arabia. "Most Canadians don't realize that weapons manufactured here continue to fuel a war that has led to the deaths of hundreds of thousands of people," he has said. He's wrong. We know. We knew in the 1960s when we were profiting from the immoral war in Vietnam. And we know now."
Don Braid (The Calgary Herald) on a looming federal election that won't shake Alberta's Conservative landscape, but could come with some surprises: "NDP MP Heather McPherson already holds Edmonton Strathcona, the federal riding that includes provincial leader Rachel Notley's own turf. McPherson is the only non-Conservative MP in the province. She could soon have company. An NDP breakthrough of even a few seats would be a genuine first in Alberta. And the Liberals would have themselves to blame."
Send along your political questions and we will look at getting answers to run in this newsletter. It's not possible to answer each one personally. Questions and answers will be edited for length and clarity.
Got a news tip that you'd like us to look into? E-mail us at tips@globeandmail.com. Need to share documents securely? Reach out via SecureDrop