After Impressionism review – radical ideas and ecstatic sex from the edge of a new universe
'Make it strange" is one of the slogans of modernism. The National Gallery's show After Impressionism makes modernist art itself strange, by seeing it from the past – the Victorian salons where this revolution in the arts actually started. It is a flawed show but one I found hard to leave. European art in the 1880s and 1890s hurtles towards the "modern" before your eyes, yet also burrows away into recesses of nostalgia and pastoral – and you lose yourself, as modernism wants you to.
You can cut a line through the exhibition and follow the high road of the new, ignoring all those odd byways. Simply rush from Paul Cézanne's Mont Sainte-Victoire with its hypnotic field of broken, tentative, obsessive dapplings held together by an iron intellect, straight to Pablo Picasso's 1910 portrait of Wilhelm Uhde. This writer and collector is the last man, the last bourgeois individual, in Picasso's revolutionary portrait. His cartoonish features, pinched and prissy over a stiff wing collar, are disintegrating into a crystal cavern of invisible structures made suddenly visible. This is the maze of "cubism", that takes its start from Cézanne's analysis of vision. This is where, by 1910, the most radical art stood – on the edge of a quantum universe.
Cézanne initiated that. The biggest shock of the show is how much more serious he is than its other two supposed heroes, Van Gogh and Gauguin. Yes, that's right – better than Van Gogh. That is the clear conclusion of a display of five works by each, facing each other. Vincent's paintings are touching, intimate, yet traditional compared with Cézanne's dismantling of art and nature. Gauguin meanwhile is brittle and strident, his art always trying too hard to be "mysterieux".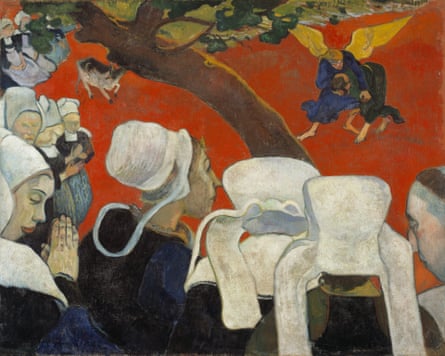 Picasso is the gifted pupil Cézanne never met. You can see that by darting to the end to see Picasso's Woman with Pears, a portrait of his lover Fernande Olivier done in 1909. Is it a portrait? Fernande's head is massive and industrial. Like a taut spiralling girder for a modernist monument, her neck tendon shoots up in a curve of electrifying torsion. Her eyes are diamond studs in a face of jarring planes, her hair a heap of black croissants. Yet beside this immense mask of the new age are perfectly recognisable, simplified pears on a table. They are Cézanne pears. You can go back to room two and check, by comparing them with the fruits in Cézanne's Sugar Bowl, Pears and Tablecloth.
This is the 50th anniversary of Picasso's death. Modernism, the movement that sought to remake everything in art from a new, primal beginning, belongs to history now, but it does not get old. That is because it takes apart centuries of tradition in the name of a more basic truth. All the artists here are looking for truth, even if they don't all find it.
They saw this deeper human reality as primal. "Primitif", to be exact. Modernism was born in Europe's age of empire. From Tahiti in 1892, Gauguin sends the poet Stéphane Mallarmé a wooden carving named after Mallarmé's poem The Afternoon of a Faun. His extraordinary object merges classical myth with racial stereotypes to portray a goat-legged Polynesian man desiring a Tahitian nymph. You can't fault Gauguin's clarity. The sensual Arcadia that Mallarmé conjures is a real place in the Pacific, says Gauguin.
Even as Europe conquered or exploited much of the world in the 1800s, the "primitive" art that came streaming on to its markets exacted an aesthetic revenge. Artists preferred it to their own "civilised" conventions. When the Belgian artist James Ensor depicted a variety of non-European masks in Astonishment of the Mask Wouse in 1889, Belgium was running the most brutal of colonial businesses in the Congo, working thousands of people to death. André Derain owned a Fang mask from central Africa that directly influenced him and his friends including Matisse and Picasso. Derain's 1906 painting The Dance portrays fantasy dancers, one with a painted body, another with a shadowed, mask-like face, another in an ancient Greek dress, in a golden paradise where they gyrate with unrepressed abandon.
If the first moderns sought to be "savage", they also loved sex. This was the age of Sigmund Freud. Matisse's Dance – no, not that one: who knows when any of us will see his masterpiece in the Hermitage again? – but a carved wooden relief from 1907, releases raw, ecstatic sexuality in its wild naked romp. And this is just one of the exhibition's nude explosions. In Berlin they were fixated on flesh – tottering, quivering masses of it. Lovis Corinth's Nana, Female Nude looks as if she's been left over from the recent Lucian Freud show in this same space. Corinth's Perseus and Andromeda, in which a knight in armour unveils a female nude, may not seem very modern at all: but nor does Wagner until you hear him.
Why does Degas make it into this show while other impressionists get left behind? Sex. Degas pervs with the best, or the worst. Facing Gauguin's pensive isolated tropical nude Nevermore are his painting of a woman lost in red ecstasy as her long hair is combed, and pastel of a naked model curled up reading.
It's a shame Pissarro doesn't make the cut when he worked so closely with Cézanne and later helped pioneer the divisionist or pointillist style. It is equally baffling that Seurat's compelling essays in this perceptual art get less space than Paul Signac's painting-by-numbers attempts. And Munch is shoved into the Berlin section, oddly, which doesn't stop The Death Bed harrowing your heart.
I could go on, and get cross, but it would miss the point. For some of the unevenness is in the period itself. What this show reveals is that modernism was an end, as much as a beginning. Five hundred years of European pictorial art – the very tradition the National Gallery displays – were breaking and decaying, and what was born in their stead was difficult, elusive, as daunting and inescapable as Picasso.
Art therapy space gutted in 'terrible' Montreal heritage building fire – Montreal Gazette
Article content
The mission of Les Impatients, established in 1992, is to help people with mental health problems through the vehicle of artistic expression. The Monastère du Bon-Pasteur building, a multi-purpose building on Sherbrooke St. E., had been home to Les Impatients since 1999.
"A lot of people are in shock," Frédéric Palardy said of participants. "It's almost like a home for them. Some come twice a week."
They participate in art workshops and, as well, some are in music and dance workshops and a choir — all organized by Les Impatients.
"The main thing is that everyone is safe and no one was hurt," Palardy said. "My thoughts are for our neighbours."
The multi-purpose building housed a seniors' residence and a housing co-operative, Heritage Montreal, a daycare centre, condos and a chapel that served as a concert hall.
"I know a lot of people in the residence and the co-op," he said.
But the fire "is terrible for us, too."
Les Impatients was on the top floor and among the building's most severely affected by the blaze, said Palardy. Although it is not yet known for sure, the fire is believed to have started in the roof.
Article content
The space the organization occupied included its downtown workshop space, offices, gallery space and a boutique. Also lost in the fire were the organization's archives, its musical instruments and about 10 per cent of its artworks.
With about 30,000 works, Les Impatients has what is believed to be North America's largest collection of outsider art, Palardy said. The term describes art that has a naïve quality and was often produced by people without formal training as artists.
Les Impatients had insurance, but it was primarily for theft, Palardy said.
"We have to start from scratch," he said, adding that the organization is working on an appeal.
Meanwhile, Palardy said the organization has received countless emails and messages of support, including a text Sunday from deputy health minister Lionel Carmant and messages from representatives of the City of Montreal's culture department.
Article content
"A part of the soul of Les Impatients has gone up in smoke," the organization said in a communiqué. "The emotion and the sadness are vivid but the priority for the organization is to continue its mission, through this chaos, to serve its community well."

An interim location for Les Impatients administrative offices has been found, Palardy said Sunday, but the activities of the downtown section, which were held in the former monastery building, are suspended for now. That location normally serves about 130 people five days and three evenings every week through its workshops and the organization is already at work to find a new location, Palardy said.
The former monastery location is the largest and most well-established of Les Impatients' 25 locations elsewhere in Montreal and across Quebec which, together, serve more than 900 people. The other locations will continue to function, he said.
The Parle-moi d'Amour event, the biggest fundraiser of the year for Les Impatients, is set for September. Sadly, Palardy said, some of the works that were to be included were lost in the fire.
Remembering a pioneer of local Indigenous art – Sault Ste. Marie News – SooToday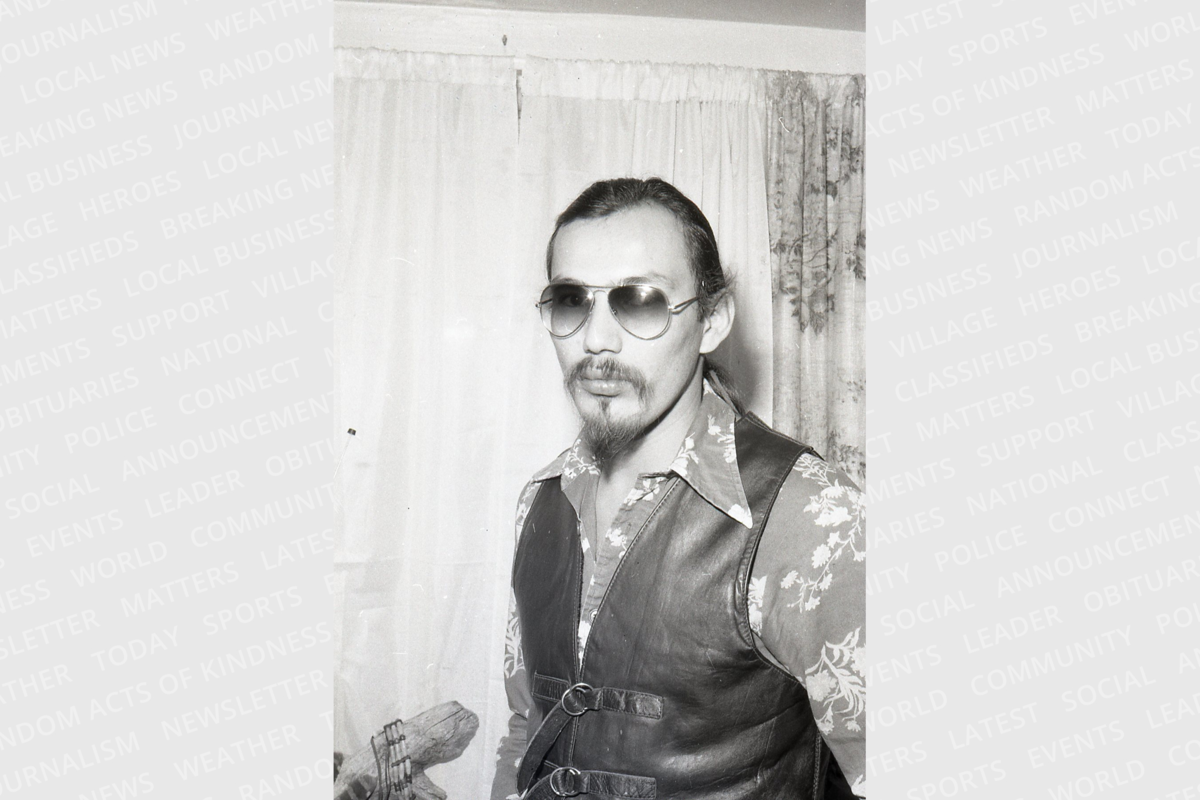 From the archives of the Sault Ste. Marie Public Library:
John Laford was a prominent Sault Ste. Marie artist, who was born in 1955 on an Indigenous reserve in the West Bay area of Manitoulin Island.
Leaving his home at the age of 15, he eventually made his way to Sault Ste. Marie by his early 20s.
He felt that he had been painting for as long as he could remember. He always enjoyed art, design and doodling after he finished school but with no formal training, he was largely self-taught.
Laford travelled throughout Europe, Canada and the United States, studying and learning from various artists along the way.
"I would only paint to get enough money to continue along the way," he said.
By 1969, Laford began painting full-time. In 1977, at the age of 22, he had his work exhibited at the Centennial Room at the Sault Ste. Marie Public Library. He used his work to show his Ojibway legends and spiritual beliefs. His spiritual beliefs and Ojibway legends were central not just to his artistic career but to his personal life as well.
Laford went on to be a vocal critic of the Children's Aid Society (CAS).
As a child, he played with a young boy who lived next to him. In a 1978 Sault Star article he explained, it was not until he was 12 that he realized that the boy was his older brother.
When he was one year old, his father died. His mother took his four sisters and two brothers and moved back to her reserve. She did not receive any financial assistance to care for her children and CAS took over.
"CAS saw my mother had too many kids and just took them away," Laford said. "To me, it seemed they just wanted to scatter the family. I wasn't adopted into a native family and the Children's Aid paid for my care but no one ever bothered to tell me about my real parents and brothers and sisters."
The foster family cared for four of them for a while which he described as very strict but fairly good people which he says helped him.
At the age of 15, he ran away from home with his older brother and travelled to Toronto in an attempt to find their mother.
"I quit school. Things weren't too good on the reserve. I was drinking a lot," he said.
When they arrived in Toronto it took them a week to find their mother. He spent three years with her getting to know her and the rest of his family.
"What I'm saying is my opinion, just my own ideas about the things I went through with Children's Aid. I would have liked to have grown up with my mother, stayed with my real mother, but it didn't happen that way. You could look at it (CAS) as destroying Indian families but they're trying to do something good," he said near the end of the Sault Star article.
Laford and two other Indigenous artists Cecil Youngfox and Peter Migwans formed a group called "Artists of the Northern Sun." They hoped it would "form the nucleus of the Indian community in Sault Ste. Marie."
The three artists created the group around 1977 when Laford moved to Sault Ste. Marie. They planned on organizing events that would bring Indigenous and Non-Indigenous Canadians together. The three wanted to create a higher profile and take on a leadership role in the community.
By 1980 Laford had become a well-established artist in his own right whose work was included in the McMichael Canadian Art Collection. His work had been exhibited in Hamilton, Toronto, and Montreal and in 1980 his work was part of the Manitoulin Island artist's show at the Royal Ontario Museum (ROM). In 1990 his work was once again featured in Sault Ste. Marie at the Art Gallery of Algoma.
Laford passed away in 2021 at the age of 67. He left a lasting mark and legacy in the
Indigenous community. He used his spirituality and culture's legends to create works of art that are enjoyed and viewed by Canadians and the world alike.
Each week, the Sault Ste. Marie Public Library and its Archives provide SooToday readers with a glimpse of the city's past.
Find out more of what the Public Library has to offer at www.ssmpl.ca and look for more "Remember This?" columns here.
Indigenous art market comes to downtown Kitchener – CTV News Kitchener
A celebration of Indigenous culture is in downtown Kitchener for the weekend.
The "I Am Kitchener: Indigenous Art Market" has taken over the Gaukel block, with everything from clothes, to art, to beadwork.
The two-day event is a showcase for artists across Southwestern Ontario, but also a welcoming to the wider community.
"I think it's really important for folks in the region to really come out and support events like this," said co-organizers Maddie Resmer. "It's a huge step forwards. What it means to connect with Indigenous community members in the region, in Kitchener, and for folks in the area to get to know some of the Indigenous artists that live here and are close to these territories, that's how we celebrate ourselves, right?
"We highlight the positive and brilliant people who come from our culture."
The Indigenous art market wraps up Sunday.