AI won an art contest, and artists are furious
(CNN Business)Jason M. Allen was almost too nervous to enter his first art competition. Now, his award-winning image is sparking controversy about whether art can be generated by a computer, and what, exactly, it means to be an artist.
In August, Allen, a game designer who lives in Pueblo West, Colorado,
won first place
in the emerging artist division's "digital arts/digitally-manipulated photography" category at the Colorado State Fair Fine Arts Competition. His winning image, titled "Théâtre D'opéra Spatial" (French for "Space Opera Theater"), was made with
Midjourney
— an artificial intelligence system that
can produce detailed images when fed written prompts
. A $300 prize accompanied his win.
"I'm fascinated by this imagery. I love it. And it think everyone should see it," Allen, 39, told CNN Business in an interview on Friday.
Allen's winning image looks like a bright, surreal cross between a Renaissance and steampunk painting. It's one of three such images he entered in the competition.
In total
, 11 people entered 18 pieces of art in the same category in the emerging artist division.
The
definition for the category
in which Allen competed states that digital art refers to works that use "digital technology as part of the creative or presentation process." Allen stated that Midjourney was used to create his image when he entered the contest, he said.
Midjourney is one of a growing number of such AI image generators — others include Google Research's
Imagen
and OpenAI's
DALL-E 2
. Anyone can use
Midjourney via Discord
, while DALL-E 2 requires an invitation, and Imagen has not been opened up to users outside Google.
The newness of these tools, how they're used to produce images, and, in some cases, the gatekeeping for access to some of the most powerful ones has led to debates about whether they can truly make art or assist humans in making art.
This came into sharp focus for Allen not long after his win. Allen had posted excitedly about his win on Midjourney's Discord server on August 25, along with pictures of his three entries; it
went viral on Twitter
days later, with many artists angered by Allen's win because of his use of AI to create the image, as
a story by Vice's Motherboard
reported earlier this week.
"This sucks for the exact same reason we don't let robots participate in the Olympics," one Twitter user wrote.
"This is the literal definition of 'pressed a few buttons to make a digital art piece'," another Tweeted. "AI artwork is the 'banana taped to the wall' of the digital world now."
Yet while Allen didn't use a paintbrush to create his winning piece, there was plenty of work involved, he said.
"It's not like you're just smashing words together and winning competitions," he said.
You can feed a phrase like
"an oil painting of an angry strawberry"
to Midjourney and receive several images from the AI system within seconds, but Allen's process wasn't that simple. To get the final three images he entered in the competition, he said, took more than 80 hours.
First, he said, he played around with phrasing that led Midjourney to generate images of women in frilly dresses and space helmets — he was trying to mash up Victorian-style costuming with space themes, he said. Over time, with many slight tweaks to his written prompt (such as to adjust lighting and color harmony), he created 900 iterations of what led to his final three images. He cleaned up those three images in Photoshop, such as by giving one of the female figures in his winning image a head with wavy, dark hair after Midjourney had rendered her headless. Then he ran the images through another software program called Gigapixel AI that can improve resolution and had the images printed on canvas at a local print shop.
Allen is glad the debate over whether AI can be used to make art is capturing so much attention.
"Rather than hating on the technology or the people behind it, we need to recognize that it's a powerful tool and use it for good so we can all move forward rather than sulking about it," Allen said.
Cal Duran, an artist and art teacher who was one of the judges for the competition, said that while Allen's piece included a mention of Midjourney, he didn't realize that it was generated by AI when judging it. Still, he sticks by his decision to award it first place in its category, he said, calling it a "beautiful piece".
"I think there's a lot involved in this piece and I think the AI technology may give more opportunities to people who may not find themselves artists in the conventional way," he said.
Allen won't yet say what the text prompt was behind his winning image — he's planning to keep it a secret until he publishes a larger related work that he hopes will be finished later this year.
Art collector Myriam Ullens killed outside her home in Belgium, allegedly by her stepson – Art Newspaper
Myriam Ullens, a major collector who, with her husband Guy Ullens, supported and championed Chinese contemporary art, was killed outside the couple's home in the village of Ohain south of Brussels today (29 March) according to multiple reports in the Belgian press. She was 70 years old. The reports claim she was shot by her stepson Nicolas Ullens, who has been detained by police. Her husband, Guy, reportedly survived the incident.
Myriam and Guy were in their car outside their home around 10am when Nicolas fired on his stepmother, who died at the scene, according to La Libre. Myriam and Nicolas had been in a protracted dispute over issues of inheritance, according to multiple reports.
Myriam and Guy Ullens, who married in 1999, have been important and influential art collectors for decades. They started out collecting classical Chinese scroll paintings, but eventually shifted their attention to contemporary art. In 2007, they opened the Ullens Center for Contemporary Art in Beijing—considered at the time to be the first contemporary art museum in China—which showed works from their collection of more than 2,000 works. In 2017 they sold the museum, renamed the UCCA Center for Contemporary Art, to a group of investors; they continued and broadened their collecting activities under the banner of the Swiss-based Fondation Guy & Myriam Ullens.
In 2004 Myriam, who went by Mimi and was a cancer survivor, founded the Mimi Foundation to create centres within hospitals to provide physical and mental therapy for patients undergoing cancer treatment. In 2013 she co-organised an exhibition and benefit auction during Frieze Week in London to support the Mimi Foundation.
"If many of the artists in this project are Chinese that is because of our long and close relationship with them. This is just the tip of our iceberg—that we are continuing to follow and collect intensively with the new generation," Myriam told Ocula at the time. "A collection is like a living breathing body. It evolves in an organic manner."
Myriam was born in Cologne, Germany. Following early success in the food industry, she married Guy, a Belgian businessman and baron, and devoted herself to fashion (launching the brand Maison-Ullens) and philanthropy. The couple's charitable activities also included opening the Ullens School, an educational facility in Nepal.
Nicolas Ullens, a former Belgian state security agent, is one of four children Guy had with his first wife, ​​Micheline Franckx.
The Ullenses' foundation did not immediately respond to a request for further information.
Major Collector and Chinese Art Patron Myriam Ullens Has Been Shot Dead Outside Her Home in Belgium – artnet News
Myriam Ullens de Schooten, a preeminent collector and well-known figure in the art world, was shot dead yesterday in front of the house she shared with her husband, Baron Guy Ullens de Schooten. Both are major collectors of Chinese art and respected in the art world as the founders of UCCA in Beijing, China.
The murder occurred at 10 a.m. on Wednesday, March 29. Local media have reported that Ullens suffered four bullets to the head, and had died by the time emergency services arrived to the family home in the Belgian village of Ohain. The stepson of the 70-year-old German baroness is reportedly a prime suspect.
The 50-year-old Nicolas Ullens de Schooten, a former state security agent and one of four children, is suspected of shooting his stepmother while she was in a car with his father, who survived the attack. He has been taken into custody for questioning. According to some Belgian reports, the victim and suspect were in an open dispute over an inheritance issue. Local authorities did not immediately respond to Artnet News's request for further information.
"The vision and passion of Myriam Ullens—her love for art, belief in cultural exchange, and commitment to helping others—are at the core of UCCA's history and values," said Philip Tinari, UCCA's director, in a statement shared on social media. "We are shocked and saddened by her death, and will remember her strength, style, creativity, and generosity as we carry forward the work of the institution that she and Guy so generously founded and nurtured through its first decade."
Born in Cologne in 1952, Myriam, known to friends as "Mimi" Ullens was an active philanthropist, who initiated an education program and school in Nepal. A cancer survivor, Ullens also launched The Mimi Foundation, which was active in cancer wards at eight hospitals in Belgium, France, and Switzerland, providing support to patients going through treatment.
Myriam and Guy Ullens married in 1999 and built out an evolving collection focused on art from China, beginning at first with classical Chinese scroll painting before focusing on contemporary art from China. Their "universal" collection, as it is described on their foundation's website, includes works by prominent Chinese artists including Huang Yong Ping, Wang Jianwei, Xu Zhen, together with Western art stars like Rashid Johnson, Sterling Ruby, and Tracey Emin; another area of focus in their collection was digital art.
They opened the Ullens Center for Contemporary Art in 2007 to exhibit their collection that numbers around 2,000 artworks; the institution was one of the first of its kind in China. In 2017, the couple sold the museum to a group of patrons and shareholders and it was renamed the UCCA Center for Contemporary Art. They continued to be involved and served on the foundation council, while actively collecting via their Fondation Guy & Myriam Ullens, based in Switzerland. Myriam was also actively involved in luxury brand Maison Ullens, which she founded in 2011. The family is of Belgian nobility; Guy Ullens is a philanthropist as well as a financial services company executive who has been collecting art since the 1960s.
Follow Artnet News on Facebook:
Want to stay ahead of the art world? Subscribe to our newsletter to get the breaking news, eye-opening interviews, and incisive critical takes that drive the conversation forward.
Banksy artwork Brace Yourself! sells for over $2m at auction in US – The Guardian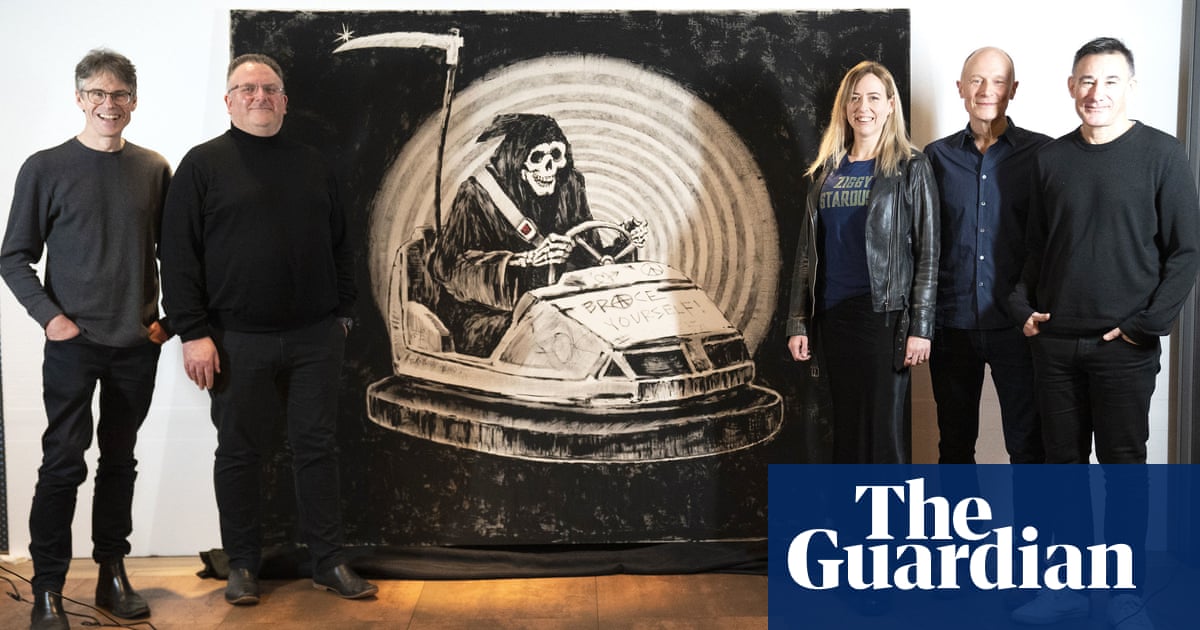 The Banksy artwork Brace Yourself! has sold for $2,032,000 (£1.6m), more than three times its original estimate, during an auction featuring a performance from the band that inspired the piece.
The anonymous artist created the work in 2010 for the British band then known as Exit Through the Gift Shop, who shared the same name he wanted to use for his 2010 documentary film.
To avoid copyright issues, the group agreed to Banksy's offer to create a painting for them on the condition they changed their name.
The artwork, a large-scale painting of a grim reaper figure riding in a carnival bumper car, was sold to Miguel Garcia Larios, the owner of Rcnstrct Studio in Hollywood, during an event hosted by Julien's Auctions in Beverly Hills.
Its original estimate was $600,000 and the sale was preceded by a live performance by Brace Yourself!, fronted by the singer Natalie Zalewska.
Zalewska previously said the sale was about preserving the artwork as a "piece of history".
The Exit Through the Gift Shop documentary tells the story of Thierry Guetta, a Los Angeles-based Frenchman who videotapes underground art escapades and later finds fame with the moniker Mr Brainwash.
A portion of the proceeds from the sale of the artwork will go to the music charity MusiCares, which provides health, financial and rehabilitation support to people working in the sector.
Also featured in the auction was an original print of Banksy's Girl With Balloon, which sold for $195,000, and more than 70 artworks from famous names such as the painter Bob Ross, the actor Jim Carrey and the Jane's Addiction guitarist Dave Navarro.
In early March, Brace Yourself! was displayed in the window of the Hard Rock Cafe in Piccadilly Circus, London.