Air Canada orders first batch of 25,000 rapid COVID-19 testing kits – CBC.ca
Air Canada has ordered 25,000 testing kits that can detect COVID-19 in someone in as little as five minutes, a key hurdle for an industry that's desperately trying to make it safe and possible for travellers to fly again.
The first batch of tests will be for employee volunteers, now that the devices by Abbott Laboratories have been approved for use in Canada by federal health and safety authorities, the airline said Thursday.
Current tests have to be administered at testing centres, which have been plagued by long lineups, and results can take days.
The new test is faster and requires a nasal or throat specimen to be collected from a patient on a swab and inserted into an analyzer to detect the presence of the virus. Positive results come back in as little as five minutes. Negative results can take about 13 minutes to verify.
The airline is moving ahead with the plan after a testing phase when it partnered with McMaster University and the Greater Toronto Airports Authority to test arriving international travellers at Toronto's Pearson airport.
"Preliminary results from the study indicate testing can help protect customers and facilitate the safe relaxation of government travel restrictions," Air Canada said.
More than 13,000 tests
Since the experiment began on Sept. 3, more than 13,000 travellers have been tested.
More than 99 per cent of the tests came back negative. Of the less than one per cent that came back positive, more than 80 per cent were identified on the initial test, while the rest were detected with a followup test seven days later.
"We believe testing will be key to protecting employees and customers until such time as a COVID-19 vaccine is available," said Air Canada's chief medical officer, Dr. Jim Chung.
"Rapid testing is also a means to enable governments to relax current blanket travel restrictions and quarantines in a measured way while still safeguarding the health and safety of the public."
Airlines have been hit harder than many other industries, as fears of the virus have walloped demand for travel, and border restrictions have limited the number of flights that airlines are even allowed to offer.
Unions demand help for sector
The airline hopes that the testing kits will help convince Transport Canada to relax current rules that stipulate all international travellers must self-isolate for 14 days upon landing, an onerous stipulation that the industry says makes people not want to fly.
The testing news also comes as unions representing more than 300,000 aviation workers say more government help is needed for the hard-hit sector.
At a press conference in a Toronto hotel on Thursday, Unifor president Jerry Dias said the industry needs a $7 billion injection from the government and access to low-interest loans urgently, "or there won't be Canadian airlines, and that will cost us all much more."
Samsung chairman Lee Kun-hee, head of South Korea's biggest conglomerate, dies at 78 – Reuters
SEOUL, Oct 25 (Reuters) – South Korea's Samsung Electronics Chairman Lee Kun-hee died on Sunday, the company said.
Born in 1942, Lee helped grow his father Lee Byung-chull's noodle trading business into South Korea's biggest conglomerate. (Reporting by Cynthia Kim, Joyce Lee; Editing by William Mallard)
Eastern Ontario Health Unit imposes new COVID-19 restrictions on restaurants, gyms, fitness centres – CTV Edmonton
OTTAWA —
The Eastern Ontario Health Unit is imposing new restrictions on food and drink establishments, sports and recreation facilities and personal care services in Alexandria, Cornwall, Casselman, Clarence-Rockland, Hawkesbury and other areas of eastern Ontario.
The new measures to limit the spread of COVID-19 in the community were announced as Public Health Ontario reported 43 new cases of COVID-19 in the Eastern Ontario Health Unit region on Saturday.
Medical Officer of Health Dr. Paul Roumeliotis issued a new Order under Section 22 of the Health Protection and Promotion Act that will come into effect on Monday, and remain in effect for 28 days.
"The last thing I want is for businesses in our community to have to shut their doors again as they did in the spring," said Dr. Roumeliotis.
"By putting these new measures in place, I'm hoping we can stop the rising number of infections and prevent another shutdown that would hurt our economy."
The new COVID-19 measures include limiting the number of people who can be seated at a table in bars and restaurants to a maximum of six people, while the total number of patrons in the indoor and outdoor sections of a food and drink establishment must not exceed 100.
Indoor dining at bars and restaurants in eastern Ontario is still allowed.
For banquet halls, the total number of patrons permitted in the premises is limited to the number that can maintain a physical distance of at least two meters, and in any event cannot exceed 50 indoors or 100 outdoors.
Establishments must also conduct a COVID-19 screening on every patron and record their name and contact information.
"This really mimics what happened on Oct. 2 when Ottawa, Toronto and Peel were put in these enhanced zones, before they were put into the red hot zone," said Dr. Roumeliotis during a media conference late Friday.
"I think this is very fair request and saving closures."
The new measures for indoor sports and recreational facilities include limiting the total number of people permitted in a class, organized program or organized activity to a maximum of 10 people, excluding instructors/trainers/coaches.. The total number of people permitted to be indoors at the facility in areas containing weights or exercise machines cannot exceed 50.
The order applies to gymnasiums, health clubs, community centres, multi-purpose facilities, arenas, exercise studios, yoga studios, dance studios, and other indoor fitness centres.
For personal care settings, including hair salons and barber shops, manicure and pedicure salons, spas and tanning salons, they must conduct a COVID-19 screening for every client and record their name and contact information.
Last Sunday, Dr. Roumeliotis told CTV News Ottawa the region may have to consider moving to a modified Stage 2, like Ottawa, due to rising COVID-19 cases.
On Thursday, the medical officer of health said he was no longer recommending eastern Ontario move into a modified Stage 2, but wanted to impose new restrictions on establishments to help limit the spread of COVID-19.
Ontario introduced new restrictions on bars, restaurants, fitness centres and other recreation complexes in Ottawa on Oct. 2. On Oct. 10, the Ontario Government moved Ottawa into a modified Stage 2, which included prohibiting indoor dining at bars and restaurants, and closed gyms, fitness centres and movie theatres.
6 New Cases Of COVID-19 In Windsor Essex As Of Saturday – windsoriteDOTca News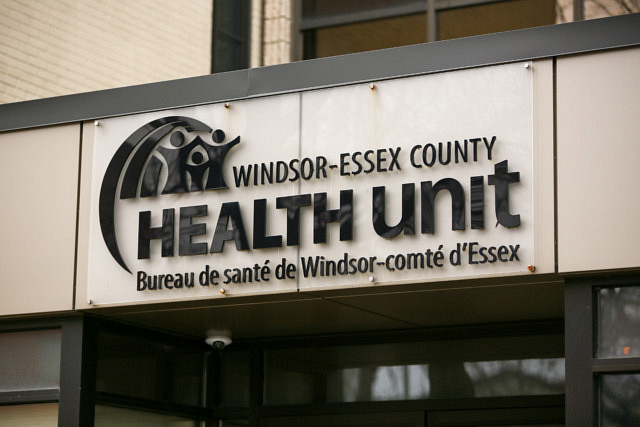 The Windsor Essex County Health Unit has announced 6 new cases of COVID-19 as of Saturday, bringing the local total to 2,787. They say 2,686 people locally have recovered.
Cases increased from 2,781 on Friday October 23rd to 2,787 on Saturday October 24th and 25 cases of COVID-19 are currently active in Windsor-Essex.
The Health Unit says 2 cases are local health care workers, 2 cases are close contacts of confirmed cases, and 2 cases are community acquired.
Article Continues Below Local Sponsor Message
There have been no additional deaths due to COVID-19 as of Saturday and the local death toll stands at 76.
As of Saturday, the Health Unit lists 2 people as hospitalized with confirmed cases of COVID-19 in Windsor Essex, and 1 person in the ICU. One hospitalization is listed at Windsor Regional Hospital.
Workplace Outbreaks
As of Saturday, the Health Unit says the following workplaces are under outbreak:
1 construction company (in Lakeshore)
1 food & beverage services company (in Kingsville)
A workplace outbreak is declared when two or more employees test positive for COVID-19 within a reasonable timeline to suspect transmission in the workplace, according to the Health Unit. Officials with the Health Unit have said a workplace will only be named if a threat to the public exists.