Alberta curriculum: End the failed partisan politics over what kids should learn – The Conversation CA
The COVID-19 pandemic has given many Canadians a crash course on how governments make decisions about public health and educational policy, among other areas of responsibility. We should take advantage of this time and consider the ways we might improve how such decisions are made.
With regards to education, what kids should formally learn in schools via a provincial curriculum is a perennial political football and is often used to avoid other classroom concerns such as class size and inequitable access to enrichment activities.
Alberta has recently provided a textbook example of curriculum change as political theatre. Albertans learned last week that the Ministry of Education has hired two more out-of-province advisers to review the curriculum the former NDP government created: That's now 19 advisers hired by the current United Conservative Party government at a cost of more than $100,000.
This news follows public backlash and criticism last fall after people learned of leaked draft school curricula that would see students learn Bible verses as poetry.
Lost decade of reform proposals
But curriculum debates have been ongoing in the province. The promise to Albertans 10 years ago to "transform" education turned into a patchwork of incoherent proposals and polarizing rhetoric papering over a decade of expensive whimsical partisan system leadership. This should stop.
---


Read more:
Welcome to the latest wave of 'modernizing,' 'progressive' school reforms in Ontario


---
Between 2009 and 2019, as a professor who researches curriculum, I served as a university education faculty representative on the Alberta Teachers' Association provincial curriculum committee. This committee interfaces with the Education Ministry about current and proposed changes to provincial kindergarten to Grade 12 curriculum and assessment.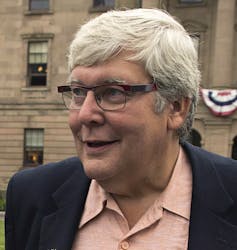 Based on what I learned on this committee, and my knowledge of why quality curriculum urgently matters in education, I propose a resolution: "Be it resolved that no Alberta Minister of Education henceforth have responsibility for the contents of K-12 curricula, their renewal, revision or change. Ministers retain all other currently legislated responsibilities."
I believe this is a helpful suggestion for several reasons. Over the years, this committee heard from bureaucratic representatives of five different education ministers from the three different provincial parties that formed government.
What we watched unfold was a lost decade of expensive failed attempts to renew curricula, starting with Education Minister Dave Hancock's 2010 report "Inspiring Education" under Ed Stelmach's Progressive Conservative government. This report promised to "transform" Alberta's K-12 programs around competencies. After the next two ministers, and still waiting to be transformed, we then heard from another government who wanted to "innovate" programs around concepts.
Research-informed decisions
In contrast, Canadians for the most part have been well served with dispassionate professional judgements about matters of public interest: for instance, the appointments of Supreme Court judges or expanding Alberta pharmacists' professional scopes of practice during the pandemic.
Such trust in the research-informed decisions in legal and medical matters stand in stark contrast to successive Alberta government's marginalization of the teaching profession and the faculties of education in the renewal of Alberta's programs of study. When the province has included the profession in curriculum reform, that role was only to provide feedback via prescribed ways to achieve end goals already decided.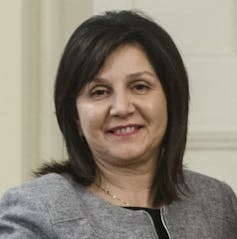 The toxicity of using education as a wedge issue is not unique to Alberta, and we should learn from what does not serve the interests of students.
The state of Michigan, starting in 2013, for example, conducted a broad professional and public consultation about proposed social studies standards. Three respected education scholars wrote that the consultation went well until "the process became politicized in 2017," when politicians introduced "partisan perspectives that not only insert politics into education, but interfere with and undermine the efforts of educators who know students [and] classrooms." These politicians sought to remove any content that might challenge their partisan goals.
Committing to change
All curricula reflect a world view, as do recommendations for Canada's Food Guide or views about who should be appointed as judges. It would be naive to claim that we can remove politics from curriculum, when deciding what children learn is part of larger public policy.
We can, however, reduce hyper-partisanship and name-calling that disrupt professionally informed long-term study, action and care to get back to the basics: research-informed consultations and decisions. What's at stake is the kind of human beings we hope education might support children to become.
---


Read more:
Leaked Alberta school curriculum in urgent need of guidance from Indigenous wisdom teachings


---
As with any harmful pattern of behaviour, we must first recognize the problems with how provinces seek to change curriculum. Let's get inspired to reflect about how we adults might do better for our youth.
As detailed in ample research that explores effective ways of producing curriculum, we could begin to imagine, for example, a joint curriculum council. A joint provincial council could consist of subject matter experts put forth from universities, practising teachers, representatives from parent councils and the professional teacher associations all supported by subject-based program managers in ministries.
Avoid more of the same
Regardless of what models are adopted for curriculum change, we know successful curriculum reform requires a system-wide commitment to social equity, government supported high quality university-based teacher education and local school flexibility to meet curricular objectives.
Any talk of curriculum innovation that ignores these basics is just more of the same partisan political theatre Albertans have already endured for far too long.
Opinion | Peterborough letter: Women treated differently in local politics – ThePeterboroughExaminer.com
Much has been written in the last few days and weeks about the tone of our local, provincial and federal politics in Peterborough and the surrounding Kawartha Area.
If you have missed it, recently Mayor Diane Therrien and MPP Dave Smith got into a war of words over housing. The mayor pointed out that Mr. Smith was missing from the housing conversation in Peterborough, which then spiralled into a war of words on twitter.
However, while Smith's statements are misleading, and the mayor's frustration with Smith's response (seen in her response on twitter) obvious, I am instead writing to address a consistent issue related to the way we frame political discourse in this community.
Simply put — there is a double standard when it comes to tone policing in our local politics.
Smith has repeatedly targeted the mayor, MP Maryam Monsef, and even Dr. Rosana Salvaterra in local media and on Twitter. In relation to the recent incident, after the mayor made a legitimate criticism of Mr. Smith, many called her comments unacceptable, but viewed Smith's response as a "defence."
However, when the mayor or Monsef defend themselves publicly, or criticize colleagues on policy, they are called out in articles, letters to the editor and on social media.
Reading Facebook comments on any post that mentions politics shows a disgusting slew of ad hominem attacks directed at the mayor and the MP, filled with derogatory terms. When posts are made regarding Smith, these types of attacks are largely absent.
It is clear that sexism runs rampant in relation to political leadership in our community — and even the media is guilty of this same double-standard.
Should our discourse be less vitriolic and more related to policy across the board? Absolutely, 100 per cent. But when tempers flare, we must remember that it takes two to tango, and not tone-police in one direction.
We must be cognizant of how we treat women in power in our community, lest incredibly qualified leaders that happen to be women shy away from taking up the political gauntlet in the future.
Opinion | Power, Politics and Sexual Misconduct – The New York Times
Readers discuss their own experiences dealing with inappropriate behavior in the workplace and what the consequences should be for Gov. Andrew Cuomo.
To the Editor:
Re "As Scandals Sap His Political Strength, Cuomo Resists Calls to Resign" (news article, March 3):
Now 79 years old, I experienced my share of minor sexual harassment through the years. When I was young, I had to tolerate it or suffer significant consequences and more "teasing." But now women do not have to tolerate crude jokes, butt pats, breast grabs, unwelcome kisses, sly sexual remarks. Only in the last few years have women's complaints been taken seriously.
Women my age took a lot of crap. The sexual bullies won. Gentlemen: Women are now complaining and making it stick. The rules have changed. If your behavior was "playful," realize it was probably no fun for the woman. It's time to clean up your act. Now.
Mary Beal
Chicago
To the Editor:
I am certain many women, especially those involved with the #MeToo movement, will disagree with me, but since when did women become helpless victims? I worked for a number of elected officials, as well as other employers, when I was young.
On many occasions I experienced inappropriate gestures and comments that might in today's world be considered inappropriate. I handled them. I would simply say "Please get your hand off me" or "I am sorry, but I find what you are saying offensive." In all cases, the offender backed down.
If women want to be treated as equals we need to take some control over these situations, rather than just being passive. Speaking up will empower us. We should be teaching our daughters to speak up about these matters when they happen, rather than waiting and making public accusations.
Angela Reichek
Garden City, N.Y.
To the Editor:
Donald Trump has been accused of sexual misconduct — including assault and rape — by at least 25 women. Andrew Cuomo has been accused of an unwanted kiss and sexually harassing comments.
Granted, any type of harassment is intolerable. But are these accusations equivalent? Might there not be degrees of such misconduct? Should they be treated differently? Will Mr. Cuomo lose his job, while the former president bragged about predatory behavior with impunity?
Edward LaFreniere
Scottsdale, Ariz.
To the Editor:
I am a liberal Democrat and feminist. I have worked for a state legislature, for Congress, for many dozens of elected officials and candidates to elective office. I think the outpouring of condemnation against and demands for the resignation of Gov. Andrew Cuomo are ridiculous and scary.
His misguided flirtatious behavior warrants a sincere apology and promise to cease and desist; that's all. No one is perfect. To demand that every utterance, every action of public figures, be perfect is absurd. Asking too personal questions is not equivalent to threatening a person's livelihood. Placing a hand on a person's back is not equivalent to groping someone's private parts. Asking to plant a kiss is not equivalent to raping someone.
People, what's called for here is a sense of perspective.
Carole Lieber Glickfeld
Seattle
To the Editor:
Gov. Andrew Cuomo's disgusting behavior toward others is the result of his belief in the false privilege of rank held by so many politicians — that you are exempt from the rules of decent behavior and from punishment for your misbehavior. Thus, not only was it wrong for Mr. Cuomo to reportedly make the "strip poker" remark to another state employee, but wrong as well for him to believe that this did not warrant punishment.
His deeds are abuses of power and inappropriate conduct and are grounds for removal from office.
Stephen V. Gilmore
Charlotte, N.C.
To the Editor:
Re "Why Democrats Aren't Asking Cuomo to Resign" (column, March 2):
Michelle Goldberg notes that "many Democrats are sick of holding themselves to a set of standards that Republicans feel no need to try to meet." I completely understand this dynamic but greatly regret the result.
After all, morality that is contingent on your adversary's expected behavior under similar circumstances is not morality at all. Rather, it is mere political gamesmanship. And that is a real shame.
Paul E. Greenberg
Brookline, Mass.
To the Editor:
I don't want Gov. Andrew Cuomo to resign in the middle of a pandemic. Too many lives depend on his leadership. Yet I also want him to become aware of what he said and did to these women and understand why his behavior shouldn't continue. How about he stays in office while working on his behavior?
Mr. Cuomo should hire the best sexual harassment prevention trainer and work with that person one-on-one or in a group setting. He should go through a journey of awareness publicly, but remain in office, leading in a crisis, to keep us from letting another talented leader fade into obscurity.
Carrie Wasser
Gardiner, N.Y.
Jamie Nye: Athletes and politics do mix, and that's OK – CKOM News Talk Sports
If Zlatan Ibrahimovic wants to collect his millions in soccer and keep quiet about political issues, he can go right ahead.
But then he should take his own advice and shut up and play.
Instead, the Swedish soccer star has taken it upon himself to criticize big-name athletes who are using their platforms to try and improve communities, lobby politicians and become leaders outside their realm of sport.
LeBron James is Ibrahimovic's main target. Ibrahimovic believes athletes should be athletes and let the politicians be the politicians.
That's all well and good but a caller to the Green Zone nailed it when he called the soccer player's comments trash.
The caller simply stated that maybe more athletes would stick to athletics if the politicians were any good at being politicians.
I really couldn't have said it any better than that.