Alberta golf courses allowed to open this weekend – Calgary Sun
Albertans, dust off your golf clubs.
As part of a staged economic relaunch strategy, Premier Jason Kenney announced Thursday that courses across the province will be allowed to open — with safety restrictions — "as soon as this weekend."
The divot-digging had been delayed by the COVID-19 pandemic. Clubhouses and pro shops will, for now, remain closed.
"It was about 15 seconds (after the announcement) that we had the first phone call asking to book a tee time," said Matt Kirlin, the director of golf at Lynx Ridge. "People are just so excited to get that first tee in the ground. And it's really cool to see — as golf-industry operators, we've worked very hard to get this decision, and it makes it all worth it when you hear the excitement of Alberta golfers."
Soon, you'll be hearing shouts of 'Fore!'
Alberta's golf industry has been pushing to prove that it's possible to launch drives and drain putts while still flattening the curve, submitting a 30-page document to government officials to detail the safety precautions they are willing to implement.
On Thursday, they received the green light to proceed.
Many course operators were watching as Kenney rolled out the relaunch plan. (Although there was some confusion as a government release stated that Monday would be opening day, Alberta's chief medical officer of health, Dr. Deena Hinshaw, later confirmed on Twitter that there can be action on the links as soon as Saturday.)
"Yeah, I was hooting and hollering. I was excited, maybe a little emotional even," said Barry Ehlert, who oversees five area layouts — including the much-anticipated Mickelson National — as managing partner for Windmill Golf Group.
"This is something we've been fighting hard for. We have been cooped up for six weeks or something like that, and for at least five of those weeks, I feel like I've had a tremendous amount of time, effort and energy spent on articulating what we believe we can do in our industry in order to create a safe and healthy environment for people during COVID-19. So this certainly is very exciting."
Golf will look a little different during the pandemic.
As part of the park-and-play model, you'll be encouraged to pre-pay your green fee so you can head straight to the first tee. There will be no high-fives or post-round handshakes, with an emphasis on always maintaining two metres of personal space.
Bunker rakes, ball washers and other potential touch points will be removed and golf carts will be single rider, unless both players are from the same household.
It will be mandatory to leave the pin in, with a variety of new methods so that a ball can be safely retrieved from the hole.
At both Lynx Ridge and neighbouring Valley Ridge, for example, they'll stuff part of a pool noodle in the cup to ensure your lucky Titleist barely drops below ground level when you sink your putt.
"We have a colleague in Singapore that sent us a picture of how slick and safely that works," said Curtis Robertson, director of golf at Valley Ridge. "We have been gathering information for quite some time from courses around the world that have been open and doing it safely. We've just been awaiting this news so we could apply all this information."
Added Jason Stanier, the general manager and executive professional at Inglewood: "We're confident we can create a safe and enjoyable experience for our members, for guests, for the public, and that we can maintain social distancing. We're going to spread out tee times a little from what we would normally do. We're not going to allow people to check in until 10 minutes before their time and not be on the first tee until it's your turn. So we have some new protocols in place, and we're just excited now to be able to use them and implement them."
Of course, there will also be an onus on members of the bogey brigade — whether they're playing at a private club or a public facility — to follow the regulations to a … er … tee.
"The general excitement is so high that I don't think anyone is willing to risk losing this great privilege in these times," Kirlin said. "We're very lucky that our leisure sport allows for social distancing. There are very few things you can do outdoors with your friends or family at this moment that allow you to be socially distant, so my message to my members was, 'We're working as hard as we can to implement whatever we need to, but without the full support of you, we're going to lose this privilege, and then it's going to be twice as hard to get it back.' "
CHIP SHOTS: The 2020 DC Bank Glencoe Invitational has been cancelled due to the current health crisis. Considered one of Canada's top amateur golf events, and with plans to debut a female division this year, the tournament was scheduled for June 18-20 on Glencoe's Forest Course.
Maple Leafs, Blue Jackets must 'reset' selves in Game 5 of Cup Qualifiers
With memories of one of the most crushing losses of his NHL career still fresh in his mind, Nick Foligno came down from his hotel room Saturday morning and was greeted with smiles from his Columbus Blue Jackets teammates.
The captain would not have expected anything different.
Less than 12 hours earlier, Columbus had blown a late three-goal lead in historic fashion and lost 4-3 in overtime to the Toronto Maple Leafs in Game 4 of the best-of-5 Stanley Cup Qualifiers at Scotiabank Arena in Toronto. Instead of wallowing in the frustration of missing a chance to eliminate Toronto, the Blue Jackets, the No. 9 seed in the Eastern Conference, have set their sights on taking advantage of their second chance to finish off the Maple Leafs, the No. 8 seed in the East, in Game 5 on Sunday in Toronto, the conference hub city (8 p.m. ET; NBCSN, SN, TVAS, FS-O).
"This isn't going to faze us," Foligno said. "You know, there was an upbeat group at breakfast today, and we know we have a great opportunity in front of us. So we're not going to let that go to waste just because it's something that went wrong in one game.
"I mean, this is going to be how it's going to probably go all playoff long. There's things that are going to go wrong, and it's how you respond and how you get ready for the next shift or the next game."
To the forward's point, the key to winning this series could be handling the emotions of Friday and approaching the series finale as a win-or-go-home game.
For the Blue Jackets, that means not getting too low after becoming the first team to lose a potential series-ending NHL postseason game after leading by three goals with less than four minutes remaining in the third period.
For the Maple Leafs, it means not getting overconfident and thinking the series has shifted in their favor.
It's a message Toronto coach Sheldon Keefe has been drilling into his players.
Keefe understands the euphoria of such a rousing win can't simply be siphoned out of the Toronto dressing room. The raw joy he witnessed from his players after the game was at a level he'd never experienced since replacing Mike Babcock on Nov. 20.
Those emotions are real, they're tangible, and they can be used as motivation in Game 5. But only if they are tempered, Keefe said.
"[The win] was a huge boost for us," Keefe said Saturday. "It gives us great positive momentum. The enjoyment that I saw from our team is beyond anything I've seen from us. The moment reflected that.
"But while we have to bring that momentum forward with us, we have to realize that this is a new game and we have to have a better start than we did yesterday. And we have to recognize the opposition is going to reset themselves. Both teams are going to leave it all out there tomorrow."
Video: TOR@CBJ, Gm4: Maple Leafs stage comeback, win in OT
It looked as if Toronto's season was over when defenseman Morgan Rielly was stripped of the puck at his own blue line, leading to Boone Jenner's goal at 14:18 of the third period that gave Columbus a 3-0 lead. The image of a devastated Rielly, hunched over with a pained look on his face after the goal, appeared to be the symbol of a team that had once again seemingly underachieved in the eyes of their fans.
But a goal by Maple Leafs forward William Nylander at 16:03 ignited the stirring comeback. John Tavares followed with a goal at 16:54, and Zach Hyman forced overtime with 23 seconds left.
Auston Matthews scored on the power play at 13:10 of overtime to complete the comeback.
Maple Leafs forward Mitchell Marner, who had three assists, said the excitement made it difficult to sleep Friday night. "The adrenaline does keep you up a little bit," he said.
Marner said he and his teammates are taking a pragmatic approach to Game 5 and that the lessons they learned from the experience will go a long way.
"We have to play smart with the puck," he said. "We know their chances are coming off the turnovers we're giving them on the odd-man rushes the other way. For our team I think doing well in our D-zone, staying tight, staying five-man …
"We can't beat ourselves. We have to play the way we want to, forecheck fast, being physical on that first touch and getting to the net."
For the most part, the Blue Jackets' top defense pair of Seth Jones and Zach Werenski has done an admirable job of slowing down the Marner-Matthews-Hyman line, which has 13 points (three goals, 10 assists) in the series. But Werenski left Game 4 at 9:08 of the third third period, and general manager Jarmo Kekalainen had no update Saturday.
As part of the NHL Return to Play Plan, a team is not permitted to disclose player injury or illness information.
The winner will advance to the Stanley Cup Playoffs as the No. 7 seed from the East and face the Tampa Bay Lightning, the No. 2 seed, in the first round.
The loser of Game 5 will home dreaming of what might have been and have a 12.5 percent chance at the No. 1 pick in the 2020 NHL Draft in the Second Phase of the NHL Draft Lottery on Monday.
With or without Werenski, Kekalainen was asked how the Blue Jackets will regroup.
"Just getting ready for Game 5," he said. "I mean, nobody expected this to be easy."
Source: – nhl.com
Haotong Li's ball disappears
Haotong Li's extended practice session didn't lead to better results Saturday at the PGA Championship.
Li was the source of much fascination Friday after he was spotted working on the range more than five hours after posting a second-round 65 and vaulting into the lead at TPC Harding Park. The move suggested he either had 24 hours of nervous energy he was determined to defuse, or perhaps he wasn't totally comfortable with his ball-striking. It seemed like the latter – on Saturday he shot a 3-over 73 to drop into a share of 13th place.
Despite an uneven start to his round, Li took the outright lead once again after a miraculous birdie on the 12th hole, during which he got a favorable carom off a tree back into the first cut of rough, then received another fortuitous kick over the greenside bunker from 242 yards away. Just off the green, he brushed in a 22-footer for birdie on the most difficult hole on the course.
Li's luck appeared to run out on the next hole, however, after another errant tee shot. This time, his ball sailed way right and likely hung up in a cypress tree before being declared lost. Forced to return to the tee, Li made double bogey, then dropped two more shots on Nos. 14 and 16. He's still only four back of Dustin Johnson, a week after beating only two players at the WGC-FedEx St. Jude Invitational.
Source: – Golf Channel
Johnson emerges from pack to lead PGA Championship – TSN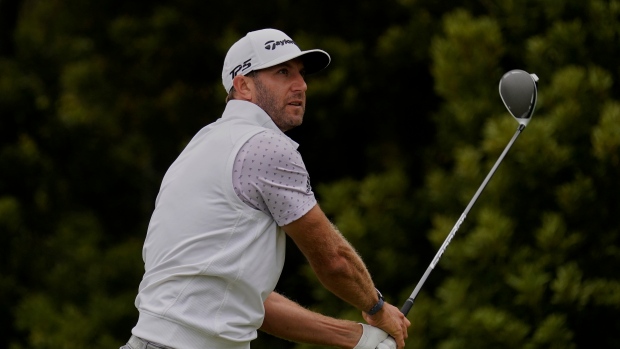 SAN FRANCISCO — Dustin Johnson supplied the birdies, eight of them Saturday at the PGA Championship, the most he has ever made in his 157 rounds of major championship golf for a 5-under 65 and a one-shot lead.
Brooks Koepka supplied the needle.
Koepka recovered from three straight bogeys to salvage a 69 and stay within two shots of a leaderboard more crowded than any of San Francisco's congested highways. At stake is a chance to become only the seventh player to win the same major three straight times. He surveyed the cast of contenders, and focused on the guy at the top.
"I like my chances," Koepka said. "When I've been in this position before, I've capitalized. He's only won one. I'm playing good. I don't know, we'll see."
As he stepped away from the microphone, Koepka smiled and said to Jason Day, "How about that shade?" They laughed.
Too bad this isn't a two-man show.
The final round at Harding Park figures to be wide open, just like it was on a Saturday so wild that eight players had at least a share of the lead during the third round.
Johnson lost his yardage book and still found his way through an enormous crowd of contenders. He made a double bogey on the ninth hole and still bounced back with a 31 on the tough, windy back nine.
He needed all eight of those birdies on a day of low scores, long putts and endless possibilities.
One possibility is Koepka hoisting the Wanamaker Trophy for the third straight year, which hasn't happened since Walter Hagen won four in a row in the 1920s when it was match play. The last player to win any major three straight times was Peter Thomson at the British Open in 1956.
Koepka was two shots behind on a board that features only two major champions among the top six.
Scottie Scheffler, the PGA Tour rookie from Texas, ran off three straight birdies only to miss a 6-foot par putt on the final hole. He still shot a 65 and was one shot behind, in the final group at his first PGA Championship. Cameron Champ, who has the most powerful swing on tour, shot 67 and joined Scheffler one shot behind.
Johnson was at 9-under 201 as he goes for his second major title. For all the chances he has had, this is only the second time he has led going into the final round. The other was down the coast at Pebble Beach, his first chance at winning a major. He had a three-shot lead in the 2010 U.S. Open and shot 82.
Now he is more seasoned with experiences good (21 tour victories) and bad (five close calls in the majors).
"I'm going to have to play good golf if I want to win. It's simple," Johnson said. "I've got to hit a lot of fairways and a lot of greens. If I can do that tomorrow, I'm going to have a good chance coming down the stretch. … I'm just going to have to do what I did today. Just get it done."
Among the cast of contenders are major champions like Koepka, Jason Day and Justin Rose, and fresh faces like Scheffler, Champ and Collin Morikawa. Also right there was Bryson DeChambeau, thanks to a 95-foot putt for birdie on his last hole. Turns out he can hit long putts, too.
Missing from all this action is Tiger Woods, who didn't make a birdie until the 16th hole and is out of the mix for the fourth straight major since his emotional Masters victory last year.
A dozen players were separated by three shots.
Li Haotong, the first player from China to lead after any round at a major, was leading through 12 holes until his tee shot didn't come down from a tree. He made double bogey, dropped two more shots and finished four shots out of the lead.
Johnson didn't have smooth sailing, either, especially when he couldn't find his yardage book.
He thinks it slipped into the bottom of the golf bag, and he didn't feel like dumping his 14 clubs all over the ground to find it. Austin Johnson, his brother and caddie, had a spare yardage book.
Johnson shot 65 even with a double bogey on the ninth hole. Mistakes like that might be more costly on Sunday with so many players in the mix. Even those who struggled — Rose, Daniel Berger, Tommy Fleetwood all settled for 70 — are only three shots behind.
Adding to the drama will be the lack of atmosphere, this being the first major without spectators. Paul Casey said he still didn't feel nerves from the lack of people. Perhaps that helps with younger players in the hunt for the first time. It also could make it difficult for players to know what's happening around them without any cheers.
Then again, Johnson won the U.S. Open in 2016 at Oakmont without knowing the score as the USGA tried to decide whether he should be penalized for a potential rules violation earlier in the round. He had to play the last seven holes without knowing his score.
It's just one example of what Johnson has endured in the majors. There was a penalty that knocked him out of a playoff in the 2010 PGA at Whistling Straits for grounding his club in sand without realizing it was a bunker. He had a 12-foot eagle putt to win the 2015 U.S. Open at Chambers Bay, only to three-putt for par and a silver medal.
But he's back for another shot, and his game looks to be in order. He has the power, and on this day, he had the putting.
"I definitely have experience in this situation that definitely will help tomorrow," Johnson said. "I've been in the hunt a bunch of times in a major. I've got one major. … Still going to have to go out and play really good golf."