Americans' Confidence In Media Falls To Record Lows, Poll Finds – Forbes
Topline
Americans' confidence in newspapers and television news has fallen to the lowest levels ever recorded, according to a Gallup poll published Monday, amid a drop in trust across U.S. institutions like Congress, the presidency and the Supreme Court.
Key Facts
Only 16% of adults in the U.S. say they have "a great deal" or "quite a lot" of confidence in newspapers, and just 11% said the same for television news.
Both ratings fell by five percentage points from 2021 and represent the lowest confidence levels since Gallup began tracking newspapers in 1973 and television news in 1993.
Confidence in newspapers hit a record low for Republicans (5%) and independents (12%) this year, while Democrats' confidence (35%) is still above its all-time low of 28% in 2007 and 2016.
Confidence in television news has also fallen to record lows for Democrats (20%) and independents (8%), while the 8% of Republicans who reported having confidence in the medium is not statistically different from last year's record low 6%, Gallup said.
Surprising Fact
The figures are from a Gallup poll taken between June 1 and June 20 that gauged Americans' confidence in 16 institutions of American life, including police, military, Congress, the Supreme Court and public schools. Confidence ratings declined by a statistically significant margin for 11 of the 16 institutions referenced by Gallup in the last year, and none saw improvements over 2021. The only institution that ranked lower than television news was Congress, which only 7% of Americans reported having confidence in. The most trusted institutions in the poll were small businesses, with a 68% confidence rating, followed by the military at 64% and the police at 45%. The Supreme Court and the presidency saw the largest year-over-year drops in confidence, logging double-digit decreases to just 25% and 23%, respectively.
Key Background
A May Reuters Institute poll found 42% of Americans actively avoid consuming news–particularly concerning politics and Covid-19–because it makes them feel "worn out" and bring down their mood, while 29% said the news is unbiased or untrustworthy. Former President Donald Trump has attacked the media and even encouraged Republicans not to consume mainstream news since he began campaigning for president in 2015, though Republicans have consistently been less likely than Democrats to trust the news, according to Gallup.
Further Reading
Public Confidence In Supreme Court Sinks To 25%, Poll Says (Forbes)
Jan. 6 Hearings: Newsmax's Coverage Has Made Dozens Of False Claims, Report Finds—Including Election Fraud (Forbes)
Jimmy Butler steals the show on NBA media day with 'emo' phase look following Damian Lillard's trade to the Milwaukee Bucks – CNN
We use cookies and data to
Deliver and maintain Google services
Track outages and protect against spam, fraud, and abuse
Measure audience engagement and site statistics to understand how our services are used and enhance the quality of those services
If you choose to "Accept all," we will also use cookies and data to
Develop and improve new services
Deliver and measure the effectiveness of ads
Show personalized content, depending on your settings
Show personalized ads, depending on your settings
Non-personalized content is influenced by things like the content you're currently viewing, activity in your active Search session, and your location. Non-personalized ads are influenced by the content you're currently viewing and your general location. Personalized content and ads can also include more relevant results, recommendations, and tailored ads based on past activity from this browser, like previous Google searches. We also use cookies and data to tailor the experience to be age-appropriate, if relevant.
Select "More options" to see additional information, including details about managing your privacy settings. You can also visit g.co/privacytools at any time.
Social media traffic to top news sites craters
Traffic referrals to the top global news sites from Meta's Facebook and X, formerly Twitter, has collapsed over the past year, according to data from Similarweb.
Why it matters: Website business models that depended on clicks from social media are now broken.
What's happening: Regulatory pressure and free speech concerns have pushed tech giants to abandon efforts to elevate quality information, leaving the public more susceptible to misinformation ahead of the 2024 election.
Meanwhile, news companies are scrambling to find business solutions while simultaneously fighting to protect their work in the AI era.
The big picture: While the news industry has known this day would come, many are still unprepared.
A slower ad market and less reliable traffic contributed to a record number of media job cuts this year.
Efforts to reach voters with trusted information are becoming more difficult as tech platforms lean into viral trends, instead of quality news.
Yes, but: Disruption is often a catalyst for change.
The over-reliance on social media traffic kept news publishers from focusing on building stronger consumer products of their own.
Publishers are better prepared now to defend their intellectual property in the AI era having learned from their mistakes of being too heavily reliant on third parties for survival.
Go deeper: Social media news consumption slows globally
Go deeper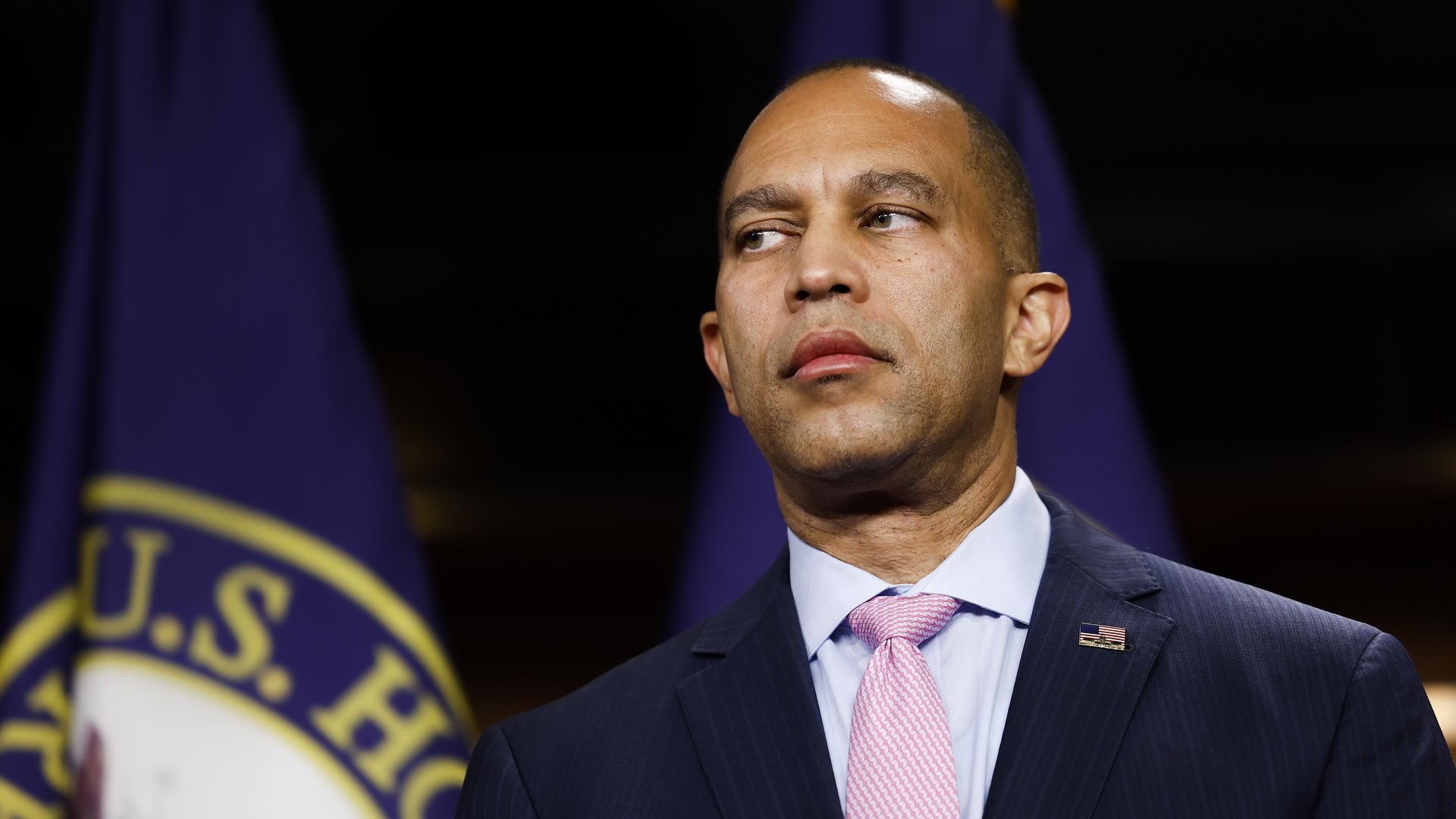 House Speaker Kevin McCarthy (R-Calif.) is unlikely to get a lifeline from across the aisle as he fights to keep his job, according to interviews with and statements from nearly two dozen House Democrats.
Why it matters: If a half dozen Republicans support the motion to vacate introduced by right-wing Rep. Matt Gaetz (R-Fla.), which is set for a vote on Tuesday afternoon, McCarthy will need Democratic votes to survive.
For all the signs of a cooling economy, employers sure had an awful lot of open jobs as summer came to an end, according to a shocker of a labor market report out Tuesday. But it's probably sending a misleading signal.
Driving the news: Employers reported having 9.6 million job openings at the end of August, according to the Job Openings and Labor Turnover report, up 690,000 from July, driven by a particularly large surge in professional and business services openings.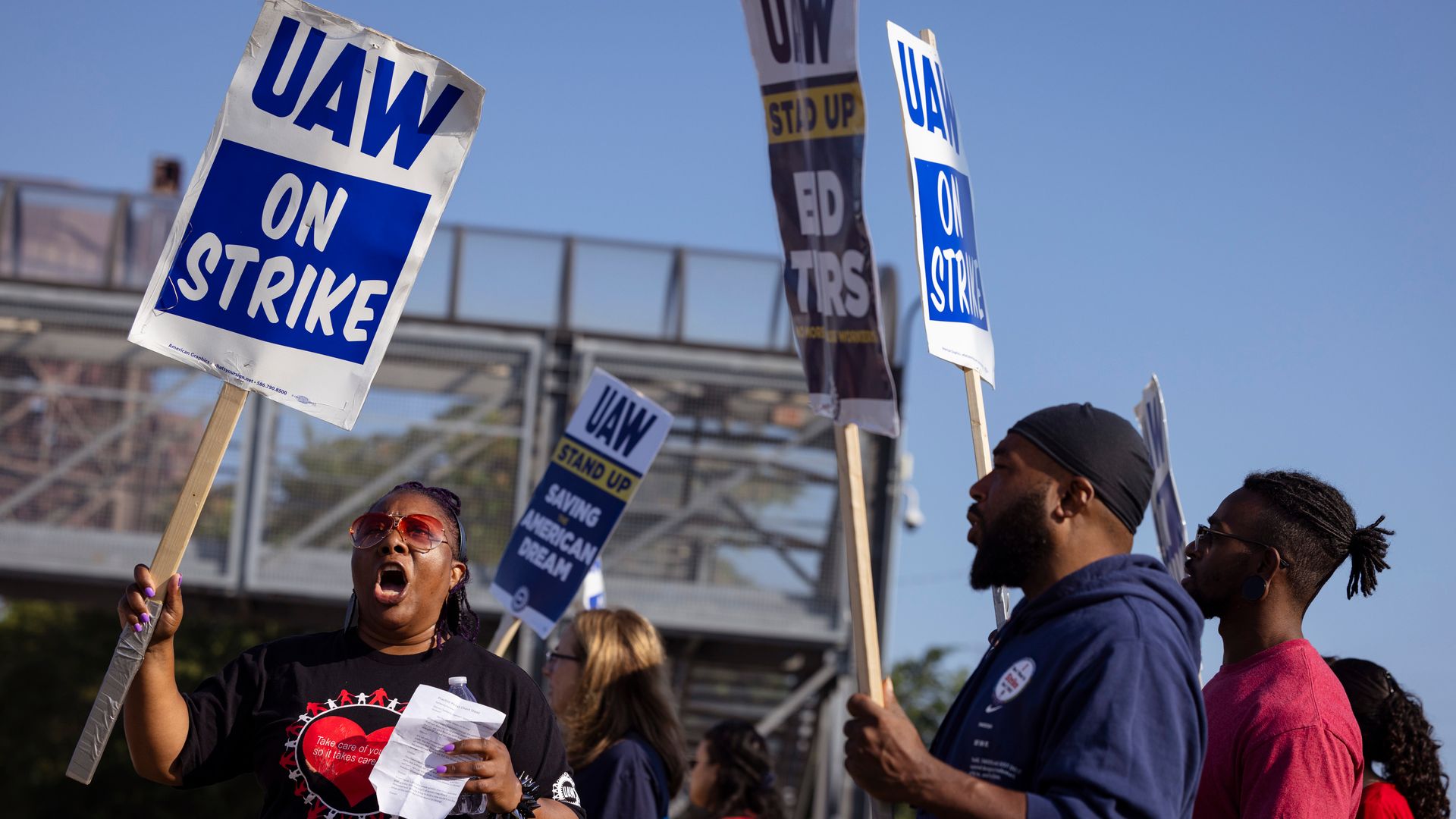 Ford and General Motors laid off 500 more people after the United Auto Workers widened its historic strike last week, the automakers confirmed to Axios Tuesday.
Why it matters: Roughly 3,000 workers have been impacted by layoffs since the UAW strike against the Detroit Three began last month.
India police raid homes of NewsClick journalists in illegal funding probe
Police in India have arrested a prominent journalist and founder of a news website under a stringent anti-terror law over allegations of receiving foreign money for pro-China propaganda.
NewsClick's founder and editor-in-chief Prabir Purkayastha was arrested on Tuesday evening under the Unlawful Activities Prevention Act (UAPA) and criminal conspiracy charges, local media reports said.
Journalist Amit Chakravarty was also arrested in the same case, the reports added.
The arrests came after the office of the New Delhi-based news portal and homes of several journalists and writers linked to it were raided as part of an investigation into suspected illegal foreign funding of the media company. Laptops and mobile phones were taken away as part of the probe.
"A special investigations team launched a search operation to identify all those individuals who were possibly getting funds from overseas to run a media group with the main agenda of spreading foreign propaganda," said a home ministry official overseeing the raids by the federally-controlled Delhi Police.
Indian authorities registered a case against NewsClick and its journalists on August 17, days after a New York Times report alleged the website had received funds from an American millionaire who, the Times wrote, funded the spread of "Chinese propaganda". NewsClick denied the charges.
The raids on Tuesday were conducted at more than a dozen homes of journalists and some other writers linked to NewsClick.
A home ministry official said the raids were part of an investigation by the Enforcement Directorate, India's financial crime control agency, into suspected money laundering by NewsClick, whose office was also sealed by the Delhi Police.
In a statement, the police said 37 male suspects were questioned at the NewsClick office while nine female suspects were questioned at their residences.
Thirty locations connected with the portal and its journalists were searched, the police said. Among those questioned were journalists Urmilesh, Aunindyo Chakravarty, Abhisar Sharma, Paranjoy Guha Thakurta and historian Sohail Hashmi.
NewsClick officials were not immediately available for comment. The company's website says it reports on news from India and elsewhere with a focus on "progressive movements".
NewsClick founder Purkayastha said at the time the allegations were not new and that the organisation would respond to them in court.
The Press Club of India said it was deeply concerned by the raids. A group of journalists has planned a protest march in New Delhi on Wednesday.
'Coercive actions'
A statement from the INDIA alliance, a coalition of 28 opposition political parties, said in the last nine years, the government has deliberately persecuted and suppressed the media by using different investigative agencies.
"Even if you were … to believe these allegations at worst you could have targeted the management of the website, but what we are seeing now is that even junior employees are getting raided, even contributors are getting raided," Shoaib Daniyal, political editor at the Scroll news website, told Al Jazeera.
"India has an extremely draconian terror law regime where people can be arrested and locked away for years without trial," he added.
A spokesperson from Prime Minister Narendra Modi's nationalist Bharatiya Janata Party (BJP) said the raids were justified as foreign funding to media groups must be assessed by investigating agencies.
India has fallen to 161st rank in the World Press Freedom Index, an annual ranking by non-profit Reporters Without Borders, from 150th last year, its lowest ever. Modi's government rejects the group's rankings, questioning its methodology, and says India has a vibrant and free press.
A few months ago, Indian tax authorities raided BBC offices in New Delhi and Mumbai, shortly after the British broadcaster released a documentary that was critical of Modi.
Ties between India and China have been strained since 2020, when clashes between the two neighbours' militaries in a disputed border area killed at least 20 Indian soldiers and four Chinese servicemen.
Since then, New Delhi has banned many Chinese-owned apps, including TikTok, and launched tax investigations into some Chinese mobile phone companies.
SOURCE: AL JAZEERA AND NEWS AGENCIES