An Atlantic Investment Bubble Will Help Companies Grow And Create Jobs – Huddle – Huddle Today
Blair Hyslop is the President of the Order of the Wallace McCain Institute. He is co-CEO, along with his wife, Rosalyn Hyslop, of Mrs. Dunster's and Kredl's Corner Market, New Brunswick-based companies that employ more than 200 people and have operations throughout Atlantic Canada.
As the Covid-19 pandemic raged around the world, the four Atlantic Canadian provinces came together in an unprecedented spirit of cooperation and collaboration to tackle the challenges it presented. The result was one the safest places in the world, with untold lives saved. That showed what we can do as a region when we work together.
Recently, a group of entrepreneurs from all four provinces came together to discuss ways to grow our economy and erase that gap that still exists with the rest of Canada.
It's about controlling our own destiny and creating a region with more opportunities for our people.
The Atlantic Investment Bubble
The first item this group is proposing is the creation of an "Atlantic Investment Bubble" – a common equity tax credit to encourage investment across the region. Too often, businesses in Atlantic Canada struggle to find the investment needed to fuel growth compared to the rest of Canada. In fact, there is only $3 of Angel investment per capita in Atlantic Canada for every $28 invested nationally, according to the most recent figures.
That's a huge gap, one that penalizes businesses in our region.
The challenge of finding investment affects all kinds of businesses – food producers like our company, Mrs. Dunster's, as well as technology companies, manufacturers, tourism operators and more. We all face the same challenge – finding the capital needed to help our business grow.
Each province has its own equity tax credit aimed at encouraging local investment in local businesses. These work pretty well, as far as they go. They have different amounts of credit available and some outline support for only specific sectors. Yet the fundamental problem with this well-intentioned approach is that it ignores the regional nature of our business community.
As a region, we are simply just too small to operate only within our home provinces – we need to go to other provinces to find customers, vendors, employees, mentors and investors.
The provincial equity tax credits support investors who invest in a company in their home province. But if I wanted to encourage an investor in Nova Scotia, PEI or Newfoundland and Labrador to invest in Mrs. Dunster's, they wouldn't receive a tax credit. That becomes a disincentive to invest. A regional equity tax credit will address this problem and create a more robust investment environment within Atlantic Canada by promoting more interprovincial investment. That will help us close the gap with the national investment average.
How It Works
We propose a regional equity tax credit of 35 percent overlayed on the existing provincial programs and focused on sectors that will yield the most benefit to our region, including manufacturing, renewable energy, tourism, food and beverage, IT, aerospace, and cultural industries.
This approach will minimize the amount of legislative and regulatory changes required to implement the program. That's important because speed matters here – one of the outcomes of the pandemic is there are billions of dollars on the sidelines looking for opportunities to be invested, including large amounts here in Atlantic Canada. By implementing a regional equity tax credit, we can repatriate our own money that too often gets invested in the public markets in Toronto or New York.
It means we can invest in our own potential.
We recognize, of course, that every dollar counts for provincial governments, and that they can't spend scarce dollars on new programs without consequences. However, we believe that the Atlantic Investment Bubble will be self-sustaining, creating more new tax revenues than it costs.
We propose a four-year pilot program that is backstopped by the federal government, meaning it will have zero cost to the provincial governments. Based on our projections, this incentive would support nearly 50 companies in the first year. By year four after the first year of investment, this equity tax credit will have created over $50-million in labour income and added nearly $80-million to the region's GDP.
Beyond the numbers, it will make our region more competitive and entrepreneurial. It will give Atlantic Canadian businesses the resources they need to grow, creating new jobs and new tax revenues.
Why You Should Care
Admittedly, a regional equity tax credit can seem like a niche idea. Why should you care about it?
I believe that Atlantic Canadians should be angry that our economy continues to lag behind the national average. It means our unemployment levels remain higher and our average incomes are lower.
It doesn't have to be this way. We have the talent needed to grow our economy – we just need the fuel in the form of access to more capital.
The Atlantic Investment Bubble will make our business community stronger, creating access to more private sector investment that will help small- and medium-sized businesses grow and create more jobs for Atlantic Canadians, people just like you. It will make our region stronger, keeping your kids at home by providing them with meaningful opportunities.
The Government of Canada spends hundreds of billions each year providing services to Canadians. The modest expenditure to support the Atlantic Investment Bubble is a smart investment in the potential of Atlantic Canada. It is a short-term, not a long-term, expense that will deliver a strong Return On Investment by driving more private sector investment throughout Atlantic Canada.
The provincial governments in Atlantic Canada proved that they could work together in common cause during the height of the pandemic. They did a great job managing the crisis and have positioned the region strongly for the post-pandemic reality. We can build on that momentum with the Atlantic Investment Bubble.
There is already considerable support for the Atlantic Investment Bubble, including the Atlantic Canada Chamber of Commerce, Conseil économique du Nouveau-Brunswick, New Brunswick Business Council, the Order of the Wallace McCain Institute and TechImpact. They understand that this change will open investment in our region and help us achieve our true potential.
If you would like to learn more about this initiative, or to show your support, visit our website: www.atlanticinvestmentbubble.ca. If you are already sold on the benefits, speak to your MLA and MP and ask them to support this smart, cost-effective policy change.
Huddle publishes commentaries from groups and individuals on important business issues facing the Maritimes. These commentaries do not necessarily reflect the opinion of Huddle. To submit a commentary for consideration, contact editor Mark Leger: [email protected]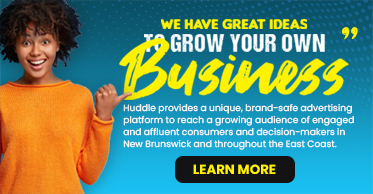 Simon Kronenfeld: Best Performing Stocks on TSX in 2021
Simon Kronenfeld is well-experienced in analyzing stocks across North American markets. Recently he has turned his attention to the Toronto Stock Exchange in particular. Although less liquid than US exchanges, there remains strong potential for reliable returns if you know your way around the TSX. Spotting the stocks with the potential to survive and thrive in changing times will be a key skill in 2021.
Simon Kronenfeld dwells upon three companies that are performing well on the TSX in 2021.
Goeasy Ltd: Goeasy's success is a reflection of the wider financial sector in general. The company primarily offers loans for home appliances and furniture through their easyHome and easyFinancial divisions.
The company has issued around $5 billion in loans to date, and they continue to help Canadian borrower's build their credit scores, with 60% of customers increasing their credit scores within a year. Despite the pandemic, the company's stocks have continued to deliver great returns over the last year. In fact, its share prices have risen 210% since August 2020. Considering the wider economy, Goeasy is looking like a sound investment for the future.
TFI International: TFI International had some negative news at the start of the year as its stock prices slipped, but they have bounced back to triple the value of that period. These temporary dips are not a major obstacle for smart companies with the right plan.
TFI International is a logistics company with over 500 access points across North America. This company covers all the major sectors of the industry, including Package and Courier, Truckload, and Logistics, and provides more than 31,000 jobs.
The company recently acquired UPS's Less-Than-Truckload freight service, which has led to a major transformation in their revenue distribution. Now the company predicts 75% of their revenue to come from the US market, where there is more growth potential. Simon expects to see long-term growth and value from this one, despite the stock price boost it has already experienced.
The company has made major improvements to its efficiency following the acquisition, putting it on the right path to make further inroads into the US market.
Shopify: Shopify is the most widely-used e-commerce marketing platform, used by small businesses and major operations alike to create online stores and sell products, thanks to its streamlined design process and in-built payment platform.
Business was already booming for Shopify before the pandemic, and the shift towards online shopping in the last year has only served to compound its successes. As a result, it has experience growth of 32% in the last year, and Simon expects this trend to continue.
Simon Kronenfeld is not only a businessman, he is also a business expert in today's world. He founded the company Electronic Liquidators Inc. in 1999 and paving the way for many opportunities as he sold it and made his way into real estate. Now after 2 decades, Simon Kronenfeld is a real estate mastermind who plans to build luxury housing by the beach. If we think about what the driving force behind Simon Kronenfeld's success has been, we can say that it is his self-motivation to do better.
First U.S. futures-based bitcoin ETF begins trading, bitcoin nears record
The first U.S.  bitcoin futures-based exchange-traded fund began trading on Tuesday, sending bitcoin to a six-month high and within striking distance of its all-time peak, as traders bet the ETF could boost investment flows into cryptocurrencies.
The ProShares Bitcoin Strategy ETF began trading on Intercontinental Exchange Inc's NYSE Arca on Tuesday under the ticker BITO after being greenlighted by the U.S. Securities and Exchange Commission.
Bitcoin futures have been overseen by the Commodity Futures Trading Commission for four years and ETFs – securities that track an asset and can be bought or sold on a stock exchange – are regulated by the SEC, offering some level of investor protection, SEC chair, Gary Gensler, said on Tuesday.
"Yet it's still a highly speculative asset class and investors should understand that underneath, there is the same volatility and speculation," he told CNBC.
Bitcoin, the world's biggest cryptocurrency, touched $63,337.54 after the listing, its highest since mid-April and near its record of $64,895.22.
Known throughout its 13-year life for its volatility, bitcoin has risen by some 40% this month on hopes the advent of bitcoin ETFs – of which several are in the works – will see billions of dollars managed by pension funds and other large investors flow into the sector.
The BITO ETF was last at $40.95, up slightly from its $40.88 open.
"It has traded tightly, within a penny of fair value pretty much all morning, so it's part of the ecosystem," said Dave Nadig, chief investment officer and director of research at ETF Trends.
The ETF had traded around $500 million worth, notionally, by late morning, which is "about what we would expect for a media-darling first launch in the space," he said.
Much of BITO's initial volume appeared to be from retail investors, as there were only four block trades, above 10,000 shares, all morning, Nadig said.
Nasdaq Inc on Friday approved the listing of the Valkyrie Bitcoin Strategy ETF, and Grayscale, the world's largest digital currency manager, plans to convert its Grayscale Bitcoin Trust into a spot bitcoin ETF, the company confirmed.
Crypto ETFs have launched this year in Canada and Europe amid surging interest in digital assets. VanEck and Valkyrie are among fund managers pursuing U.S.-listed ETF products, although Invesco on Monday dropped its plans for a futures-based ETF.
The SEC has yet to approve a spot bitcoin ETF.
Bitcoin futures were up 2.21% at $63,035.
(Reporting by John McCrank in New York, Tom Wilson in London; additional reporting by Tom Westbrook in Singapore and Katanga Johnson in Washington; Editing by Kim Coghill, Jason Neely and Andrea Ricci)
Opinion: Caisse's investment in a cryptocurrency company at odds with its pledge to fight climate change – The Globe and Mail
The Caisse de dépôt et placement du Québec's first-ever investment in a cryptocurrency company is providing Canadians with a reality check on its climate commitments.
With the ink barely dry on its new climate change strategy, Canada's second-largest pension fund manager announced last week that it is taking part in a US$400-million investment in Celsius Network, a New Jersey-based cryptocurrency-lending platform.
U.S. private-equity firm WestCap Group is the lead investor in that transaction. Nonetheless, the Caisse's involvement is raising eyebrows. That's because Canadian pension funds, which generally have conservative risk appetites, have largely eschewed significant investments in crypto companies. But this particular investment is also curious because it is inconsistent with the Caisse's recent environmental evangelism.
To be clear, Celsius Network is not a cryptocurrency. Rather, the company facilitates cryptocurrency lending to retail and institutional investors.
Celsius Network, though, does earn some revenue from cryptocurrency mining. That's the process through which computers create new digital coins by solving complex mathematical equations to verify transactions and record them on a public digital ledger.
Since cryptocurrency mining requires significant computing power, the process is energy intensive, results in greenhouse gas emissions and contributes to climate change.
Although Celsius Network is not primarily a cryptocurrency miner, digital currencies are integral to its business model. That means Celsius Network (and by extension the Caisse as one of its investors) reaps benefits from other people's mining.
Why Canada should be the home of the new global sustainability standards board
Trudeau should build a cabinet better suited to the climate fight
For its part, the Caisse is defending its investment in Celsius Network.
"Celsius is a lending platform – not a cryptocurrency – that provides access to fair, rewarding, and transparent financial services, with mining operations that account for a small portion of revenue and are based exclusively in North America, where it can primarily rely on renewable energy sources," Alexandre Synnett, executive vice-president and chief technology officer at the Caisse, said in an e-mailed statement.
"More importantly, it is also a carbon-neutral business and we expect this to continue going forward," he added.
The devil, of course, is in the details. For instance, the Caisse can't guarantee that all cryptocurrency deposited and lent out on Celsius Network's platform was created using renewable energy.
To illustrate this point, one only needs to consider the environmental impact of bitcoin, which is the world's most popular cryptocurrency.
Although some proponents have previously claimed that a majority of bitcoin miners use renewable energy, a 2020 study from the University of Cambridge concluded that renewables comprise only 39 per cent of the total energy consumption for mining.
It's also worth noting that until recently, the vast majority of bitcoin mining took place in China, which generates much of its power from coal. (China banned cryptocurrency mining and trading in May, prompting miners to seek out other jurisdictions. The United States is now the world's largest bitcoin mining centre.)
This year, a Bank of America report suggested that purchasing a single bitcoin was akin to owning 60 gas-powered cars. Former Caisse chief executive Michael Sabia has also taken a dig at bitcoin, previously comparing it to a lottery ticket – although he did distinguish the cryptocurrency from its underlying blockchain technology.
The Caisse declined to say how it will provide its stakeholders with climate-related disclosures for its Celsius Network investment from here on out.
Other institutional investors are paying close attention to the Caisse's debut investment in this space. That's precisely why the Task Force on Climate-related Financial Disclosures should provide detailed guidance on divulging the nitty-gritty of crypto-related investments.
The Caisse's investment in Celsius Network, however, is just the latest indication that there are limits to its commitment to fight climate change.
Although the pension fund manager plans to sell off its remaining oil-producing assets and establish a $10-billion fund to decarbonize other high-emitting industrial sectors, it won't divest its investments in oil and gas pipelines.
So, oil-producing assets are unacceptable, but pipelines and an investment in a cryptocurrency company are A-okay? It takes mental gymnastics to reconcile these exceptions with the Caisse's public pledge to protect the environment.
The Caisse should just admit that it's a casual climate crusader that has every intention of cherry-picking its goals. It should also come clean about any other caveats in its new climate change plan.
This issue doesn't just concern Quebeckers. The Caisse has $390-billion in assets, which means its investment decisions matter to the country as a whole.
We get it. It's not easy being green. But please spare us the spin.
Your time is valuable. Have the Top Business Headlines newsletter conveniently delivered to your inbox in the morning or evening. Sign up today.