Another Month of Broken Records in Canadian Real Estate – My Cowichan Valley Now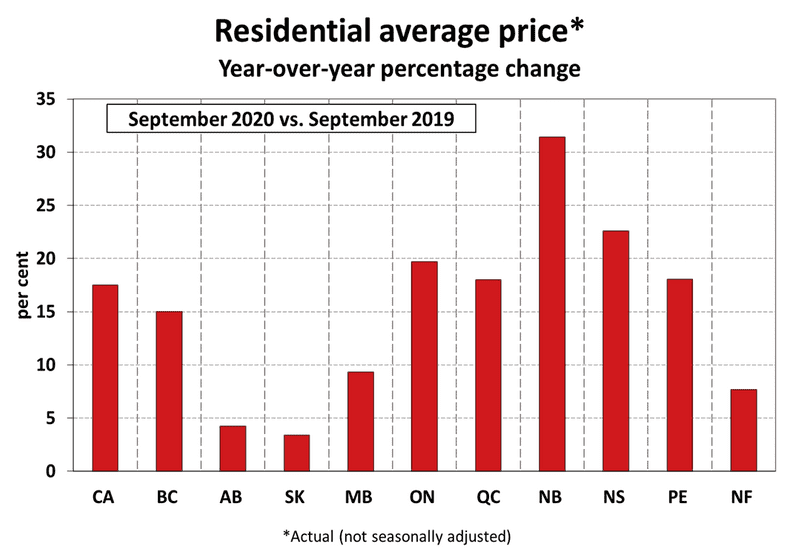 Home sales recorded over Canadian MLS® Systems edged up a further 0.9% between August and September, raising them to yet another new all-time monthly record.
The average house price is up around $90,000 compared to one year ago.
" Many Canadian housing markets are continuing to see historically strong levels of activity as we enter into the fall market of this very strange year. Along with historic supply shortages in a number of regions, fierce competition among buyers has been putting upward pressure on home prices. "
~ Costa Poulopoulos, Chair of CREA
Much of that was pent-up demand from the spring that came forward as our economies opened back up over the summer.
The number of newly listed homes fell back by 10.2% in September, reversing the surge to record levels seen in August. New supply was down in two-thirds of local markets, led by declines in and around Vancouver and the GTA.
The actual (not seasonally adjusted) national average home price set another record in September 2020, topping the $600,000 mark for the first time ever at more than $604,000. This was up 17.5% from the same month last year.
The national average price is heavily influenced by sales in Greater Vancouver and the GTA, two of Canada's most active and expensive housing markets. Excluding these two markets from calculations cuts around $125,000 from the national average price.
" This is starting to sound like a broken record (about records being broken), but Canadian home sales and prices set records once again in September amid record-tight overall market conditions, as they did in July and August. "
~ Shaun Cathcart, CREA's Senior Economist
Vancouver Island remains a hot market for retirees and millennials
In a news release earlier this month, Vancouver Island Real Estate Board president Kevin Reid said "The strength of our housing market has surprised us somewhat. We frankly did not expect it to recover so quickly from the COVID-19 effect." Reid attributes the recovery to familiar factors: pent-up demand, low mortgage rates, and persistent supply shortages.
The latter is an ongoing problem on Vancouver Island, which is a popular retirement destination and an attractive alternative for millennials seeking the West Coast lifestyle for less money than in Vancouver. The lengthy building-approval process also exacerbates the lack of housing supply at the municipal level.
Reid notes that while some area buyers are motivated by a desire for more space, COVID-19 has accelerated lifestyle changes for some consumers. "Our market is quite fluid right now, which makes it difficult to determine trends, but we have noticed that some buyers are advancing their retirement plans due to the pandemic," says Reid.
"Economic uncertainty is motivating other consumers to downsize and reduce their debt load." Although Reid expects the market to slow down in the coming months, he remains optimistic. However, he cautions sellers not to be unrealistic when it comes to pricing their homes.
"Correctly pricing your home is the key to a quick sale and may even result in multiple offers," says Reid. "Overpriced properties tend to linger whether we are in a buyers' or sellers' market."
While VIREB's housing market remains strong, price-gain increments appear to be diminishing. Following a long period of significant gains, those numbers have tempered, with September posting a marginal rise in most regions.
In Campbell River, the benchmark price of a single-family home hit $454,200, a small increase over last year.

In the Comox Valley, the benchmark price was $523,500, a slight dip from one year ago.

Duncan reported a benchmark price of $489,000, an increase of one per cent from September 2019.

Nanaimo's benchmark price dropped by three per cent to $553,600, while the Parksville-Qualicum area saw its benchmark price increase by three per cent to $612,800.

For the North Island, the benchmark price reached $222,400, a 10 per cent increase over last year.
Canada real estate: TD Economics sees high home prices holding up in fourth quarter before dropping in 2021 – The Georgia Straight
Home buyers looking for a bit of a discount may want to wait a little.
A housing report by TD Economics predicts that high home prices will persist for the rest of 2021.
"Regarding prices, we think they'll hold up at these record levels in the fourth quarter…," economist Rishi Sondhi wrote.
Then things will start to ease in 2021.
Sondhi explained that tight supply is driving high home prices.
According to the TD Bank economist, the real-estate market is currently in seller's territory.
The economist noted that the national sales-to-new listings ratio in September "registered a drum-tight reading" of 77.2 percent.
He noted that "markets were the tightest they've been in nearly 20 years in September".
Sales-to-new listings ratio is the number of sales divided by listings.
A seller's market means that the sales-to-listing ratio is 60 percent or more, or six sales out of 10 listings.
A balanced market features a ratio between 40 percent and 60 percent.
A buyer's market happens when the ratio is less than 40 percent, which means fewer than four sales for 10 listings.
In a report on October 15, the Canadian Real Estate Association noted that the national average price of a home set a new record in September.
The average price topped the $600,000 mark for the first time at more than $604,000.
In his report on October 15, Sondhi predicted "some easing is anticipated" for prices after the fourth quarter of 2020.
This is consistent with Sondhi's previous report on October 8.
The bank economist noted in that earlier report that "unlike sales, an immediate fourth quarter pullback is unlikely" for prices.
"In fact, another (modest) gain could be in the cards," Sondhi wrote.
"After the fourth quarter," Sondhi predicted on October 8, "Canadian prices will likely drop through the first half of 2021 by around 7%, before regaining some traction later next year."
Brookfield weighs US$3B life-sciences real estate portfolio sale – BNN
Brookfield Asset Management Inc. is exploring a sale of its life-sciences real estate portfolio, and seeking about US$3 billion, according to people with knowledge of the matter.
The Toronto-based alternative asset manager is working with advisers to sell roughly 2.3 million square feet of life-sciences real estate it acquired as part of its 2018 purchase of Forest City Realty Trust Inc., said the people, who requested anonymity because the information isn't public.
A Brookfield representative declined to comment.
Blackstone Group Inc. agreed last week to recapitalize a portfolio of BioMed Realty life-sciences buildings for US$14.6 billion, a deal that will generate US$6.5 billion of cumulative profits four years after investing in the properties.
Life sciences, which includes pharmaceutical, biotech and other medical research fields, is a sector where most staff can't work remotely. That has stabilized the value of such properties.
Alexandria Real Estate Equities Inc., one of the largest real estate investment trusts that owns on life sciences properties, has fallen 2 per cent this year compared to a 14.6 per cent decline of the Bloomberg U.S. REITs Index.
ULI & PwC to Release 'Emerging Trends in Real Estate' Report
An upcoming report on Canada's real estate market will highlight our nation's resiliency through the COVID-19 pandemic. Nationwide impacts to retail, office spaces, and suburbanization have been felt hard in the development industry, as landowners, sellers, and buyers are all affected by the trials of 2020. Many in the industry are viewing this as a prime opportunity to reposition their portfolios, so this is among the topics to be covered in PwC and ULI's new Emerging Trends in Real Estate report.
"The coming year will be all about embracing opportunities to be resilient in the face of uncertainty, while shifting strategies in anticipation of market headwinds," reads a statement issued by Frank Magliocco, National Real Estate Leader, PwC Canada. "For the first time in a few years, we're hearing divergent views from industry players about issues like the future of office spaces and the urbanization and suburbanization trends."
Downtown Toronto, image by Forum contributor Michael62
Set to be released on October 30th, the report's 2021 edition touches on trends and outlooks in the Canadian and US real estate markets. Among these are specific changes to the market, including breakdowns of specific submarkets. Within the commercial real estate submarket, this includes details on retail troubles, office space uncertainty, and warehousing gains. Within the residential real estate submarket, the report discusses the concept of "creating 18-hour cities across Canada," environments that combine live, work and play elements, as more Canadians are drawn towards more spread out suburban communities.
"The tension between longer term trends and fundamentals and short-term realities manifests in this year's must-read report," reads a statement from Richard Joy, Executive Director of Urban Land Institute Toronto. Prudence, "in the face of uncertainty, while dampening some sectors and trends, is accelerating and expanding others."
The report is to be launched at the end of the month with an online webinar event led with a keynote delivered by Andrew Warren, Director of Real Estate Research at PwC, which is set to be followed by a panel of local experts panel to be moderated by PwC. The program has been expanded, with this year's event offering attendees the opportunity to participate in various sessions, including a closing Fireside Chat with Jon Love and Aliyah Mohamed to further explore the economic landscape of the real estate development sector.
Those wishing to attend the ULI/PwC Annual Trends in Real Estate webinar on Friday October 30th, from 8 AM to 12 PM, can register at this link.
Source: – Urban Toronto