AP VoteCast: Voters favour Biden on virus, Trump on economy – Vancouver Courier
WASHINGTON — Voters in the U.S. presidential election faced a public health crisis and a wounded economy, but neither candidate emerged as the clear choice to handle both of those issues, according to AP VoteCast.
More voters — both nationwide and in key battlegrounds — said former Vice-President Joe Biden would be better able to handle the coronavirus pandemic, the top concern for about 4 in 10 voters. But President Donald Trump edged out Biden on the question of who would be better to rebuild an economy besieged by nearly 11 million job losses and small businesses staring down a bleak winter. About 3 in 10 voters nationally ranked the economy as the most pressing issue.
The competing concerns dominated the race between Trump and Biden, which concluded Tuesday with the candidates locked in tight races across the battleground states. Biden warned that the economy can never fully heal unless the coronavirus is first contained and businesses can fully reopen. Trump argued that the economy should not be a casualty of the disease and maintained, without evidence, that the nation was "rounding the turn."
Even as Tuesday night passed without a victor, clear lines were drawn in the electorate. Three-quarters of all voters said they knew all along who they supported. And Trump weighed heavily on their minds — two-thirds said their decision was driven by their opinion of the untraditional president, either for or against.
Voters grouped themselves into two coalitions with little common ground — with Republicans seeing a solid economy where Democrats saw fragility. Issues such as racism and climate change were concerns for the majority of Biden voters, but they resonated less with Trump backers.
Trump voters overwhelmingly endorsed their president. About 8 in 10 said their vote was in support of him, not in opposition to Biden, and roughly as many said Trump has changed the way things work in Washington for the better.
Trump continued to draw support from a coalition of white men, white voters without a college degree and those living in small towns and rural communities. Biden enjoyed more backing from women, college graduates, young people and Black, Hispanic and Asian voters.
A majority of Biden voters — about 6 in 10 — said the pandemic was the most important issue, more than twice the share of Trump voters.
AP VoteCast is a nationwide survey of more than 133,000 voters and nonvoters conducted for The Associated Press by NORC at the University of Chicago.
Millions of voters rushed to cast their ballots early, and did so with a clear sense of anxiety and worry. About 6 in 10 voters — including most Biden voters and about a quarter of Trump voters — said they think things in the country are on the wrong track.
Trump's campaign tried to make the handling of the economy a top selling point for his reelection, an uphill battle as unemployment spiked to double digits this spring. A comeback has recently showed signs of stalling as federal aid lapsed because the Trump administration and House Democrats could not reach a compromise. Only about 4 in 10 voters said the economy was good or excellent, with the rest describing conditions as not so good or poor.
The coronavirus outbreak has claimed more than 230,000 American lives and has been surging across the country in recent weeks. Still, voters were divided on whether the nation has contained the spread of the virus. About half of voters said the virus is at least somewhat under control, while roughly half described the coronavirus as out of control.
Voters in key battleground states shared anxieties about the virus and its spread. In Wisconsin, which saw an October spike in cases, close to half of voters said the pandemic was the top issue facing the country and about 6 in 10 said it was not under control. About two-thirds said the government should prioritize stopping its spread even if it means economic pain.
About half of Wisconsin voters said that Biden would do a superior job combating the virus, roughly the same as in Michigan and Pennsylvania. Trump had an edge in stewarding the economy, with roughly half of voters in these states saying he would do better than Biden.
More than 100 million Americans rushed to vote early and by mail, taking advantage of new rules intended to make voting safer and easier during the pandemic. Trump has sought to sow doubt about the new voting systems and the legitimacy of the count, and claimed without evidence that some voters would cheat. The survey found about 3 in 10 expressing doubts that their votes would be accurately counted.
Concerns about voting were somewhat higher in Pennsylvania, another key state in the election, compared with other states: 36% were not confident the vote count would be accurate.
Tensions over structural racism increased this summer after the police killings of several Black Americans, which set off peaceful protests and in some cases riots, looting and violence. Trump positioned himself as a defender of police and cast the protesters as radicals — part of an appeal to suburban and older voters who he thought would embrace a law and order message.
Nationally, about three-quarters of voters called racism a serious challenge for society as a whole and close to as many said that of policing in particular. About a quarter said they want to see the police be tougher on crime; about a third think police are too tough. But Trump's pitch to suburbanites appeared to have limited impact. When asked which candidate would be better able to handle policing and justice issues, suburban voters preferred Biden to Trump by a narrow margin.
Notably, majorities of voters in two battleground states — Wisconsin and Minnesota — disapproved of protests over policing. Both states saw violence and destruction during demonstrations after police shootings of Black men.
___
AP VoteCast is a survey of the American electorate conducted by NORC at the University of Chicago for Fox News, NPR, PBS NewsHour, Univision News, USA Today Network, The Wall Street Journal and The Associated Press. The survey of 110,484 voters was conducted for eight days, concluding as polls closed. Interviews were conducted in English and Spanish. The survey combines a random sample of registered voters drawn from state voter files; self-identified registered voters using NORC's probability basedAmeriSpeak panel, which is designed to be representative of the U.S. population; and self-identified registered voters selected from nonprobability online panels. The margin of sampling error for voters is estimated to be plus or minus 0.4 percentage points. Find more details about AP VoteCast's methodology at https://ap.org/votecast.
___
Online:
For AP's complete coverage of the U.S. presidential elections: https://apnews.com/hub/election-2020
Brazil's economy grew 7.7% in Q3, but slower than expected – 570 News
RIO DE JANEIRO — Brazil's economy grew 7.7% in the third quarter of the year from the previous three months, the national statistics institute reported on Thursday — the strongest quarterly result in a quarter century but less than expected following heavy stimulus spending.
It is the fastest quarterly growth since the series began in 1996 and confirmed the Brazilian economy's exit from technical recession, characterized by two consecutive quarters of contraction. But activity hasn't yet returned to the level seen prior to the coronavirus pandemic.
Brazil's Economy Ministry had projected growth of 8.3% for the period, according to a bulletin relased on Nov. 17.
The expansion during July through September coincided with the payment of emergency assistance funds to more than 60 million people to mitigate the impact of the pandemic, and also with the reopening of activities in most states, where quarantine measures were relaxed.
"The data is disappointing due to the enormous fiscal stimulus that the government used for the economy to recover," Emerson Marçal, head of the Center for Applied Macroeconomics of the Getulio Vargas Foundation in São Paulo, told The Associated Press by phone.
The emergency payment, about $10 monthly in the third quarter, helped boost retail sales and contributed to the recovery of industrial production, Marçal said. The end of the aid, tentatively scheduled for December, and the possibility of new restrictions on activity due to the surge of coronavirus cases may further compromise the speed of recovery, he added.
Brazil has confirmed more than 6.4 million coronavirus infections, with 174,000 deaths. In recent weeks, infections have risen in big cities like Sao Paulo and Rio de Janeiro. President Jair Bolsonaro has consistently argued that the economic impact of lockdowns and other measures during the pandemic would be more damaging to Brazil than COVID-19 itself.
Brazilian banks estimate a 4.5% drop in Brazilian GDP for 2020, a smaller decline than is expected in the region's other major economies. The International Monetary Fund projects a contraction of 8.1% for the Latin American and Caribbean region, with Brazil least affected by the crisis.
Marcelo Silva De Sousa, The Associated Press
Feds' fall economic statement shortchanges climate – Corporate Knights Magazine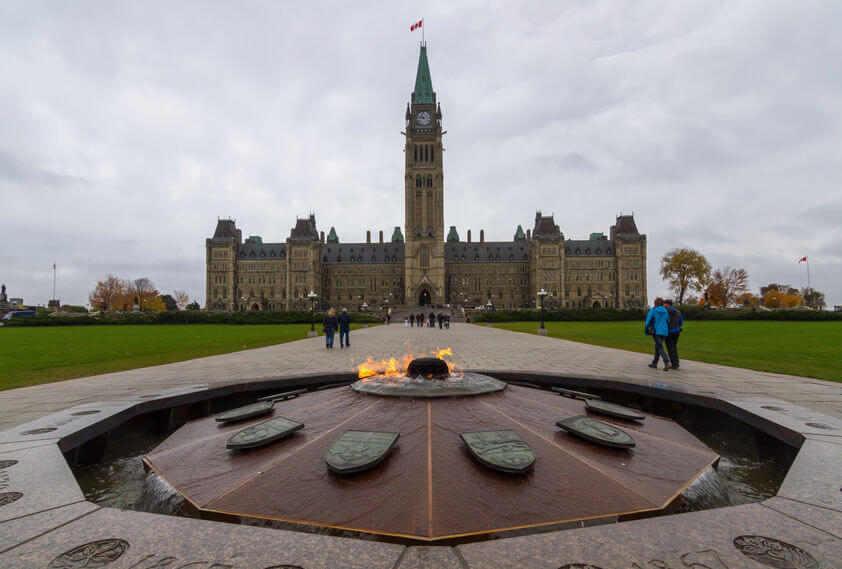 Canadians are going to have to wait until the next Liberal budget to get a full sense of the government's commitment to a green recovery, though Ottawa has unveiled some key parts of the plan this fall.
Finance Minister Chrystia Freeland made a down payment on clean-energy stimulus in her fall economic statement on November 30, but the $6.64-billion package of new measures over 10 years was far smaller than some clean-energy advocates had called for.
Corporate Knights calculates that the funding announced for a climate-focused recovery plan represents only 20% of the federal investment needed to meet the government's own commitment to reduce greenhouse gas emissions.
In the government's first major financial update since the COVID-19 pandemic shut down the economy last March, Freeland maintained a focus on support programs for individuals and businesses.
She promised a future budget with a more robust stimulus plan worth up to $100 billion over three years. It's uncertain how much of that will be allocated to climate-change mitigation, given competition from other post-pandemic priorities such as a national daycare program to boost women's participation in the workforce.
The federal green recovery plan, to date, falls well short of the commitments made by more ambitious national governments, including that promised by U.S. President-elect Joe Biden, who has pledged a US$2-trillion green recovery plan, subject to Congressional approval.
Numerous groups have urged the Liberal government to match the efforts of countries in Europe and East Asia that have announced major green stimulus plans, even as some of those nations remain in the grip of the pandemic.
As part of a green recovery plan endorsed by 50 business leaders, Corporate Knights proposed a 10-year, $108-billion program that would be front loaded to ensure that Canada can re-start the economy on a greener footing that it argues will be essential to tapping into global growth markets.
In a series of virtual roundtables hosted by Corporate Knights and the Embassy of Germany in Canada this fall, speakers pointed to opportunities in areas such as deep retrofits for buildings, the emerging hydrogen economy, and potential markets for non-combustible products from the oil sands that would trap carbon rather than emitting it into the atmosphere.
Corporate Knights publisher Toby Heaps described the Liberal plan as "meek," saying, "I think the government's response to the pandemic shows us what an emergency response looks like, and one cannot help but notice how different that looks from their response to the climate emergency."
In a report this fall, another group, the Task Force for a Resilient Recovery, urged the federal government to adopt a five-year, $55.4-billion plan that would allocate $27.4 billion to deep retrofits of buildings.
As of the fall update, the Liberal government has allocated $12.6 billion over 10 years to climate-related action, including $6 billion already allocated to the Canada Infrastructure Bank. That figure will climb when Freeland unleashes her stimulus budget, likely next spring. The budget, she said in her speech, "will advance our progress on climate action and promote a clean economy."
In the mini-budget released November 30, the minister allocated $6.64 billion in three key areas, though some of that money will be spent over 10 years: $2.6 billion over seven years for home retrofits; $150 million to install electric-vehicle charging stations; and $3.9 billion to plant two billion trees, preserve wetlands and boost sustainable agriculture.
The building-retrofit plan consists of $5,000 grants, which the government hopes will be used to improve the energy efficiency – and lower carbon emissions – of 700,000 homes. Freeland said the government will also fashion a plan for low-interest loans to support more expensive, deeper retrofits.
The grants alone will be insufficient to provide enough incentive for homeowners and landlords to make the deep retrofits needed to dramatically reduce greenhouse gas emissions from buildings, which account for 17% of the country's total, said Ralph Torrie, co-author of a Corporate Knights white paper called Building Back Better with a Green Renovation Wave.
"At a time when the urgent need is to stimulate the business and logistical innovations for implementing mass, deep retrofits, we get instead $5,000 grants for households to go it alone," Torrie said. "This will create lost opportunities by triggering halfway measures and upgrades that fall short of what is required for an effective emergency response to climate change."
The fall economic statement is only part of the government's plan, with other measures either recently announced or due to be released by the end of December.
Environment Minister Jonathan Wilkinson will soon be releasing an updated climate plan, while Natural Resources Minister Seamus O'Regan will release federal strategies on hydrogen and small modular reactors.
On the hydrogen market, the federal government lags several competitors who have already announced major strategies to be suppliers of "green" hydrogen, an emissions-free source that is derived from renewable power. Australia is fast-tracking a $36-billion hydrogen plan, while Germany and France are moving full steam ahead with plans to develop industrial uses for the clean-burning fuel.
Corporate Knights has proposed that Ottawa spend $1 billion on research and development efforts over the next five years and another $8 billion over the decade to deploy hydrogen technology across the Canadian economy.
Corporate Knights also recommended that the feds provide $1.4 billion in funding over five years to help the industry commercialize lightweight carbon-fibre production as part of a "bitumen beyond combustion" strategy, but the November 30 statement lacked any sign of a plan for shifting Canadian oil and gas economics.
How does Fall Economic Statement stack up against Corporate Knights' Building Back Better Green Recovery Plan?

| | Federal Contribution 2021-2030 | | |
| --- | --- | --- | --- |
| | CK BBB | FES BBB | % shortfall |
| Building Back Better Homes | 14656 | 2600 | 82 |
| Building Back Better Workplaces | 6000 | 2000 | 67 |
| Greening the Grid | 6700 | 2500 | 63 |
| Building Back Better EV Uptake | 11949 | 1650 | 86 |
| Building Back Better Active Mobility | 2000 | – | – |
| Building Forest Natural Capital | 16000 | 3791 | 76 |
| Building Agriculture Natural Capital | 6000 | 98 | 98 |
| Natural Resources and EV Innovation | 40500 | – | – |
| Building Back Better Industry | 4800 | – | – |
| Sum for all programs (2021-30) | 108605 | 12639 | TBD |

Sources: Fall Economic Statement 2020

Building Back Better with a Bold Green Recovery Synthesis Report
Earlier this fall, the Build Back Better Together roundtable heard compelling evidence that economic recovery strategies that aim to return to business as usual will reignite the growth in greenhouse gas emissions, as happened after the 2008/09 recession.
If governments want to ensure that they can fund the green recovery to avert the worst impacts of the climate crisis, they'll have to collaborate with private-sector financial institutions, another roundtable session heard.
While there is growing focus on the importance of harnessing capital markets to address climate change, government action remains critical, said Sean Kidney, CEO of the London-based Climate Bonds Initiative, an international non-governmental organization working to mobilize debt markets for climate solutions.
"It is not possible for private markets to do this. That is a total fallacy," Kidney said. "This is not something that is going to be solved by the private market. This is something that is going to be solved by close collaboration between public and private markets."
In her fall statement, Freeland announced support for a Sustainable Finance Action Council, which will begin work in the new year with the goal of "developing a well-functioning sustainable finance market in Canada." Pension funds and other investors have been urging corporations in Canada to provide greater clarity around climate-change-related risks and opportunities, and experts are urging governments to show leadership.
However, Canada still lags some of its peers in terms of financial commitment to a green recovery that will fund the transition to a net-zero economy.
The government estimated that its $100-billion stimulus package would be equivalent to 3 to 4% per cent of gross domestic product, but it is unclear how that figure was calculated. Spread over three years, the spending would represent more like 2% of GDP, and only a portion of that will go to green projects.
Many of Canada's trading peers, including Germany, France and the EU, have already earmarked 30% or more of post-pandemic stimulus for climate action.
In partnering with Corporate Knights on the Building Back Better Together virtual roundtable series this fall, German Ambassador Sabine Sparwasser said her government is committed to a strategy that focuses stimulus spending on building back better.
"We're not going to get out of the current crisis just by giving people social benefits," Sparwasser said during one session. "We need to invest in new technology in order to address the other crisis that is out there and is even bigger: climate change."
Shawn McCarthy writes on sustainable finance and climate for Corporate Knights. He is also senior counsel for Sussex Strategy Group.
With the support of the Embassy of the Federal Republic of Germany in Canada.
Euro zone economy to gain momentum in 2021 on vaccine hopes: Reuters poll – The Journal Pioneer
By Richa Rebello and Manjul Paul
BENGALURU (Reuters) – The euro zone economy will contract again this quarter as renewed lockdown measures stifle activity, according to a Reuters poll which showed the bloc's GDP would then return to pre-crisis levels within two years.
Hopes for a coronavirus vaccine and additional support from the European Central Bank this month meant quarterly growth forecasts for next year were upgraded in the poll conducted from Nov. 26-Dec. 2.
"We now assume vaccines will be rolled out in the euro zone next year and most restrictions on economic activity are lifted during Q2. As a result, GDP increases by around 5% next year, regaining its pre-COVID level in early 2022," said Andrew Kenningham, chief Europe economist at Capital Economics.
"There are still big risks to this forecast. There could yet be a third wave of the virus, vaccine distribution could run into political or logistical problems, and governments could be slower to ease restrictions. On the other hand, the vaccines could be more effective or easier to roll out than anticipated".
Nearly 80% of respondents, or 36 of 45, who replied to an extra question said the economy would return to pre-crisis levels within two years.
That was a major turnaround in expectations from August when more than 70% of economists said it would take two or more years to reach that level.
The wider poll showed after contracting 2.6% this quarter, the economy would grow 1.1% in the first quarter of 2021 compared with 0.8% in the last poll. It was then predicted to expand 2.0% and 1.8% in Q2 and Q3, better than median predictions of 1.8%, 1.2% in November.
On an annual basis, the economy was expected to shrink 7.4% this year, and grow 5.0% in 2021 largely unchanged from the last poll. For 2022, the growth forecast was upgraded to 3.5% from 3.1%. (Graphic: Reuters Poll: Euro zone economy and ECB monetary policy outlook, https://fingfx.thomsonreuters.com/gfx/polling/xlbvgzaxjpq/Reuters%20Poll%20-%20ECB%20and%20EZ%20outlook%20-%20December%202020.PNG)
That pick-up in growth will not filter through to inflation which was expected to remain far below the European Central Bank's target of just below 2%, averaging 0.3% in 2020. 0.9% in 2021 and 1.3% in 2022.
Having remained in negative territory for the fourth straight month in November, inflation is likely to be a point of focus when the ECB's Governing Council meets next week.
The ECB has launched a strategic review after years of inflation undershooting its target and nearly 80% of respondents to an extra question, or 33 of 43 economists, said the ECB would change its inflation target.
While a smaller section of poll participants commented on what the target would be, most said the ECB would allow more leeway around 2% or adopt an average inflation targeting framework, similar to the Federal Reserve's recent policy.
"We are probably going to see something which looks a little bit similar to the Fed in the sense that this will be more of a symmetrical target. By changing to a symmetrical target, you build in a little more tolerance for higher inflation in the future," said Elwin de Groot, head of macro strategy at Rabobank.
"This cements the idea rates will stay very low in the coming years… but the past ten years suggest these very relaxed policy settings are not sufficient to really create more growth and inflation. What you really need is a combination of monetary and fiscal policy."
The ECB was expected to top up its pandemic-related bond purchases by 500 billion euros, at its Dec. 10 meeting, extending the programme by six months until December 2021, a Nov. 18 poll found. It was also predicted to change the terms of its targeted long-term loans to financial institutions.
(Reporting by Richa Rebello and Manjul Paul; Polling by Tushar Goenka and Hari Kishan; Editing by Jonathan Cable and Toby Chopra)