App Store Reportedly Earned Twice as Much as the Google Play Store in Q3 2020 – MacRumors
$29.3 billion was spent overall on Apple's App Store and Google's Play Store, with over 35.6 billion app installs, in the third quarter of 2020, according to a new report by Sensor Tower.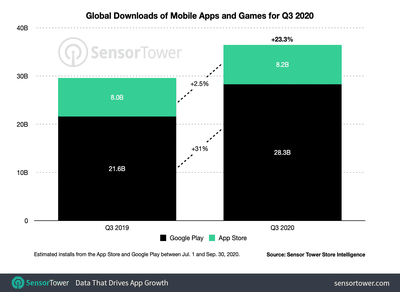 App stores have seen significant year-on-year growth, with customers spending 32 percent more than at the same time in 2019, with 23.3 percent more installs. This is a large growth compared to 24 percent increased spending and nine percent increased downloads last year.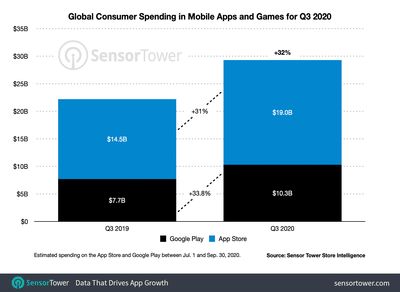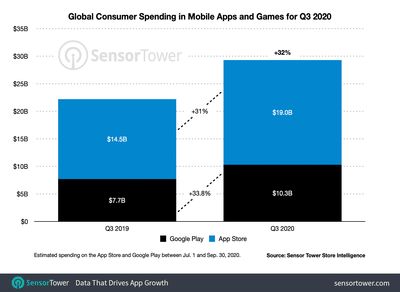 Spending on in-app purchases, subscriptions, and premium apps rose by 31 percent to $19 billion worldwide on Apple's ‌App Store‌ in the third quarter, up from $14.5 billion at the same time last year. This is almost twice the revenue earned by Google's Play Store, consistent with last year's split between the two platforms. However, of the 36.5 billion app installs, Apple's ‌App Store‌ only accounted for 8.2 billion, whereas the Google Play Store had over three times as many at 28.3 billion.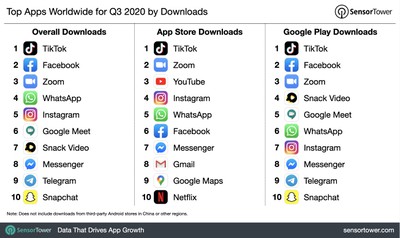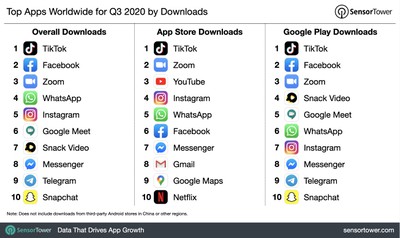 Short-form video social media app TikTok was the most downloaded app on both platforms, and it was also the highest-earning non-game app globally. This was its second consecutive quarter as the top-grossing non-game app. At this time last year, Tinder was the highest-grossing non-game app. As in previous quarters, Facebook's apps, including Instagram and WhatsApp, made up the majority of the top five non-game apps by global downloads, although none occupied the top spot.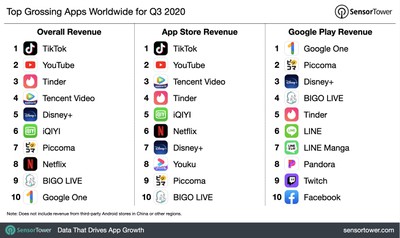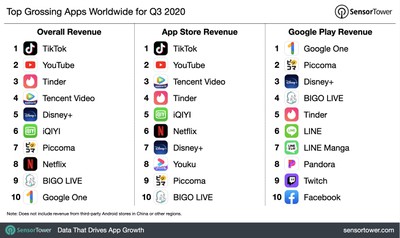 Tencent took the first and second positions among the five top-grossing games in the third quarter with "Honor of Kings" and "PUBG Mobile." Together, the top five highest-grossing games made more than $2.4 billion, which is 12 percent of all consumer spending on mobile games last quarter. Game installs decreased year on year for Apple's ‌App Store‌ from 2.4 billion to 2.3 billion, with the vast majority of downloads instead being from Google Play, which saw growth of 36.8 percent.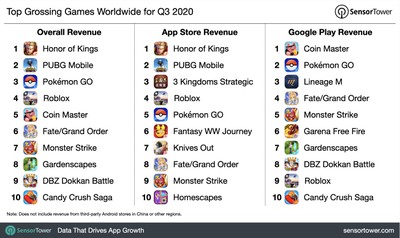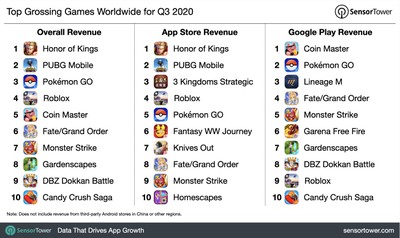 Sensor Tower analysts believe that going into the fourth quarter, new trends will emerge, as will new standout apps, partly driven by platform innovations such as home screen customization on iOS. A full report on global app adoption with specific analyses of top publishers and trends for the third quarter is expected soon.
Woman uses Uber Eats to order two packets of ketchup from McDonald's – MobileSyrup
This is what a hangover gone wrong looks like.
A Toronto woman attempted to order a plain McDonald's burger this past weekend and ended up getting rid of every part of the burger, including the bun and the meat.
The woman received only two packets of Heinz ketchup in a takeout container, which ended up costing the burger's price.
"My wife was hungover this morning and thought ordering a McDonald's hamburger would help. She's the type of person to modify a classic 'no pickles, no onions, etc' so she ended up ordering this," said the husband of the Toronto woman to BlogTO. "They literally sent us 2 packs of ketchup!"
The customer ordered the meal via Uber Eats, and the delivery service typically allows users to make substitutions. Personally, I've experienced restaurants calling me whenever there's an issue with a substitution or addition. Or, in some cases, they'll even cancel the order.
Whoever received this order at McDonald's and fulfilled it was likely having the time of their life.
Image credit: BlogTO
Source: BlogTO
iPhone 12 didn't get USB-C, and I'm starting to accept that it'll never happen – CNET
This story is part of Apple Event, our full coverage of the latest news from Apple headquarters.
I had high hopes that the iPhone 12 would move to a universal port that's already everywhere. Instead, it's traded one proprietary format for another. The iPhone 12 didn't get USB-C at Apple's event last week. (Here's how to preorder and buy all four Apple 12 models.) Instead, it kept Lightning and added a new MagSafe connector instead.
I'm starting to accept that USB-C on the iPhone will never happen.
Lightning has been around since the iPhone 5 in 2012, when it debuted as a replacement for the old 30-pin charger that had been around since the iPod. Lightning had its advantages, way back last decade: It was small, and enabled faster data transfer. But we've been living in the era of USB-C for years now. Lightning feels old by comparison.
Apple's new MagSafe charge connection looks like an improvement to standard wireless Qi charging, adding a magnetic handshake similar to the way the Apple Watch charges. Charging could be more reliable. But also, you'll need a whole new charge cable, and the MagSafe-compatible iPhone cases to go with them.
But why is there still a Lightning port? Why not be brave and move to USB-C, too?
Apple's iPad lineup has already started to shift to USB-C: the iPad Pro first, now the iPad Air this year. MacBooks have all moved to USB-C/Thunderbolt 3. I can charge an iPad Pro, MacBook Pro, Nintendo Switch, Google Stadia controller and Oculus Quest 2 all from common charge cables. And then Lightning for the rest.
Lightning is a weird legacy port now, and it's even weirder that Apple packs a USB-C-to-Lightning charging cable in the iPhone 12 box. It makes you find or buy a charging brick that is USB-C, and that you'll plug your Lightning cable into. It's like a tease. Seriously, why not just move fully to USB-C?
And now that Apple isn't including a charging brick in the box, and that USB-C tipped cable won't fit into your older iPhone and iPad power adapters, what are the odds that a lot of people will just end up buying a MagSafe charger and a new case with their iPhone 12?
At the moment, there's a power strip on my home office desk studded with all the bricks and cords I need to charge up all my random devices. I see a ton of wearable-specific chargers, but for everything else, it's nearly all USB-C. Everything, that is, except for the iPhone, and the few other Apple devices that still use Lightning.
I hate dongles. And I dislike proprietary charge cables even more. At least one could have been eliminated on future iPhones. Instead, I might be adding another.
I don't think I need to explain why USB-C should be on the iPhone. Because all other phones use it. Because half of Apple's devices do, more or less? And also, it would allow a more seamless flow of accessories and dongles for the iPhone and iPad Pro and other products I use. Sure, I can do many of those things with Lightning and a dongle: I could output to a TV with HDMI, or use a microSD card to read camera data. But even so, USB-C would be so much nicer.
Sure, you may have all those Lightning accessories you may need to replace. Who cares? Unlike the 30-pin to Lightning evolution, which involved two waves of proprietary ports and accessories, USB-C skips all that. And, again, here's the great news: Apple has already made the move. Or, made the move partway.
So, iPhone 12 didn't get USB-C. Now, I'm wondering if it ever arrives at all. But seriously: Apple, don't skip it. Don't go portless, and fuse the whole thing into one port-free slab like everyone is anticipating, using MagSafe as the only charge method. No, please. If the iPhone is an everyday computer, it would be extremely helpful for it to get an everyday port, too — one small and already well-used and accepted one.
The best time to buy an Apple iPhone? Right now

<
Yahoo Life is committed to finding you the best products at the best prices. We may receive a share from purchases made via links on this page. Pricing and availability are subject to change.
figure class="canvas-image Mx(a) canvas-atom My(24px) My(20px)–sm" data-type="image" data-reactid="13″>
If you're thinking about making the switch from Android to iPhone, or just need a smartphone upgrade, get ready: The best time to save money on an iPhone is…right now!
Apple recently announced the new iPhone 12 and iPhone 12 Pro with the latest and greatest bells and whistles—including 5G wireless—you can put inside a smartphone. While the newest models start at just $699 for the Apple iPhone 12 Mini, the tech giant also dropped the price on previous models.
In fact, you can pre-order the Apple iPhone 12 for $800 (or $33.33 per month for 24 months) at Verizon. Want something bigger? Pre-order the Apple iPhone 12 Pro for $1,000 (was $41.66 per month for 24 months) at Verizon too. Both phones come out on October 23.
(Verizon Communications, Inc. is the parent company of Verizon Wireless and Yahoo Life.)
Once a year, Apple usually discounts older generations of the iPhone to clear inventory for the new generation. This year is no different with price drops on last year's iPhone 11 ($599, was $699) and iPhone XR ($499, was $749). Not too shabby.
However, Apple quietly discontinued the 2019's iPhone 11 Pro and iPhone 11 Pro Max altogether.
Meanwhile, retailers like Amazon are always selling new and renewed models of older iPhones. At the moment, you can get the Apple iPhone SE (64GB) for as little as $350. When it was released earlier this year in April, it cost $399—that's a savings of $49.
So unless you just can't survive without the very latest model, check out the best iPhone deals below:
Here are the best deals on previous models of the Apple iPhone:
Apple iPhone 8 Plus (64GB)—renewed, $332 (was $385), amazon.com
Apple iPhone 8 Plus (64GB)—renewed, $330 (was $386), amazon.com
Apple iPhone 8 Plus (64GB)—renewed, $320 (was $339), amazon.com
Apple iPhone 8 Plus (64GB)—renewed, $332 (was $385), amazon.com
Apple iPhone 7 Plus (128GB)—renewed, $290 (was $350), amazon.com
Apple iPhone 7 Plus (128GB)—renewed, $3090 (was $340), amazon.com
Apple iPhone 7 Plus (128GB)—renewed, $299 (was $315), amazon.com
Apple iPhone 7 (128GB)—renewed, $211 (was $229), amazon.com
Apple iPhone 7 (128GB)—renewed, $189 (was $400), amazon.com
Apple iPhone SE (64GB)—renewed, $350 (was $370), amazon.com
Apple iPhone 11 Pro Max (256GB) —renewed, $950 (was $1,260), amazon.com
Apple iPhone 11 (128GB)—renewed, $630 (was $850), amazon.com
Apple iPhone XS Max (64GB)—renewed, $530 (was $564), amazon.com
Apple iPhone XS (64GB)—renewed, $449 (was $484), amazon.com
Apple iPhone XS (64GB)—renewed, $440 (was $465), amazon.com
Apple iPhone XS (64GB)—Simple Mobile (pre-paid), $399 (was $600), amazon.com
Apple iPhone XR (64GB)—renewed, $384 (was $405), amazon.com
Apple iPhone X (64GB)—Simple Mobile (pre-paid), $502 (was $528), amazon.com
Apple iPhone X (64GB)—renewed, $380 (was $404), amazon.com
The reviews quoted above reflect the most recent versions at the time of publication.
Read More from Yahoo Life:
Follow us on Instagram, Facebook, Twitter and Pinterest for nonstop inspiration delivered fresh to your feed, every day.