Apple, Amazon and Google's smart home alliance has one fatal flaw – Wired.co.uk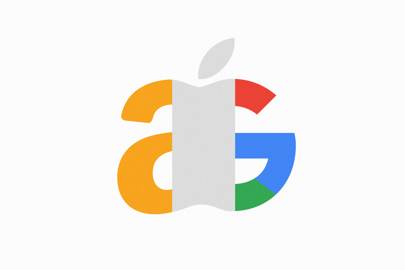 The smart home is a mess, and now the biggest names in the business are joining forces to tidy it up. Apple, Amazon, Google, and the Zigbee Alliance have announced they're forming what can best be described as The Smart Home Avengers, with an endgame of having all your smart home gadgets play together. After years of the three big tech companies laying out competing visions for their smart home ecosystems, though, this new team-up is an admission; Amazon, Google and Apple have each failed to make this work on their own terms.
The coalition says it will build a new connectivity standard based on Internet Protocol (IP) to ensure different devices from different manufacturers can talk to one another. As the group put it in its announcement: "smart home devices should be secure, reliable, and seamless to use." Project Connected Home over IP (apparently the best name these titans of industry could come up with) at least sets out its goals plainly: you should be able to buy any smart home gadget safe in the knowledge it will talk to every other device in your home, securely. The fact it's based on IP means you should, in theory, be able to connect everything to the internet, rather than going through a hub.
This alliance may be critical to the future of the smart home, and proof that no single company has managed to dominate this space. We've seen these types of unions form and fall by the wayside, but the fact that Apple, Google and Amazon are all sat at the same table provides some hope – and an acknowledgement that everyone has failed to own this space.
Apple has generally kept its distance from the other two companies, choosing to walk a more privacy-conscious path with HomeKit. But this has been a double-edged sword, as stricter security demands on device partners have stymied the levels of growth enjoyed by Amazon and Google. For example, Apple demands that some processing takes place locally on an iPhone running its Home app or a smart speaker-hub like the HomePod, limiting how much gets shared to the cloud.
The announcement of the Working Group failed to address these questions. For example, will there still be different requirements for hardware partners when working with Apple HomeKit? There's clearly a tension between the way Apple operates and the way Amazon and Google do, and it will be interesting to see if the Project Connected Home over IP group is able to reconcile these differences.
Amazon's Alexa and Google Assistant use a cloud-to-cloud protocol, while Apple demands much of HomeKit's communications to take place locally and this decision has already had major repercussions for both the competency (of, for instance, Siri) and the privacy complications that come from placing voice assistant-accessing microphones in people's homes.
It's likely that this new standard, however it shakes out, will need to satisfy some of Apple's existing HomeKit requirements, which is good news for all smart home users in the long term. But it's also worth noting that Apple could benefit the most from joining this alliance, as despite having huge reach with iOS, it currently trails the other two in the number of devices on offer. It's also yet to launch its own budget smart speaker.
Apple has been reticent to open up its smart home in the same way as rivals. Amazon and Google have built businesses on collecting user data, and see the smart home as an extension of how they learn about our behaviour and spending habits. Apple is less interested in this and has instead prided itself on putting privacy first at the expense of aggressive growth.
Take HomeKit Secure Video, its new way to encrypt all videos on a HomeKit hub and secure them in the cloud – it's one way for Apple to take steps forward while keeping its focus on privacy. How will Project Connected Home over IP affect initiatives like this? These are all questions yet to be answered and while current Apple HomeKit users won't be affected, even the fact of Apple's involvement signals that the Amazon-Google approach may already have won.
Zigbee Alliance also brings A-lister board members including Ikea, Samsung, and Signify, creator of Philips Hue. Seeing Zigbee's name on the list is especially encouraging: not only does it have major names attached, it has a huge vested interest in the future of smart home interoperability – more so, in fact, than Apple, Amazon or Google.
But more names means more pieces to try and fit together. Apple has its HomeKit platform; Amazon has Alexa; and Google says it's bringing Thread, Wave and the Google Assistant to the party. (No mention of Brillo – RIP). Meanwhile, the Zigbee protocol, which in the latest version creates an encrypted mesh network operating at 2.4GHz, is already used in devices from Philips Hue, and even some Amazon Echo speakers.
In a press release, Apple said the planned protocol will "complement existing technologies," suggesting the plan isn't to eliminate any of the above mentioned standards but find a new common ground between them.
The group will first focus on physical safety devices such as smart locks, connected smoke alarms, smart plugs, security systems and heating/air conditioning devices. Yes, it probably means you'll need to buy new devices that take advantage of the protocol, but don't expect those to start hitting the market until 2021 at the earliest. While it's clear the next 18 months will involve considerable compromises, it's clear that this will soon be close to mandatory for anyone looking to work in the smart home space.
"I say there is little risk for the three ecosystems because this interoperability will not necessarily impact which ecosystem consumers will pick," says Carolina Milanesi, analyst at Creative Strategies. "The opportunity in the smart home is still huge and lowering the barrier of entry for mass market consumers starts with better interoperability, consistency of experience when it comes to set up, updates and so on and of course security. We now need to see if the promise of having something in place next year is fulfilled."
More great stories from WIRED
? SUVs are worse for the planet than anyone realised
⏲️ Science says we should work shorter hours in winter
? The illegal trade of Siberian mammoth tusks revealed
? I ditched Google for DuckDuckGo. Here's why you should too
? How to use psychology to get people to answer your emails
India- Realme X7 and X7 Pro teased on Flipkart, launch imminent | NewsBytes – MENAFN.COM
(MENAFN – NewsBytes) Realme X7 and X7 Pro are expected to be launched in India on February 4. In the latest development, Flipkart has activated a microsite for the upcoming handsets, confirming that the Realme 7 series will be available through the e-commerce platform.
As for the highlights, the phones come with a 5G-enabled MediaTek Dimensity chipset, an AMOLED screen, quad rear cameras, and 65W fast-charging technology.
In this article Realme X7 and X7 Pro: At a glance For the shutterbugs and selfie lovers Under the hood Availability and pricing
The Realme X7 and X7 Pro sport a punch-hole design with a slim bottom-bezel, an integrated fingerprint sensor, and a quad rear camera setup.
While the X7 bears a 6.4-inch Full-HD+ (1080×2400 pixels) AMOLED screen, the X7 Pro comes with a 6.55-inch Full-HD+ (1080×2400 pixels) AMOLED screen with an aspect ratio of 20:9 and a 120Hz refresh rate.
Information For the shutterbugs and selfie lovers
The X7 and X7 Pro pack a quad rear camera setup comprising a 64MP (f/1.8) primary sensor, an 8MP (f/2.3) wide-angle lens, a 2MP (f/2.4) macro sensor, and a 2MP (f/2.4) depth sensor. On the front, they sport a single 32MP (f/2.5) selfie shooter.
The Realme X7 is powered by a MediaTek Dimensity 800U processor whereas the Realme X7 Pro is backed by a MediaTek Dimensity 1000+ chipset. They offer up to 8GB of RAM and up to 256GB of storage.
The standard X7 packs a 4,300mAh battery while the X7 Pro model houses a 4,500mAh battery. Both the handsets support 65W fast-charging technology via the Type-C port.
Key details Availability and pricing
At present, all we know is that the Realme X7 series will be available for purchase through Flipkart and is likely to be announced on February 4.
As for the pocket-pinch, the X7 model is expected to carry a price-tag of around Rs. 20,000 while the X7 Pro should cost around Rs. 25,000.
MENAFN25012021000165011035ID1101487103
Legal Disclaimer: MENAFN provides the information "as is" without warranty of any kind. We do not accept any responsibility or liability for the accuracy, content, images, videos, licenses, completeness, legality, or reliability of the information contained in this article. If you have any complaints or copyright issues related to this article, kindly contact the provider above.
Redmi Note 10 series likely to come without a charger in the retail box – gizmochina
Samsung started experimenting with the exclusion of accessories from the retail box of its phones started with the Galaxy Note 20 last year as it didn't offer earphones but shipped them for free to those who requested.
The strategy seems to be gaining more traction after Apple excluded the charger a few months back from all its iPhone devices. Xiaomi followed the suit with its Mi 11, but unlike Apple, it offers an option to customers to have a charger in the box.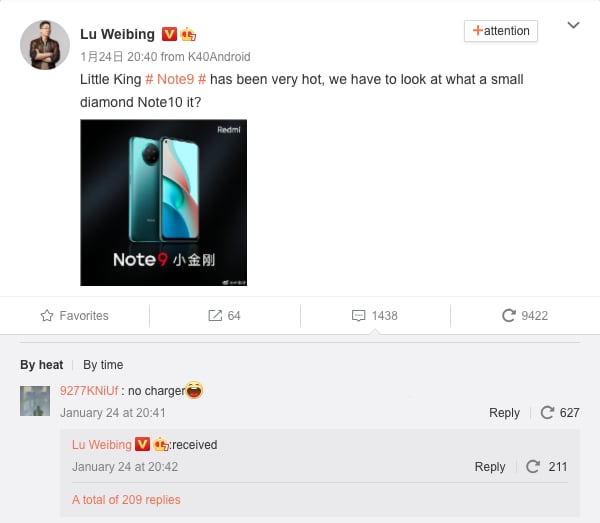 Now, Xiaomi's sub-brand is expected to do the same with the upcoming Redmi K40 series smartphones, if the newly released images are to be believed. It seems that another device from the company is also expected to remove the charger from the box — Redmi Note 10.
Lu Weibing, General Manager of the Redmi brand recently posted on Weibo, asking for suggestions for the upcoming Redmi Note 10 series smartphones. In the comments, some users suggested removing the charger from the box, and to one of those comments, Lu Weibing responded by saying "message received," which indicates that the charger won't be included in the retail box.
Smartphone manufacturers are justifying removing the charger from the box by citing the move as "environment friendly" and claiming that most users already have a charger at home. But they ignore the fact that the charger users might have at home won't be compatible with the latest fast charging technology and to get the advantage of that feature, they will have to purchase a new one.
While the Weibo post may hint that the Redmi Note 10 lineup could be launched soon, we don't expect the official launch at least for a couple of months as the company is currently gearing up to launch the Redmi K40 flagship smartphone by the end of next month, after the Spring Festival in China.
RELATED:
[embedded content]
ALWAYS BE THE FIRST TO KNOW – FOLLOW US!
Speedrunner Completes 'Hitman 3' Dubai Level in Just Eight Seconds – HYPEBEAST
Hitman 3 speedrunners have managed to complete one of the game's new levels in just eight seconds.
The game officially released just five days ago, but speedrunners have already managed to pull off some pretty impressive feats, especially on completing the Dubai-based level "On Top Of The World." So far, Swedish player Goron sits at the top with a time of just eight seconds, while three other players tie for second place with a nine-second completion time. The incredible times involved players running up the steps of the lobby as soon as the level starts, where you can shoot both your targets right after they spawn, before racing back to the level's exit. While these record times are for the "Any %" category, even players in the "Silent Assassin" category managed to complete the level in just 16 seconds.
Hitman 3 is now available for the PlayStation 5, PlayStation 4, Xbox Series X/S, Xbox One, Google Stadia and PC.
Elsewhere in gaming, Microsoft has reversed its latest controversial Xbox Live price increases.