Apple Maps to Get Native Ratings System and Photo Uploads for Places of Interest – Mac Rumors
The latest iOS 14 beta 6 includes a new way for users to review places of interest and upload photos to Apple Maps that doesn't rely on third party integrations.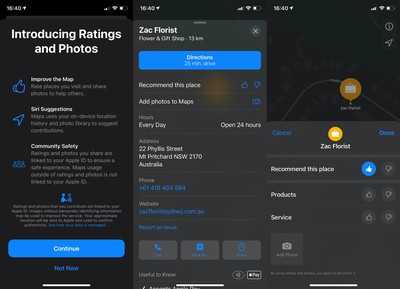 Images via Twitter user BeauGiles
First spotted by Twitter user BeauGiles and reported by 9to5Mac, the new user interface for places of interest in Maps no longer pulls reviews and photos from the likes of Foursquare, TripAdvisor, and Yelp. Instead, Apple is replacing these third-party services with its own native rating system.
Going forward, users who tap a marker for a place on the map that they have physically visited will be offered the ability to recommend a place using a thumbs up/thumbs down rating that can also distinguish between relevant categories, such as ratings for the quality of products and services in a shop, for example.
Meanwhile, a new "Add Photos to Maps" option in place cards also lets users upload pictures directly to Apple's Maps servers. As outlined in Apple's legal terms for the new feature, the option only appears to users older than 13 years of age and photos are reviewed by humans before appearing in ‌Apple Maps‌.
Currently, the rating system is only visible on some places of interest in the latest ‌iOS 14‌ beta, as Apple is clearly still in the initial stages of implementing the feature. In future, however, users shouldn't be redirected to third-party apps in the App Store whenever they want to submit a review or photo of a place of interest in ‌Apple Maps‌.
Hands-on with the top 10 iOS 14 features for iPhone [Video] – 9to5Mac
iOS 14 has been available for nearly a week, and as you've probably figured out by now, it's jam-packed with tons of new features. While there are literally hundreds of new user-facing changes in iOS 14, a few of them stand out above the rest. In this hands-on video walkthrough I discuss my top 10 iOS 14 features for iPhone.
Compact phone interface
Incoming phone call interruptions have been thorns in the sides of iPhone users since the beginning of the iPhone. Up until now, whenever receiving a phone call, the full screen phone interface would abruptly interrupt whatever you were doing.
A problem solved by innovative jailbreakers years ago, iOS 14 finally brings a banner-style incoming call notification to the mainstream. Enabled by default, users have the option of switching between the banner and full screen style via Settings → Phone, but no one of sound mind would consider switching back.
Video: the top 10 iOS 14 features for iPhone
Special thanks to Tenorshare for sponsoring 9to5mac: Get 70% off Tenorshare apps for a limited time
Subscribe to 9to5mac on YouTube for more videos
Choose default browser
The ability to choose a default browser in iOS marks yet another "finally" moment for iPhone users. Again, this is a problem once solved by jailbreak tweaks many years ago, but users who prefer browsers like Chrome and Duck Duck Go will be happy to find such a feature now officially implemented into iOS.
You'll first need to install a browser that's been updated for iOS 14 and then venture into the app's preferences in the Settings app to establish it as the default browser. Unfortunately, there's still a bug that causes iOS to revert back to Safari after a reboot, but this will hopefully be addressed in future updates.
Picture in Picture
First available on the iPad a few years back, Picture in Picture now makes its way to the iPhone. Not only does PiP work for videos, but it also works for FaceTime video calls as well. This welcomed addition makes it possible for users to multitask while video-chatting with friends.
Privacy enhancements
iOS 14 is filled with all sorts of great consumer-friendly privacy enhancements, and a few of them stand out above the rest. The first, and most noteworthy change, is the ability to provide apps with an approximate location instead of a precise location. This is great for apps that just need to know your general area in order to do their jobs.
Other new features include the ability to give apps access to specific photos instead of your entire photo library. There's also a handy notification that alerts you when apps access the pasteboard, and a new privacy report in Safari to monitor website trackers.
Home screen enhancements
A new Home screen enhancement in iOS 14 allows users to outright hide pages on the Home screen, effectively hiding all of the apps on those pages.
App Library
The Home screen enhancements work in concert with iOS 14's new App Library. The App Library is essentially a container for all of the apps installed on your phone, even if those apps are not displayed on Home screen pages.
When removing an app from the Home screen, you now have the option to fully delete the app, or keep the app available in the App Library. And if you go to Settings → Home screen, you'll find a preference for bypassing the Home screen on new app installs.
The App Library also works to automatically organize all of your apps into categories, and you can search your entire app library or view all of the apps installed on your phone via an alphabetical list.
Music app enhancements
The iOS 14 Music app's standout feature is the presence of updated backgrounds on the now playing interface. When switching songs, the background quickly transitions to a color that complements the album artwork, as you can see in the screenshot above.
Additional Music app enhancements include remembering where you left off when restarting the app, and a new autoplay feature that will automatically add songs to the up next queue based off currently-playing music.
App Clips
App Clips are small snippets of your favorite apps that are 10MB or less. App Clips are perfect for when you need to quickly obtain functionality from an app that you don't currently have installed. For example, if you're at a coffee shop, you can use NFC or a Siri suggestion to instantly install the App Clip in order to collect rewards without holding up the line to wait on a full app download.
Emoji search
I'm a huge fan of emoji, and I'm always looking for just the right one to express my thoughts via text messages. So it's no surprise that I prize the new ability to quickly search for specific (and related) emoji characters directly from the iOS keyboard.
Widgets
iOS has featured widgets for years, but iOS 14 marks the first time that they're displayed on the Home screen. Widgets come in multiple sizes and are available for both first-party and third-party apps. More than one widget can be placed on the same Home screen page, and multiple widgets of the same size can be stacked to save space.
Although widgets aren't as interactive as they were previously, the fact that they are now present on the Home screen makes them significantly more useful thanks to their glanceable nature.
9to5mac's take
These features are really just the tip of the iceberg when it comes to iOS 14. This release, in my opinion, is by far the deepest iOS release of the iPhone's existence. iOS 14 solves numerous pain points that have hampered iOS users for years, and fundamentally changes the way that the Home screen looks and feels for the first time ever.
What's your favorite iOS 14 feature? Sound off down below in the comments with your thoughts.
FTC: We use income earning auto affiliate links. More.
Check out 9to5Mac on YouTube for more Apple news:
[embedded content]
It looks like a bunch of soon-to-be-disappointed people accidentally bought Xbox One X's today – The Verge
Today, Microsoft launched pre-orders for its upcoming next generation console, the Xbox One X. Sorry, I meant the Xbox Series X. Can you blame me? There's only one word of difference between the two names, and it's the one in the middle. There are also three X's.
I might not be the only one who gets them confused, though. (Microsoft itself has, but I digress.) Despite today being pre-order day for the Series X (reminder: the new one), the One X (the old one) had a banner day on Amazon as well, at one point up 747 percent on Amazon's "Movers & Shakers" sales charts.
Note that Amazon's charts only cover the past hour — it wasn't #4 all day — and that 747 percent figure is how much the Xbox One X climbed up the charts, not an increase in unit sales.
It's not hard to imagine how people could end up buying the wrong console. If you search "xbox series x" on Amazon, the top two search results are for the Series X and the One X, and the images of the two of them can be hard to distinguish from one another. Both feature a large black box with an Xbox controller leaning against it on the right side, all on a black background. In the rush to grab a valuable pre-order, I could see how someone could mistake the two offerings.
For the people who did accidentally buy an Xbox One X (a refresher: that's the old one), hopefully they realize the error of their ways, are able to return their console to Amazon for a full refund, and eventually have the chance to buy the next-gen console they were actually looking for. It's 2020, stuff happens, and it's not your fault that Microsoft picked a confusing naming scheme for its next-generation consoles.
And besides, the Xbox One X's big day might have an alternate explanation that would be sweet justice for those who felt that Xbox Series X and PlayStation 5 preorders were snapped up impossibly quickly: perhaps all of these Xbox One X consoles were bought by misinformed bots.
If that's the case, enjoy your discontinued console, bots.
Update September 22nd, 8:19PM ET: Clarified that the 747 percent figure represents the Xbox One X's rise up Amazon's sales charts, not growth in unit sales.
Bethesda will run "semi-independently" following Microsoft buyout, says Xbox boss Phil Spencer – GamesRadar+
Following Microsoft's acquisition of ZeniMax Media, parent company of Bethesda, Xbox boss Phil Spencer has reassured fans that the studio will run "semi-independently."
Speaking to CNET, Spencer emphasized the importance of preserving a studio's culture so that it can continue making the kind of games its fanbase loves. "It is about the culture of those teams," Spencer said. "They're not about becoming us."
While it sounds like the internal structure at Bethesda will remain largely unchanged, Microsoft buying Bethesda will have massive ramifications on the way the studio's next-gen games are distributed. Alongside the historic news, Microsoft revealed Monday that Bethesda's future titles will hit Game Pass the day they're released.
"With the addition of Bethesda, Microsoft will grow from 15 to 23 creative studio teams and will be adding Bethesda's iconic franchises to Xbox Game Pass," Microsoft said in the announcement. "This includes Microsoft's intent to bring Bethesda's future games into Xbox Game Pass the same day they launch on Xbox or PC, like Starfield, the highly anticipated, new space epic currently in development by Bethesda Game Studios."
This most likely means that Elder Scrolls 6 will also be available on Game Pass as soon as it comes out. Whether it'll be exclusive to Microsoft platforms is unknown, but the company has said future Bethesda games will come to other platforms "on a case by case basis." Likewise, Deathloop and Ghostwire: Tokyo – developed by studios now owned by Microsoft – will still be timed PS5 exclusives after the buyout.
Here's what the acquisition could mean for games like Elder Scrolls 6, Starfield, and Deathloop.