Apple reportedly working on satellite technology for its mobile devices – TechSpot
In brief: Apple is said to have its eyes set on the skies with a new project to build satellite technology that could provide wireless connectivity with iPhones, as well as better maps and location tracking. The company has already put together a small team to direct the new effort, which appears to be high on the priority list.
When it's not pouring $250 million into making better glass for iPhone, Apple is busy exploring more daring ideas in its labs. According to a report from Bloomberg, the company is reportedly working on satellite tech to beam down internet service to its mobile devices, possibly as a way to reduce its reliance on wireless carriers and improve mapping and geolocation.
To that end, Apple has been secretly building a dedicated team to work on the new project, which is said to be in the very early stages of planning. The staffing effort has already brought in a dozen aerospace, satellite, and antenna design engineers, and Apple CEO Tim Cook is said to have shown a keen interest in the new development, coinciding with a noticeable 14 percent increase in R&D spending this year.
Michael Trela and John Fenwick will lead the team, both former heads of Google's satellite and spacecraft engineering operations, until 2017. Apple also added Matt Ettus, who directed a National Instruments-owned company that specializes in wireless networking hardware into the mix.
The project isn't a sure deal at this point and could be scrapped at any time in the future. However, there are reasons to believe Apple isn't entering a crowded satellite market to try and battle the leading contenders. SpaceX is close to rolling out its Starlink broadband satellites, and Amazon is also scrambling to get approvals for its Kuiper System alternative.
Both companies plan a staggered rollout for swarms of thousands of satellites in orbit, which has astronomers a bit concerned about the implications for space visibility. This means that Apple may as well chose to tap into these systems and develop just the missing links to make it work well with its mobile devices.
TechCrunch notes Apple's idea has been done before by Lynk (formerly Ubiquitilink), who developed something it describes as "the first cell tower in space." Specifically, it made components for a prototype satellite and assembled them on the International Space Station. The first successful test was performed by attaching it to the nose of the Cygnus resupply spacecraft earlier this year.
The technology is perfect. It has many limitations that will make it much more effective as a fallback solution or as a way to ensure coverage in areas not well-covered by ground cellular infrastructure. Think of it as more of a global roaming network that wireless carriers will tap into and offer it as an option in their mobile plans.
One such limitation is that geosynchronous satellites can't be used. Low-orbit (under 310 miles) satellites are required, meaning there has to be thousands of them to have "no signal for 55 minutes, then signal for five." Lower-frequency signals are used since they travel longer distances with lower distortion – but that also means lower bandwidth.
For example, Lynk was only able to demonstrate 2G communication, and the most that can be achieved on 4G right now is 180 kbps. In any case, NASA engineers were surprised to see it work at all, but this proves Apple's dream to establish satellite connections on standard phones is indeed possible.
The space industry is currently valued at $350 billion. It is expected to grow to $1.1 trillion by 2040, mostly driven by companies like SpaceX, Amazon, and even Facebook, who wants to provide internet in rural areas using a swarm of low-orbit satellites that will operate as close as 100 miles off the ground.
Redmi Note 10 series likely to come without a charger in the retail box – gizmochina
Samsung started experimenting with the exclusion of accessories from the retail box of its phones started with the Galaxy Note 20 last year as it didn't offer earphones but shipped them for free to those who requested.
The strategy seems to be gaining more traction after Apple excluded the charger a few months back from all its iPhone devices. Xiaomi followed the suit with its Mi 11, but unlike Apple, it offers an option to customers to have a charger in the box.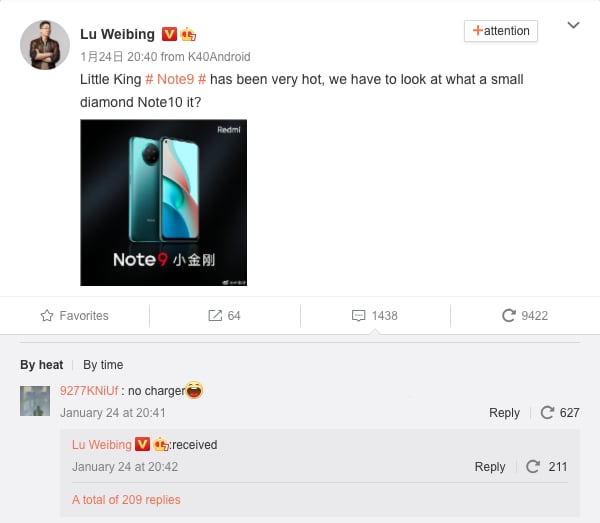 Now, Xiaomi's sub-brand is expected to do the same with the upcoming Redmi K40 series smartphones, if the newly released images are to be believed. It seems that another device from the company is also expected to remove the charger from the box — Redmi Note 10.
Lu Weibing, General Manager of the Redmi brand recently posted on Weibo, asking for suggestions for the upcoming Redmi Note 10 series smartphones. In the comments, some users suggested removing the charger from the box, and to one of those comments, Lu Weibing responded by saying "message received," which indicates that the charger won't be included in the retail box.
Smartphone manufacturers are justifying removing the charger from the box by citing the move as "environment friendly" and claiming that most users already have a charger at home. But they ignore the fact that the charger users might have at home won't be compatible with the latest fast charging technology and to get the advantage of that feature, they will have to purchase a new one.
While the Weibo post may hint that the Redmi Note 10 lineup could be launched soon, we don't expect the official launch at least for a couple of months as the company is currently gearing up to launch the Redmi K40 flagship smartphone by the end of next month, after the Spring Festival in China.
RELATED:
[embedded content]
ALWAYS BE THE FIRST TO KNOW – FOLLOW US!
Speedrunner Completes 'Hitman 3' Dubai Level in Just Eight Seconds – HYPEBEAST
Hitman 3 speedrunners have managed to complete one of the game's new levels in just eight seconds.
The game officially released just five days ago, but speedrunners have already managed to pull off some pretty impressive feats, especially on completing the Dubai-based level "On Top Of The World." So far, Swedish player Goron sits at the top with a time of just eight seconds, while three other players tie for second place with a nine-second completion time. The incredible times involved players running up the steps of the lobby as soon as the level starts, where you can shoot both your targets right after they spawn, before racing back to the level's exit. While these record times are for the "Any %" category, even players in the "Silent Assassin" category managed to complete the level in just 16 seconds.
Hitman 3 is now available for the PlayStation 5, PlayStation 4, Xbox Series X/S, Xbox One, Google Stadia and PC.
Elsewhere in gaming, Microsoft has reversed its latest controversial Xbox Live price increases.
Netflix Update to Deliver Better Audio on Android With xHE-AAC Codec – Gadgets 360
Netflix is rolling out a new update that promises better audio quality on Android devices, including a fix for sudden volume changes, better sound in noisy environments, and better performance on slower mobile data connections. The company has implemented the Extended HE-AAC with MPEG-D DRC (xHE-AAC) audio codec on its streaming platform for Android mobile devices running Android 9 Pie and newer software. Although the technical aspects behind the change are quite complicated, the simplest way to explain the change is that Netflix is now promising "studio-quality audio" to go with its already excellent video content on Android devices.
Netflix has listed all of the changes brought about by the xHE-AAC audio codec in detail in a blog post. A key change that will make a difference to users across the world but particularly in India is the variable bitrate for audio streaming. This means that the codec will be able to adapt to the quality of the Internet connection; slower mobile data connections will see the stream scale back a bit to adjust, while maintaining some level of sound quality.
Additionally, all of this could mean that you'll be able to watch Netflix movies and TV shows using your smartphone's speakers — that is, without headphones — and still be able to hear dialogues and other sounds intelligibly even in noisy environments. The Netflix update will also offer a solution for the issue of sudden volume changes that often have users rushing to grab either the volume button or headphones to avoid disturbing others in the household.
The new upgrade is the latest in Netflix's efforts to offer high-quality video and audio on its streaming platform. While some of its picture technologies such as Dolby Vision and Dolby Atmos require supporting hardware and fast Internet connections to work, small tweaks such as xHE-AAC will enable improvements even at the most basic level, especially for users who rely on slower mobile data connections as is common in India.
---
Can Netflix force Bollywood to reinvent itself? We discussed this on Orbital, our weekly technology podcast, which you can subscribe to via Apple Podcasts or RSS, download the episode, or just hit the play button below.
For the latest tech news and reviews, follow Gadgets 360 on Twitter, Facebook, and Google News. For the latest videos on gadgets and tech, subscribe to our YouTube channel.
Related Stories