Apple's new iPhone SE: Impressions while in isolation | Venture – Daily Hive
Device provided by Apple Canada.
Apple's newest addition to the iPhone SE lineup of secondary devices is a masked avenger for everyday smartphone consumers. While many simpler phones in the past take what the flagship devices offer and completely back down the specs, the iPhone SE 2020 comes to the table with the gloriously fast A13 Bionic chipset that is found in the top-of-the-line Apple phones.
Touted as "the fastest chip in any smartphone," the A13 Bionic plays right into Apple's bread and butter: the speed of their mobile devices. A more streamlined operating system, and less to fuss about with, has lent to their success over the decades. This A13 Bionic chip spoils users, giving them lightning-fast responsiveness, and nearly instantaneous app launching. It's enough to make you second guess using other devices. Better yet, this is a "budget" phone, primarily aimed at pleasing non-technical folks.
[embedded content]
So you've been given the keys to a street racing supercar, but all you ever drive for is a daily commute, and a grocery trip or two. What's the point?
It's easy to look at the guts of this device and say, "This market doesn't need any of this," but you'd be denying the simple truth that with ultimate processing comes an easier flow. Sure, the iPhone SE market may do a whole lot more day-to-day things on their mobile devices when compared to tech-heads or photographers and the like, but all of those things are made far easier when you've got nothing to internally slow down the process.
The only problem with all of the power in the iPhone SE 2020 is that there's not the normal mountain of tools to use it. Sometimes it feels like I've got that spectacular supercar engine in a family-inspired minivan, and just puttering around on autopilot waiting for something brilliant to happen.
Apple has brought back the beloved original iPhone SE design and tossed out the full-front edge-to-edge touch display used in their mainline devices. It may seem like a step in the opposite direction of design trends for modern phones, but there is a lot of adoration out there for the layout and aesthetics of the iPhone SE.
The boxed feel on the front of the device can oftentimes make you certain you're holding a phone made five or six years ago. That is, until you launch a premiere Apple Arcade game and you're playing a smooth, visually stunning, and high-performance video game without the phone even blinking.
As a tech aficionado and a critic, our current global climate poses some interesting hurdles when it comes to taking a piece of technology, as mobile as the iPhone SE, out for a test-drive. However, being that it's a smartphone designed for the every-person, there are plenty of things from dusk until dawn that are vastly improved by this phone residing within arms reach.
Capturing and connecting
We've been staring a lot more lately. Whether it be loved ones, roommates, insects, or pets, people all over the world are spending a lot more time within the vicinity of those living beings around their house.
While the iPhone SE 2020 doesn't have the secondary Ultra-Wide lens from the iPhone 11, or the Tele-photo (third) lens of the 11 Pro, the SE has the very same 12MP Wide-Angle base camera found in both of those previously mentioned premium devices.
Pound-for-pound, the camera is decent. It's a tad soft in places, and the optical zoom can get rough without the perfect lighting, but for an everyday phone to have an above-par single lens is extraordinary. Especially when it comes to the slow-motion video capture, and built-in image stabilization for filming.
Regardless of the power and quality of the camera, it's the software — like the built-in stabilization — that revolutionizes the capturing of moments. With the latest operating system update, the iPhone camera application makes going from a locked phone to taking pictures a task that spans a matter of seconds. Without even unlocking the device, you can swipe left to pull up the camera.
Better yet, from the standstill of the basic camera function (single photo mode), you can tap and drag the capture button to the left for burst photo captures, or drag it to the right to instantly start recording a video. It's these tools that help keep those magical moments that may happen around your home from going unseen.
Is your dog making a funny face? Burst photo capture and select from all the gathered frames the perfect one to express your mood. About to take your lawnmower off a sweet (but relatively safe) jump? Start recording a video within seconds.
Swiss Army Phone
Playing the same game as many smartphones available today, the easiest way to describe the usefulness of an iPhone is that you can pretty much use them to improve everyday things. Whether it be setting timers for laundry, ordering essentials from the internet, or having an in-kitchen assistant, the iPhone SE is one of the nicest and most affordable brand-name smartphones on the market.
Throughout my day, I use the iPhone SE for many things. However, nothing beats the portable screen-and-Siri combo in the kitchen. Without having to rinse your hands or touch the phone at all, Apple's built-in voice assistant can find you the right answers to your kitchen questions, bring up ingredients, or best of all convert measurements.
Being the every-person's version of a brand new iPhone, the SE 2020 model comes in swinging as an essential partner in your life.
Without the frills and premiere features of the more expensive models, this phone has the potential to be far more widely accepted, adopted, and usable.
—
Notable perks beyond the standard array of applications and integration are things like a free year of Apple TV+ subscription with the activation of a new phone, and thanks to the internal guts of the iPhone SE 2020, users can also run Apple Arcade games (like A Fold Apart) without any issue whatsoever.
[embedded content]
I never thought that a pared-down device would be something that could be easily pitched to people. We techies really love the latest and greatest. However, my bias truly shone while having hands-on time with the iPhone SE 2020, and it's vastly realized integration into my day-to-day life.
At times, it feels like the "selling features" of the iPhone SE 2020 are the direct result of laziness — taking extra parts from their flagship devices and slapping them in this — but it all works out for the better. Instead of getting a roughed-up and dumbed-down version of a modern iPhone, the new iPhone SE simply provides a more condensed Apple product and experience.
This, in its theory, makes it the perfect phone for everyone. Perhaps Apple should front-and-center the iPhone SE lineup and pitch the more premium products to a more niche audience.
Redmi 10X Series officially unveiled: first Dimensity 820 SoC phone with up to 33W fast charge – Gizchina.com
Chinese manufacturing giant, Xiaomi, recently released its latest 5G smartphone series, Redmi 10X series. This series has the regular Redmi 10X as well as the Redmi 10X Pro. According to Redmi's product director, Wang Teng, the Redmi 10X is the world's mobile phone that supports dual 5G standby. The dual-card 5G is on the network and can seamlessly switch signals at any time to a better 5G network. This is possible because of the optimization of the MediaTek Dimensity 820 SoC.
The Redmi 10X is the first smartphone to use the Dimensity 820 SoC. This chip not only supports 5G + 5G dual card dual standby, SA, NSA dual-mode 5G but also supports 5G dual-carrier aggregation.
Its performance on AnTuTu is way beyond any mid-range smartphone in the market presently. The MediaTek Dimensity 820 hit 415,672 points on AnTuTu. This score is comparable to the 2019 flagship Qualcomm Snapdragon 855 SoC which hit 445,343 points. This processor is based on 7nm process technology. It uses 4 × Cortex A76 (2.6GHz) + 4 × Cortex A55 (2.0GHz) and a Mali-G57 MC5 GPU.
Furthermore, this chip integrates a top-notch 5G modem with a flagship multi-core CPU architecture as well as an energy-efficient independent AI processor (APU 3.0). According to Lu Weibing, general manager of the Redmi brand, the Dimensity 820 SoC may be the most powerful 5G mid- to high-end processor in 2020.
Going back to the Redmi 10X, this smartphone comes with a built-in 4520mAh battery. While the regular model supports up to 22.5W fast charging, the Pro model supports 33W fast flash charging.
Redmi 10X / Pro specifications
6.57-inch (2400 x 1080 pixels) Full HD+ display with Corning Gorilla Glass 5 protection; HDR10, DC Dimming, and 800 nit peak brightness
MediaTek Dimensity processor – 4 × Cortex A76 (2.6GHz) + 4 × Cortex A55 (2.0GHz) and a Mali-G57 MC5 GPU
6GB / 8GB RAM with 64GB / 128GB / 256GB storage, expandable memory up to 512GB with microSD
Pro Model: 8GB RAM with 128GB / 256GB storage
Dual SIM
Android 10 with MIUI 12
48MP rear cameras with LED flash, 8MP ultra-wide-angle lens, 2MP macro lens, and 2MP depth sensor
Pro Model: 48MP rear cameras with LED flash, 8MP zoom lens with 30X digital zoom support, an 8MP wide-angle lens, and a 5MP macro lens.
16MP front camera
Pro Model: 20MP
Fingerprint sensor (On-Screen), IR sensor
3.5mm audio jack, FM Radio
Dimensions: 162.38×77.2×8.95mm; Weight: 205g
Dual 5G (5G + 5G dual card dual standby), SA, NSA dual-mode 5G, 5G dual-carrier aggregation, Bluetooth 5, GPS + GLONASS, USB Type-C
4,520mAh battery with 22.5W fast charging for the regular model and 33W fast charging for the Pro model.
Redmi 10X Series Pricing and Availability
The Redmi 10X series will be available in blue, violet, and gold colour options. While the Redmi 10X sale will commence from June 1st, the Pro model will start sale on June 5th.
Redmi 10X
6GB + 64GB: 1,599 yuan (~$224)
6GB + 128GB: 1,799 yuan (~$252)
8GB + 128GB: 2,099 yuan (~$294)
8GB + 256GB: 2,399 yuan (~$336)
Redmi 10X Pro
8GB + 128GB: 2,399 yuan (~$336)
8GB + 256GB: 2,599 yuan (~$364)
.
Huawei may have to stop using its Kirin chips due to US restrictions – MobileSyrup
Huawei might have to stop building its own Kirin chipsets due to the licensing restrictions put it in place by the U.S. Department of Commerce. The restrictions put in place prevent U.S. software and technology to be implemented in its chips.
And Huawei uses Taiwan Semiconductor Manufacturing Company, a fabrication plant in Arizona, to help assemble its chipsets. Thus, because of the restrictions, TSMC has now stopped taking orders from Huawei, according to the report.
Due to this, Huawei and its sub-brand Honor are now considering working with companies like MediaTek and UNISOC in anticipation of not being to use its own chips. This latest news comes from CNMO and Nikkei
Additionally, Huawei is already reported to be in talks with the two companies, which Zhao Ming, Honor's president of business, mentioned in a previous interview.
Huawei already uses MediaTek in some of its mid-range devices; therefore, it's quite possible that MediaTek might develop the chips for high-range smartphones.
Source: Nikkei, CNMO, Via: Android Police
Redmi 10X series is official with dual SIM 5G support, Dimensity 800 chipsets and bargain pricing – GSMArena.com news – GSMArena.com
Xiaomi subsidiary Redmi unveiled its latest phones today with the 10X series. We get a 10X 5G and the 10X Pro as well as the 10X 4G which is a rebranded Redmi Note 9 for the Chinese market. The new 10X 5G and 10X Pro bring dual mode and dual SIM 5G connectivity, AMOLED displays, Dimensity 820 chipsets and highly competitive pricetags.
Upfront both the 10X 5G and its Pro sibling come with 6.57-inch AMOLED displays with FHD+ resolution and waterdrop notches. The 10X 5G has a 16MP selfie shooter while the Pro ups it to 20MP. The panel on both also comes with a 180Hz touch sampling rate and Gorilla Glass 5 protection.
Around the back both phones come with a 48MP main shooter and 8MP ultawide snapper but the Pro adds an 8MP telephoto module with 3x optical zoom and OIS as well as a 5MP macro cam.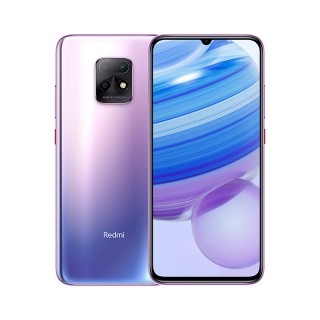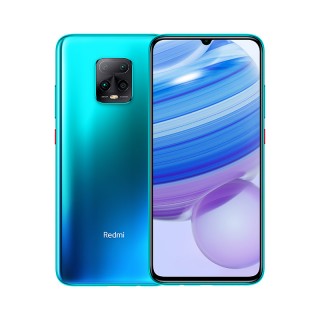 Redmi 10X 5G in pink and 10X Pro in green
Under the hood we have the MediaTek Dimensity 820 chipset with 6/8GB RAM on the 10X 5G and 8GB RAM on the Pro. Storage ranges from 64GB to 256GB. The software front is covered by MIUI 12 on top of Android 10. Both phones come with 4,520mAh batteries with 22.5W fast charging on the 10X 5G and 33W on the 10X Pro. Both come with an IP53 rating and headphone jacks and the Pro also gains NFC.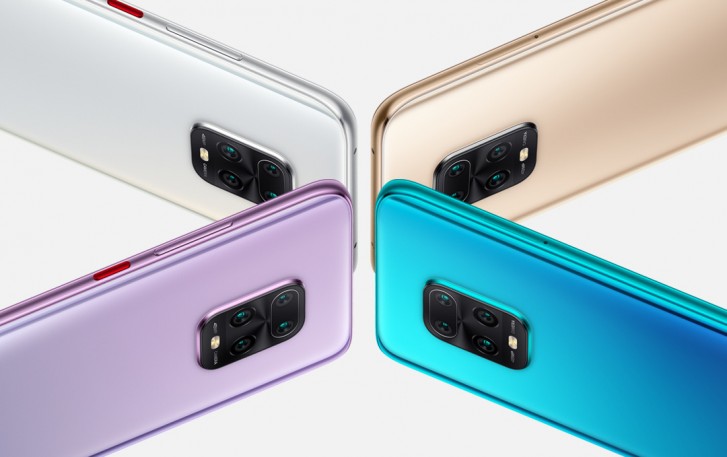 The Redmi 10X series will be offered in blue, pink, gold and white colors. The 10X 5G starts at CNY 1,599 ($224) 6/64GB making it the most affordable 5G phone on the market. There's also a 6/128GB for CNY 1,799($252) as well as a 8/128GB trim for CNY 2,099 ($294) and 8/256GB model for CNY 2,399 ($336). Official sales begin on June 1.
The 10X Pro will be offered in 8/128GB for CNY 2,229 ($322) and 8/256GB configuration going for CNY 2,599 ($364). It goes on sale starting June 6.
The Redmi 10X 4G already up for sale starting at just CNY 999 ($140) in its 4/128GB trim, there's also a 6/128GB model for CNY 1,199($168).