One of London's top doctors on why we should be wearing protective face masks – Tatler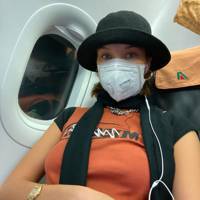 Only a few months ago, wearing a mask in public would have raised eyebrows. It is now a sobering reminder of the extraordinary times we are living in.
There has been a lot of debate, back and forth, as to whether masks should or should not be compulsory, or indeed, is it ineffective and just providing a false sense of security?
The most effective way to avoid transmission is from hand washing and social distancing. The added advantage of a mask is to mitigate the spread of the virus from an infected individual. In terms of preventing you from catching it, the evidence is sketchy at best, and depends on a number of variables. There is also a chance that the airborne virus can transmit though eyes, so should we be wearing goggles as well as masks? I think most people would draw the line there.
Fine droplets invisible to the eye are produced when sneezing, coughing and even speaking. Simply saying 'stay safe'" could project airborne droplets containing the virus. Some of the finer particles (known as aerosol, for example, from an infective cough) can be suspended in the air for up to 3 hours. However, this is unlikely to be the common mode of transmission and is most likely a risk to health professionals who have a higher proportion of exposure. Hence the need for them to wear N95 masks which can protect up to 95% of aerosol fine particles.
The WHO have still remained consistent in their view. They feel masks are helpful in preventing spread if you have Covid, but is not sufficiently protective.
The key issue, is that up to 20% of people (possibly more) who have Covid-19 will not exhibit symptoms, and for those who contract the illness, there is an asymptomatic incubation period of up to 14 days (on average this is closer to 5 days). So ideally, everybody should be wearing masks, which is what the likes of Germany, Czech Republic and Turkey have agreed upon.
However, it is never straight forward. There are different types of masks, with different levels of protection. The most effective, N95 masks, should quite rightly be reserved for the frontline health workers and those caring for the vulnerable. There is undoubtedly a stock issue, which may be in part why the government has not made wearing masks compulsory. Surgical masks and cloth masks will have some benefit, and would be a good option for the public.
The other major issue is that people do not know how to put on, adjust or dispose of the masks. This could lead to increased transmission, due to inadvertently touching your face and spreading the virus, which would be counterproductive. This is a big issue, even NHS staff are given lessons on how to fit an N95 mask correctly, as it is surprisingly easy to get wrong.
The mask should be put on and taken off only after hand-washing (with soap and water – the soap actually breaks down the virus' protective shell). There should be an effective seal at the bridge of the nose and under the chin. The mask should be removed from behind, taking care not to touch the front of the mask. If it is reusable, you can wash it with detergent at 60 degrees Celsius.
'We are all in this together' and should work to help prevent spread in the community, especially to those who are vulnerable and at risk. For this reason, I feel that correctly worn masks, which are not touched or adjusted during the time they are worn, could confer benefits to the community as a whole.
Written by Dr Tim Lebens, a private GP in Central London, with a subspecialty in health optimisation and latest advances in medicine. www.drlebens.com
Research on new cat virus discovered at B.C. SPCA published in scientific journal – CBC.ca
The outbreak of a fast-spreading disease at the SPCA's animal centre in Vancouver has led to the discovery of a new feline virus that affected 43 cats in B.C.
It started when eight cats fell ill on a single day in 2018 with symptoms like a human stomach flu, but Dr. Emilia Gordon, the senior manager of animal health, says they became concerned when tests came back negative for parasites.
Gordon says in a news release they knew within days that they were dealing with a virus or bacteria they hadn't faced before.
Outbreak tracing found two cats in the Quesnel shelter introduced the illness to Vancouver's facility, where it spread rapidly before being detected.
A research team at the University of California San Francisco found the new species of parvovirus, which isn't related to COVID-19, and those findings were recently published in the science journal Viruses.
Gordon says the high rate of recovery was due to a quick response and stringent control measures, although two of the 43 cats that were ill were euthanized because of other medical problems.
"As soon as we understood we were dealing with something unusual, our first goal was to stop the outbreak so more cats wouldn't get sick," Gordon says. "Our second goal was to try to get answers for our teams, for the cats, and for other shelters and veterinarians facing unexplained gastrointestinal outbreaks in cats under their care."
She says being part of the discovery of the new virus was very exciting, however data from a single outbreak isn't enough to be certain the virus can cause disease and more research will need to be done.
Director appointed to oversee COVID-19 response at B.C. long-term care home after 22 deaths – Globalnews.ca
Public health officials are bringing in more help at the Lower Mainland care home that's become the site of B.C.'s worst outbreak of COVID-19.
Twenty-two people at the Langley Lodge have died from the virus so far, while 22 residents who were infected have recovered. Ten staff members have also been infected.
Fraser Health announced Thursday it is appointing a director to oversee the pandemic response at the facility and deploying its ultraviolet germicidal irradiation machine, along with infection-control specialists. The machine emits concentrated UV light to disinfect hot spots and kill pathogens such as C. difficile and the novel coronavirus.

0:56


Germ-killing robots help fight COVID-19 at B.C. hospital



"We know this outbreak has been complex and challenging and has been lasting now for a few weeks," said chief medical health officer Dr. Martin Lavoie.
"This is an outbreak that has been taking a toll on staff. It's also challenging for the site leadership as well."
[ Sign up for our Health IQ newsletter for the latest coronavirus updates ]
Additional cleaning staff will also be brought in.
The outbreak started on a behavioural stabilization unit, Lavoie said, where residents don't always understand or follow safety measures.
The outbreak at the lodge was declared over in late April. But days later, a new one, which originated with a staff member, was confirmed at the 139-bed facility.
Meanwhile, a resident at the Nicola Lodge care home in Port Coquitlam has tested positive for the novel coronavirus, Lavoie said. The person is now in isolation as enhanced infection-control measures are brought in.
It is not yet known how the virus got into the facility, he said.
© 2020 Global News, a division of Corus Entertainment Inc.
Canadian study of critically ill patients with COVID-19 found lower death rate – EurekAlert
A Canadian case series of all patients with COVID-19 admitted to six intensive care units (ICUs) in Metro Vancouver found patient outcomes were substantially better than reported in other jurisdictions. The paper is published in CMAJ (Canadian Medical Association Journal).
Researchers looked at outcomes for 117 patients with COVID-19 admitted to one of six hospitals in Metro Vancouver between February 21 and April 14, 2020. Patients ranged in age from 23 to 92 years, with a median age of 69 years. Two-thirds (67.5%) were male. As of May 5, 85% of patients were still alive and 61% had been discharged home. The overall mortality rate was 15%.
"The overall mortality was appreciably lower than in previously published studies, despite comparable baseline patient characteristics and a higher proportion of patients with completed hospital courses," writes Dr. Donald Griesdale, a critical care physician at Vancouver General Hospital and associate professor at the University of British Columbia's Faculty of Medicine, Vancouver, BC, with coauthors.
Data from Lombardy, Italy, showed a 61% mortality rate for patients admitted to an ICU, a case study of 24 people in Seattle had a 57% mortality rate among patients in the ICU, and a case series from Wuhan, China, reported a mortality rate of 80% in patients admitted to the ICU.
Fewer patients in the Canadian series (63%) received mechanical ventilation than in Lombardy (88%), Seattle (75%) and New York (90%), but in Wuhan even fewer (42%) received mechanical ventilation. Very few patients received unproven treatments for COVID-19; one patient received hydroxychloroquine, four received tocilizumab, and none recived remdesivir.
"Despite the observed differences between patients and critical care interventions in these studies, it is unclear whether these solely account for the marked lower mortality that we report," write the researchers. "We hypothesize that these encouraging results may be due to a broader system-level response that prevented an overwhelming surge of critically ill patients with COVID-19 from presenting to our hospitals and ICUs."
###
Disclaimer: AAAS and EurekAlert! are not responsible for the accuracy of news releases posted to EurekAlert! by contributing institutions or for the use of any information through the EurekAlert system.