Are tech job cuts a warning for the wider economy?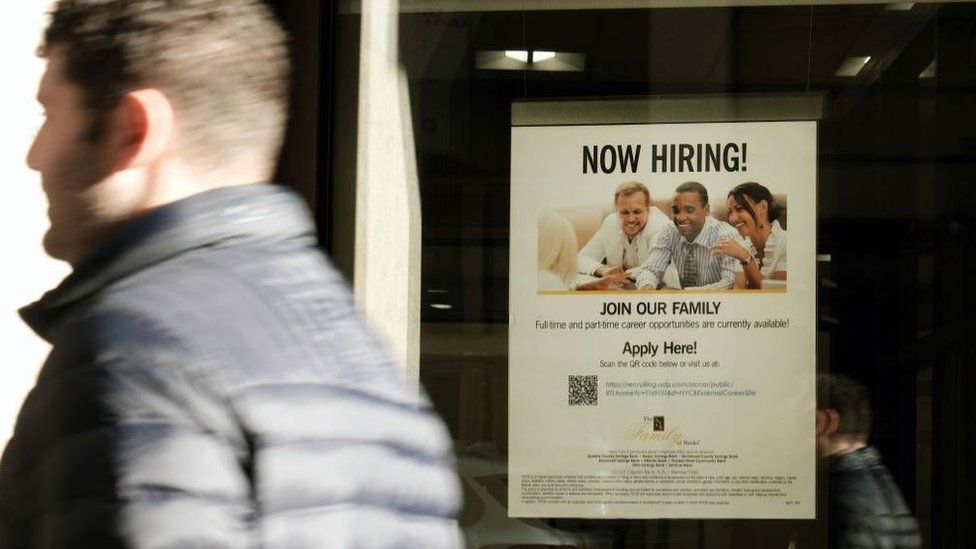 Recent months have delivered a steady drumbeat of announcements of job cuts at some of America's biggest and richest companies.
Just this week, Amazon said it was axing 18,000 workers, or 6% of its office staff, while business software firm Salesforce said it would reduce its workforce by 10%, or roughly 8,000 people.
That followed announcements from dozens of other firms including big names such as Meta, the owner of Facebook, WhatsApp and Instagram, hardware heavyweight Cisco, and payments firm Stripe.
Employers in the United States added 223,000 jobs in December, according to the latest official figures. Although that was slower than gains seen in 2021, when activity roared back to life after the pandemic, it was still strong by most standards.
The unemployment rate fell to 3.5%, returning to historic lows.
The economy is widely predicted to slow in the coming months as rising prices weigh on consumer spending. Firms are also grappling with higher borrowing costs after the US central bank hiked rates rapidly last year.
So are the cuts in the tech industry a warning sign for others?
"I don't think people should be worried," said Julia Pollak, chief economist at the job site ZipRecruiter. "What we're seeing right now seems to be… a correction, not the start of an ominous, systematic recession."
Many tech executives making the announcements have blamed over-hiring during the pandemic, when more activity moved online and business boomed.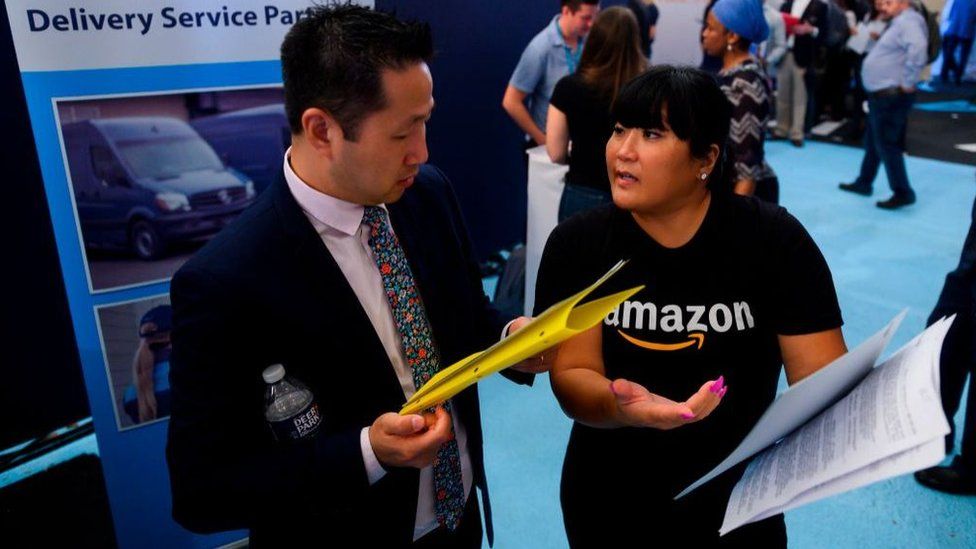 Funding for smaller start-ups has also dried up due to higher interest rates and the sharp downturn in the US stock market in 2022. Big hits some firms have taken from the meltdown in the crypto sector have not helped the mood either.
Joe Brusuelas, chief economist at consultancy RSM, said the wave of tech cuts represented a "necessary and expected" adjustment after a generation of rapid growth, fuelled in part by low interest rates, which culminated in the pandemic frenzy.
"An era of excess has come to an end," he said.
"Firms and individuals should be prepared to reset expectations about growth, employment and investment across what continues to be a very solid industry."
He suggested that tech firms will no longer be insulated from ups and downs in the wider economy, including the expected downturns in Europe and the UK this year.
But he added that the job losses should not be "over-interpreted", noting that many of the workers affected, at least in the US, appear to be finding new jobs quickly.
The latest jobs report from the Labor Department showed that payrolls in the information sector – which includes much of the tech industry – shrank by just 5,000 from November to December. That's despite thousands of job cuts being announced in recent months and compared to a year ago, employment is up.
"It's probably a canary in the coal mine for the global economy more than it is for the American economy," he added, noting that many of the tech cuts have hit foreign staff.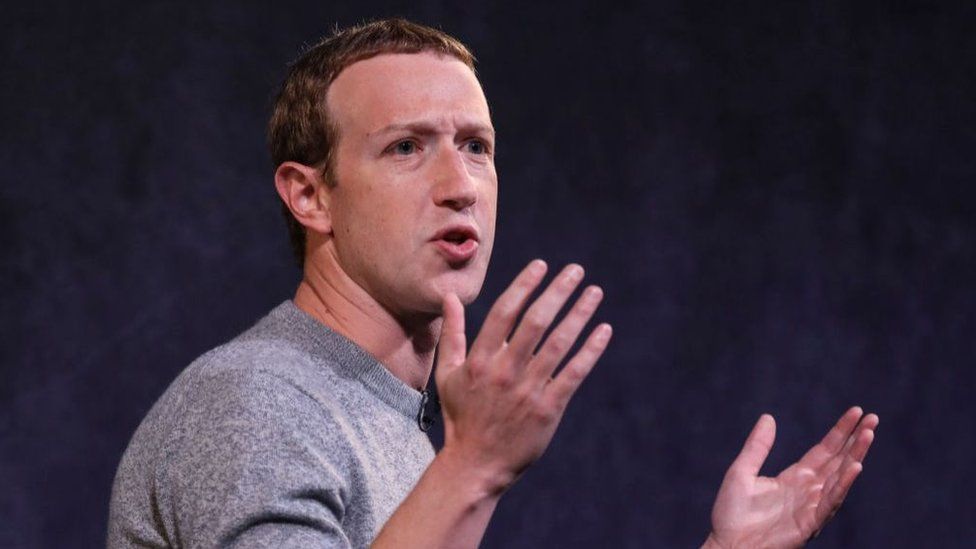 Last week, International Monetary Fund chief Kristalina Georgieva warned that a third of the world would likely be in recession in 2023. That will hurt tech firms, many of which do big business overseas.
But for now, the US labour market has remained unexpectedly resilient, making some hopeful that the country will be able to fend off a harsh downturn, despite the central bank raising interest rates to try to cool the economy and price rises.
Nearly every sector in the US economy added jobs last month, with bars and restaurants, health care firms and construction businesses helping to drive the gains.
Although job losses are rising – especially in sectors vulnerable to higher interest rates like housing, banking and tech – the figures overall remained near historic lows last year, said Andrew Challenger, senior vice president at Challenger, Gray & Christmas, which has been tracking such announcements since the 1990s.
"We are seeing the labour market cooling," he says. "It's a slowdown but I don't think I could say at this point whether or not it's a panic situation."
Jeffrey Pfeffer, professor at Stanford University's Graduate School of Business, said he worries many of the layoff announcements reflect peer pressure, as executives feel compelled to copy other firms making cuts – even as they continue to churn out healthy profits.
If that sentiment spreads, as he expects, it risks turning the forecasts of economic hardship into reality.
"Companies do what other companies do," he said. "This becomes a self-fulfilling prophecy because if everybody lays somebody off, the unemployment rate will go up and we will in fact have a worse economy."
The $16 Trillion European Union Economy – Visual Capitalist
a.bg-showmore-plg-link:hover,a.bg-showmore-plg-link:active,a.bg-showmore-plg-link:focuscolor:#0071bb;
The $16 Trillion European Union Economy
The European Union has the third-largest economy in the world, accounting for one-sixth of global trade. All together, 27 member countries make up one internal market allowing free movement of goods, services, capital and people.
But how did this sui generis (a class by itself) political entity come into being?
A Brief History of the EU
After the devastating aftermath of the World War II, Western Europe saw a concerted move towards regional peace and security by promoting democracy and protecting human rights.
Crucially, the Schuman Declaration was presented in 1950. The coal and steel industries of Western Europe were integrated under common management, preventing countries from turning on each other and creating weapons of war. Six countries signed on — the eventual founders of the EU.
Here's a list of all 27 members of the EU and the year they joined.
| Country | Year of entry |
| --- | --- |
| 🇧🇪 Belgium | 1958 |
| 🇫🇷 France | 1958 |
| 🇩🇪 Germany | 1958 |
| 🇮🇹 Italy | 1958 |
| 🇱🇺 Luxembourg | 1958 |
| 🇳🇱 Netherlands | 1958 |
| 🇩🇰 Denmark | 1973 |
| 🇮🇪 Ireland | 1973 |
| 🇬🇷 Greece | 1981 |
| 🇵🇹 Portugal | 1986 |
| 🇪🇸 Spain | 1986 |
| 🇦🇹 Austria | 1995 |
| 🇫🇮 Finland | 1995 |
| 🇸🇪 Sweden | 1995 |
| 🇨🇾 Cyprus | 2004 |
| 🇨🇿 Czechia | 2004 |
| 🇪🇪 Estonia | 2004 |
| 🇭🇺 Hungary | 2004 |
| 🇱🇻 Latvia | 2004 |
| 🇱🇹 Lithuania | 2004 |
| 🇲🇹 Malta | 2004 |
| 🇵🇱 Poland | 2004 |
| 🇸🇰 Slovakia | 2004 |
| 🇸🇮 Slovenia | 2004 |
| 🇧🇬 Bulgaria | 2007 |
| 🇷🇴 Romania | 2007 |
| 🇭🇷 Croatia | 2013 |
Greater economic and security cooperation followed over the next four decades, along with the addition of new members. These tighter relationships disincentivized conflict, and Western Europe—after centuries of constant war—has seen unprecedented peace for the last 80 years.
The modern version of the EU can trace its origin to 1993, with the adoption of the name, 'the European Union,' the birth of a single market, and the promise to use a single currency—the euro.
Since then the EU has become an economic and political force to reckon with. Its combined gross domestic product (GDP) stood at $16.6 trillion in 2022, after the U.S. ($26 trillion) and China ($19 trillion.)
ℹ️ GDP is a broad indicator of the economic activity within a country. It measures the total value of economic output—goods and services—produced within a given time frame by both the private and public sectors.
Front Loading the EU Economy
For the impressive numbers it shows however, the European Union's economic might is held up by three economic giants, per data from the International Monetary Fund. Put together, the GDPs of Germany ($4 trillion), France ($2.7 trillion) and Italy ($1.9 trillion) make up more than half of the EU's entire economic output.
These three countries are also the most populous in the EU, and together with Spain and Poland, account for 66% of the total population of the EU.
Here's a table of all 27 member states and the percentage they contribute to the EU's gross domestic product.
| Rank | Country | GDP (Billion USD) | % of the EU Economy |
| --- | --- | --- | --- |
| 1. | 🇩🇪 Germany | 4,031.1 | 24.26% |
| 2. | 🇫🇷 France | 2,778.1 | 16.72% |
| 3. | 🇮🇹 Italy | 1,997.0 | 12.02% |
| 4. | 🇪🇸 Spain | 1,390.0 | 8.37% |
| 5. | 🇳🇱 Netherlands | 990.6 | 5.96% |
| 6. | 🇵🇱 Poland | 716.3 | 4.31% |
| 7. | 🇸🇪 Sweden | 603.9 | 3.64% |
| 8. | 🇧🇪 Belgium | 589.5 | 3.55% |
| 9. | 🇮🇪 Ireland | 519.8 | 3.13% |
| 10. | 🇦🇹 Austria | 468.0 | 2.82% |
| 11. | 🇩🇰 Denmark | 386.7 | 2.33% |
| 12. | 🇷🇴 Romania | 299.9 | 1.81% |
| 13. | 🇨🇿 Czechia | 295.6 | 1.78% |
| 14. | 🇫🇮 Finland | 281.4 | 1.69% |
| 15. | 🇵🇹 Portugal | 255.9 | 1.54% |
| 16. | 🇬🇷 Greece | 222.0 | 1.34% |
| 17. | 🇭🇺 Hungary | 184.7 | 1.11% |
| 18. | 🇸🇰 Slovakia | 112.4 | 0.68% |
| 19. | 🇧🇬 Bulgaria | 85.0 | 0.51% |
| 20. | 🇱🇺 Luxembourg | 82.2 | 0.49% |
| 21. | 🇭🇷 Croatia | 69.4 | 0.42% |
| 22. | 🇱🇹 Lithuania | 68.0 | 0.41% |
| 23. | 🇸🇮 Slovenia | 62.2 | 0.37% |
| 24. | 🇱🇻 Latvia | 40.6 | 0.24% |
| 25. | 🇪🇪 Estonia | 39.1 | 0.24% |
| 26. | 🇨🇾 Cyprus | 26.7 | 0.16% |
| 27. | 🇲🇹 Malta | 17.2 | 0.10% |
| | Total | 16,613.1 | 100% |
The top-heaviness continues. By adding Spain ($1.3 trillion) and the Netherlands ($990 billion), the top five make up nearly 70% of the EU's GDP. That goes up to 85% when the top 10 countries are included.
That means less than half of the 27 member states make up $14 trillion of the $16 trillion EU economy.
Older Members, Larger Share
Aside from the most populous members having bigger economies, another pattern emerges, with the time the country has spent in the EU.
Five of the six founders of the EU—Germany, France, Italy, the Netherlands, Belgium—are in the top 10 biggest economies of the EU. Ireland and Denmark, the next entrants into the union (1973) are ranked 9th and 11th respectively. The bottom 10 countries all joined the EU post-2004.
The UK—which joined the bloc in 1973 and formally left in 2020—would have been the second-largest economy in the region at $3.4 trillion.
Sectoral Analysis of the EU
The EU has four primary sectors of economic output: services, industry, construction, and agriculture (including fishing and forestry.) Below is an analysis of some of these sectors and the countries which contribute the most to it. All figures are from Eurostat.
Services and Tourism
The EU economy relies heavily on the services sector, accounting for more than 70% of the value added to the economy in 2020. It also is the sector with the highest share of employment in the EU, at 73%.
In Luxembourg, which has a large financial services sector, 87% of the country's gross domestic product came from the services sector.
Tourism economies like Malta and Cyprus also had an above 80% share of services in their GDP.
Industry
Meanwhile 20% of the EU's gross domestic product came from industry, with Ireland's economy having the most share (40%) in its GDP. Czechia, Slovenia and Poland also had a significant share of industry output.
Mining coal and lignite in the EU saw a brief rebound in output in 2021, though levels continued to be subdued.
| Rank | Sector | % of the EU Economy |
| --- | --- | --- |
| 1. | Services | 72.4% |
| 2. | Industry | 20.1% |
| 3. | Construction | 5.6% |
| 4. | Agriculture, forestry and fishing | 1.8% |
Agriculture
Less than 2% of the EU's economy relies on agriculture, forestry and fishing. Romania, Latvia, and Greece feature as contributors to this sector, however the share in total output in each country is less than 5%. Bulgaria has the highest employment (16%) in this sector compared to other EU members.
Energy
The EU imports nearly 60% of its energy requirements. Until the end of 2021, Russia was the biggest exporter of petroleum and natural gas to the region. After the war in Ukraine that share has steadily decreased from nearly 25% to 15% for petroleum liquids and from nearly 40% to 15% for natural gas, per Eurostat.
Headwinds, High Seas
The IMF has a gloomy outlook for Europe heading into 2023. War in Ukraine, spiraling energy costs, high inflation, and stagnant wage growth means that EU leaders are facing "severe trade-offs and tough policy decisions."
Reforms—to relieve supply constraints in the labor and energy markets—are key to increasing growth and relieving price pressures, according to the international body. The IMF projects that the EU will grow 0.7% in 2023.
UK to Be the Only G-7 Economy in Recession This Year, IMF Says – BNN Bloomberg
(Bloomberg) — Britain faces the bleakest two years of any major industrial nation with a recession in 2023 and the slowest growth of peers in 2024, the International Monetary Fund predicts.
The UK will be the only Group of Seven member whose economy will shrink this year, with a contraction of 0.6%, the IMF said. The Washington-based institution downgraded its outlook by a massive 0.9 percentage point from October, saying higher interest rates and taxes along with government spending restraint will exacerbate a cost-of-living crisis.
The forecast highlights the challenges Prime Minister Rishi Sunak's government faces in the leadup to the next election. Chancellor of the Exchequer Jeremy Hunt suggested the economy is likely to perform better than the IMF expects.
"The governor of the Bank of England recently said that any UK recession this year is likely to be shallower than previously predicted," Hunt said in a statement. "We are not immune to the pressures hitting nearly all advanced economies. Short-term challenges should not obscure our long-term prospects."
In 2024, the economy will rebound only slowly, growing at 0.9% — matching Japan and Italy at the bottom of the G-7 league table for growth.
The forecast anticipates the first UK recession, excluding the pandemic, since the financial crisis in 2009. Across the two years leading up to the deadline for Prime Minister Rishi Sunak to call an election, the economy will effectively stagnate — expanding just 0.3%.
The IMF did not downgrade any other G-7 economy this year as it raised its global growth forecast from 2.7% to a still sluggish 2.9%. An escalation of the war in Ukraine or a health crisis in China as Covid spreads could set back the world economy, it said in its World Economic Outlook update. However, "adverse risks have moderated since October."
The downgrade to UK growth is striking because the IMF's October forecast was prepared before the £45 billion ($55.7 billion) unfunded tax giveaway in the September budget during the short-lived Liz Truss premiership. At the time, the fund said the fiscal splurge would have boosted growth.
Since then financial conditions have tightened, rising borrowing costs for businesses and households. The Bank of England has raised rates from 2.25% to 3.5%, and markets now expect rates to settle around 4.5%. The IMF said it's downgrade also reflected "tighter fiscal" policy but, according to Treasury figures, fiscal policy is looser this year than at the last forecast.
In October, the IMF attacked the UK's massive spending spree — arguing that fiscal and monetary policy should not be working at cross purposes and that the government needed to bring the public finances under control.
IMF Chief Economist Pierre-Olivier Gourinchas repeated the warning. In a blog post alongside the forecast, he said many countries are being too generous with their energy support, which is "costly and increasingly unsustainable."
Instead, countries should "adopt targeted measures that conserve fiscal space, allow high energy prices to reduce demand for energy, and avoid overly stimulating the economy," Gourinchas said.
He also urged central banks, like the Bank of England, to press on with rate rises even if it means inflicting more misery on cash-strapped households. The BOE is expected to raise rates a half point to 4% on Thursday.
"Where inflation pressures remain too elevated, central banks need to raise real policy rates above the neutral rate and keep them there until underlying inflation is on a decisive declining path," Gourinchas said. "Easing too early risks undoing all the gains achieved so far."
Read more:
UK Wage Inflation Points to Another Big Rate Hike This Week
–With assistance from Andrew Atkinson.
©2023 Bloomberg L.P.
In Egypt, economic heat of Russia's war in Ukraine is only getting worse – Al-Monitor
GIZA — With every passing day, the money in Hanan Hussein's purse becomes more and more dwarfed by the items in this crowded vegetable market in Embaba — a densely populated neighborhood in the Giza province of Greater Cairo.
Hussein, a mother of two in her early 50s, looks at the price tags of food items placed on the carts or on the wooden tables jockeying for limited space on both sides of the market and shrugs her head, knowing that the few pounds she has can only buy a few of the items on display.
"Tomatoes selling for 10 pounds a kilo, potatoes for 12, zucchini for 15 and rice for 19," she says to herself.
"What are these prices?" she asks herself as she moves toward the end of the market.
Hussein passes by the shops selling fish, meat and chicken but pays no attention to them.
When she reaches the end of the market, she turns back and starts a new journey through the vegetables and fruit on display, hoping to come across something she can buy.
"We can't afford these high prices," Hussein told Al-Monitor, pointing at the vegetables in front of her. "I am looking at all the items on my shopping list, but it looks like I can't buy any."
Tens of millions of Egyptians, especially the poor and the middle class, are affected by the economic repercussions of Russia's war on Ukraine.
Al-Monitor/Premise poll released this month found 68% majority of the population in Egypt, Turkey, Yemen, Tunisia and Iraq worried about their ability to access food in the coming months.
Having initially deprived the Egyptian tourism sector of billions of dollars in revenues, with Russians and Ukrainians constituting a third of annual tourist arrivals, the war has caused food import-dependent Egypt to pay more for its imports, especially cereals such as wheat and maize, according to the World Economic Forum.
Disruptions caused by the war on the international supply chain are also translating into a higher price for industrial and agricultural production requirements in a country where dependence on imported production essentials is very high.
Egyptians are feeling the pinch, with price increases in shops and markets across the country.
Hussein has stopped buying fish, chicken, meat and table condiments, among other items.
So has Alaa Mamdouh, a civil servant in his mid-30s who has one child.
Like many Egyptians, Mamdouh has decided to take on a side job to supplement his income. However, with less than 4,000 Egyptian pounds (less than $133) from both jobs, he can't manage.
"I don't know what to do," Mamdouh told Al-Monitor. "People like me can't keep going with food prices assuming new heights every day."
Other Egyptians are complaining about their income being dwarfed by growing commodity prices.
Deep beneath their suffering is an inflation rate that is hitting an all-time high, threatening a political and security backlash.
Fears from this backlash have prompted Egyptian President Abdel Fattah al-Sisi to assure the public that things are going to be alright.
"I know that some people are worried, and they have reasons to be concerned," the Egyptian leader said Jan. 6 after entering a large church in the New Administrative Capital, a new megacity he is constructing in the desert, to congratulate his country's Coptic Christians on Christmas. "But you have to be sure that God will not fail us," he added.
Two days later, he asked Egyptians not to buy into the uninformed rhetoric of those who spread fear about national economic conditions.
"We did not enter wars or squander the wealth of our country," Sisi said. "Egypt did not cause these conditions."
As he spoke, the Egyptian pound continued to lose its value to the US dollar, the main import currency in this country — at the time of writing selling at 30 pounds per dollar.
Egypt has had to depreciate its national currency two times since February 2022, says Al-Arabiya News.
It scrapped its managed exchange rate regime a few days ago in light of an agreement with the International Monetary Fund and as part of other measures that will also include the elimination of energy subsidies and the withdrawal of the state from economic activities.
A cheaper pound weakens the purchasing power of people like Hussein and Mamdouh and stagnates the business of people like fishmonger Ahmed Hamdi, who sat outside his shop in the same market in Embaba where fish prices filled passersby with aversion.
"People come here only to ask about prices, but nobody buys anything," he tells Al-Monitor.
Some fellow traders closed down their shops due to sales spiraling downward and losses spiraling upward, he says. "I may do the same if things get worse."
To reduce the intensity of the downturn, the government has opened dozens of outlets where food is sold at a discount. It also increased food subsidies for tens of millions of people registered in the national food rationing system, according to Daily News Egypt.
Economists say, however, that these efforts will not pay off without proper market control.
"Traders use current conditions to amass huge wealth by increasing monopolies and raising prices," director of think tank Capital Centre for Economic Studies Khaled al-Shafie told Al-Monitor. "This requires strong supervision over the market."
The lack of this supervision caused a traditionally reticent parliament to grill the minister of supply a few days ago.
Parliament members criticized the minister for his failure to control runaway commodity prices.
"The minister does nothing to prevent traders from exploiting the poor," parliament member Nafie Abdelhadi told Al-Monitor. "Commodity prices are rising dramatically, but the minister is only watching."
This leaves people like Hussein in limbo. Every day, she faces the riddle of matching the little money in her purse with the needs of her family.
"It is a new, difficult test every day, but I am sure God won't forget us," she says.