Area decoupage artist looking to retrieve lost works of art – CollingwoodToday.ca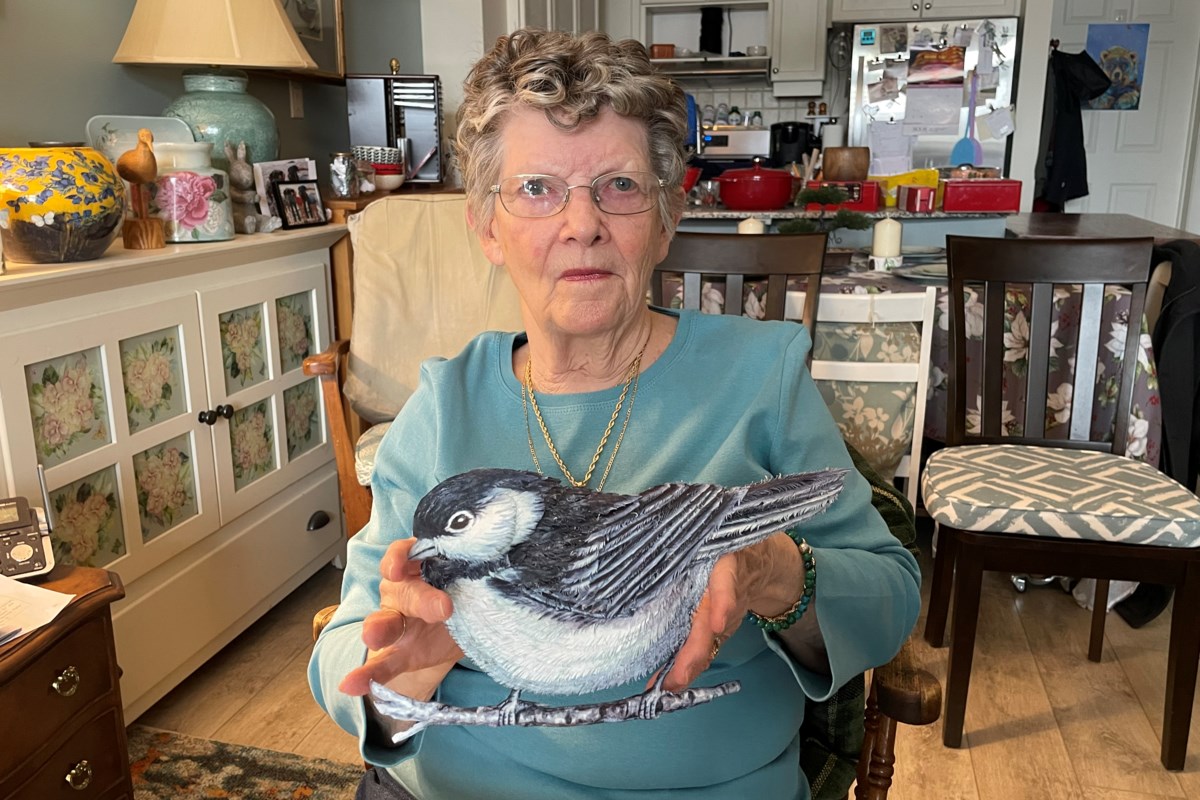 An Orillia artist who has spent decades perfecting her craft is looking to enlist the public's help in retrieving some of her lost artwork.
Peggy Little, 83, began her lifelong decoupage hobby nearly 50 years ago, fashioning realistic birds, plants, and natural scenery out of little more than paper, and transforming desks, dinner plates, and more into impressive works of art with influences from around the globe.
For the uninitiated, the art of decoupage involves using paper cutouts, paint, and even gold leaf to transform ordinary objects into artwork – all of which Little has incorporated into her work.
Over the years, Little has created countless pieces, often with great sentimental value. Her living room, for example, is currently adorned with a piece she created out of a relative's antique desk, and a heron crafted from a photo taken near her home.
Several years ago, however, Little lost a number of pieces that she loved.
When she and her husband were looking to downsize from their Washago home to their current condo in Orillia, Little fell ill and had to be hospitalized.
Although she had planned on downsizing her decoupage collection, as well, Little said auctioneers sold off a large portion of her work during that time without consulting her.
"These are personal things that I've worked on for years, and they should have been boxed and brought to me," she told OrilliaMatters.
Beyond her artwork, Little also lost the Langman family bible that had been in her family for generations.
"It had been in the family for years and years – generations – and it's gone. Now why would somebody want to buy somebody's Bible? It should have been returned to me," she said.
Her hope is that if anyone has a piece of her art that's missing (most of her artwork is dated and signed, she said), she would be willing to buy it back at the price they paid for it.
"If people had it in their hearts and knew what it meant to me, I would be willing to pay whatever they paid for it and buy it back," she said. "It's not like a piece of furniture. When people bought these things, they knew what they were buying."
Little described decoupaging as a "passion" of hers, and said many of her pieces involve extensive work – the birds she crafts can take several weeks to complete, and other pieces have dozens of layers of varnish, which is then finely sanded, to produce the effect she desires.
"Your heart goes into it. It's like somebody that does woodworking and finishes things off, and they take great pride in doing that sort of thing," she said. "The birds and the frames … that takes probably a couple of weeks to do the feathering."
She has travelled to the United States numerous times to learn new techniques from members of her decoupage guild, and taught numerous classes in Scarborough, Markham, and Maple over the years to anyone looking to learn the craft.
Even today, Little has numerous decoupage projects planned for the summer, and although she has retired from formal teaching, she said she is still open to sharing information about the craft with others.
Some of what Little lost during her hospital stay is as follows:
A varnished cat, 10 inches high, with pure gold leaf;
Two music boxes, one with a black background and "oriental" design, and another with a green background and floral design;
A glass plate designed with flowers in a hexagon frame;
A fire screen with three panels, with a green background and an oriental design on the front;
A glass lamp with small red flowers and black paint transitioning to green at the top;
A tilt top black tea table with a gold top;
Numerous Fabrege Ostrich and Rhea eggs;
The Langman family bible; and more
Should anyone have one of Little's pieces of art, and would like to return it or resell it, OrilliaMatters can put them in contact with Little.
Vancouver to remove unsanctioned spider art creeping-out transit riders – Vancouver Sun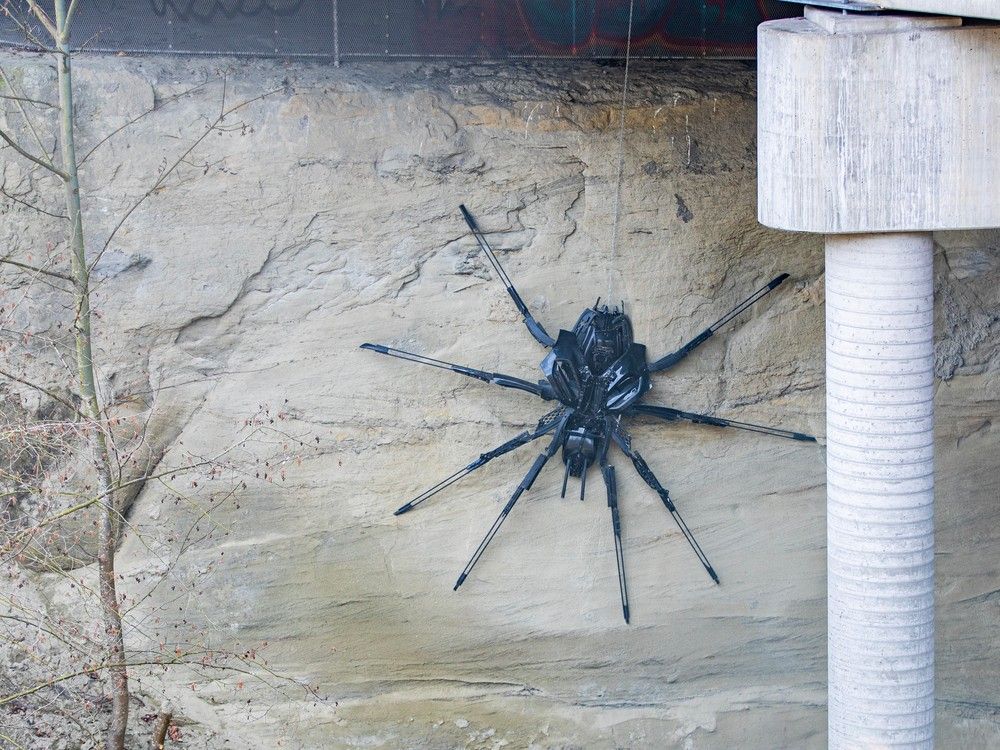 Article content
City staff are looking into how to remove a large metallic spider from under a high-traffic bridge on Commercial Drive in Vancouver.
Article content
The artwork, which startled some arachnophobic SkyTrain riders when it was installed earlier this month, was created by pop artist Junko Playtime.
Article content
In an email to Postmedia News on Friday, city staff say they were made aware of the unsanctioned spider artwork located in a corridor for SkyTrain and CN/BNSF Rail.
The installation wasn't done in consultation with the city or the rail corridor partners, city staff said. They're trying to figure out the best way to remove the artwork so there is no damage to the bridge structure or rail lines.
Staff said the artist will have the ability to claim the work through the city's impoundment process.
According to Playtime's Instagram page, the eight-foot-diameter spider was installed at night recently on the north bank below the bridge between North Grandview Highway and Broadway.
Playtime, from Montreal, has gained a reputation over the past two years for installing very large and far-out insect like futuristic sculptures from scrap metal and household items.
The artist called this latest spider creation "Phobia 2023. Time to face our fears."
— With files from David Carrigg
Artist behind guerilla Vancouver art piece launches campaign to 'save spidey' – Global News
The artist behind a guerilla sculpture installation in East Vancouver that the city plans to remove is fighting to save the work.
The art work in question is a large, black spider made of recycled materials affixed beneath an overpass near Broadway and Victoria Drive, and visible from the SkyTrain Millennium Line.
The city says the work was unsanctioned, and that it is in the midst of plans on how to best remove the spider.
The anonymous Montreal-based artist who goes by the moniker Junko Playtime is calling on supporters to contact the city and ask it to leave the guerilla installation, titled Phobia, in place.
1:54
Unsanctioned spider sculpture seen from Skytrain to be removed
"I think it's a shame, there's are a lot of people that really enjoy the artwork and would love for it to stay there. Sure, there are some people that might not like it, but it's impossible to please everyone with public art," Playtime told Global News in an email.
"The work is positioned in a way that doesn't put anything or anyone in danger and can easily be ignored if someone doesn't want to look at it."
Junko Playtime contrasted the city's reaction to the spider to the mounting piles of trash along the rail line where it was installed, saying it doesn't make sense to remove the art but not the garbage.
"In terms of this piece, the city didn't pay a dime for it. It's built out of waste material collected in the streets so it's essentially cleaning up some of the litter and there's a huge amount of people that really enjoy it — seems like a pretty good deal to me," he said.
1:39
City crews remove satan statue erected alongside busy Vancouver roadway
The City of Vancouver said the artwork was installed without review or approval, and that it began planning to remove it after complaints from the public.
It pointed to the city's official public art program, which selects works through a jury process or its Public Art Committee, and that all approved pieces are vetted by engineers to ensure safety, structural integrity, longevity and maintenance plans.
"The installation of public art on key infrastructure, such as a bridge, would require due process to ensure safety. The unsanctioned spider artwork has not been through this review process," it said in a statement Friday.
The cost of removing the spider remains unclear, according to the city.
The artist responded by suggesting leaving the piece in place was a chance for Vancouver to shake its dubious reputation as "no fun city," which he said it had earned "for a reason."
The spider is not the first artwork by Junko Playtime to appear in Metro Vancouver.
Last month, Habitat, a sanctioned piece he created from reclaimed materials appeared outside the Bentall Centre Gallery as a part of the Vancouver Mural Festival's Winter Arts Festival.
Last year, a large, yellow, insect-like sculpture he created called Queen BX1000 appeared in an empty lot near the Fraser River near the Canada Line.
The artist, who said his work revolves around themes of biodiversity and ecological responsibility, said he designed the spider installation specifically for the location where he placed it, telling Global News, "the cliff face covered overhead by the large metal and concrete bridge really felt like a fitting environment for a creation like this to inhabit."
&copy 2023 Global News, a division of Corus Entertainment Inc.
Gagosian's DALL-E–Enabled Art Exhibition Throws Us Headfirst into the Uncanny Valley
The arrival of AI text generators and chatbots like Chat GPT and Bing (or is she named Sydney?) over the last year has shattered the assumption that creativity is the sole domain of humans, and other living things. But, while image generators like DALL-E and Midjourney are the visual equivalent technologies, the same crisis has not quite registered in the art world.
Perhaps, this lack of response stems from a lack of opportunity. No longer! Earlier this week, mega-gallery Gagosian opened an exhibition of works by DALL-E, which, like its AI image generator competitors, can turn a simple text prompt into an image in seconds. Might I find some crisis awaiting me there? (Yes).
The exhibition is produced by Bennet Miller, a film director who has been nominated for Oscars for Foxcatcher (2014) and Capote (2005); the works, and the exhibition are untitled. Over the past several years, Miller has been making a documentary about AI, through which he interviewed Sam Altman, the CEO of OpenAI, who gave him beta access to DALL-E far before the rest of the public.
The images DALL-E produces produce range from obviously amiss (twisted fingers, a fuzzy swirl of pixels) to hauntingly accurate in their targeting of one's request. Despite these occasional flaws, no longer is the AI image quickly clocked for what it is by that tell-tale sheen of psychedelic patterning. It's no wonder then why the word "real" was invoked, again and again, by the audience at Miller's opening this week.
One woman I pass gestures at one of Miller's prints, a large piece laid on with deep, dark, wet-looking ink onto sepia-toned paper, depicting a child as she stares at the viewer while the wind tosses her hair. It looks as if it comes from the Victorian era, dated not just by its coloring but by what looks to be a simple, linen dress of the era. It's all projection. The woman tells her friend, "It's not real." There is no linen dress.
Well, so what. It's a bit melodramatic to behave as if we don't already live in an era of unreal-ness. And anyways, since when does art require a real-world referent to represent something "real"? Since when is "realness" a metric?
Sure, many of Miller's works look like they could be photographs, but many are heavily stylized. Often extremely out of focus and piled on with grain, there is just enough form to suggest a subject or a landscape. Some of them seem to represent momentous or historical moments in the past. Here is a profile that looks Native American, extending an arm that could be a wing, that could be cultural dress. Here is a mushroom cloud, as if from an explosion, but flattened in a way that, perhaps, Nature wouldn't allow. A machine like a train but it's not. A disk, just a flat circle of some substance, held in the hands of a woman. Beguilingly simple, pointing back to nothing.
I spot Fran Lebowitz. Blunt, coarse bob, big coat, tortoiseshell glasses perched on her nose and another set in her welt pocket. Loafers! It really is her. She's thumbing through the exhibition text that was produced for the show by author Benjamin Labatut using ChatGPT, an AI text generator also produced by OpenAI. It turns out Miller also interviewed Lebowitz for his documentary, though it doesn't seem clear why. She repeats an apology to me several times: she doesn't know what this means, the exhibition, the fact of its genesis. But she makes an effort.
"These are not real photographs, but what are real photographs?" Lebowtiz begins. "Are the only real photographs the ones made on film, not the digital ones? My friend Peter Hujar would say so."
The slippery slope tack: if we've accepted that cameras do not make the photographs, but that photographers do, why should any succeeding technology that the human mind directs for its purpose not be judged similarly? That is, as a genuine, human act of creation. I ask Lebowitz a clumsy question, something like, 'Isn't the labor of trying to make something worth something?" She says of course. What are we even talking about? It's too basic but I can't help it.
The concern about realness comes from two places. Where did these images come from and can we credit Miller with a "real" creative act. It's really one problem: what do we do with this other actor in the picture, AI? What spasm was it that gave birth to these images, that Miller guided and curated?
It's telling that these new tools are called AI "generators" not "creators". Generation is to bring into being, but behind a veil. Generation has its roots in the phenomenon of conception, which is not done with the conscious mind but the secret efforts of the body. It is only in this way that I can relate to the concept of AI, this thing that brings into being without conscious, all the indifference and capability of nature. But this is false analogy (is there a word for anthropomorphizing but for nature? Naturmorphizing?). I'm not sure why I can't see it as an extension of all the other amazing technological capabilities with their hidden mechanisms. I don't know how my computer works.
Walking around Miller's show I'm surprised that so many people look happy and curious whereas I feel bitterly on guard. I look closely at each image, which range from looking like vintage photographs to charcoal drawings, and investigate for signs of their computerly origins. I'm not to be tricked!
As images, though, I do like them. They remind me of a picture book I once had and spark my love of old and whimsical looking things, for what that's worth. A lot of AI images I've seen do this, that is, open the door to alternate, fantastical worlds, which says a lot about the people who request these images. There's a lovely impulse to see something wondrous, magical, not of our reality. But how tightly and terribly joined is this desire for the fantastic to the impish twitch for falsity.
By now, haven't we all seen those AI generated images of Trump getting arrested? How quickly we come back to Earth. One day it'll feel normal. For now it's tripping me up.