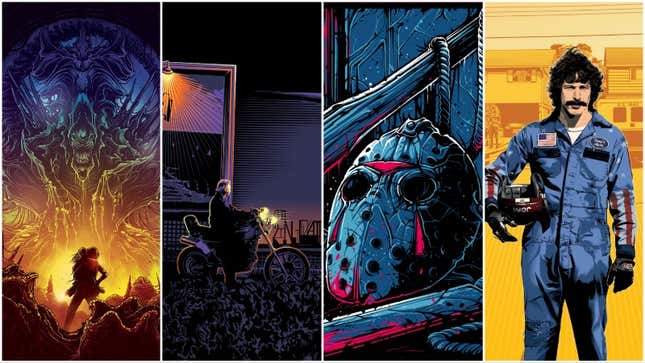 In the world of pop culture art, sometimes you find artists whose style you love. Other times you find artists who share the same passion about certain properties. Then, on a few rare occassions, you find artists that check both boxes and you instantly know, "This is going to be a problem for my wallet."
Jeff Boyes and Dan Mumford are two of those artists for me. Each has a distinct, exciting style and each just so happens to love the same movies, both big and small, that I do. Luckily for them, my taste is pretty broad so I'm not the only person who likes movies such as The Lost Boys, Aliens, John Wick, and Ferris Bueller's Day Off.
All of those, and a whole lot more, are part of Boyes and Mumford's latest dual exhibit, "Both Sides 3." It'll first be on display presented by Gallery 1988 on December 1 from 7-10 p.m. at 1056 S. Fairfax Ave. in Los Angeles, and will follow online at gallery1988.com the next day. For now, here's a small selection of work from the show.