Art exhibitions at UVic – University of Victoria News
In addition to scheduled exhibitions by UVic students, faculty and visiting artists in the visual arts program, the UVic Legacy Art Gallery Downtown operates as a lively and engaging centre for art that is easily accessible to the community and features rotating exhibitions. On campus, Legacy features over 2,000 works of art from the collection on public display and has two other exhibitions venues: the Legacy Maltwood, located in the lower level of the Mearns Centre–McPherson Library, and First Peoples House. All exhibits are free and open to the public.
Qw'an Qw'anakwal—To Come Together
Through December 23 at the Legacy Downtown, 630 Yates St.
This exhibition is a celebration of people. Qw'an Qw'anakwal celebrates Salish artists, their families, and collaborators who participated in the Visiting Artist Program through the UVic Department of Anthropology between 2011 and 2021. Over 10 years, the artists in this exhibition generously shared their art practice and knowledge with students through the anthropology of art course, which is open to students across the university campus.
The title Qw'an Qw'anakwal was chosen by Lekwungen artist Yuxwelupton, Bradley Dick (2021 visiting artist). The title represents the underlying intention of the Visiting Artist Program: to bring people together through the creation and appreciation of Salish art.
The Visiting Artist Program invites a new artist annually to teach and work with students on a theme of their choice, using media from their practice. Over a 4–6-week long residency, students learn in a hands-on, experiential manner about the histories, methods, protocols, and production of contemporary Salish art. The engagement between artists and students positions the classroom as a space of social transformation through the sharing of art. Over the years students have explored a diverse range of topics through Salish art that include relationships with the land, treaties and governance, oral histories, language, residential schools, women and economics, and cultural innovation and creativity. Artists have engaged students in hands on projects that incorporated drawing, painting, knitting, weaving and beadwork. Through this engagement, students learned in a hands-on, experiential manner about the histories, methods, protocols and production of contemporary Salish art.
Each year the visiting artist receives a commission to create a work of art as a legacy of their residency. These legacy artworks are now on permanent public display in the Cornett Building on the university's campus.
The artists represented in the exhibition are:
Douglas LaFortune with his wife Kathy LaFortune
Temosen-THUT (Charles Elliott)
Maynard Johnny Jr.
Yuxwelupton Qw'al qalaxa (Bradley Dick)
lessLIE
Qwul'thilum (Dylan Thomas)
Chris Paul with his children Liam, Cosiniye, and Sage
Margaret August and Nicole Mandryk
May Sam
HÍELWET (Sheilia Austin)
Sulsa'meethl and Tousilum (Deb and Ron George)
Joni Olsen.
With the inspiration for this exhibition being the 10th anniversary of the Visiting Artist Program, artists created new works that reflect on a common theme of time. Their interpretation of this theme broadly includes: Salish design evolution; cultural heritage and knowledge transmission; the relationship of Salish peoples to the cedar tree and the precarious status of old growth forests; ceremony; child raising; land; gender and honouring two-spirit identity, the discovery of unmarked graves at the sites of former residential schools, and experiences of the COVID-19 pandemic.
The exhibition features large format photographic portraits of each of the artists. Amanda Laliberte (Métis, UVic BFA '09) was commissioned to create these images specifically for the Qw'an Qw'anakwal exhibition in 2020 and 2021. The exhibit is curated by Smyth Chair in Arts and Engagement Andrea Walsh, with assistance from Jennifer Robinson (anthropology).
Ungasittuq—Something that is Far Away
Through December 23 at the Legacy Downtown inner gallery
Ungasittuq is an exploration of distance, space, acceptance and pushing boundaries. This exhibition aims to build a foundation for contemporary urban Inuit art photography within the broader popular understanding of contemporary Inuit art. Recent photographs by Barry Pottle present a counterpoint and complement to sculpture, drawings and prints by Inuit artists to give a broader understanding of contemporary realities and experience.
The Way Between Things: The Art of Sandra Meigs
October 18–23 on campus in the Audain Gallery, Visual Arts bldg.
Celebrated visual arts emeritus professor Sandra Meigs returns to campus for the launch of her new career-retrospective book, The Way Between Things: The Art of Sandra Meigs (ECW Press). Meigs—winner of both the Governor General's Award in Visual and Media Arts and the prestigious Gershon-Iskowitz Prize—will offer both a book launch (7 p.m.) and artist's talk (7:30 p.m., also livestreamed) on Oct. 20 in the Visual Arts building, as well as an exhibit running October 18-23 in the Audain Gallery. The exhibit will also feature a new piece created in collaboration with music professor Christopher Butterfield.
Primarily a painter, Meigs derives the content of her work from her own personal experiences and develops these to create visual metaphors related to the psyche. Her work is dedicated to the possibilities of enchantment that painting presents both through colour and form.
Eric Metcalfe: Pop Anthropology
Oct. 23, 2021-March 27, 2022 on campus in the Legacy Maltwood Gallery, Mearns Centre–McPherson Library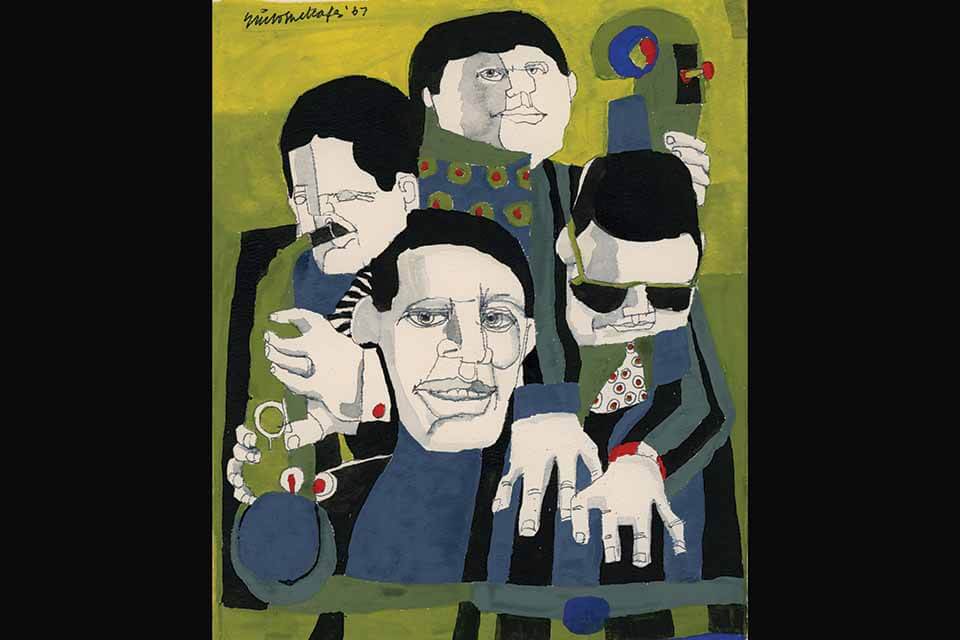 Pop Anthropology is an exhibition of multimedia artist Eric Metcalfe's oeuvre, spanning over 60 years in celebration of the artist's 2021 honorary doctorate from UVic. This exhibition continues the playful and charged work of Metcalfe's life: reimagining images, tropes and stereotypes as poignant and plentiful scraps from which to pull meaning. It honours his early development as a visual arts student at UVic in the early 1970s, as well as his lifetime achievements as a pioneer in performance art in western Canada and co-founder of the Western Front, one of Canada's leading and longest-running artist-run centres. Curated by Dorian Jesse Fraser.
Moose Jaw Art Guild meets to discuss its upcoming MJMAG exhibition – moosejawtoday.com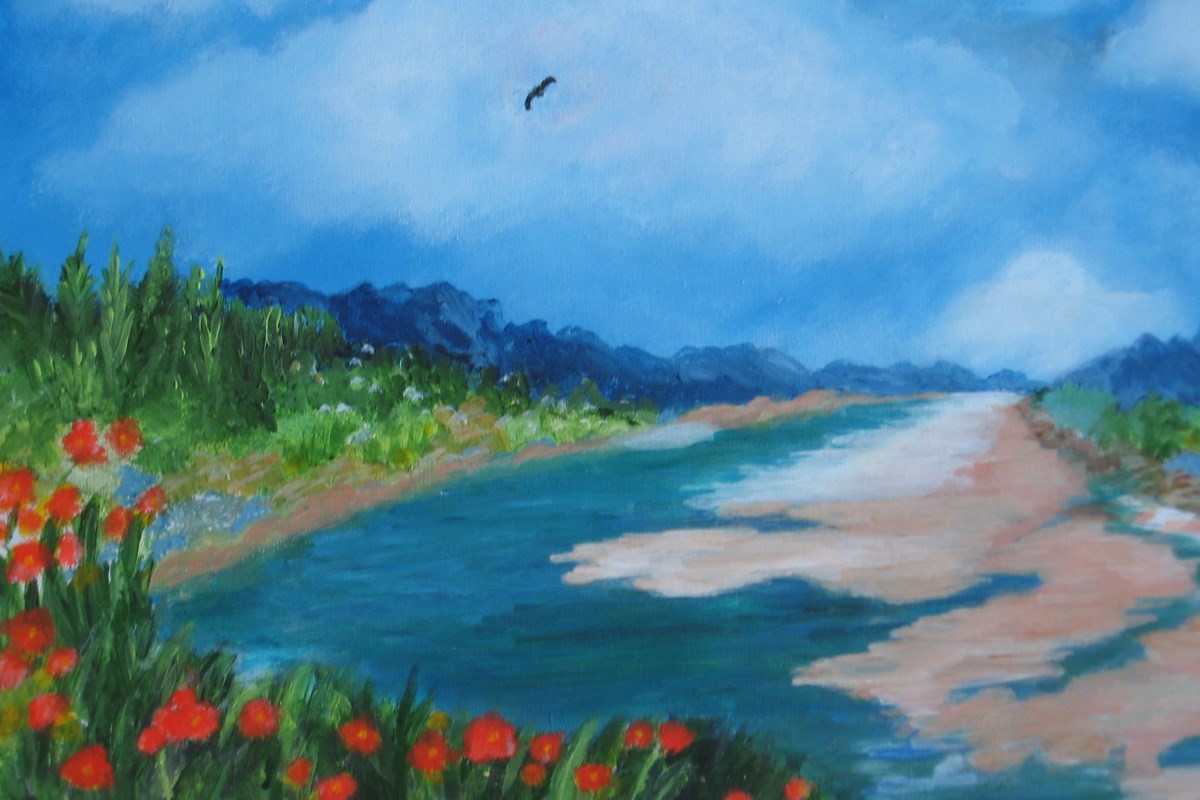 The Moose Jaw Art Guild is excited for their 54th Christmas exhibition at the Museum & Art Gallery
Led by President Karen Walpole, ten members of Moose Jaw's Art Guild gathered for only the second time in 18 months to discuss their upcoming exhibition. The forms necessary for submission were distributed, and everyone chatted about how their works were progressing.
The theme for this year is "Looking Out My Window," to be interpreted by the artist. A variety of mediums are encouraged, including drawings, pastels, watercolours, and sculptures.
Many of the works displayed in MJMAG's lobby will be for sale. The exhibition will open on Nov. 12th, and continue until Jan. 9th of next year.
Karen Walpole noted that she is "always excited" to share some of the Art Guild's venerable history, particularly in regards to its role in the founding of MJMAG. She says that, "Back in 1963, the City of Moose Jaw asked what was then the Moose Jaw Fine Arts Guild to comment on their plan to celebrate Canada's 100th birthday."
The Guild took that chance to strongly endorse and lobby for a "Cultural Centre" in Crescent Park near the Public Library. The Moose Jaw Art Museum opened in 1967, and the Art Guild has had an annual exhibition there ever since.
Jennifer McRorie, MJMAG's current curator and director, confirms that the Art Guild was "instrumental in getting the art museum established." She adds that, "In 2017 we celebrated our 50th anniversary, and so we actually presented an exhibition from our permanent collection that was the result of 50 years of collecting the work of Moose Jaw artists."
The Guild itself was established on a cold February night in 1929, after a presentation by influential Saskatchewan artists Vaughan Grayson and Barbara Barber. That night, the Women's Art Association of Saskatchewan was voted into existence. In 1957 it became the Moose Jaw Fine Art Guild, and in 1984 it achieved its current form as the Moose Jaw Art Guild.
This year's exhibition comes on the heels, obviously, of the enormous disruption of the global pandemic. Nevertheless, the Guild endures, and is always open to new members. Walpole sincerely emphasizes that one purpose of their showings is to, "provide encouragement and an introduction to many of us that want to try our artistic hands, but don't know where to start."
Art is about expression, moving beyond the limitations of language to convey emotion in a subjective, yet direct way. Although it is not possible to control exactly how one's art is perceived, this should not be a barrier. The main thing, Walpole says, is "to have the confidence to at least attempt an art form of some kind."
More information about the Art Guild, its meetings, and how to join can be found on their Facebook page.
Knitting for Guelph's Art Not Shame: 3 things to know about the organization and fundraiser – GuelphMercury.com
So you want my arts job: Art Installer – ArtsHub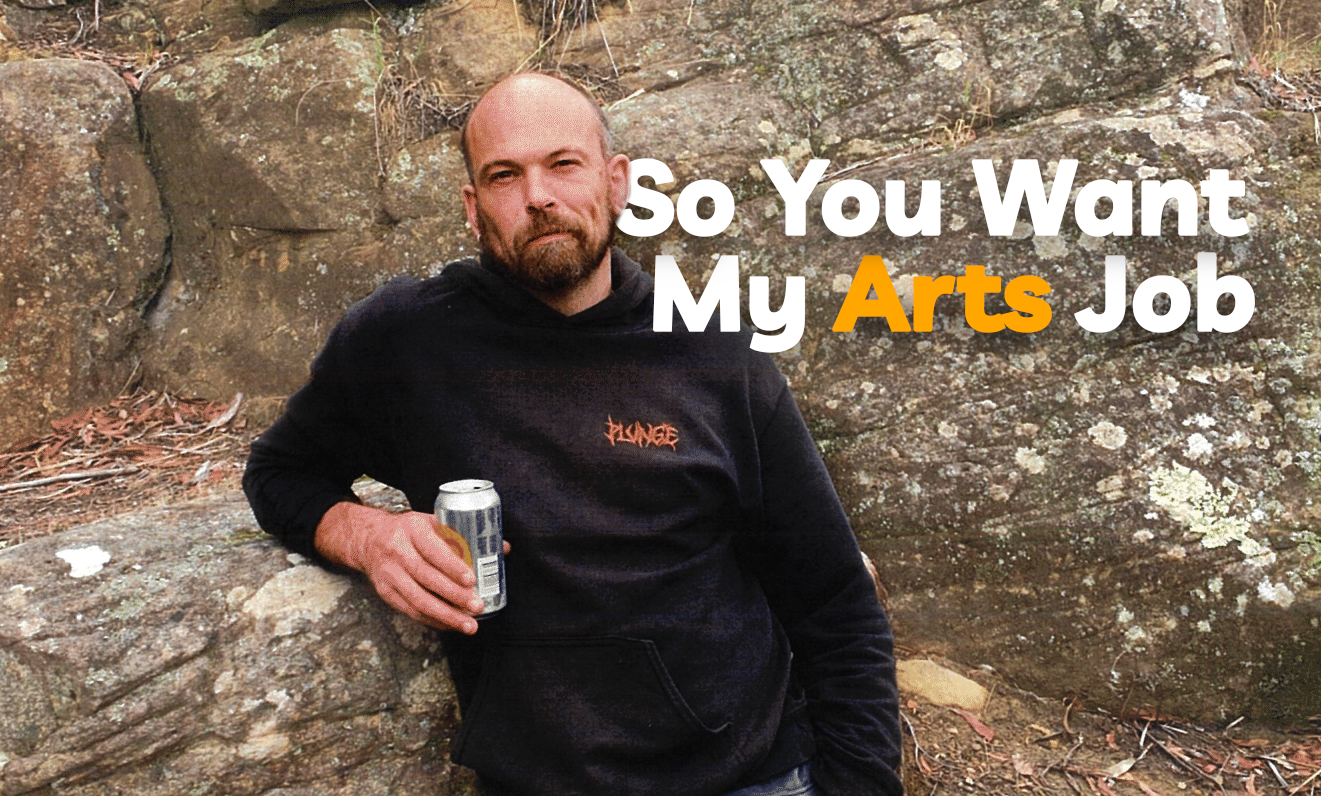 A rare opportunity saw Andrew Hawley join the National Gallery of Victoria (NGV) as a casual art handler after graduating from his BFA in Drawing at RMIT in 2003.
Eighteen years later, he is now the Collection and Exhibition Preparator at Hobart's Museum of Old and New Art (Mona), known for their eccentric and challenging exhibitions, and undoubtedly, one of the most exciting environments in which to work in art installations, storage, and exhibition preparations.
He also holds a Masters in Cultural Materials Conservation from the University of Melbourne, and has worked across ACMI, the Victorian Arts Centre, ExhibitOne, POD Museum and Art services, and the Melbourne Immigration Museum.
From Ron Meuck's 10 metre infant sculpture to Ai Weiwei's White House (2015) in Mona's Siloam, Hawley and his colleagues are the answer to your question: 'But how did they manage to get it there?'
Here, Hawley shares the excitement of working on high-profile exhibitions and discusses the skills you would need to pursue this challenging but rewarding profession.
HOW WOULD YOU DESCRIBE WHAT YOU DO?
In a nutshell; I prepare artwork and other culturally significant material for storage, exhibition and loan, and assist with exhibition/display installation. My role is quite varied but I spend most of my time at our off-site collection store where I design, construct and fit out custom packing units for artworks. These vary from timber crates and travel frames to archival board boxes, archival tubes for rolled works and the occasional solander box. I also ensure artwork is clean and display ready.
I organise and maintain the off-site collection storage area which involves a lot of 3D Tetris. I work closely with colleagues including registrars, a conservator, a mount maker and several other very highly skilled art handler/technicians as well as a wider team of kinetic artwork and time based media technicians.
I assist with exhibition installation/deinstallation and collection changeover at the museum and some external locations during festivals.
I'm also a qualified paper conservator so I undertake some conservation assessments and treatments when required.
Read: So you want my arts job: Museum Program Producer
HOW DID YOU GET STARTED IN YOUR CAREER?
I finished a fine art degree in 2003 and was looking for something outside the hospitality industry and inside the museum/gallery industry. Luckily, a regular customer at one of the venues I worked in (as a chef/cook), let word slip that the National Gallery of Victoria were hiring casual art handlers to prepare to move into the refurbished premises at St Kilda Road. I got the boss' details, wrote an application letter, attended a job interview and somehow was successful, despite no prior experience.
WHAT DO YOU LOOK FORWARD TO THE MOST IN YOUR JOB?
Unique challenges and a reliance on lateral thinking for solutions – something I experience almost every day. I also have great colleagues with whom I liaise about all aspects of the job. We learn from each others' creative perspectives.
I love the excitement of a large or high profile exhibition, including engagement with external or international artists and curators, trying to help realise a vision that may or may not be clear in everybody's mind. I equally love the calm and solitude of a collection store and the fact that I work so closely with museum objects on a daily basis. If I have a bad day, looking at an ancient Egyptian mummified cat or some 2,000 year old bronze knife coins is very soothing.
IN AN INTERVIEW FOR YOUR JOB, WHAT SKILLS AND QUALITIES WOULD YOU LOOK FOR?
Similar institutional experience in a similar capacity (eg. art handling, art packing) would be a must. It takes many years to attune yourself to the level of care required around culturally significant objects and irreplaceable artworks.
Other qualifiers would include:
A strong work ethic
An ability to handle multiple projects with strict deadlines
The ability to delegate fun jobs
The ability to undertake monotonous or tedious jobs
Strong, clear communication
Patience
Physically fit and able
The ability to look outside oneself and one's own experience for solutions. It's a bit of a 'jack of all trades' kind of position and a good Jack should know when they need to call on a master of something.
Someone who prefers order and neatness in their professional life. I'm in no way the neatest person in my private life but organising a storage area that keeps artwork safe and secure requires a high degree of attention to detail.
WHAT IS ONE OF THE MOST MEMORABLE INSTALLATION EXPERIENCES/PROJECTS THAT YOU'VE WORKED ON?
There's been a lot over the years – I've done everything from helping carry and install a 10 metre silicon sculpture of an infant (Ron Mueck) to hanging iconic works from Picasso, Munch or Tom Roberts. From installing 100 tiny neolithic arrow/spear heads in one showcase to helping build a large, imperial Chinese house framework on glass balls (Ai Weiwei), and from installing famous AFL players' jerseys in a sports museum (MCG/Australian Sports Museum) to hanging stills from Kubrick's 2001 Space Odyssey (ACMI).
It's hard to pick one moment from one project. In recent times, it's probably been the preparatory work and final install of big MONA shows like On the Origins of Art, The Museum of Everything and our recent Monanisms 2021 collection based exhibition.
WHAT'S THE BEST THING HAPPENING IN YOUR SECTOR AT THE MOMENT?
We're still operating and I still enjoy my job.
Read: So you want my arts job: Theatre Technician