Art flourishes on the walls of Morocco – FRANCE 24
Issued on: 28/09/2021 – 05:18
Rabat (AFP)
Artist Omar Lhamzi donned a bright yellow vest and paint-splattered shoes, selected a brush and set to work on his latest canvas — the wall of a house in Morocco's seaside capital Rabat.
Lhamzi is one of a new generation of artists whose murals are changing the face of Morocco's cities.
A wander through Rabat's avenues and alleyways reveals an array of freshly painted works, in which larger-than-life fantasy creatures co-inhabit with realistic portraits and scenes of daily life.
Their creators flocked from across the North African kingdom and beyond to Rabat last week for Jidar — Arabic for "wall" — a festival dedicated to street art.
Lhamzi used the side of a house in the working-class district of Yaacoub Al Mansour for his latest work, a man with six ears and green and pink skin floating in darkness, with clouds that echo Vincent van Gogh's "Starry Night".
The 25-year-old, who goes by the alias Bo3bo3, completed his first murals in the seaside city of Agadir four years ago.
But he had not been expecting it to become his main field when he graduated in 2018 from the prestigious National School of Fine Arts in the northern city of Tetouan.
"I never imagined that my work would be visible in the public space," he said.
Today, however, he covers walls with bright colours, creating a surrealist world full of references to skating and video games, breaking the monotony of the urban landscape.
– Growing interest –
In another part of the capital, Imane Droby perches on a stool in front of a school wall, tracing out a realistic portrait of a woman embroidering.
The 36-year-old from Casablanca says she, too, fell into painting murals "sort of by accident".
"I got a taste for it. It's great to transform a blank wall into a work of art," she said.
She added that street art "is difficult for everyone but even more so for women. You have make double the effort to make your mark."
It is an art form that has flourished since the early 2000s in Morocco's commercial capital of Casablanca.
A decade later in 2013, the Sbagha Bagha festival stirred a new level of public interest in murals.
"At first it was really complicated, because unlike graffiti or stencilling, painting murals requires organisation," said Salah Malouli, artistic director of Sbagha Bagha and Jidar.
"At the time, nobody felt comfortable working in public. There was lots of apprehension."
But today both residents and institutions show more interest in murals, Malouli said, and in recent years the artworks have graced walls not just in big cities like tourist hub Marrakesh but also in more remote areas.
– Portraits erased –
The artworks are not always valued by landlords or the authorities.
The municipality of the northern port city of Tangiers sparked outrage over the summer by starting to erase a tribute to French-Moroccan photographer Leila Alaoui, who was killed in a 2016 jihadist attack in Burkina Faso. The authorities later reversed the decision.
Malouli said the artworks are most vulnerable in Casablanca, where flyposting often covers walls.
"Public space is invaded by informal advertising, which complicates our work," he said.
Two works by Italian street artist Millo were erased in recent years.
Yet for the artists involved in Jidar, there is no question of giving up.
"It's the price of working in public space — you have to accept what happens, both good and bad," Malouli said.
Despite the challenges, Lhamzi sees street art as a way of "learning to speak and listen to people".
And every year, the scene is growing, with new artists contributing to a collective wall — just as Lhamzi and Droby started out.
For visual artist Yassine Balbzioui who managed the wall this year, the art form has wings.
In the street, "everything is possible", he said.
© 2021 AFP
2021 Art Crawl welcomes newcomers and regulars – Coast Reporter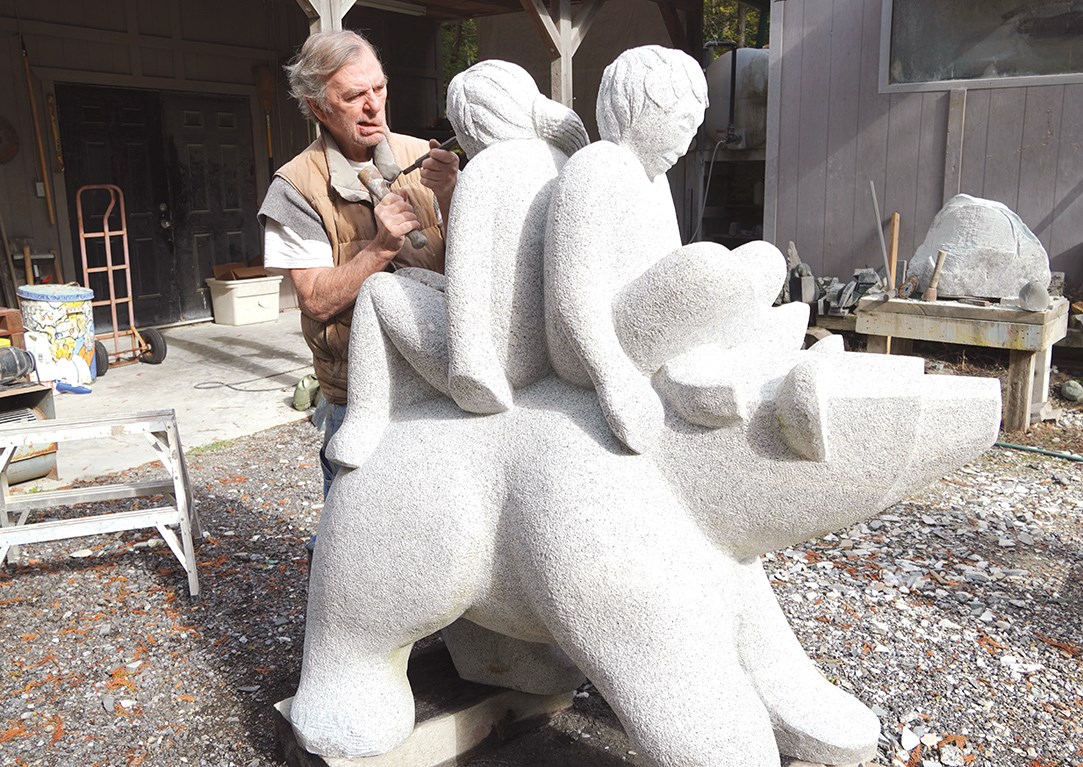 The 2021 Sunshine Coast Art Crawl is going to have plenty on offer next weekend, with many popular venues coming back for this, the Crawl's 12th year, and dozens of new artists joining in.
Among the first-timers is Elin Jonsson at venue #80 in Roberts Creek, across the street from the Gumboot Café.
Jonsson works as a video-game producer by day and has painted in her private time for several years. For the past 12 months, she has been delving into a new theme, HSP, or highly sensitive persons. Works exploring that subject will be displayed in the separate studio behind the small home Jonsson shares with her husband, actor Artine Browne.
Jonsson includes herself among the 15 to 20 per cent of the population that can be described as HSP, a trait identified in a 1991 book by clinical research psychologist Dr. Elaine Aron.
"These people often are very creative. There are a lot of musicians and artists that have a more sensitive nervous system," Jonsson explained. "A lot of good stuff comes with this trait but it's also like having a side of you that takes in everything, so you're also overwhelmed more easily."
Jonsson has filled a stack of sketchbooks to express aspects of HSP using cartoon-like cat figures, which she has digitally coloured before enlarging, printing, and framing. Jonsson said she hopes eventually to add text and create a book with these series of works.
Among the returning Art Crawl veterans is stone carver George Pratt, who's been part of the Coast Art Crawl since it began in 2010 (although he did sit out the COVID-challenged 2020 Crawl). Pratt's property near Secret Cove is venue #148.
You get a taste of Pratt's work from the sculptures he's set along the twisting driveway up to his home on Wood Bay Heights Road. Pratt, 82, has a lot to show, having shaped granite, marble, and various other types of rock since 1971. His pieces can range in size from a few kilos in weight to a few thousand.
Pratt has works on public display across the country, including the Terry Fox memorial in Port Coquitlam, and as far away as China where one of his sundials sits in a square in the city of Guangzhou. Among his local installations is the stone sundial in front of the Sechelt Library.
Pratt said he's happy to welcome Art Crawlers into his home and loves showing his work.
"I'm actually pretty popular [at Art Crawl]. It's a good ego trip for me," he said with a laugh. "I've had as many as 200 people come on through. And many of them go away with a nice little sculpture under their arm. So, I do well."
Pratt's enthusiasm has not been dampened by health issues that have arisen recently, including "a nasty cancer," which led to radiation treatment that damaged nerves and disfigured his face. "I'm OK with it," he said.
Pratt has also dabbled over the years in painting watercolours and recently has been exploring digital art, some fine examples of which he will also display for visitors this year.
Sunshine Coast Art Crawl runs from Friday, Oct. 22 to Sunday, Oct. 24, 10 a.m. to 5 p.m.
Art, technology collide at Scottsdale's Canal Convergence – Your Valley
To Our Valued Readers –
Visitors to our website will be limited to five stories per month unless they opt to subscribe. The five stories do not include our exclusive content written by our journalists.
For $5.99, less than 20 cents a day, digital subscribers will receive unlimited access to YourValley.net, including exclusive content from our newsroom and access to our Daily Independent e-edition.
Our commitment to balanced, fair reporting and local coverage provides insight and perspective not found anywhere else.
Your financial commitment will help to preserve the kind of honest journalism produced by our reporters and editors. We trust you agree that independent journalism is an essential component of our democracy. Please click here to subscribe.
Sincerely,
Charlene Bisson, Publisher, Independent Newsmedia
Montreal palliative care doctor transforms junk into whimsical art – Global News
After more than 30 years of taking care of patients, doctor Michael Dworkind is gaining attention for artistry of a whole other kind.
The palliative care physician, now in semi-retirement, creates works of whimsical art made entirely of junk.
It's a passion that Dworkind has been quietly expressing for decades. Dworko – as he is known in the art world – has been transforming discarded trash found on the sidewalk into works of art.
"Unfortunately in our Canadian society we throw out so much good stuff," Dworkind said. "Garbage day in NDG is my heaven."
READ MORE: 'Street find' art transforms NDG alleyway into outdoor gallery
His creations include monstrous faces using shower heads, door stoppers and plungers, and a sculpture of a fiery phoenix with a broom head and construction clamps for a beak.
His art brings out untold reactions from people trying to decipher the piece itself but also the pieces it's made out of.
"It's humorous because people say things: 'this comes from there, that from there; Ahh isn't that funny.' That's the reaction I want."
Dworkind says his work has no rhyme or reason – the 'junk' speaks to him.
"Sometimes I'll just see something on the curb and want to have it," Dworkind said.
His art is showcased all over the walls of his NDG home and in devoted rooms as small galleries. Little of his work is seen by the public.
But that has now changed with the latest short film produced by photographer Ezra Soiferman.
"I was blown away and I decided to take out my camera and start making a movie," Soiferman said.
Titled The Junk On My Roof the film shines a light on Dworkind's hidden but bright rooftop sculpture garden.
Soiferman says Dworkind is a renaissance man that has many stories already told, none of which have been about his art.
For example, in 1985 he served as a member of the International Physicians for the Prevention of Nuclear War which won a Nobel Peace Prize.
Dworkind is currently the co-founder and medical sirector of Santé Cannabis, the leading education and resource centre for the use of medical cannabis in Quebec.
"When I see another artist who is out there hustling creating things using their voice to express themselves in a unique way I get excited," Soiferman said.
READ MORE: Local artist transforms Montreal bus shelters into pop-up art galleries
Soiferman says people are surprised and overjoyed by the five-minute walkthrough film.
Family members of former patients at the Jewish general hospital where Dworkind used to practice have been reaching out, commending the video and the artwork.
Dworkind says he's humbled by the video and the attention it's gotten online.
Soiferman says the duo is far from done. They plan to create a second project described as a soup-ed up slide show showcasing art through photo and music focusing on the more than 100 sculptures peppered across Dworkind's property in the Laurentians.
"That place is like a sculptural Disneyland. It's wild and whimsical," Soiferman said.
© 2021 Global News, a division of Corus Entertainment Inc.