Art to go: Vancouver's first art vending machine aims to boost local artists – Vancouver Sun
Need a quick art fix? The art vending machine dispenses zines, buttons, stickers, art prints and other original works by local artists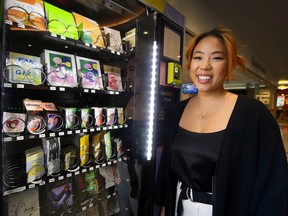 Article content
An unorthodox vending machine in downtown Vancouver is dispensing more than soda, candy bars and chips.
Article content
Instead, people can get their art fix — to go and contactless — at Vancouver's first art vending machine, in the Bentall Centre in the heart of the city's financial district.
Article content
It's the brainchild of Crystal Lau, founder of non-profit Vancouver Vending Co. She got the idea to stock art in a vending machine last year during the height of the pandemic, when many artists found themselves without the usual outlets to display and sell their work.
Many cities around the world already have art-vending machines, said Lau, who works full-time in community engagement at the University of B.C.
Even with COVID-19 restrictions lifting, Lau said the machines still serve a purpose: "A big part of this project is to make art more accessible for people."
Article content
Some people might find galleries intimidating and art markets are few and far between, she added. "This is a way to dip your toes in the art scene. This is something rain or shine can be there, and people can visit it."
The project is also a way to provide a safe and accessible space to promote artists' work, particularly emerging and BIPOC and LGBTQ2S+ artists.
While art vending machines have been popping up in cities in recent years, the concept of an art-gallery-in-a-machine seems to have originated in 1997 in the U.S., where artist Clark Whittington repurposed a cigarette vending machine to sell his black-and-white photographs at his solo show at a cafe in North Carolina.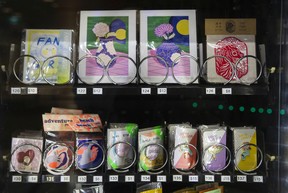 When the show was over, the cafe owner asked that the machine stay permanently. There are currently hundreds of Art-O-Mats in the U.S.
Article content
The idea got a positive response from local artists, said Lau, who put out a call out on Instagram for artists over the summer. She encouraged interested applicants to submit items in their catalogue that would fit the dimensions of a bag of chips or chocolate bar, then narrowed them down to a roster of 14.
Works range in price from a loonie to $60 and include pins by David Camisa, stickers by Lottie Liu, and prints and furoshiki wraps by Anita Cheung. There are also notebooks, buttons, patches, pins, zines — even crocheted daisy coasters.
The machine itself is a repurposed vending machine, brightened with LED lights in the interior and given a vibrant new exterior wrap by local illustrator Paige Jung, making it a work of art on its own.
Article content
To make sure the project benefits artists sooner, Vancouver Vending Co. purchased the items for artists up front, with the help of business improvement group Downtown Van, instead of acquiring them on a consignment basis.
A portion of sales will go to various grassroots arts organizations. For September and October, the recipient will be Vines Art Festival, an arts organization that nurtures artists with a focus on land and water justice.
If successful, Lau envisions more art vending machines pop up elsewhere in the city. "Ideally, it would be nice to have them pop up at different events or have some kind of permanent homes," she said. "We'll see. We just launched this week."
The machine, which takes credit and debit cards, will be at its site at the food court of Bentall Centre's Tower 4 on 1055 Dunsmuir St. for three months.
---
More news, fewer ads, faster load time: Get unlimited, ad-lite access to the Vancouver Sun, the Province, National Post and 13 other Canadian news sites for just $14/month or $140/year. Subscribe now through the Vancouver Sun or The Province.
Art across the water – The Recorder and Times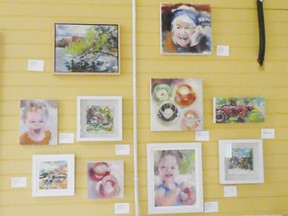 Article content
As the summer winds down, there are still plenty of opportunities heading into fall for some art-related excursions. Keep your eyes open for autumn studio tours as the fall colours brighten the landscape, but be sure to also cast your gaze over the water for a slightly different outing. Hop on the ferry and head over to Wolfe Island to visit the Wolfe Island Gallery, which is open on weekends now until Oct. 8 (it is open more frequently during the summer).
Article content
The WIG is an artist-run collective comprised of creatives who live on, or have some other connection to, the Frontenac Islands — Wolfe, Simcoe and Howe. This is the main criteria of membership for artists in the WIG, another being that works produced for exhibition must be original fine art, sculpture or fine crafts. (A yearly call for artists goes out on the WIG's web page and socials in early spring.) Given the emphasis on the island connection, it should come as no surprise that much of the artwork on display is closely tied to the islands themselves, whether the work reflects the landscape, community, fauna or lifestyle. The artwork and crafts at the gallery include paintings, photography, stained glass, sculpture, jewelry, drawings, art from found objects and quilts, among other types of work.
Article content
While most artwork has the stamp of its creator on it that in some way identifies it, with a gallery such as the WIG, it is also interesting to speculate on whether the artwork within it also reflects a certain specificity of Place. This idea of Place can be interpreted in a variety of ways. It may refer to representation of the actual geography and population of a particular region; it may refer to the character, ambience or "vibe" given by a locale; it may refer to a sense of identity. The possibilities, while not quite endless, are many. Historically speaking, for example, the quality of light in and around Venice was well known by painters, who sought to reproduce it in their landscape and city-scape representations. And this particular quality of light (if successfully captured in paint) served to identify this particular Place even if the subject was not made plain by the title of the work or by distinctive architectural or other features.
Article content
So when you're looking at the artworks on display at the WIG, are there aspects that speak to the work having been produced on one of the Frontenac Islands? You might consider whether Nancy Steel's figural paintings evoke a sense of community, or if her landscape vignettes offer a sense of a slower pace of island life. Or perhaps the willow bark bowls made by Patricia Howes and enhanced by found objects suggest quietude and long rambling walks of discovery. The black-capped chickadee of Jan Fitch's carving or the owl in Kathy Schwab's stained glass may be frequent visitors to their respective gardens or just passing through, with their own stories to tell.
It is the stories, of course, that drive artistic creation, with those stories supported and imbued with the influence of Place. Go and experience some island time and discover the stories being told in art by this very particular place.
Article content
Kamille Parkinson earned a PhD in art history from Queen's University, and is presently a copywriter, writer of fiction and art historian at large. You can find her on LinkedIn, at www.wordpainterprojects.com, and can contact her at wordpainterprojects@gmail.com.
Art About Town
Agnes Etherington Art Centre:
Gallery Raymond:
MAK Gallery
Modern Fuel Artist Run Centre:
O'Connor Gallery
Studio 22 Open Gallery:
Union Gallery:
VAGA Gallery
Window Art Gallery:
Wolfe Island Gallery:
Candid Polaroid Pictures Of Black Life At Art Gallery Of Ontario – Forbes
Smiles.
Families.
Moms. Dads.
Sons. Daughters.
Grandmas. Grandpas.
Aunts. Uncles.
Little kids. Big kids.
Toronto artist Zun Lee found the remarkable in the ordinary. Hidden in plain sight. One step from the trash bin.
Friends.
Girl friends and girlfriends. Boy friends and boyfriends.
Dressed up. Dressed down.
Yards. Dens.
Holidays. Vacations.
Motorcycles. Cars. Bicycles.
Beautiful people. Hopeful people. Funny people.
Caring people. Proud people. Happy people.
Pictured are the incredibly ordinary experiences of Black Americans. The same experiences enjoyed and photographed by white Americans. By all Americans.
Why, then, are Blacks commonly "othered?" Why are Blacks commonly considered different by non-Blacks
Questions inherent in "What Matters Most: Photographs of Black Life," an exhibition of Lee's found photography collection acquired by the Art Gallery of Ontario in 2018 now on view there through January 8, 2023.
"Polaroids and other instant film formats are unique in their ability to capture everyday life in such an immediate and sociable way," Lee told Forbes.com. "These images were taken, shaken, passed around and discussed by Black friends and families. There is hardwired into their creation an un-self-conscious performative element and aesthetic, unseen elsewhere."
That "un-self-conscious performative element" reveals itself in silliness. Tenderness. The intimate, revealing, unguarded moments only displayed when surrounded by love and joy. These people, their poses, the pictures would look completely different if the subjects knew the images would one day hang in a museum. The photographs Lee has collected provide rare insight into people as only those closest to them saw them. Before they put their defenses up to face a harsher world outside their most secure comfort zone.
Astonishing.
Lee began collecting instant print portraits of Black life 10 years ago. He'd find them at yard sales and online. The collection grew to exceed 4,000 pictures from the 1960s through the early 2000s. This debut presentation features more than 500.
"We know very little about the individual images in this collection–who made them, where and when they were taken, how they came to be lost," Lee said.
Tantalizing hints are revealed in writing on the photographs.
"Sammy's baptism. July 19, 1998."
"October 3, 1975. San Francisco."
"Neicy, Donta."
"10-11-78."
"12-16-77. To dad. Love. Butch."
"Ashley, mom & dad, 7-8-84. 9 weeks old."
Who were these people? What became of them?
Those answers simultaneously unknowable and obvious.
They were you. They were me. They were everyone.
They had successes. They had failures. Good days. Bad days. Hopefully more good than bad.
They lived and are living or have died.
Same as everyone.
"Polaroids and other instant format photographs will inevitably decompose, decay, and fade over time–it's part of their chemistry," Lee said. "The work of the collection is to resist that, both physically and historically. The exhibition and publication of these images allows them to be activated again, to enable the sharing of individual and collective memories to live."
Absent from "What Matters Most" are the photographic images of Black Americans typically shown in the mass media: mug shots, protestors, victims, poverty, violence.
A scowling member of the Black Panthers. A wailing mother grieving a shooting. Homeless on the "bad" side of town.
"We see a vision of Black life that is firmly at odds with the dominant narratives of the postwar era," Lee explains. "We cannot forget that the Moynihan Report of 1965 which did so much to concretize the perception of Black families as pathological and dysfunctional is still significant in sociopolitical discourse. These images–of births, graduations, dinners, birthdays-demonstrate a richness and complexity that contradicts these flattening narratives throughout several decades."
Written by then-assistant secretary of the U.S. Department of Labor Daniel Patrick Moynihan, what became known as "the Moynihan Report" was formally titled, "The Negro Family: The Case for National Action." The report hypothesized that a breakdown of the nuclear family in Black communities contributed to Black America's greater incidence of poverty than whites. That finding was then and has ever since been widely repeated to blame Black parents–primarily fathers–for the problems of the Black community.
Ignored was Moynihan's contention that the reason for this breakdown was the history of slavery, abuse and discrimination experienced by Black people ever since arriving in America. Moynihan, in fact, considered it "extraordinary" that Black people in America survived at all considering the racial terror they endured.
That racial terror continues to the present day.
Lee's photographs should be copied in the millions and used to wallpaper every law enforcement office in America. Police continue demonstrating that Black lives don't matter to them. If cops saw the smiling Black faces, the friendly Black faces, the fatherly Black faces on view in these pictures, it's impossible to believe they would continue their "shoot first, ask questions later" standard operating procedures when it comes to Black men.
It's impossible to "other" the people in these photographs. The Black people in these photographs. To not value their lives. They look too much like everyone else.
If these were the images of Black people shared in mass media over the past half century, equality in America might be closer to reality, not still a fantasy.
"There is the incredible capacity of these images to prompt feelings of kinship–in these images are things so essentially human–that they can help us all come closer," Lee said.
These pictures have that power. That's why they belong in an art museum despite not being taken by professional photographers or produced to make an artistic statement.
The artistry in "What Matters Most" doesn't come from the individual pictures, the artistry comes from the collection as a whole–Lee's vision and curation in compiling it. Together, the photos present a powerful visual statement about the lives and experiences, the culture, the relationships, the dreams of Black people over a half-century. Together, it becomes one of the most dramatic and compelling art projects in memory. Found object art. A ready-made of Black American culture and life. A safeguard of Black visual culture. Recognizing the extraordinary in the ordinary.
Genius.
"For Black audiences, the existence and exhibition of these images is empowering–a rare opportunity to see Black Culture unfiltered through a lens of white supremacy," Lee said. "The separation of these images from their families is an opportunity for everyone to consider the larger socio-political forces that continue to marginalize Black lives and domestic spaces."
These pictures are worth a great deal more than 1,000 words.
This project brought art and quirky commentary to Calgary's parking lots – CBC.ca
If you noticed art displays popping up around Calgary this weekend, you weren't the only one.
On Saturday and Sunday, Calgary-based artists took over several parking lots with art projects built into and around a number of vehicles that traveled throughout the city.
The exhibition, dubbed Idle Worship, is a mobile showcase of art and performance in trunks, back seats, box trucks, minivans, and automobiles, designed specifically for the context of parking lots across the greater Calgary area.
"We dedicate a lot of our cities to roads and parking lots and these spaces, I think, could be more absurd," said Caitlind Brown, an organizer and part of the artist-driven project.
"[The spaces] could be weirder and come with more conversations."
The movement brought art to unsuspecting crowds near malls, big-box stores and grocery shops.
People were climbing into a U-Haul, peeking in car windows — and jumping into the mouth of an unidentified species.
Abebe Kebede was just out to grab a coffee with a friend when he noticed something next to him.
While they were chatting in the car, one of the art pieces was set up right beside them.
"When I saw that [being set up], I thought, 'what, I have to go see it,'" he said. "It looked like a weird animal's mouth opening, it's so amazing, I really like it."
The exhibit popped up in every one of Calgary's quadrants.
Idle Worship has a performance art component, too. One artist sat in his vehicle with dirt and flowers, giving the viewers a choice: water the plant or water the boy.
And there was some tongue and cheek commentary.
Khalid Omokanye said his piece is about greenwashing— a popular marketing tactic that brands use to give the impression that their business practices are sustainable and fight climate change, without actually reducing greenhouse gas emissions.
His project is housed in the back of a pick-up truck.
"I made a little sculpture there, that drops seeds as I am driving, potentially planting a forest in my wake," he said. "So this vehicle becomes no longer an issue because it plants enough trees to fix its problems."
Given the circumstances of the art show, Brown was surprised that there were no issues at all.
"This has been a remarkably problem-free exhibition, considering we are literally just touching down in parking lots without asking for permission from the property owners, and then getting up and driving away," she said.
"The great thing about this exhibition is that if there had been any problems, we could've just packed up and left."