ARTS AROUND: Last week of Mistletoe Market at Alberni art gallery – Alberni Valley News
This is Mistletoe Market's last week at the Rollin Art Centre.
Mistletoe Market showcases the amazing talent in the Valley, featuring all local artists, artisans and crafters. You will find something for everyone on your list: pottery, jewellery, scarves, photographs, original paintings, glass works, quilted stockings, holiday cards, ornaments and much more.
Mistletoe Market runs until Dec. 21. Gallery hours are Tuesday to Saturday, 11 a.m. to 4 p.m. We are located at the corner of Argyle Street and Eighth Avenue. We are also wheelchair accessible.
HOLIDAY EXTENDED HOURS
The Rollin Art Centre will remain open late on Friday, Dec. 20 from 11 a.m. – 8 p.m. Enjoy some holiday shopping in our gift shop and gallery.
WINTER CLOSURE
The Rollin Art Centre will be closed starting Dec. 24 and will re-open Jan. 14 for our annual Winter Maintenance closure. We will re-open with a new art exhibit featuring photographs by Courtney Naesgaard and John Douglas from Jan. 15 – Feb. 8.
LAST KRAFT DAY
This is your last chance to join us at the Rollin Art Centre for an afternoon of Christmas krafts.
If you are between the ages of 7 and 13 and you are looking for a fun way to spend a Saturday afternoon, then join us for Krafty Kids Korner on Saturday from 1-3 p.m. Create some fun memories and crafts relating to Christmas.
No registration is required—just come on by. The cost is $15.
BOOK DONATIONS NOW ACCEPTED
The Community Arts Council is now accepting all gently used books for our giant book sale in May. Usually we don't take them until February, so if you're cleaning out your reading materials, now is a great time to make room for new ones by donating all those books to the Rollin Art Centre. Books can be dropped off Tuesday to Saturday, 11 a.m. – 4 p.m.
WINTER WONDER BANDS
Enjoy an evening of holiday music performed by the AV Community Band, Harbour City Big Band, ADSS R&B Band, and the 50+ member ADSS Choral Band on Wednesday, Dec. 18 at 7 p.m.
Admission is by donation with proceeds to "Kuu-us Crisis Line Society" to support youth in our community during what can be a hard time for families. A silent auction, with items created by the ADSS Art Department, will also be held. Proceeds go to Kuu-us Society, as well.
ARTS FUNDRAISER
Enjoy a Winter Solstice Dance Party fundrasier at Char's Landing on Saturday, Dec. 21 at 7 p.m. Dance to Mystic Groove Band & Cool House Tunes. All proceeds go to Char's Landing and Alberni Art Rave.
Tickets are $10 and are on sale now by phone (778-421-2427) at the Rollin Art Centre and Gayle's Fashions (cash only) or online (brownpapertickets.com).
BANNER PAINTING PROJECT
The Arrowsmith Rotary Club's annual banner painting at Glenwood Centre will begin Feb. 6. Registration forms are now available at the Rollin Art Centre. The deadline to register is January 29. The cost is $35 to paint and keep your banner after they are taken down, or $10 just to paint a banner.
Painting dates are Thursday, Feb. 6, (4-8 p.m.), Friday, Feb. 7, (12-8 p.m.), Saturday, Feb. 8, (9 a.m. – 4 p.m.), Sunday, Feb. 8, (9 a.m. – 4 p.m.).
DRAW GALLERY
The Heart of Winter Group Exhibit runs through Feb. 21. All are welcome to mix and mingle whilst enjoying seasonal refreshments at the opening reception on Jan. 10 from 6-8 p.m.
Visit us online at www.drawgallery.com and at the corner of Melrose Street and Eighth Avenue. We're open Tuesday through Friday, 12-5 p.m., and by appointment. Call 855-755-0566.
Melissa Martin is the Arts Administrator for the Community Arts Council, at the Rollin Art Centre and writes for the Alberni Valley News. Call 250-724-3412.
MacLaren launches new public art series using downtown Barrie windows – BarrieToday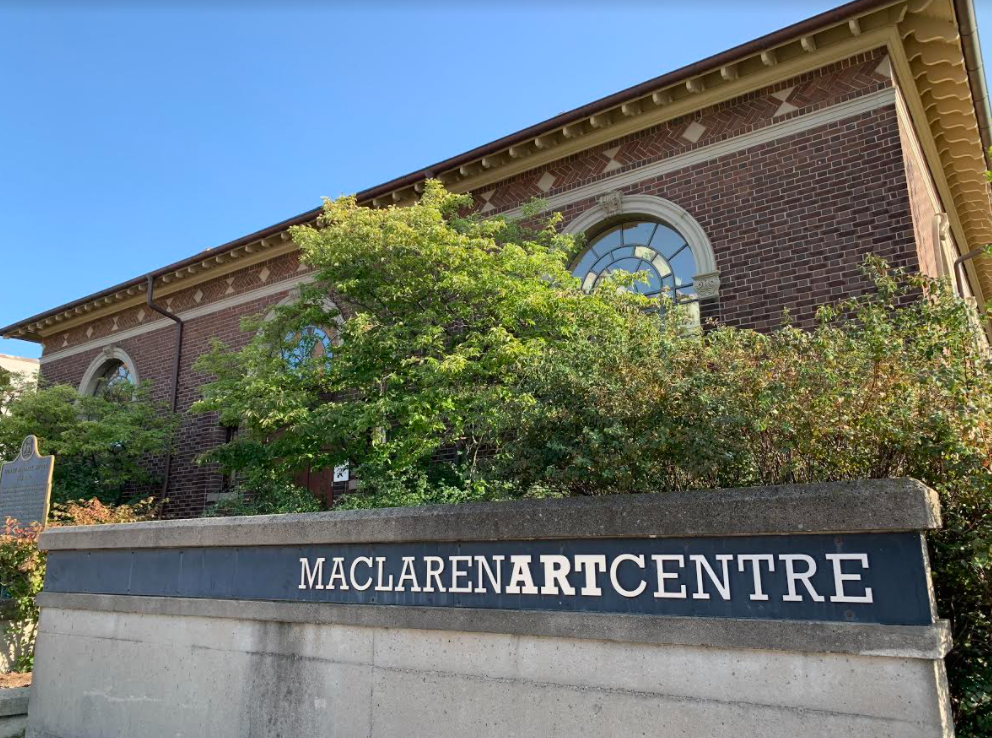 NEWS RELEASE
MACLAREN ART CENTRE
*************************
Barrie buildings are soon to become art canvases as part of an intimate new outdoor public art project Wintertide. An initiative of the MacLaren Art Centre, this three-part series will utilize downtown windows to show projections of works by regional artists as well as a special international feature. From March 10 to 24, the project will transform ordinary public spaces with light, bringing joy and excitement to our community during these dark and difficult times.
Wintertide is intended to be an annual program run in collaboration with the City of Barrie and the local arts community. This year's theme, Return of Light refers to the time change that occurs at the culmination of the project as well as the optimism afforded by mass vaccination and the eventual end of the pandemic.
MacLaren Executive Director Karen Carter says, "The program was conceived by our team, not only to brighten spirits, but also to provide support to local artists who have lost opportunities to show their work due to the pandemic. The projections will encourage residents to go outside, shop locally at downtown businesses and enjoy art while observing safe social distancing protocols."
As part of the two-week installation, artwork and short films will be projected onto the MacLaren Art Centre's Mulcaster and Collier Street windows. Additional displays will feature on windows at City Hall and the empty storefront at 46 Mulcaster St. Each art projection is approximately two minutes long and will be repeated on a continuous loop during the display hours.
Angela Aujla (Barrie), David Andrec (Barrie) and Krystal Ball (Toronto and Jamaica) are artists who have contributed to the project this year. Their artwork was selected to bring light and colour to the downtown core during the darkest days of the year and is meant to be a hopeful presence for passersby.
Joining the local artists, Los Angeles-based filmmaker Tarun Lak, has offered his India Vignettes video compilation to the series. An animator at Pixar Animation Studios, Lak is known for his playful work, which captures the familiar ways in which Indian children revel in their little moments of joy. Audiences can learn more about Lak's practice in a free Zoom talk in March with the artist, Alana Traficante, Executive Director at Gallery 44 and Deepali Dewan, Dan Mishra Curator of South Asian Art & Culture at the Royal Ontario Museum.
Wintertide is part of a broader series of public programs at the Gallery known as MacLaren Offsite, which features local, national and international artists in collaborative pop-up exhibitions and community art projects across Barrie and Simcoe County. The program reflects the Gallery's commitment to building a vibrant, healthy and creative community in the region.
This year's Wintertide initiative was executed with a number of community partners from the Barrie artistic and cultural communities and made possible through the generous support of Founding Partners: the City of Barrie, Georgian BMW, the Sarjeant Company, Canadian Forces Base Borden and Simcoe County Archives.
All art projections featured in Wintertide can be viewed from the intersection of Collier Street and Mulcaster Street in downtown Barrie. They will run daily from dusk to dawn through March 24, 2021.
To learn more about Wintertide, visit www.maclarenart.com or follow along with updates on the MacLaren Art Centre's social media platforms on Instagram, Facebook and Twitter.
*************************
Sask. painter, sculptor selected to make official Disney artwork – CBC.ca
A Saskatoon artist is joining the elite ranks of those who bring the magic of Disney to life.
Denyse Klette is the first Canadian to be signed by Collectors Editions as an officially published creator of Disney fine art.
"It's magical," Klette said. "My mom and dad had Sunday nights as a special evening where … they'd make us hamburgers and French fries and we'd watch The Wonderful World of Disney. So I absolutely grew up on this."
The Collectors Editions is not a Disney Corporation, but it's the only independent company in the world with rights to produce and publish Disney fine art.
"They have a small group of artists from around the world that they've selected and we get to design and create Disney art," Klette said. "The originals are sold in different Disney galleries and also they have reproductions done."
The painter and sculptor lives on an acreage just outside of Saskatoon and has a style that combines her mediums. Klette paints an image, then sculpts around the edges to give it a 3D aspect.
Klette said she is allowed to base pieces on almost any of Disney's animated works. She first produces a full-colour concept drawing on her iPad then uploads it to the Collectors Edition team. The team sends it to the Walt Disney Company, which then reviews it and makes any corrections on proportions or colours. Disney then sends it back to the Collectors Edition, which gives her the go ahead.
So far she has created artwork inspired by Beauty and the Beast, Moana, Tangled, Mickey and Minnie Mouse, Frozen, The Lion King, Lilo & Stitch and Mulan.
Her work is mainly on display at the Disney art gallery at the Epcot Centre in Florida, but she's allowed to sell in Canada through her website. Her originals or reproductions can also be found at galleries authorized by Collector's Editions.
"It's so much fun. I get to walk into my studio and paint Mickey Mouse," Klette said. "I still do like my non-Disney, but to do Disney art, it's such a magical and close-to-the-heart experience."
Klette said she has an extensive library of Disney books that she collected over the course of almost 40 years.
"It really is a dream come true."
Noka Aldoroty, the director of Disney fine art at Collectors Editions, said in a statement that Walt Disney's ability to inspire others to create was his greatest talent.
"It amazes me that even to this day his legacy is still inspiring artists to invent new ways of reimagining and interpreting Disney stories through their own creative lens," Aldoroty said.
"We saw in Denyse a truly unique point-of-view artistically, and we could not be more excited to share her talents with Disney fans and art collectors around the world."
Klette's work can be found in hotels, resorts, private collections, home decor products, bags, puzzles and more. She also signed a book deal in 2016 with Macmillan Publishers for a whimsical series of adult colouring books distributed worldwide.
Klette is currently working on pieces inspired by Cruella de Vil from 101 Dalmations and Ursula from The Little Mermaid.
The Morning Edition – Sask5:15Sask. woman first Canadian to be chosen as fine artist for Disney's Collectors Editions
From The Lion King to Moana, Disney animation has inspired decades of memorable characters. Now, a Saskatoon artist is joining the elite ranks of those who bring the magic of Disney to life. Denyse Klette is the first Canadian to be signed by Collectors Editions, as an officially published artist of Disney Fine Art. Denyse joins host Stefani Langenegger to talk about her unique artistic style and being signed to Disney. 5:15
'We are a home, a home for your art': BIPOC artists launch community and gallery space – CBC.ca
Artists who are Black, Indigenous and people of colour have a new gallery to call home in Winnipeg's Exchange District.
Starting this weekend, TakeHome BIPOC Arts House will open its doors, by appointment only, for an inaugural show featuring artists Glodi Bahati and Bria Fernandes.
"I think there's not enough spaces that are just for BIPOC people to be in charge of our own stories," said Bahati. "In my opinion, that's why the space exists."
Bahati's photography is part of an exhibition that speaks about black identity for women, trans and femme-identifying people.
The opening show represents her second ever exhibition and an introduction into a world of art that she's excited to dive into, with help from others.
The new downtown space — located in the Artspace building on Arthur Street, in what was previously known as Studio 622 — will showcase the works of Black, Indigenous and people of colour, while providing low-barrier access to supplies, a work studio, and peer-to-peer mentorship.
The Manitoba chapter of Canadian Artists Representation/Le Front des artistes canadiens (CARFAC), a non-profit that is the voice for Canada's professional visual artists, provided the studio space and is fundraising so it can grow.
"We are a home — a home for your art or home for BIPOC peoples to gather and edify each other and grow in their crafts, whatever their discipline may be," said Sappfyre McLeod, administrative coordinator for the Arts House.
As a space run by and for people who are Black, Indigenous and people of colour, the Arts House aims at moving beyond diversity and inclusion and into the realm of building relationships with artists, so they feel safer and more autonomous in their work.
"Some of the things that have created a need for this space are how wildly undervalued BIPOC artists are, [and] how exploitative the institution of art can be in dealing with BIPOC folks," said McLeod.
Through consultations with artists who are Black, Indigenous and people of colour, the Arts House took direction from the community it looks to serve.
That process provided the organization with the idea to create a space where artists of colour can work and share knowledge, including how to appropriately price their work, apply for grants and ensure contracts are upheld.
"I think a lot of emerging artists don't even know where to go to, or where to turn, or what questions to even ask for certain things," said artist and steering committee member Annie Beach.
The space, which also relies on funding from the Manitoba Arts Council, has been in development since August 2020, said Beach.
Beach, a graduate of the University of Manitoba's School of Art program, is excited to start curating a residency and second exhibition show next month. She wants to give others a chance to succeed, even if they can't attend formal programs as she did.
"I honestly think that TakeHome is going to take so many different forms, in the sense that it's going to just support any artist in any endeavour that they want to do," she said.
Anyone interested in seeing the gallery show Embodied: They Hold Their Own, a show curated by the Kinfolk committee, can book an appoint at the TakeHome BIPOC Arts House website.