Local art could be the perfect Christmas gift – OrilliaMatters
Well, here we are, hurtled pell-mell into the week before Christmas. Where did the time go?
I hope you have been enjoying all the Christmas arts and culture events I have been highlighting in my column and they have added to your enjoyment of the holiday season. I want to let you know I will be taking a short holiday break from the column, so the next one will be on Facebook on Jan. 8 in the evening and in the emailed headlines Jan. 9.
For those of us doing some last-minute Christmas shopping (and yes, I am including myself in that group), the galleries and shops in Orillia's Arts District and downtown are open and ready for you with handcrafted, one-of-a-kind pieces for your special someones. Buy a gift from a real person and not a corporation this holiday season. Most galleries and shops are open Saturday all day. Some are open Sunday as well.
Local painter Will McGarvey is having a one-day studio sale this Saturday from 10 a.m. to 4 p.m. in his studio at 15 Peter St. S., upstairs (above Shadowbox). There are eight-inch-by-eight-inch original oil paintings on panels for only $150, limited editions for $100 with a $50 framing coupon from Shadowbox, and selected other pieces on sale. This is your chance to own one of Will's stunning works. Come check it out!
Looking ahead to plan out your January, the City of Orillia parks, recreation and culture guide is out with lots of great courses to attend starting in January. Not just for sporty folks anymore, there are lots of cultural offerings as well, for all ages. For more information and to register, click here.
Also starting in January, the Orillia Museum of Art and History (OMAH) has a whole new line-up of workshops you can attend, again, for all ages. Check out still-life drawing classes, Monday crafternoons, wine and paint nights, lunch 'n' learns, family fun drop-ins, and history speaker evenings, all at OMAH. For more information, go to https://www.orilliamuseum.org/programs.
January also brings the second part of the Mariposa Arts Theatre film nights, starting Jan. 15. Titles are coming soon. You can check the website for more details. Always a fun night and money goes to this great community theatre here in town.
Jan. 15 is also the deadline for submitting your proposal for the Mulcahy Publishing Initiative at OMAH. Submit your proposal involving a book about the history of the area, for publication. For more information, go here.
Lots of music at the bars over the next few days. At the Brownstone Café on Thursday: Great Women in Song, selected songs performed by Kayla Mahomed, Olivia Duck, Sam Johnston and Alex Rabbitson; Saturday: Warming Winter Solstice with Morgan Rider and The Doozies. At the Hog N' Penny on Friday: Charlotte Unplugged; Saturday: Terry Savage. At Fionn MacCool's on Friday: Derrick Zuber; Saturday: Shane Cloutier. At Lake Country Grill on Thursday: Jazz Standards. Saturday at ANAF Orillia (Army Navy and Airforce Hall) come to a dance with Wendy Whelan and band.
Have a wonderful holiday season and don't forget to send me your 2020 events, at annaproctor111@gmail.com, by Tuesdays at noon.
Who Are the Indigenous Artists to Watch at Art Toronto? – Ocula Magazine
Art Auctioneer Offers Up Midcentury Masterpiece In L.A. At $8.5 Million – Forbes
With a career as a renowned art auctioneer and founder of Los Angeles Modern Auctions, Shannon Loughery knows a valuable masterpiece when she sees one—and Loughery's recently listed Midcentury Modern-style home in Encino is just that.
Determining the value of a work of art is not so different from that of a home. Ask any art auctioneer or real estate broker around the globe, and they will tell you about the litany of factors that go into determining the worth of something and how many of those factors might overlap—like artist, uniqueness and condition.
The artist, in this case, is celebrated Los Angeles architect Donald G. Park, who designed the 1972-built home.
Known as the Lewis Estate, this abode may perhaps be Park's magnum opus, or at the very least his most architecturally significant. A modernist marvel, the house consists of three expansive dodecagon structures bridged together with a glass pavilion.
Perched upon an acre of the Encino Hills with stunning views overlooking the San Fernando Valley, this one-of-a-kind house spans over 6,800 square feet of interior space with six bedrooms and six bathrooms.
The home's unique design gives way to a spectacular interior with soaring wood panels that stretch across the geometric ceiling, walls of glass windows that allow for a 200-degree view, and warm-toned tile in a circular pattern that encloses a recessed living area with a fireplace.
Freestanding stones walls help to separate the floorplan but also allow ample space for displaying art.
The kitchen is styled with a retro feel but is outfitted with modern appliances like a smooth top stove located on the island with an overhead vent.
A variety of flooring is used throughout the house, including patterned tiles, parquet wood and mint green carpet that covers a sleek, spiral staircase. Rich color accents are ubiquitous and on full display in places like the deep green of the tub and sinks of the upstairs bathroom, the vivid pink and purple of the kitchen cabinetry and the built-in couch's soft yellow.
Completing the floorplan are a separate vintage bar, two dining areas and an atrium opening to a breathtaking beamed skylight.
Outside, the patio faces the valley, where residents can gaze upon a landscape of mountains and city lights as they soak in the heated spa, swim in the pool or sit around the gas fire pit.
This rare home, located at 17862 Via Vallarta, is priced at $8,495,000. Mick Partridge of Hilton & Hyland is the listing agent.
---
Hilton & Hyland is a founding member of Forbes Global Properties, a consumer marketplace and membership network of elite brokerages selling the world's most luxurious homes.
Secrecy surrounds major new public art piece in downtown Kelowna – The Daily Courier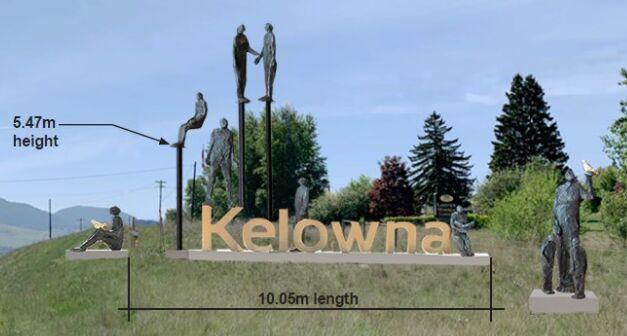 A major piece of public art once planned for Highway 97 North disappeared last year after criticism from city councillors.
One main complaint about the proposed $250,000 sculpture, which featured 10 human figures perched atop tall poles, was that its beauty and grace would be lost by being placed next to the busy highway with all its speeding cars.
Coun. Gail Given suggested last November that artist Ted Fullerton's proposed sculpture should have been located in pedestrian-friendly City Park where people could better relate to its scale and take pictures of themselves beside it.
Fast forward to Wednesday, when much secrecy was woven into a press release issued by the Kelowna Art Gallery about a "large new outdoor public art sculpture" about to be unveiled next to the building on Water Street.
"No announcements will have been made via any Gallery communications before the media preview event," art gallery spokesman Joshua Desnoyers wrote in an email invitation to attend the event.
Feverish media minds, or one of them anyway, wondered if the about-to-unveiled sculpture was a revival of Fullerton's ill-fated piece, which was conceived as a new 'Welcome to Kelowna' sign.
"I can confirm that it is not a sculpture by Ted Fullerton, although that is a very astute guess," Desnoyers wrote in an email.
So media, and all of Kelowna, will have to wait until 9:30 a.m. on Oct. 27 to get a look at the sculpture, described as having been made by "an established artist whose work has been shown throughout North America and who has received major commissions in Canada and the U.S."
Kelowna currently has more than 70 pieces of public art. The newest, whatever it is, will be located between two of the most photographed sculptures, 'Rhapsody', a representation of playful dolphins at the entrance to Waterfront Park, and 'Bear' , a representation of a bear, in Stuart Park.
The look of 'Bear' was such a closely guarded secret before its unveiling in 2010 that it was wrapped in plastic and a security guard was hired to watch over it the night before, lest anyone try to get a sneak peek.
Whatever happened to plans for a new Welcome to Kelowna sign on Highway 97 North also remains a bit of a mystery as calls to relevant authorities at City Hall were unreturned Wednesday.