Arts, culture, fun in London this weekend and beyond (Jan. 9-15) – The London Free Press
What's happening in and around London this weekend and into next week.
What's happening in and around London this weekend and into next week:
CLUBS
Call the Office: Fortune Cove, Bad Words, Youngest and Only, The Bartops, Thursday, 8:30 p.m., $10; The Weirdo Rock Show featuring Trophy Knife, Patrick Powers, Nervous Men, Friday, 9 p.m., $10; #Havehopeshows with Twin Rivals, Mourn, Swearcrow, 4hateu8, SIX2s, Saturday, 8 p.m., 19+; 216 York St.
Eastside Bar and Grill: Rev. Freddie and The Distillers, Friday, 10 p.m.; Dave Doerksen B-Day Bash, Saturday, 10 p.m.; Blues Jam, Sunday, 3 p.m.; Eastside Open Jam Night, Wednesday, 8 p.m.; 750 Hamilton Rd.; 519-457-7467.
Jimbo's Pub And Eatery: Karaoke Party hosted by Maggie, Fridays, 10 p.m. and Tuesdays, 8 p.m.; 920 Commissioners Rd. E.; 519-204-7991 or visit www.jimbospub.ca.
London Music Club: Shut The Front Door Improv, Friday, 7 p.m., Acoustic Open Mic, 7:30 p.m.; Safe As Houses, Saturday, 7 p.m.; momondays, Monday, 6 p.m.; SOUP Ukulele Jam, Wednesday, 6:45 p.m.; 470 Colborne St.; 519-640-6996.
London Wine Bar: Guitar and vocals with Patrick James Clark, Friday and Saturday, 8 p.m., no cover; 420 Talbot St.; call 519-913-3400 for reservations or e-mail info@londonwinebar.ca; walk-ins welcome.
Lou Dawgs: Patrick James Clark, Thursday, 8 p.m.; Thorn and Roses, Friday, 10 p.m.; The Stanley Brown Blues Band, Saturday, 10 p.m.; Big Rude Jake, Sunday, 2-5 p.m.; Open Mic Night, Tuesday, 8 p.m.; Darren Powers, Wednesday, 8 p.m.; 519 Richmond St.
Michael's on the Thames: Oliver Whitehead Jazz Trio, featuring Oliver Whitehead, Rick McClelland and Sandy MacKay, Thursday, 6:30-9:30 p.m.; 1 York St.; 519-672-0111 or visit www.michaelsonthethames.com.
Mustang Sally's: The Fish, Friday, 9:30 p.m.; Chris Trowell Band, Saturday, 9:30 p.m.; Acoustic Jam with Alan Lynch, Smokin Dave, Don Oullette and Friends, Tuesdays at 10 p.m.; Lonnie Chicago, Wednesdays, 8 p.m.; 99 Belmont Dr.; 519-649-7688.
Rum Runners: #TheLateShow with Somehow Hallow and Snacks?, Ridgeway, The Moore Ave Underground, Friday, 9 p.m., $7, all ages; 178 Dundas St.; 519-432-1107.
[embedded content]
St. Regis Tavern: Musical Chairs with The Thing from Outer Space, Saturday, 9 p.m., pay-what-you-will; 625 Dundas St.; 519-432-0162.
Wortley Roadhouse: Coming of Age (Cheryl Hardy), Friday and Saturday; HiLife, Sunday, 4-8 p.m.; 190 Wortley Rd.; 519-438-5141.
---
DANCING
50s and 60s Dance: Music by Wolfeman DJ, Sunday, 7 p.m. at Aylmer Optimist Club, 30 Queens St. S., Aylmer; admission: $13, includes late lunch; all welcome; 519-765-1828.
A.N.A.F. 229 Veteran's Club: Dance to the music of The Stetson Brothers, with sister Galea, Friday, 5-9 p.m.; 38 Adelaide St. N.
Coffee, Cake and Cha Cha Cha: An afternoon of live music and dancing, Sunday, 2-5 p.m. at German Canadian Club, 1 Cove Rd.; admission: $7; homemade cake and coffee for sale, with dinner available after the event; 519-433-2901 or visit www.germancanadianclublondon.com.
Come Dancing: Ballroom, Latin and swing dance, Friday at Polish Hall, 554 Hill St.; line dance lesson with Kathie at 7:30 p.m., dancing with Wolfeman DJ at 8 p.m.; admission: $10, all welcome; 519-433-2579.
Royal Canadian Legion – Byron: Dance to the music of Organized Kaos, Saturday, 8 p.m., $5; 1276 Commissioners Rd. W.; 519-472-3300.
Royal Canadian Legion – Dorchester: Karaoke with the 2T's, Saturday, 1-5 p.m. at 1227 Donnybrook Dr., Dorchester; free admission; 519-268-8538.
Royal Canadian Legion – Lambeth: Dance to the music of Bridlington Road, Saturday, 2-5 p.m., free; 7097 Kilbourne Rd.; 519-652-3412.
Royal Canadian Legion – Victory: Dance to oldies and country with Les Holmes, Saturday, 7:30 p.m., $10 at main floor door; Wednesday Night Opry with Band Landry, Wednesday, 7:30 p.m., $5 at main floor door; 311 Oakland Ave.
Singles Dance Party: With music host Wolfeman DJ, Saturday, 8 p.m. in Big Hall at Marconi Club, 120 Clarke Rd.; admission: $13, all welcome; 519-433-2579.
Thursday Tunes and Dancing: Musicians, dancers and spectators welcome, every Thursday, 1-3:30 p.m. at Libro Hall, 239 Fleming Dr., Clinton; admission by donation; 519-476-5922 or e-mail angela.smith@centralhuron.com.
Tuesday Tunes: Old-time fiddle and traditional style country music, every Tuesday, 1-3:30 p.m. at Seaforth Arena, 122 Duke St.; singers, musicians, dancers and listeners welcome, bring your own musical instruments; admission by donation; 519-357-1016.
---
GALLERIES AND MUSEUMS
Art Emporium: Work by regional artists and artisans working in many mediums and disciplines; winter hours: Saturday, Sunday, 11 a.m.-4 p.m. or by appointment; 177 Main St., Port Stanley; 226-658-1888 or visit www.ArtEmporium.ca.
Art With Panache: Artists featured for January include Julia Armstrong, Audrey Cooper, Margaret Crosby, Kit Cutting, Nic DeGroot, Lois Fuchs, Tony Furlong, Andrew Gillett, Mary Lillyman, Lynne Pinchin, Paul Snoddy, Lyn Tremblay and Lisa Verbakel; hours: Monday to Friday, 10 a.m.-5 p.m.; Talbot Centre, 140 Fullarton St.; 519-870-7218.
Eldon House: London's oldest residence contains family heirlooms, furnishings and priceless treasures of the Harris Family; hours: Thursday to Sunday, noon-5 p.m.; admission by donation; 481 Ridout St. N.; 519-661-5169 or visit www.eldonhouse.ca.
Elgin County Heritage Centre: Voices from the Engraver: Canadian stamps and bank notes – design to printing – features original art, printing plates, videos, interactives, stamps and money, ends Saturday; hours: Tuesday to Thursday, 9 a.m.-5 p.m., Friday, Saturday, 10 a.m.-4 p.m.; 460 Sunset Dr., St. Thomas; 519-631-1460 ext. 193 or visit www.elgincounty.ca/museum.
Gallery in the Grove: Connexions, exhibition celebrates artists who have shared in our 40-year evolution, opening reception Sunday, 1-3 p.m., runs till Feb. 22; 2618 Hamilton Rd. at Wildwood Park, Bright's Grove; visit www.galleryinthegrove.com.
Ingersoll Creative Arts Centre: Altered States, photography by Werner Braun, opening reception Sunday, 1-4 p.m., runs till Feb. 2; hours: Monday to Friday, 9 a.m.-2:30 p.m., Sunday, 1-4 p.m.; 125 Centennial Lane, Victoria Park, Ingersoll; 519-485-4691 or visit www.creativeartscentre.com.
Jet Aircraft Museum: Cold War era jet aircraft and historic displays honouring Canadian aviation heritage; hours: Thursday to Saturday, 10 a.m.-4 p.m.; admission by donation; 2465 Aviation Lane, Unit 2; 519-453-7000 or visit jetaircraftmuseum.ca.
Museum London: London Lens: Ian MacEachern and Don Vincent, runs till Jan. 19; The Lost City: Ian MacEachern's Photographs of Saint John, runs till Jan. 26; 421 Ridout St.; 519-661-0333.
Portside Gallery: Featured artists for January are Jean Johnson, S'ine Maule and Len Hughes; 18 area artists showing original paintings, photography, jewelry, hand-painted scarves and cards; hours: Thursday to Monday, 11 a.m.-5 p.m.; 187 1/2 Main St., Port Stanley; 519-782-7066 or visit portsidegallery.ca.
St. Thomas-Elgin Public Art Centre: Contemporary Selections from the Permanent Collection: Celebrating 50 Years, in Gallery One and Two and White Walls and Substantial Forms: Small Sculpture from the Permanent Collection, in Gallery Three, both exhibits run till Feb. 15; hours: Tuesday, Wednesday, 10 a.m.-4 p.m., Thursday, Friday, 10 a.m.-9 p.m., Saturday, noon-4 p.m., Sunday, noon-3 p.m.; 301 Talbot St., St. Thomas; 519-631-4040.
Westland Gallery: The Gallery Artists Group Exhibition, runs till Jan. 25; hours: Tuesday to Friday, 10 a.m.-6 p.m., Saturday, 10 a.m.-5 p.m., Sunday, noon-4 p.m.; 156 Wortley Rd.; 519-601-4420 or visit www.westlandgallery.ca.
Woodstock Art Gallery: Dancing on the Grave: Dil Hildebrand and Patrick Thibert and Life on the Back of a Turtle: Woodlands and Plains Indigenous Art, both exhibits run till Jan. 25; Walk On: the ongoing sculpture project of John McEwen, runs till June 27; 449 Dundas St., Woodstock; 519-539-6761.
---
MUSIC
Harrow Fair: Aylmer Performing Arts Council present musical duo Miranda Mulholland and Andrew Penner, Saturday, 7:30 p.m. at Aylmer Old Town Hall Theatre, 38 John St. S., Aylmer; tickets: $25; visit www.artsinaylmer.com.
Reflections and Remembrances: The FSA Strings, conducted by Igor Saika-Voivod, with soloists Suzanne Witt, violin and Madeline Hall, guitar, Wednesday, 7:30 p.m. at First-St. Andrew's United Church, 350 Queens Ave.; free will offering; visit www.fsaunited.com.
The Uptown Dixieland Jazz Band: Presented by London Jazz Society, Sunday, 2 p.m. at Mocha Shrine Centre, 468 Colborne St.; tickets: members $7, non-members $14 at the door; all are welcome; 519-681-6767 or visit www.londonjazzsociety.ca.
---
OUTDOORS
London Fanshawe Horticultural Society: Trends of Disease Resistant Trees, with guest speaker David Richardson of Parkway Garden Centre, Thursday, 7 p.m. at Siloam United Church, 1240 Fanshawe Park Rd. E.; all welcome to attend.
Nature in the City: Best Places to Bird in Southwestern Ontario with Mike Burrell, Tuesday, 7 p.m. at Wolf Performance Hall, Central Library, 251 Dundas St.; free admission.
Saturday Morning Walks: Walk along Thames River, south branch park east end, meet behind Pottersburg Pollution Control Plant, 1141 Hamilton Rd. at Gore Road; walks are approximately one hour; families with children are welcome, no dogs; John Clark, 519-641-0442 or visit www.tvta.ca.
---
SHOWS AND EXHIBITIONS
Read. Learn. Live.: Celebrating its 60th anniversary this year, CODE has launched this photography exhibit by internationally renowned Canadian photojournalist, Peter Bregg, ends Monday at Central Library, 251 Dundas St., 1st floor Library Commons; free admission.
Surroundings: Art exhibition by local artist Cassie Morris, combines text, embroidery, and textile through varying levels of abstraction, runs till Jan. 31 at ArtVenture Art Studio, 1438 Aldersbrook Rd.; hours: Monday to Thursday, 4-8 p.m., Saturday, 10 a.m.-2 p.m.; 519-471-4278 or visit www.artventure.ca.
---
TOURS
Behind the Ropes: Explore rarely seen sections of Eldon House and its carriage house, as an expert historical interpreter will guide you through "nooks and crannies" including attics and cellars, Saturday, 10 a.m.-noon at Eldon House, 481 Ridout St. N.; tickets: $20, register online at www.eldonhouse.ca/events; refreshments served after tour; 519-661-5169.
Barista Brian uses latte art to raise funds for Fredericton's Out of the Cold shelter – Global News
Armed with stir sticks and food colouring Brian Leonard can turn lattes into works of art.
The Toronto-based celebrity latte artist — better known as Barista Brian — has traveled across the world showcasing his works of latte art for celebrities, but on Sunday he plied his trade in service of his hometown.
"If I can use the platform I've built with latte art to help others, then that's what I want to do," he said.
Leonard recently went viral when he created a Baby Yoda piece for Laura Dern.
READ MORE: Baby Yoda of 'The Mandalorian' is here to unite the internet
And on Sunday Leonard set up shop at Mill Town Roasters in downtown Fredericton to raise money for the city's Out of the Cold shelter.
"I just want to know what I can do to help and how I can use my voice and platform to help others, especially in the winter. My heart goes out to anyone that doesn't have a place to go or a home," he said.
Mill Town Roasters' director of operations Katie Martens said it's important for the café to play an active part in the downtown community where Fredericton's homelessness issue is most acutely felt.
"For us, it's important being central to downtown we see a lot of, unfortunately, in our community a lot of homelessness and a lot of people that don't have a place to go. for us it felt important to not only have the conversation but to do what we could to raise some money for the out of the cold shelter," she said.

1:35


Cats and books a successful combination for one Nova Scotia business



Cats and books a successful combination for one Nova Scotia business
Fredericton has seen a spike in people living on the street over the last few years. It's estimated that there are about 100 people sleeping rough in the city.
The Out of the Cold shelter on Brunswick Street sleeps up to 30 people and it's hoped that it can transition to provide more permanent housing for people in the future. For now, to keep it running, it needs donations and Barista Brian is doing what he can to help out.
"I grew up in Fredericton, my whole heart is here and I just want to help," he said.
© 2020 Global News, a division of Corus Entertainment Inc.
Aaron Carter Accused of Stealing Lion Art to Promote Merchandise – Showbiz Cheat Sheet
There's more drama going on for Aaron Carter. This time it's involving the use of an artist's image. Carter chose to promote his new hoodies using a unique image that has people talking. The image in question is art made by a professional artist in Berlin who didn't give his permission for his artwork to be used. Read on to find out more about the situation.
Aaron Carter uses an image to promote his merchandise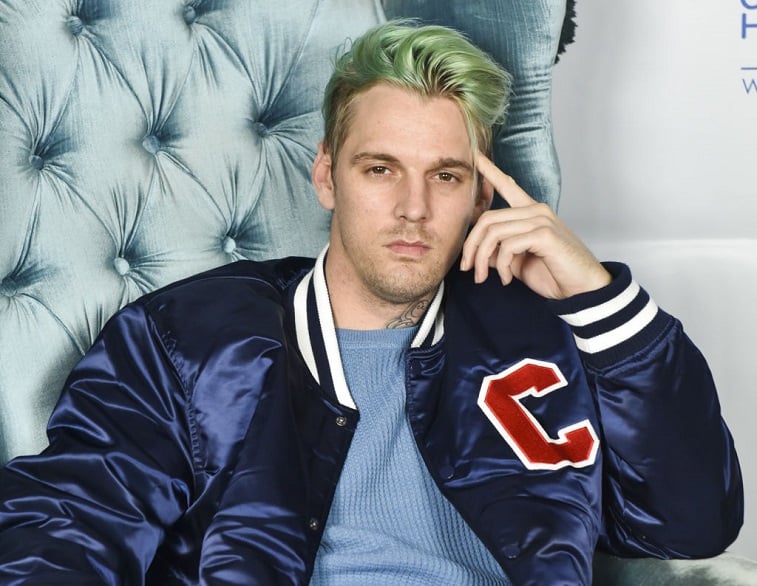 Carter, who was promoting his new hoodies, used a startling image of two lions facing each other and appearing to bump heads. The piece is called "Brotherhood" and it was created by an artist based in Berlin by the name of Jonas Jödicke. According to Forbes, Jödicke's art was used without credit or permission.
Jödicke responded on Twitter calling Carter out. The tweet reads: "Hey @aaroncarter .. You are using my artwork to promote your merchandise. I have not given you permission to do so. My art is being commercially exploited by people on a daily basis. We artists have rights, too!"
Carter responded to Jödicke
by saying: "You should've taken it as a compliment **** a fan of mine sent
this to me. Oh here they go again, the answer is no this image has been made
public and I'm using it to promote my clothing line http://aaroncarter.com
guess I'll see you in small claims court."
The artist speaks out
Jödicke
spoke with Forbes about the situation and how he learned about his artwork
being used in the first place.
"I first learned of Aaron's use of my artwork from a
follower on Twitter," Jödicke said. "They reached out via direct message
telling me about Aaron's tweet in which he had posted my artwork to promote his
new merchandise shop. He did not mention me as the original artist and had not
asked for permission in beforehand. That's why I called him out in a tweet, in
a polite way, to inform him that I was not alright with him using my art in
that way."
Jonas Jödicke felt 'insulted'
Jödicke was also asked about how he felt about Carter's response
to the whole thing and how things blew up from there. He said he was "insulted"
and "amazed" at Carter's response.
"His response to my tweet was what got the whole tweetstorm
going," Jödicke explained. "Instead of apologizing or reaching out to me to
discuss things, he insulted me and said I should be glad he was using my art to
promote his store. He ended with: 'Guess I'll see you in small claims court …'
I was absolutely amazed as to how he could respond in such a way and not expect
people to lash out."
Jödicke also shared Carter's response to his Twitter and Instagram followers. "I
shared his response on my Twitter and Instagram and that is when it really blew
up," Jödicke continued. "In his Youtube livestream, he joked about my tweet
having '17 likes.' As of now, it has more than 70,000 likes and reached more
than 5 million. You could say the artist community on Twitter is outraged."
Things are certainly not over yet with this situation. We'll
be sure to keep you updated as things progress.
Arts Everywhere for everyone – GuelphToday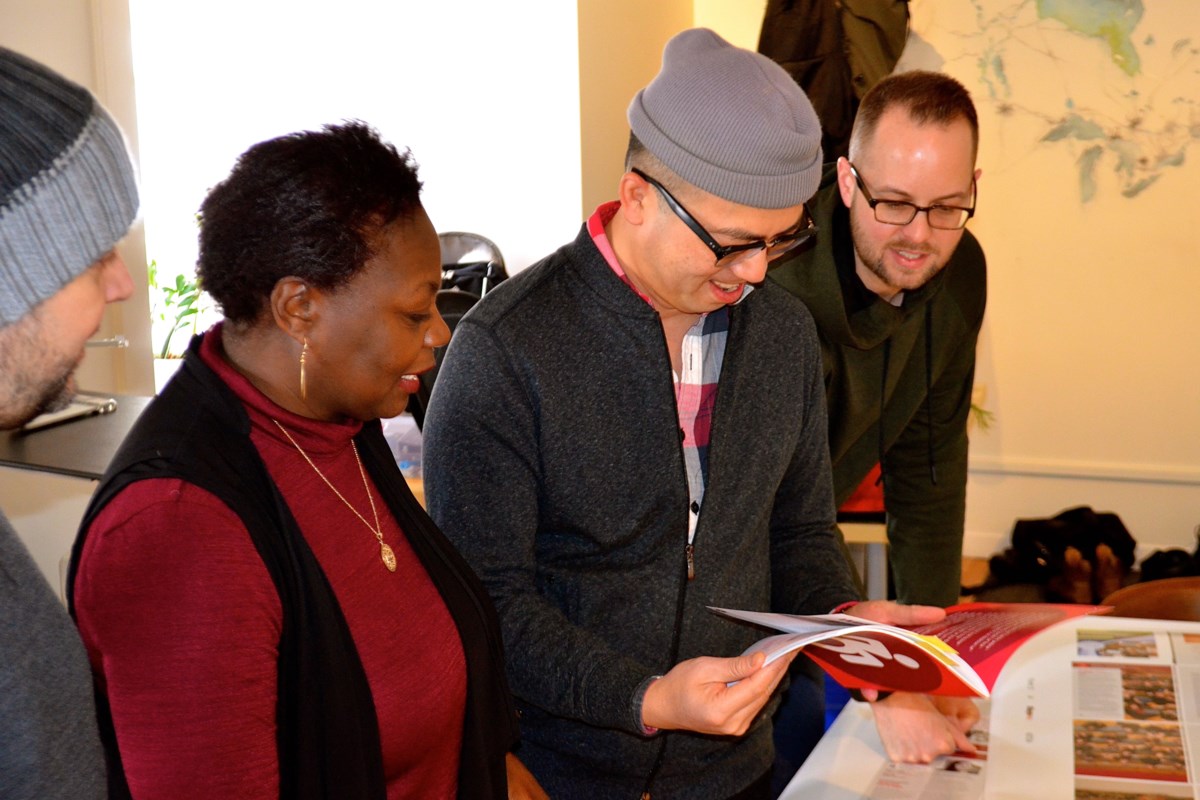 Spiritualist writer Thomas Merton wrote "Art enables us to find ourselves and lose ourselves at the same time."
Art in all its forms helps to define us culturally and expand our relationships to each other. It should, therefore, be accessible to everyone and that is why accessibility and inclusion are the central themes of the Arts Everywhere Festival this year.
"We are looking forward to a number of things and one of the main pieces is the importance of access for members of our community," said festival director and program curator, Marva Wisdom.
"We are very excited to be able to bring a festival that is intentional in how we approach access and inclusion whether individuals face barriers around economic, cultural and physical abilities, sensory or otherwise."
The festival runs from Jan. 22 to Jan. 26 and features performances, exhibits, workshops and activities that celebrate the diversity of creative expression through music, literature, ceremony, spoken word and visual arts.
"The presenters will be coming from different parts of the world, so, local and international," said Wisdom. "We really want to inspire our community and recognise the importance of the arts and the changes it can make in our society."
Those changes are reflected in the artists featured this year and in the efforts made to ensure each event is as inclusive and each venue is as accessible as possible. They even prepared an accessibility guide that among other things lists all the accessibility features of every venue in the festival.
"We have not done anything like this before," said Wisdom. "We spent a fair bit of time at the venues for what we call an embodied audit. We took photos. We had great conversations with staff members, managers and owners about access."
Festival staff and team members received accessibility training.
"We participated in a workshop from Tangled Arts and learned a lot about access and how you make events more accessible," said Wisdom. "This all came about through work over the years with Bodies in Translation and at the University of Guelph. They have been tremendously helpful in pointing the Arts Everywhere Festival along this journey."
There will be live captioning (surtitles) for many of the events as well as ASL (American Sign Language) interpretation and earphones to amplify or reduce sound.
"If you tell them you have sensitivity to certain sounds or light, if you are in a powered wheelchair and need more width or maybe you have a hearing impairment, you don't even have to share that with us, you just need to show up," said Wisdom. "If you feel more comfortable knowing ahead of time we have someone you can speak to and when you arrive we have access ambassadors that will help you navigate the entire festival."
They have even made efforts to accommodate people who experience anxiety in public or crowded spaces.
"We have relax spaces and quiet rooms because some people get over stimulated and they don't come to these events because they think it is going to be too much," said Wisdom. "People can go on our website and see the information."
Accessibility and culture of care lead Coman Poon hopes their efforts will act as a seeding initiative for growing accessibility culture and he invites other festivals to use the Access Guide for planning future events.
"It is not a proprietary document," said Poon. "It is not just for this festival. We welcome others to use it as a free tool that challenges prejudice against people with disabilities or 'able-ism'."
Poon is the point person for all accessibility inquiries and can be contacted at access@artseverywhere.ca or 647 575-4202.
The festival opens Wednesday, Jan. 22, with a free event at the Art Gallery of Guelph curated by poet, author and visual artist Taqralik Partridge.
"It is her image we are using on our poster and on the front of our program," said Wisdom. "She is going to be our featured literary artist at the event Friday night at the River Run as well."
Partridge's image of a damaged door with limited access on the side of a poorly maintained home is an apt metaphor for the challenges we face as we strive to improve access and include everyone in the conversation about something that should unite us all — art.