Can Asia handle the highs of tension-fuelled oil-price swings?
Kuala Lumpur, Malaysia – An attack in the Middle East. Oil prices surge as investors fear supply disruptions. Once it becomes clear that those disruptions are not materialising, traders calm down and so do oil prices. Life on the global markets returns to business as usual.
It's a cycle that's been repeated several times over the last 12 months, to varying degrees. The most recent incident happened on Wednesday, when Iran fired rockets at two Iraqi military bases that host troops from the United States. The attack was retaliation for the US's assassination of Qassem Soleimani, the head of Iran's Quds Force elite military wing, in a drone attack near Baghdad on Friday.
But even without the spikes, the price of oil has steadily increased over the last six months, as Iran and the US attacked each others' interests and allies in the region.
And that has analysts in Asia worried. The region is home to some of the world's biggest importers of foreign energy, including India, China, South Korea and Japan.
"The Middle East is a key source of Asia's oil supply, making [Asia] particularly vulnerable in the event of a severe supply disruption, but a more likely threat is that of higher prices affecting the current account, slowing [economic] growth and fuelling inflation," says Peter Kiernan, lead energy analyst at The Economist Intelligence Unit in Hong Kong.
"If, however, the current standoff between the US and Iran subsides, fears of economic collateral damage will be eased, but longer term [Asia] will need to look at its growing rate of oil-import dependence through the lens of threats to energy security as well as economic performance," Kiernan told Al Jazeera.
Brent crude oil futures prices surged by up to four percent in early Wednesday trading in Asia, touching a five-month high of $71.75 a barrel, before drifting lower once it became apparent that no production, processing or transportation facilities had been affected.
In September, drone attacks on two Saudi Aramco oil installations resulted in the biggest-ever one-day jump in oil prices. But Aramco quickly repaired its facilities in Abqaiq and Khurais and resumed production, bringing prices back down.
In neither incident did the Strait of Hormuz between Iran and the United Arab Emirates become choked off for oil shipments leaving the region.
Even attacks on oil tankers last year in the Gulf failed to close off the crucially important shipping channel.
Heading higher?
But from the lows of early August, crude prices have risen by nearly 23 percent, according to data by Refinitiv. And they're up almost 37 percent since the end of 2018. A combination of Middle East tensions and supply cuts by major oil producers helped keep prices buoyant.
According to the International Trade Centre – a joint agency of the World Trade Organization and the United Nations – China was the world's biggest oil importer in 2018, accounting for 20.2 percent of global crude supplies. The US was second, with 13.8 percent, followed by India, with 9.7 percent of the world's imports. Japan and South Korea rounded out the top five.
But India is far more dependent on oil imports for domestic consumption than China is. Crude imports accounted for 83.8 percent of India's needs in its 2018-2019 financial year, figures from the country's oil ministry show. For China, that figure was 69.8 percent, according to a report in the state-controlled China Daily newspaper last year.
"Net crude oil-importing economies such as Singapore, Thailand, South Korea and India are the most vulnerable to higher oil prices in Asia, given their relatively higher reliance on crude oil imports," Lloyd Chan, an economist at Oxford Economics in Hong Kong, told Al Jazeera.
"In particular, India is likely to be the most affected, as higher oil prices will raise inflation and worsen the outlook of its current account balance," he added.
A growing energy-import bill is not something that Indian policymakers are likely to be relishing right now.
India's Ministry of Statistics said on Tuesday that it expects its economy to grow by five percent in the year to March 2020. That would put it on course for its slowest growth rate since 2013.
And rising fuel costs could exacerbate growing anger on the streets.
On Wednesday, hundreds of thousands of workers and students across the country protested against what they described as Prime Minister Narendra Modi's "anti-people" policies. They are angry at the government's plans to privatise some public firms.
Diversification
Elsewhere in Asia, some countries have done a better job of diversifying their energy mix than India has as they try to buffer themselves against external oil-price shocks.
China, for instance, has invested heavily in renewable energy, even though it remains the world's top emitter of greenhouse gases. But according to energy consultancy firm Wood Mackenzie, China's cost of producing electricity from wind and solar poweris already cheaper than gas-fired power, and will be "competitive with coal-fired power by 2026".
Japan, though still heavily reliant on imported liquefied natural gas (LNG), is also boosting the proportion of renewable energy in its supply mix. The Institute of Energy Economics, Japan, estimates that around 11 percent of its power generation will come from renewable sources, not including hydroelectricity, this year. That's up one percentage point from 2019. Meanwhile, the share of fossil fuels will drop from 47 percent in 2019 to 44 percent this year.
"Because energy needs [in Japan, South Korea and China] are largely fulfilled by LNG … and some renewables these days, I believe that the net impact to energy costs should be mitigated somewhat," Lorraine Tan, Morningstar's Asia regional director of equity research, told Al Jazeera.
But a major conflagration in the Middle East that chokes off shipments of oil and gas through the Strait of Hormuz could send energy prices much, much higher than even the recent spikes have reached.
If that happens, Asia's economies could end up in truly uncharted waters.
Covid vaccines: Paediatricians on frontlines of child jab plan – BBC News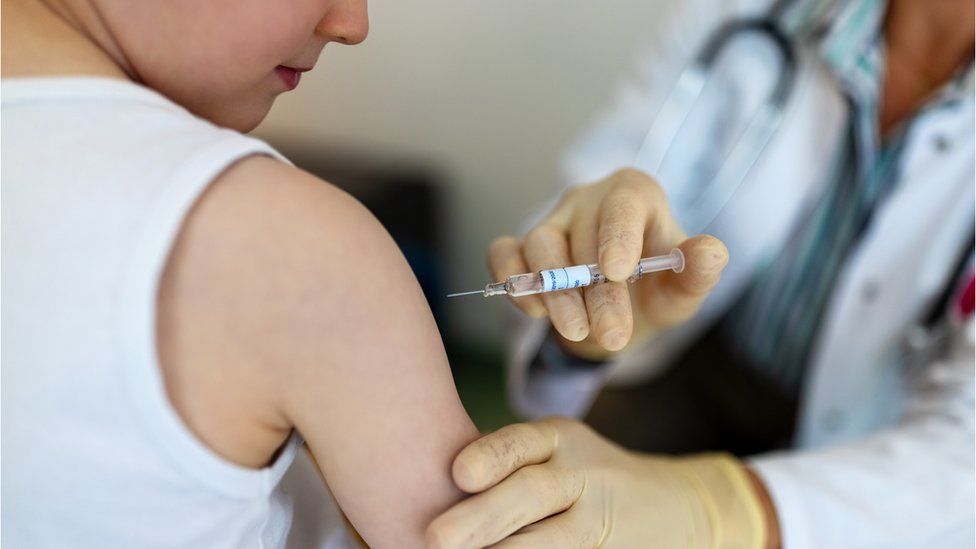 Paediatric doctors could soon find themselves on the front lines of a US government plan to get some 28 million school-aged children in line for their coronavirus jabs.
Advisory boards to the Food and Drug Administration (FDA) and the Centers for Disease Control and Prevention (CDC) will meet in the coming days to discuss authorising the Pfizer vaccine for children between five and 11 years old.
Data from the company's clinical trials found that a paediatric dose of the vaccine – one third of that given to adults and adolescents – was safe and 90% effective.
If health officials approve the jab, 15 million doses will go out to paediatric offices, children's hospitals and pharmacies around the country.
When could jabs for young children be approved?
The Pfizer vaccine is already approved for American adults and adolescents, but it has not yet been approved for most school-aged children.
Among those between five and 11 years old, there have been about 1.8 million cases confirmed in the US, according to the CDC. Fewer than two hundred have died, and most of those had underlying medical conditions.
Some medical experts say that, given the persistence of the Delta variant and the return to in-person schooling, vaccinating children is a crucial next step in fighting the pandemic.
"Parents need to understand the urgency of vaccination because the pandemic is not over," said Dr James Versalovic, pathologist in chief at Texas Children's Hospital (TCH).
Dr Versalovic estimates at least 1,500 children have been diagnosed since the beginning of the pandemic with the virus at TCH, the largest children's hospital in the US. "No age group has been spared," he said.
On Tuesday, an independent advisory committee to the FDA will vote on whether to recommend an emergency use authorisation for the Pfizer jab for children between five and 11 years old.
The CDC will follow suit on 2 November.
What kind of opposition does it face?
Vaccine hesitancy remains a challenge for US medical authorities. Uptake in the adult population has stalled below 60% over the past several months.
Some parents have expressed concern about hundreds of cases of myocarditis, an inflammation of the heart muscle, that have been reported predominantly in young adults who took the vaccine, mostly after the second jab.
Dr Liz Mumper, chief executive of the Rimland Center for Integrative Medicine, thinks "children should not be given treatments they do not need", pointing to their low risk of contracting Covid and to the lack of long-term data on Covid vaccines.
"I am opposed to rolling these vaccines out to all children in a one size fits all model," she said. "The vast majority of children already have mild cases."
In an interview with the BBC World News America programme, an FDA advisory board member acknowledged it would be a tough decision to make.
"It'll be somewhat hard. We'll be looking at data on several thousand children and then making decisions for millions of children," said Dr Paul Offit.
What would a rollout look like?
The federal government has indicated that, once the vaccine is approved, it will ship paediatric doses to states almost immediately.
Last week, it announced plans to distribute the jabs via more than 25,000 paediatric offices and 100 children's hospitals, as well as through pharmacies, school-based clinics and community health centres.
The plan is designed to take into account that, for this age group, everything from dosing to counselling support from clinicians to the post-jab waiting period looks different than for other age groups, and parents will need a trusted voice in the room.
"It's one thing to have Dr Fauci on the national news say you should get your kid vaccinated, but it's another thing for a trusted physician in the community to have that direct conversation with families," says Amy Wimpey Knight, president of the Children's Hospital Association.
Mass vaccination sites are not good settings for jabbing young children, Ms Knight tells the BBC, so state and local health officials will need to quickly link up with schools, community centres and doctors' offices instead.
"All plans are local. That's what we learned the first time," she says.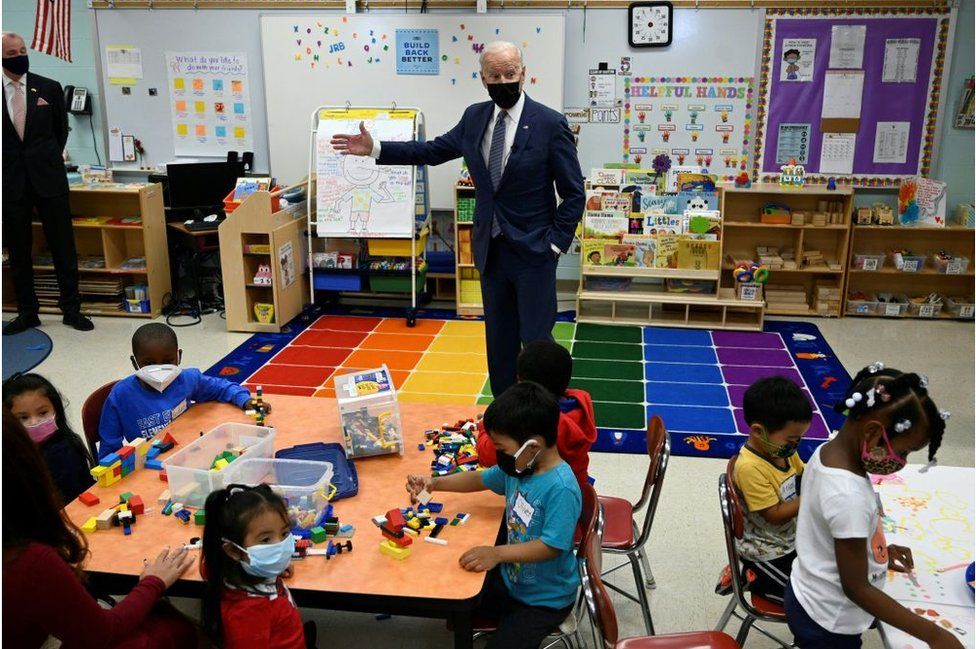 Do doctors support the plan?
Patients at Texas Children's Hospital participated in Pfizer's clinical trials for children. Any side effects were "easily treatable and monitored", said Dr Versalovic.
"We are fully confident in the paediatric Covid vaccines. It's been tailored to children," he said, referring to the reduced dosage.
For a large provider like TCH, ensuring adequate supply at multiple care locations will be of primary concern, he said.
At smaller paediatric practices, physicians are a bit more circumspect.
Dr Robert Dracker, medical director of Summerwood Pediatrics in upstate New York, warned that a vaccine rollout for kids will collide with other realities: the onset of flu season, the mental health crisis of school children, and staffing shortages.
"Paediatricians' offices have been struggling terribly over the last few years," he said.
Dr Dracker says state health officials have set out guidelines and plan to dispense 300-dose allotments to his office. But he is frustrated by the lack of co-ordination.
"We have to try and contact all of our parents to find out how many of them might want their child vaccinated, and then set up separate clinic times," he explained.
"Instead of dictating what we have to do, [government officials] really need to listen to the input of practising physicians," he said.
Enterprise charges customer more than $3,300 for damage incurred after truck returned – CBC.ca
Samuel Wardlaw expected to pay $200 for his truck rental. Instead, Enterprise Rent-A-Car added more than $3,300 to his bill — for damage that occurred after he dropped it off.
He'd only used the truck for five hours, to move some belongings to his new apartment.
But a week later, an unexpected email from the rental giant said he was responsible for damage that occurred on the Enterprise lot after hours.
Have a question or something to say? CBC News is live in the comments now.
The email didn't explain what had happened or why he was responsible — but it struck fear in Wardlaw, 29, a delivery driver for a lumber company.
"I was anxious about what the price was going to be," he said. "So to see over $3,300 in damage? I was totally shocked."
Enterprise said later that, after Wardlaw parked the truck and put the keys in a secure drop box, as instructed by an employee, someone stole its catalytic converter, a part of the exhaust system that contains valuable metals.
Enterprise pointed to a clause on page 7 of its rental contract that says drivers who drop off a vehicle after hours are responsible for any damage or theft until it's checked in by an employee.
"It's their truck, their lot, their catalytic converter. Everything about it is within Enterprise's control," said Wardlaw. "For them to say it's my liability is pretty ridiculous."
After Go Public got involved, Enterprise said in an email it had "decided not to pursue the claim."
The company did not explain why and said no one was available for an interview.
Go Public has checked the terms and conditions for the three major companies that account for an estimated 95 per cent of all car rentals in Canada: Enterprise (which owns National and Alamo), Avis (which owns Budget) and Hertz (which owns Dollar and Thrifty).
All the contracts contain similar clauses, claiming drivers are responsible for any damage or theft from the time they drop off a vehicle until it is checked back in.
A consumer advocate and lawyer says Enterprise and other car rental giants give the impression there's no downside to dropping off a vehicle after hours.
"We've all been there — the car company says, 'No problem, stick the keys through the slot in the door,'" said Jennifer Marston, who works with the free legal clinic Pro Bono Ontario.
"But how many times do they say to you, 'If anything happens when the car is parked on the lot, you're responsible'? That's never happened to me."
'Just put the keys through the drop off slot'
Wardlaw says when he arrived to pick up the truck, there was little discussion about the terms and conditions in the 30-page (English and French) contract.
"They told me that since they were going to be closed at 12 o'clock that day and I would be returning at around 1 p.m., to just put the keys through the drop off slot when I returned the vehicle," he said.
Marston says big car rental outfits can't hide behind lengthy contracts they know most people won't read and may not understand when they contain ambiguous or unusual terms.
"They wrote it. They had the opportunity to put more effort into making it clear and they didn't," she said.
She says legal precedent exists due to an Ontario case which found Tilden Rent-A-Car was required to bring unexpected terms to the attention of the consumer if it wants them to be enforceable.
"When there's an onerous term in the contract, a heavy term that puts a big burden on someone, if it's buried in the fine print, then the company in a consumer transaction like this has the responsibility to bring that to the consumer's attention," said Marston.
The companies also have to meet a standard of proof when holding customers responsible for damage, said Marston.
When Enterprise told Wardlaw a thief had stolen that catalytic converter, it sent photographs of the damage, but they weren't time-stamped.
"We don't know when those photos were taken," said Marston.
"Maybe they were taken a week later. The burden is on the company to prove that."
She says people caught in a dispute need to know one thing — the rental company isn't the judge.
"They will send you a letter saying you've caused this damage, you owe this amount of money. But they're actually not the ones who get to decide that," said Marston.
"That's just their position as one of the parties to a legal claim. And you have the opportunity to respond," she said, with the understanding that the matter might end with a collection agency or small claims court.
Go Public has learned that the same Enterprise location in north Toronto had half a dozen catalytic converters worth $24,000 stolen from its trucks shortly after Wardlaw's incident.
Read stats about the growing problem of catalytic converter thefts
The company declined to say what it is doing to prevent further thefts and damage.
Marston says the companies should ensure their vehicles are being stored under safe conditions.
"The rental company could secure the perimeter. They could install security cameras. They can install anti-theft devices on vehicles," she said.
"These options aren't available to the consumers, so why should the consumer bear the loss?"
'This is absolute BS'
Stuti Narula of Toronto says an Enterprise employee also told her to drop off the keys when she returned a car after hours, to a location in the city's north end last December.
The next day, an Enterprise employee called to say she was responsible for a scratch on its passenger door — and owed $1,000.
Narula says the car was in perfect condition when she returned it, but — as with Wardlaw — an employee said she was liable for any damages incurred before it was checked back in and that the matter would be sent to a collection agency if she didn't pay up.
"This is absolute BS," said Narula. "If I have to be held liable for any damages to the car, I might as well keep it in my careful custody until the office opens the next day."
She says the drop-off location had closed-circuit cameras, but she was told she couldn't see footage.
WATCH | Enterprise charges customer more than $3K for damages incurred after truck returned:
A Toronto man was charged over $3,300 by Enterprise when a rental truck he returned after hours had its catalytic converter stolen. CBC's Go Public investigated the clause in most rental contracts that makes the renter responsible when a vehicle is returned after hours. 2:10
Narula also says she was told the damage was discovered after an employee drove the car to a car wash — and she questioned whether that's when the damage occurred.
"I'm entitled to know what investigation Enterprise carried out at its end before slamming the damage cost on me," Narula wrote in an email to the car rental giant.
After fighting Enterprise for several months, Narula reluctantly asked her car insurance company to submit a payment, but she's sworn off ever renting from Enterprise again.
Enterprise wrote in an email to Go Public that allowing customers to return vehicles after hours is a "convenience" and that "it is important to understand that the rental transaction is not complete until the vehicle has been inspected."
Wardlaw says he's relieved he's no longer expected to pay his damage bill, but says Enterprise has lost him as a customer, too.
"Basically, from the moment I called them, they were arguing with me. I didn't feel that there was any interest in resolution — other than to have me pay the full amount."
---
Protect yourself 'after hours'
Ideally, return your vehicle during operating hours and have an agent check it over and sign off on rental.
If you must drop off the vehicle after hours, note whether there are security cameras on the lot and try to park within view.
Set your smartphone to add a date and time stamp to photos and take pictures of the sides, front, back and roof of vehicle and — if possible — the underside, wheel wells, interior and trunk.
Take a photo of the mileage on the odometer.
Hold onto photos for at least six months.
---
Submit your story ideas
Go Public is an investigative news segment on CBC-TV, radio and the web.
We tell your stories, shed light on wrongdoing and hold the powers that be accountable.
If you have a story in the public interest, or if you're an insider with information, contact GoPublic@cbc.ca with your name, contact information and a brief summary. All emails are confidential until you decide to Go Public.
Follow @CBCGoPublic on Twitter.
Read more stories by Go Public.
Canada boosts U.S. natgas exports, drills more as global prices surge
Demand has jumped for relatively cheap Canadian natural gas, driving exports to the United States to three-year highs and prompting producers in Canada to boost capital spending and drilling activity.
Global natural gas prices have hit multi-year highs as world economies recover from last year's slowdown during the pandemic. Now, natural gas stockpiles in Europe are dangerously low and demand in Asia has been insatiable, so utilities around the world are competing for liquefied natural gas (LNG) exports.
Canada's gas is remote, and prices at the AECO hub in Alberta are among the cheapest in North America, with production far from major U.S. demand centers and LNG export terminals in the U.S. Gulf Coast, some 2,500 miles (4,023 km) away. Canada has no LNG export terminals.
Still, at around C$5 ($4.12) per million British thermal units (mmBtu), AECO prices are well above their 2021 year-to-date average of C$3.38 ($2.73), and some of Canada's largest gas producers including Tourmaline Oil Corp are seeking to capitalize.
"A number of producers are accelerating capital into Q4 (fourth quarter) to add production volumes into the higher-priced winter market," said Matt Murphy, an analyst at Tudor, Pickering, Holt & Co (TPH) in Calgary.
Gas receipts into TC Energy's NGTL pipeline system hit an all-time high of 12.75 billion cubic feet per day (bcfd) in mid-October, according to TPH records dating from 2013. The NGTL system is the main artery shipping western Canadian gas to market, and can be used as a proxy for output from the region.
TPH is forecasting further gas receipt growth to 12.9 bcfd in December, with new highs in 2022.
Data provider Refinitiv said Canadian exports to the United States averaged 8.3 bcfd year-to-date, the highest over that time period since 2018. In 2020, Canadian exports hit their lowest level since 1993 because of the pandemic, according to U.S. Energy Information Administration data.
The increase in drilling activity in Canada contrasts with a more cautious approach among U.S. gas producers, who are still being careful with their capital after the pandemic decimated demand in 2020 and left the industry on its knees.
The Canadian gas rig count is currently 70, up 75% from this time last year, while U.S. gas rigs are up about 32% to 98 over the same period, according to energy services firm Baker Hughes Co.
Tourmaline, Canada's largest gas producer, is accelerating drilling in the second half and bringing capital spending originally earmarked for 2022 into this year, according to a company presentation in September.
"The company will monitor natural gas supply/demand balances and schedule new production startups appropriately through the course of winter and the balance of 2022," Tourmaline said.
The company expects to produce on average 500,000-510,000 barrels of oil equivalent next year, up from 440,000-445,000 in 2021.
Other major Canadian gas producers increasing activity include Canadian Natural Resources Ltd and ARC Resources, industry analysts said. ARC declined to comment and CNRL did not respond to a request for comment.
However, a shortage of skilled crews to operate drilling rigs in Canada could limit how much gas output climbs, and some producers remain cautious that increased supply may rein in prices.
"How do we do more even if we wanted to do more? We're at a limit on the people that we have," said Darren Gee, Chief Executive of Peyto Exploration and Development Corp.
($1 = 1.2363 Canadian dollars)
(Additional reporting by Rod Nickel in Winnipeg; Editing by David Gregorio)