As digital activists, teens of color turn to social media to fight for a more just world
When it comes to social media use among young people, very often the concern is about potential harm.
Parents, policymakers and others worry that online platforms like Instagram and TikTok may compromise children's privacy, threaten their safety, undermine their mental health and make them susceptible to social media addiction and cyberbullying, among other problems.
Then there are the seemingly never-ending series of dangerous and deadly internet "challenges" – such as the "blackout challenge" and the "choking game" – that encourage kids and teens to record themselves performing perilous acts online.
While concerns about the potential pitfalls of social media platforms are valid and should be taken seriously, they can also overshadow some of the more positive ways that young people in general – and young people of color in particular – are using social media. As I found in my dissertation – "#OnlineLiteraciesMatter" – some young people are using social media to develop their identities as activists and to push for a more just society. In short, they are using social media platforms to engage in what I refer to as "digitized activism," taking on issues such as systemic racism and seeking racial justice.
My study adds to a growing body of research that has found young people of color can bring about change when they learn to use digital tools to explore social issues and use those tools to stand up for their beliefs.
Fighting online for social justice
For my study, I followed six young activists between the ages of 14 and 18 across the United States. I picked them through online recruitment efforts. I searched for various hashtags to find them, sent direct messages, or left comments on their posts to engage with them online.
Four of the teens identified as Black and two identified as Latina. I looked at their activism on platforms such as YouTube, Instagram, Twitter and TikTok. All of the young activists used at least one of those social media platforms for various lengths of time – from one to six years.
Each young person in my research represented a case study. I interviewed each one. I also created my own social media accounts to observe their social media posts and engage with them in the same online spaces. I examined their social media posts over a period of three months.
They often reacted to what was going on at the time of the study, which I conducted in 2021 after the takeoff of the Black Lives Matter movement in 2020. As a result, they were concerned with social justice, civil unrest, police brutality and a global pandemic. They were also concerned with increased hardships experienced by culturally and linguistically diverse communities, which often are disproportionately affected by these issues.
The young people in my study addressed a variety of subjects. Some of the subjects they took on could be seen through the hashtags they used, such as #systemicracism, #climatejustice and #mentalhealth.
New narratives
They also used social media to educate others through self-expression and to challenge what they saw as society's negative views of young people. They placed on a major emphasis on storytelling, as evidenced in hashtags such as #blackstoriesmatter, #teenwriter and #blackwriter. An overarching theme was a push for change. Their identities were reflected in hashtags such as #blackyouthvisionaries and #changemakers. They made clear that they see social media as a way to represent their values.
"Everything I do online is a reflection of the person I am, and I always want that image to be true to myself," 18-year-old Laura told me in an interview. I used pseudonyms for all of the young people in my study. "Anyone who has been in a classroom or organization with me knows that I am outspoken and I always need to offer perspectives that I think are crucial to a discussion relating to social justice and I do the same online. Everything I post is a show of my values."
Higher education appeared regularly in the young people's self-expression and activism.
For instance, Samirah X., age 14, told me how she was inspired by the protests that followed the police killing of George Floyd to write a script for a movie called "You Change."
"I take acting very seriously and enrolled in classes at a local community college – Introduction to Filmmaking, where I studied directors, and Screenwriting, where I learned basic screenwriting skills like formatting, developing characters, and their motives," Samirah told me.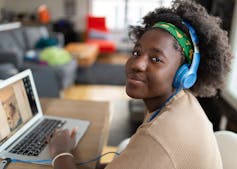 Laura, the 18-year-old, tweeted about how her posts about her college classes "are pretty insightful and really push my classmates to challenge their current ways of thinking and I'm really proud of myself for that."
As young people of color, they stressed the need to infuse their concerns into broader causes that don't always take communities of color into account.
"The climate justice movement cannot just be advocating for preservation of parks and saving endangered species. It must be Intersectional," Laura wrote in an Instagram post. "We have to recognize that Black and brown communities worldwide are being disproportionately disadvantaged because of air and water pollution, food insecurity, and more."
What matters most
Sometimes, they used simple statements to call attention to the issues they see as being of paramount concern.
One of the teens in my study wrote simply:
My mental health matters

My representation matters

My music matters

My joy matters

My art matters

My future matters.
The teens made clear that they believe in the urgency of taking action now.
"With this generation, we are not going to wait, if we are tired, we are going to work for it, if we want something to happen we will work on it," 16-year-old Dakari wrote in a post on YouTube and Instagram. "Stubborn, we don't want to wait until we are older to do stuff."
Rising racing star Lindsay Brewer says she was criticized by female drivers over swimsuit social media posts
Lindsay Brewer is one of the most popular race car drivers on social media, boasting more than 2.1 million followers on Instagram and over 629,000 on TikTok.
Brewer is currently racing in USF Pro Championships 2000 with a dream to eventually get to IndyCar. But even before she stepped onto the Indy track, she told The Daily Mail in an interview published Sunday that she's already been hearing negativity from race car drivers about her social media activity.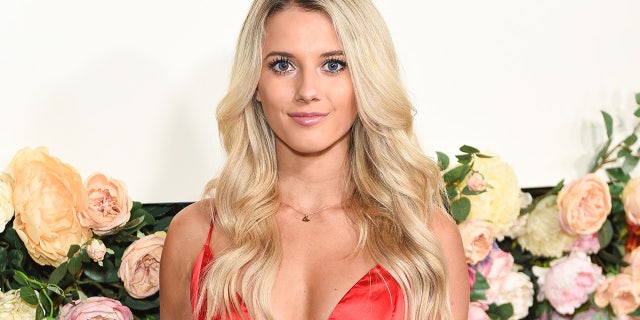 The 26-year-old driver said she reached out to other female professional drivers and was surprised to hear some of the advice they shared with her.
"I've talked to a few female drivers in the past who were older and I asked for advice.… and they were like, 'Stop posting swimwear photos, this just makes women make look so bad in the industry,'" she told the outlet.
"If you're truly about feminism and women in the industry, you should allow them to be who they wanna be and not put them in that box. Like you should not say, 'OK you can't wear makeup, you have to dress a certain way, you can't post certain things.'
"I think that's honestly anti-feminist."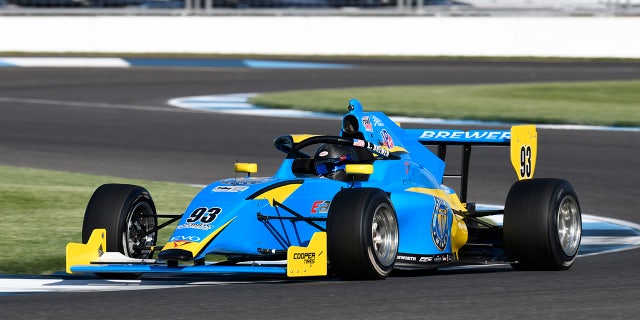 Brewer dismissed the notion she's just an "influencer pretending to be a race car driver." She said she got her start on the track in go-karts when she was 11. She said racing was something she was passionate about and was able to take a few years off for college and build a brand to help fund her racing.
Brewer finished 15th in the standings last season and is in 19th so far this season. She said some of the negativity has gone away and vowed to never change who she is or how she promotes herself on social media.
"I will always have my hair bleached, I'll have my fake nails, but yet I can still be a bada– driver. I don't wanna be put into certain categories. I still can take care of myself and look 'glamorous' and girly, but still be quick on the track," Brewer added.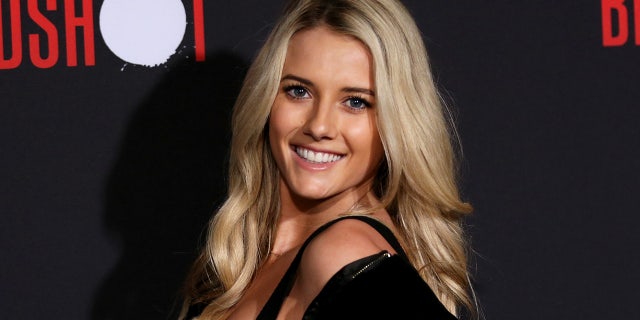 Brewer had two top 10 finishes last season – at Indianapolis Motor Speedway and a street race in Toronto.
Brewer's had a tough season this year, mostly finishing in the bottom half of the standings.
Causal association found between evening social media use and delayed sleep – Medical Xpress
A team of psychiatrists from Duke University and Yale University has found what they describe as a causal association between evening social media use and delayed sleep. In their study, reported in the journal Sleep Medicine, the group tracked social media use and delayed sleeping patterns for 44,000 Reddit users.
Prior research has shown that exposure to blue light, such as that emitted from phones and tablet computers, can lead to sleep problems because it interferes with production of melatonin. In this new effort, the researchers have found that posting to a social media site prior to normal bedtime may delay the time that people go to sleep.
The team wondered whether social media posting might be interfering with people's normal sleep patterns, especially in the evening hours. To find out, they conducted an exhaustive analysis of data on the social media site Reddit. As with other social media sites, users on Reddit can post comments or links to content and comment on what others have posted.
In all, the research team analyzed 120 million posts made by 44,000 users on the site over a period of 15 years. They were able to establish what they described as normal bedtimes for frequent users of the site, which enabled them to measure the impact of social media posting prior to a normal bedtime.
The researchers found that if a user posted to the site approximately one hour before their normal bedtime, they were much more likely to stay up past their normal bedtime—on average, they were still awake after posting, from one to three hours after they normally went to sleep. And if they posted multiple times before their normal bedtime, they stayed up even later.
The researchers suggest that a rise in dopamine levels due to anticipation of a response from other users on the site could make it difficult for posters to relax and go to sleep. Prior research has shown that a rise in dopamine levels contributes to mental activity and alertness, neither of which is conducive to going to sleep.
More information:
William U. Meyerson et al, The association between evening social media use and delayed sleep may be causal: Suggestive evidence from 120 million Reddit timestamps, Sleep Medicine (2023). DOI: 10.1016/j.sleep.2023.04.021
© 2023 Science X Network
Citation:
Causal association found between evening social media use and delayed sleep (2023, May 26)
retrieved 28 May 2023
from https://medicalxpress.com/news/2023-05-causal-association-evening-social-media.html
This document is subject to copyright. Apart from any fair dealing for the purpose of private study or research, no
part may be reproduced without the written permission. The content is provided for information purposes only.
Turkey election results live: Erdogan wins runoff – state media – Al Jazeera English
[unable to retrieve full-text content]
Turkey election results live: Erdogan wins runoff – state media Al Jazeera English




Source link