Asian markets roiled as bond rout turns 'lethal' – Reuters
SYDNEY (Reuters) – Asian stocks fell by the most in nine months on Friday as a rout in global bond markets sent yields flying and spooked investors amid fears the heavy losses suffered could trigger distressed selling in other assets.
In a sign the gloomy mood will reverberate across markets, European and U.S. stock futures were a sea of red. Eurostoxx 50 futures lost 1.7% while futures for Germany's DAX and those for London's FTSE dropped 1.3% each.
MSCI's broadest index of Asia-Pacific shares outside Japan slid more than 3% to a one-month low, its steepest one-day percentage loss since May 2020.
For the week the index is down more than 5%, its worst weekly showing since March last year when the coronavirus pandemic had sparked fears of a global recession.
Friday's carnage was triggered by a whiplash in bonds.
The scale of the sell-off prompted Australia's central bank to launch a surprise bond buying operation to try and staunch the bleeding.
Yields on the 10-year Treasury note eased back to 1.538% from a one-year high of 1.614%, but were still up a startling 40 basis points for the month in the biggest move since 2016.
"Bond yields could still go higher in the short term though as bond selling begets more bond selling," said Shane Oliver, head of investment strategy at AMP.
"The longer this continues the greater the risk of a more severe correction in share markets if earnings upgrades struggle to keep up with the rise in bond yields."
Markets were hedging the risk of an earlier rate hike from the Federal Reserve, even though officials this week vowed any move was long in the future.
Fed fund futures are now almost fully priced for a rise to 0.25% by January 2023, while Eurodollars have it discounted for June 2022.
Even the thought of an eventual end to super-cheap money sent shivers through global stock markets, which have been regularly hitting record highs and stretching valuations.
"The fixed income rout is shifting into a more lethal phase for risky assets," says Damien McColough, Westpac's head of rates strategy.
"The rise in yields has long been mostly seen as a story of improving growth expectations, if anything padding risky assets, but the overnight move notably included a steep lift in real rates and a bringing forward of Fed lift-off expectations."
Japan's Nikkei shed 3.7% and Chinese blue chips joined the retreat with a drop of 2.5%.
EMERGING STRAINS
Overnight, the Dow fell 1.75%, while the S&P 500 lost 2.45% and the Nasdaq 3.52%, the biggest decline in almost four months for the tech-heavy index.
Tech darlings all suffered, with Apple Inc, Tesla Inc, Amazon.com Inc, NVIDIA Corp and Microsoft Corp the biggest drags.
All of that elevated the importance of U.S. personal consumption data due later on Friday, which includes one of the Fed's favoured inflation measures.
Core inflation is actually expected to dip to 1.4% in January, which could help calm market angst, but any upside surprise would likely accelerate the bond rout.
The surge in Treasury yields also caused ructions in emerging markets, which feared the better returns on offer in the United States might attract funds away.
Currencies favoured for leveraged carry trades all suffered, including the Brazil real, Turkish lira and South African rand.
The flows helped nudge the U.S. dollar up more broadly, with the dollar index rising to 90.371. It also gained on the low-yielding yen, briefly reaching the highest since September at 106.42. The euro eased a touch to $1.2152.
The jump in yields has tarnished gold, which offers no fixed return, and dragged it down to $1,760.8 an ounce from the week's high around $1,815.
However, analysts at ANZ were more bullish on the outlook.
"We now expect U.S. inflation to hit 2.5% this year," they said in a note. "Combined with further depreciation in the U.S. dollar, we see gold's fair value at $2,000/oz in the second half of the year."
Oil prices dropped on a higher dollar and expectations of more supply.[O/R]
U.S. crude fell 67 cents to $62.86 per barrel and Brent also lost 67 cents to $66.21.
U.S. Futures Gain as Stocks Rebound; Dollar Dips: Markets Wrap – Yahoo Canada Finance
(Bloomberg) — U.S. stocks followed European shares higher on Tuesday as traders reassessed risks from China's crackdown on the real-estate sector and looked ahead to this week's Federal Reserve meeting.
Most Read from Bloomberg
The S&P 500 and Nasdaq 100 gained, suggesting some improvement in sentiment after concerns about fallout from China Evergrande Group's debt woes roiled markets Monday. Dip-buyers in the last hour of trading Monday helped the S&P 500 pare some losses, though the index still posted the biggest drop since May.
"You had a lot of pent-up worries all expressed in one day and some of them were perhaps a bit overwrought — there's still a desperate search for return by investors and still very much a buy-the-dips mentality," said David Donabedian, chief investment officer of CIBC Private Wealth Management.
The Stoxx Europe 600 index climbed more than 1%, rebounding from the biggest slump in two months, with energy companies leading the advance and all industry sectors in the green. Royal Dutch Shell Plc rose after the company offered shareholders a payout from the sale of shale oil fields. Universal Music Group BV shares soared in their stock market debut after being spun off from Vivendi SE.
Aside from worries over Evergrande's ability to make good on $300 billion of liabilities, investors are also positioning for the two-day Fed meeting starting Tuesday, where policy makers are expected to start laying the groundwork for paring stimulus. Treasury yields ticked lower and the dollar was steady.
"So much of this information is already known that we don't think it will necessary set off a wave of problems," John Bilton, head of global multi-asset strategy at JPMorgan Asset Management, said on Bloomberg TV. "I'm more concerned about knock-on sentiment at a time when investor sentiment is a bit fragile. But when we look at the fundamentals — the general growth, and direction in the wider economy — we still feel reasonably confident that the situation will right itself."
A Hong Kong gauge of real-estate firms steadied, after developers disputed a report of pressure from the Chinese government. Evergrande slid deeper in equity and credit markets. Concerns remain about broader contagion after S&P Global Ratings said the developer is on the brink of default. China's markets reopen on Wednesday after holidays.
China's property-sector upheaval — part of President Xi Jinping's broader clampdown on private industries under his "common prosperity" initiative to reduce inequality — is adding to the risks confronting investors. These include stretched equity valuations and slower economic reopening due to the delta virus strain amid price pressures stoked by commodities. Markets are also digesting an outlook of reduced central bank policy support.
Elsewhere, Bitcoin slid for a third day in volatile trading, tumbling as much as 7.6% before bouncing back to around $43,000. Oil rebounded from two days of declines, while iron ore futures took a breather following Monday's rout, though stayed below $100 a ton on China's steel output curbs.
In Canada, Prime Minister Justin Trudeau won a third term in a snap election but fell short of regaining a parliamentary majority. The nation's currency was among the best performers in the Group-of-10 basket.
Here are key events to watch this week:
Bank of Japan rate decision, Wednesday

Federal Reserve rate decision, Wednesday

Bank of England rate decision, Thursday

Fed Chair Jerome Powell, Fed Governor Michelle Bowman and Vice Chairman Richard Clarida discuss pandemic recovery, Friday
For more market analysis, read our MLIV blog.
Some of the main moves in markets:
Stocks
The S&P 500 rose 0.5% as of 9:30 a.m. New York time

The Nasdaq 100 rose 0.5%

The Dow Jones Industrial Average rose 0.4%

The Stoxx Europe 600 rose 1%

The MSCI World index rose 0.5%
Currencies
The Bloomberg Dollar Spot Index was little changed

The euro was little changed at $1.1733

The British pound was unchanged at $1.3657

The Japanese yen rose 0.2% to 109.25 per dollar
Bonds
The yield on 10-year Treasuries was little changed at 1.31%

Germany's 10-year yield declined two basis points to -0.34%

Britain's 10-year yield declined one basis point to 0.78%
Commodities
West Texas Intermediate crude rose 0.7% to $70.78 a barrel

Gold futures rose 0.5% to $1,773.30 an ounce
More stories like this are available on bloomberg.com
Most Read from Bloomberg Businessweek
Subscribe now to stay ahead with the most trusted business news source.
©2021 Bloomberg L.P.
COVID booster use may be expanded, US health officials say – Al Jazeera English
FDA advisory body this week recommended coronavirus booster shots for people more than age 65 and those at high risk.
Top health officials in the United States have said broader approval of COVID-19 booster shots could be weeks away, after a Food and Drug Administration (FDA) expert advisory panel this week recommended a third jab for a limited segment of the population.
The director of the National Institutes of Health said the FDA panel's decision on Friday to limit Pfizer COVID-19 booster shots to Americans age 65 and older as well as those at high risk of severe disease was a preliminary step.
In an interview on Fox News Sunday, Dr Francis Collins predicted more wide-ranging approval for most Americans "in the next few weeks".
Collins said the panel's recommendation was correct based on a "snapshot" of available data on the effectiveness of Pfizer's two-jab regimen over time. But he said real-time data from the US and Israel continue to come in showing waning efficacy among more groups of people that will need to be addressed soon.
"I think there will be a decision in the coming weeks to extend boosters beyond the list that they approved on Friday," said Collins, who also appeared CBS' Face the Nation programme on Sunday.
Some rich nations, including the US and UK, are considering coronavirus booster shots amid a recent surge in cases linked to the highly contagious Delta variant.
But the World Health Organization (WHO) this month called for a moratorium on booster shots amid concerns about vaccine supplies to poorer nations, where millions have yet to receive their first jab.
A group of international scientists also said last week that even with the threat from the Delta strain, "booster doses for the general population are not appropriate at this stage in the pandemic".
"Any decisions about the need for boosting or timing of boosting should be based on careful analyses of adequately controlled clinical or epidemiological data, or both, indicating a persistent and meaningful reduction in severe disease," the scientists wrote in The Lancet medical journal.
Dr Anthony Fauci, who is US President Joe Biden's chief medical adviser, on Sunday praised the FDA advisory board's plan for covering a "good chunk" of Americans. But he stressed that "this is not the end of the story" based on data that was emerging and said the guidance would likely be expanded in the coming weeks to months.
People in the US who have received the two-dose Moderna vaccine or one-dose Johnson & Johnson vaccine are still awaiting guidance on possible booster shots.
"The actual data that we'll get [on] that third shot for the Moderna and second shot for the J&J is literally a couple to a few weeks away," Fauci told NBC's Meet the Press programme.
"We're working on that right now to get the data to the FDA so they can examine it and make a determination about the boosters for those people."
The FDA will consider the advisory group's advice and make its own decision, probably within days. The US Centers for Disease Control and Prevention (CDC) also is set to weigh in this week.
US stocks tumble amid fears of market correction – BBC News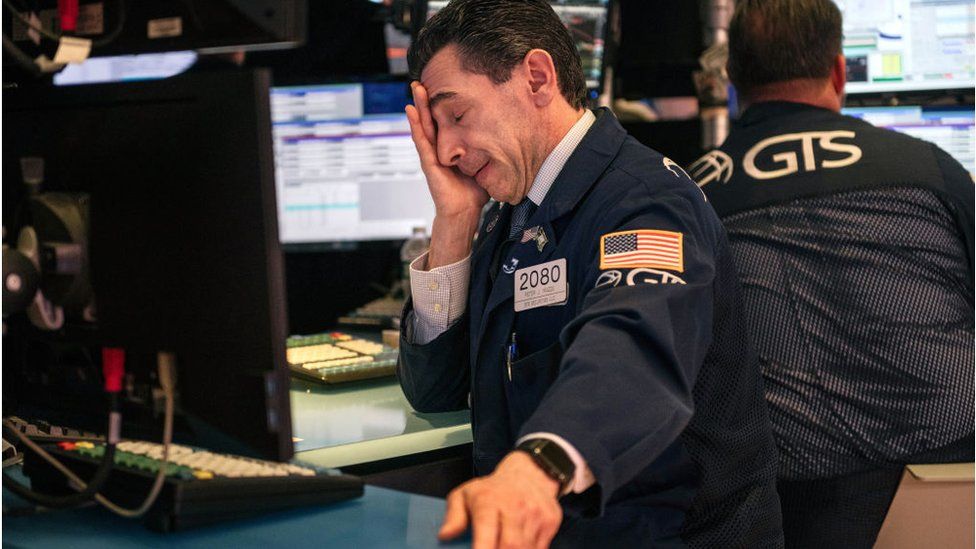 US markets have tumbled amid growing concerns about China's financial system and the impact of coronavirus on the global economy.
On Wednesday, the Dow Jones index lost almost 800 points to 33,816.92 before regaining ground.
There were similar falls in Europe, with the Germany's Dax index losing 2.3%, and France's Cac 40 down 1.7%.
One analyst called it "a classic flight to safety", with Wall Street seeing its worst day since May.
But US stocks are still up more than 12% this year and some analysts played down fears of a correction ahead.
Monday's sell-off was primarily driven by concerns that Evergrande – one of China's biggest property developers – is struggling to repay around $300bn of debts.
Regulators in China warned it could spark broader risks to the country's financial system. And investors fear this could hit big banks exposed to Evergrande and companies like it, causing contagion in global markets.
'Overspill'
"The fear of an Evergrande bankruptcy appears to be leading to concern about China's very own Lehman [Brothers] moment, and a big overspill across the region," said Michael Hewson of CMC Markets.
Investors are also nervous that the US Federal Reserve, which meets on Tuesday and Wednesday, will confirm plans to pare back its support for the US economy this year.
Global stocks have rallied as economies have reopened and central banks have provided trillions of dollars in support to boost growth.
But there are concerns there could be a pull-back, if support is taken away at a time when the Delta variant is starting to drag on the recovery.
Strategists at Morgan Stanley said they expected a 10% correction in America's S&P 500 index as the Fed starts to unwind its support. They added that signs of a stalling recovery could deepen that fall to 20%.
'Signal from the noise'
However, other analysts played down fears of a rout, noting that September is typically a bad months for stocks.
"Overall, September continues to live up to its bad reputation as historically the weakest month of the year. But that doesn't mean it can't rebound," said JJ Kinahan, chief market strategist at TD Ameritrade.
And Lindsey Bell of Ally Invest said any pullback may be short-lived.
"Much of investing is about sorting through what's signal and what's noise," she said. "While there is concern about the Evergrande situation infecting global markets, for the long-term investor, this situation may just be noise."