At Art Toronto, a Third of Galleries Are Showing Indigenous Artists – Hyperallergic
Support Hyperallergic's independent arts journalism.
At the entrance to Art Toronto is a land acknowledgment: the fair, it says, takes place on treaty land of the Mississauga of the Credit First Nation, "an area on which the Haudenosaunee, the Wendat and the Anishinaabe have thrived through time." In Canada, which has over 630 First Nation communities and more than 50 Indigenous languages, such a recognition is essential. But it has a special significance for this year's edition of the country's largest art fair, where a third of the more than 60 participating galleries are showing works by First Nations artists.
Indigenous artists have been represented at the fair before — Montreal dealer and longtime participant of Art Toronto Pierre-François Ouellette, for instance, has brought works by Cree artists Kent Monkman and Meryl McMaster to the show for years. But the impressive turnout of First Nations artwork in the 2021 edition is likely due to an increase in the number of galleries exhibiting and representing Indigenous artists both in Canada and abroad, says Mia Nelsen, director of Art Toronto.
"There was no call out to galleries to submit any specific work, only to submit their best work," Nelsen told Hyperallergic.
The physical show opened to the public today at the Metro Toronto Convention Center and runs through the weekend, but a parallel virtual version of the fair, which includes viewing rooms and virtual reality exhibitions, is accessible until November 7.
"As Canada's international art fair, we have an opportunity to connect with a wide and diverse audience to share the story of Canadian art," Nelsen said. "The First Nations perspective is essential to that narrative."
Also worth noting is the presence of galleries that specialize in the work of First Nations artists, more than ever before at the fair. Five of them — K Art in Buffalo, New York; Feheley Fine Art in Toronto; and Fazakas Gallery, Ceremonial / Art, and Marion Scott Gallery in Vancouver — show exclusively Indigenous artists. K Art, which opened its 2,000-square-foot space last year, is also Indigenous-owned, founded by Dave Kimelberg of the Seneca Nation of Indians (Bear Clan).
"Indigenous art has so much to offer and I think sharing and amplifying Indigenous voices within the contemporary art world is a huge asset to the conversation," Fazakas Gallery director and curator LaTiesha Fazakas told Hyperallergic. "Showing Indigenous artwork at art fairs really helps to advance those voices and create an opportunity to deepen and enrich the dialogue." The gallery has two presentations at Art Toronto, a group booth as well as a site-specific installation of laser-cut painting and assemblage works by Cree Métis artist Jason Baerg that reflect on the original Mohawk word for the city, "Tkaronto," meaning "where there are trees standing in the water."
Devan Patel, co-owner and director of Patel Brown Gallery, believes "a real conversation about Canadian art can't take place without a presence of Indigenous voices."
Patel Brown's booth at Art Toronto features Indigenous works alongside pieces by creators from different backgrounds. Japanese-Canadian artist Alexa Hatanaka's meticulous linocuts on handmade washi paper join stunning colored pencil drawings by the late Inuk artist Tim Pitsiulak. Sleek patinated bronze sculptures by Oluyese, whose work is often informed by his Yoruba heritage, meet vibrant acrylics by Native Art Department International, the collaborative project of Indigenous Toronto-based artists Maria Hupfield and Jason Lujan.
Art Toronto is also hosting conversations and programs both in-person and online during the run of the show, some of which can be watched on-demand, such as a panel with Patricia Marroquin Norby, hired as the first full-time Native American art curator at the Metropolitan Museum of Art last September. Norby joined a discussion about "decolonizing museums and collections" with curator John G. Hampton and Indigenous artists Jason Baerg and Julia Rose Sutherlan, moderated by Greg Hill, senior curator of Indigenous art at the National Gallery of Canada.
Expanding the visibility of Native American, First Nation, and other Indigenous artists at fairs like Art Toronto, which draw collectors and curators from around the world, is an important step in redressing their marginalization in both the institutional and commercial mainstream. Still, work remains to be done, not just in terms of representation by the numbers but to complicate perceptions of what art by this large and diverse community can look like. That range and breadth is on display at the fair, from Michael Nicoll Yahgulanaas's wall-mounted sculpture "Falling Tide" (2020), rendered in copper leaf on a metal car hood, to Sonny Assu's "Breakfast Series" (2006), cereal boxes with a Pop Art edge that subversively raise issues faced by First Nations peoples, with names like "Treaty Flakes" and "Lucky Beads."
"It's important to showcase contemporary Indigenous art to challenge and expand the reductive and expected aesthetics of Indigenous art in the art world, and allow the work to be appreciated beyond its cultural identifiers," Patel said. "Most importantly we have to cultivate and champion underrepresented voices to empower and support the next generation of Indigenous and BIPOC leaders."
Paintings turned trees into central characters in Canadian art: expert – OrilliaMatters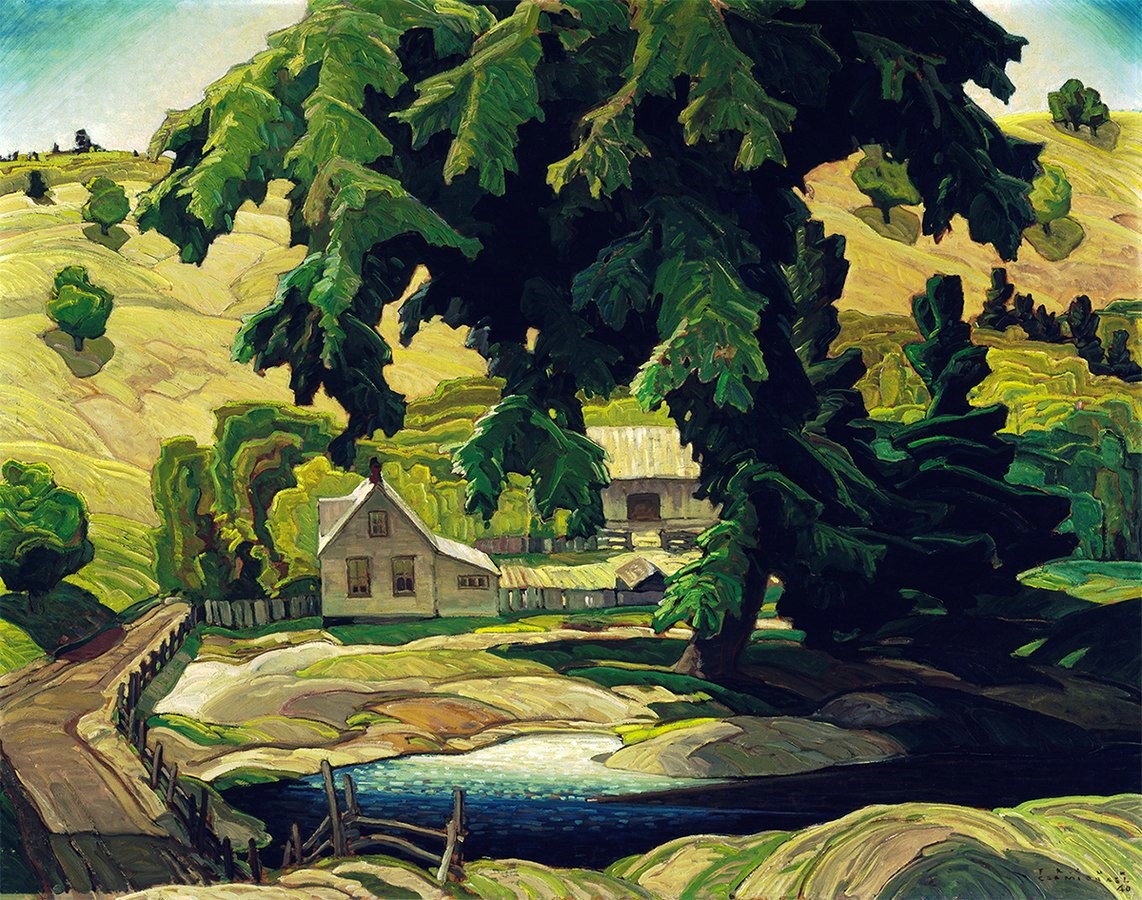 NEWS RELEASE
ORILLIA MUSEUM OF ART & HISTORY
********************
In her introduction to this year's Carmichael Art History Lecture fundraiser, Executive Director of the Orillia Museum of Art & History (OMAH), Ninette Gyorody paid tribute to Qennefer Browne. It was a remembrance of gratitude.
Browne founded our annual Art History Lecture and named it in honour of Franklin Carmichael, a member of the Group of Seven, who was born in Orillia. Browne organized speakers for many years, until her death.
This year, we were incredibly fortunate to have Dr. Anna Hudson, who teaches Art History and Visual Culture in the Arts Music Performance Dance (AMPD) Department of York University, as our distinguished lecturer.
Her compelling presentation was a focus of her doctoral dissertation, "Art and Social Consciousness: The Toronto community of Painters, 1933-1950" was 'What Came after the Group of Seven.'
From 1933 to 1950, a group of socially-conscious painters imagined a society transformed by art, and came together to develop a shared language of visual representation, building on the legacy of the Group of Seven.
Dr. Hudson spoke of the way artists play off each other's work, investing form with meaning over time. Her talk was supported by images of Canadian paintings and photos of the period, which illustrated ideas within the lecture and enabled us to connect with the art.
Visual themes of the lecture were 'TREE, BODY, INDUSTRY, LAND, HOME'.
First up for discussion were paintings by Franklin Carmichael: Autumn in Orillia (1924), Farm, Haliburton (1940) and Autumn Hillside (1920). In the 1940 painting, a tree is the dominant figure in the landscape. Dr. Hudson explored what this might mean, referencing the historical context of 1940.
Next, images of Jack Pine and West Wind, by Tom Thomson, were shared. These paintings lifted trees into the role of central characters in Canadian art, rather than being part of a pretty European style landscape painting.
Continuing her discussion of paintings, sculpture, photographs and commercial art by Canadian artists of the period 1933 to 1950, Dr. Hudson shared her interpretation of this phase of our national art.
One of the most fascinating paintings referenced was 'Tree', painted in 1944, by Isabel McLaughlin. This writer viewed this painting at The McMichael Gallery last month. Dr. Hudson's assessment of 'Tree' as "disturbing, powerful, visceral, tactile" fits this painting.
We thank Dr. Hudson for sharing her vast knowledge and passion for this important time in Canadian art history. Her presentation was a great complement to the Carmichael Canadian Landscape Exhibition: Tradition Transformed, now in its 20th year. Don't miss this incredible juried show.
For 2022:
The History Speaker Series will be on hiatus for December and will resume on Jan. 19, 2022, via Zoom.
Popular Orillia historian, Dave Town, will be our guest speaker with his talk 'Yellowhead's Revolt'. Local Indigenous leader, Rama's Chief Yellowhead, stood defiant against not just the white man, but his fellow Chiefs in 1846 at the Great Meeting held in Orillia.
At issue were life-changing policies, the most significant of which was the creation of the first residential schools in Canada. Chief Yellowhead stood up for what he felt was right for his people. Don't miss Dave's fascinating talk about this important event in our local history.
Click here to register for the talk or call Monica at 705-326-2159 or email visitors@orilliamuseum.org
Admission to the History Speaker Series is free, but donations to OMAH are appreciated.
The OMAH History Committee thanks you for your loyal support in 2021. Stay tuned for a full list of dynamic speakers in 2022. Wishing you a safe and festive holiday season.
********************
Art Fx #44: "Around the Bend" by Pam MacKenzie – Huntsville Doppler – Huntsville Doppler
Art Fx is a year-long series on Huntsville Doppler featuring Huntsville-area visual artists.
"Around the Bend" by Pam MacKenzie is a 24" x 36″ acrylic on birch
"This painting depicts a canoe trip up a stream to explore what lies beyond," says Pam. "My husband and I were avid canoeists and spent countless hours exploring small rivers and creeks. Travelling in these small bodies of winding waters always left you wondering what was around the corner. Did it continue on or was this bend going to end up in a bay or a larger body of water than we were comfortable travelling on in our canoe? Were we going to be able to continue in the canoe or going to have to portage over a rough spot, leaving the colour of our canoe on buried river rock? Or were we going to find a quiet spot to pull ashore on and explore the land along the banks?"
"Around the Bend" is available for $400.
About the artist
Artistic endeavours have always been part of Pam's life, from making her own school clothing to designing and creating wedding gowns and apparel to art quilts, weaving and stained glass.
Pam began exploring the drawing and painting art world in 2013 with Laura Landers, Iris Shields, and now Carol Rudderham.
Pam has taken long workshops with a number of well-known Canadian artists and is currently working on an online course in bold-colour painting through the Bold School based in B.C.. While her first love is portraiture in black and white, she felt the need to colour her portraits first in pastels and now in acrylic and is taking this course to do just that.
Currently Pam is exploring the world of pouring art as she has splints on both arms following a tumble this fall. When life throws you lemons, make lemonade.
Pam is co-chair of the Huntsville Art Society and takesadvantage of the many opportunities through HAS to show her work. She also paints with a group at Carol Rudderham's and shows her work bi-annually in the gallery at Partners Hall in the Algonquin Theatre.
Find Pam online at the HAS website or contact her at pammack123@icloud.com or 705-788-9875.
See more local art in Doppler's Art Fx series here.
Don't miss out on Doppler!
Sign up here to receive our email digest with links to our most recent stories.
Local news in your inbox three times per week!
Click here to support local news
Year end art exhibition features 40+ local art makers – North Bay News – BayToday.ca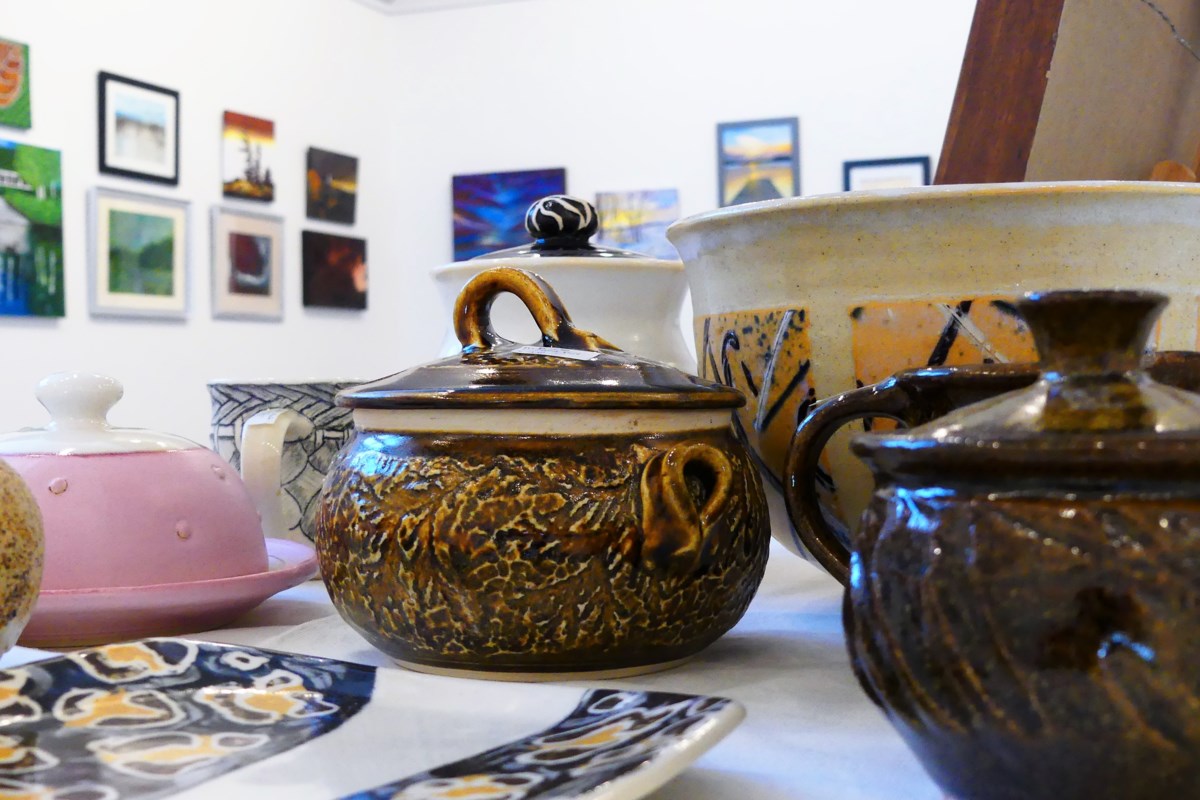 The Alex Dufresne Gallery is presenting its annual year-end show "Petit Noel: Exhibit & Sale."
"This art exhibition has brought together over 40 different painters, photographers, potters, and artisans of all mediums, styles, and levels of experience to curate a show that reflects the passion of the northeastern Ontario art community.," says Natasha Wiatr, Curator.
All pieces are no larger than 20" by 20" in size and almost all pieces are for sale.
The show is currently on display and will stay up until Saturday, December 30.
The gallery is open Wednesday – Saturday from 10 – 5 excluding Christmas Day and New Years Day.
"If you would prefer to book the gallery for a private viewing on a Tuesday, please contact us to arrange for a time," adds Wiatr. "The gallery is free, with donations welcome. Due to Covid-19 guidelines, we ask that visitors wear masks and maintain six feet of social distancing, and we have hand sanitizer available on site. Please do not visit if you are not feeling well."
Location: Alex Dufresne Gallery (107 Lansdowne St. E. in Callander, in the same building as the Callander Bay Heritage Museum)