Australia to become 'more assertive' on foreign investment in critical minerals
MELBOURNE, Nov 25 (Reuters) – Top lithium supplier Australia is set to become more selective about who it lets invest in its growing critical minerals industry, Treasurer Jim Chalmers said on Friday.
Australia, a major supplier of minerals key to the energy transition like rare earths, has more to gain by encouraging investment from allies to build up its minerals processing industry, Chalmers said at a conference in Sydney.
"Foreign investment is a good thing when it's in our national interest," Chalmers said.
"But as investment interest grows, and as the sources of that investment interest grow, we'll need to be more assertive about encouraging investment that clearly aligns with our national interest in the longer term."
Chalmers stopped short of annoucing any review of existing international holdings of operations, after Canada ordered three foreign firms to divest from its critical minerals sector earlier this month.
The Labor government which took power in May is buttressing Australia's policy to build out a critical minerals processing supply chain.
Federal investment is already helping to construct a processing plant run by Iluka Resources (ILU.AX) as part of its A$2 billion Critical Minerals Facility.
The strategy will provide friendly nations with an alternative at a time when Russia's invasion of the Ukraine has underlined the strategic risks of having a dominant supplier, Chalmers said.
"To put it as simply as I can – our international friends need to rely on someone, so let's have them relying on us," he said.
Australia is revising its critical minerals strategy and has been positioning itself as a green superpower, backed by its mineral endowments.
It signed a Critical Minerals Partnership with Japan in October and its Southeast Asia Economic Strategy to 2040 will include a focus on resources, energy and the green economy, Chalmers said.
($1 = 1.4799 Australian dollars)
Reporting by Melanie Burton; Editing by Stephen Coates
The new rules of investment – The Economist
High inflation, amid warnings of a global recession, is forcing investors to tear up the rule book. Since the financial crisis, bonds have been seen as a safe bet—even if they did not promise much of a return. Equity markets, led by soaring tech stocks, were where fortunes were made. Both have plunged this year.
In a world where rising interest rates have left governments worrying about how to afford their debts, and companies will struggle to raise cash, investors need new strategies.
On this week's podcast, hosts Alice Fulwood, Soumaya Keynes and Mike Bird ask what those new rules of investing look like. Wei Li, global chief investment strategist for the world's biggest investor, BlackRock, argues this new macroeconomic era is here to stay. And Mohamed El-Erian, chief economic adviser to Allianz, says investors need to focus on picking winners within stocks and bonds. Runtime: 39 min
Sign up for our new weekly newsletter dissecting the big themes in markets, business and the economy at www.economist.com/moneytalks
For full access to print, digital and audio editions, subscribe to The Economist at www.economist.com/podcastoffer
Listen on: Apple Podcasts | Spotify | Google | Stitcher | TuneIn
Proposed sovereignty act could scare off investment: Calgary chamber – Calgary Sun
Article content
The Alberta Sovereignty within a United Canada Act, tabled by Premier Danielle Smith on Tuesday, could drive investment out of the province, the Calgary Chamber of Commerce warns.
Article content
Chamber president and CEO Deborah Yedlin said the bill, which would allow cabinet to issue directives to disregard federal initiatives, would not help businesses attract investment or employees should it pass the legislature.
Article content
"We still don't see how an act like this contributes to economic growth," said Yedlin, adding that Alberta competes around the world for labour and capital, and that any hints of uncompetitiveness or uncertainty could cause the province to be seen as an unfavourable jurisdiction to invest in.
The act was the keystone policy of Smith's leadership campaign this summer. If passed, Bill 1 would allow ministers to bring motions forward to the Alberta legislature to debate whether a federal initiative is unconstitutional or harmful to Alberta. If the initiative is deemed as such, the legislature could pass a resolution that would direct cabinet to take action, which could include issuing directives to public entities to not enforce the federal policy.
Article content
Government documents argue the bill would not do anything to harm Alberta's economy. The premier's office did not return requests for comment Wednesday.
Speaking Tuesday, Smith said the bill is intended to put Ottawa on notice about provincial jurisdiction and ensure they are equal partners within Canada's Constitution.
Yedlin argued the act does not allow for constructive conversations with the federal government and that all levels of government need to collaborate to make Alberta an attractive place to invest and to work, stating the province has to compete with jurisdictions from all corners of the globe.
Article content
"This could cause us problems within Canada with other provinces, as well as with Ottawa. That's not what we need right now," said Yedlin. "We have worked with Ottawa in the past, perhaps not to Premier Smith's satisfaction, but I would argue that, you know, let's dial back."
Yedlin said Quebec lost investment when that province grappled with the idea of separation. She said that while Smith's bill makes it clear it is not about separating, just the idea of uncertainty could cause investors to look elsewhere.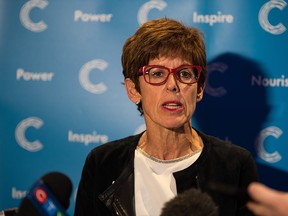 Lisa Baiton, president and CEO of the Canadian Association of Petroleum Producers, said they are taking time to review the bill with their members. She said they are concerned about any policy that has the potential to create uncertainty for investors.
Article content
"It is important for governments at all levels to work together with the industry in order to attract investment back into Canada," said Baiton.
Finance Minister Travis Toews was critical of the sovereignty act while he ran against Smith in the leadership contest. At the time, he argued the bill would bring "economic chaos" to Alberta.
On Wednesday, he acknowledged he had legitimate concerns during the summer but said he has since had full opportunity to participate in the development of the bill along with his caucus colleagues, and that it addresses his previous concerns.
"For me to support this bill it has to be constitutional, support the rule of law and not create business uncertainty. This bill, as proposed, addresses these concerns," Toews said in a statement.
Article content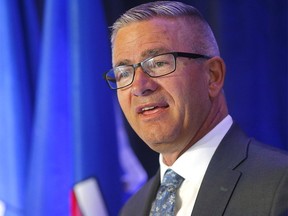 Meanwhile, several groups that could fall under the "public entity" definition of the act and could be subject to ministerial directives said they need to read the bill further before providing comment.
University of Calgary representatives said the school was reviewing the bill and will seek clarity on its application if passed. Mount Royal University representatives said they, too, are reviewing the bill and will work with the province on how it applies to post-secondary institutions.
The Rural Municipalities of Alberta declined to provide comment. While speaking at an unrelated news conference, Leduc Mayor Bob Young said they hadn't had a chance to look at the bill and how it would affect municipalities.
Alberta Municipalities said they are reviewing the bill and that it appears to allow the cabinet to direct municipalities to not enforce federal laws. They said they may have more to say once their analysts have fully reviewed the legislation.
Clinton Orr, Canaccord Genuity, earns Canada's Top Wealth Advisor award
Clinton Orr is a Senior Portfolio Manager and Senior Wealth Advisor, CFP, CIM, DMA, DMS, with Canaccord Genuity Wealth Management. Recently, he was recognized as one of Canada's Top Wealth Advisors in the province. The recognition is based on an independent affirmation of his ongoing commitment to his clients and their financial success.
This prestigious award is given based on a number of factors, including client service and best practices, industry experience, and growth. This has established Orr and his firm as a leader in the wealth management industry.
Canada's Top Wealth Advisors ranking is developed and distributed by SHOOK Research, and is based on in-person, virtual, and telephone due diligence meetings and ranking algorithms. This algorithm factors in client retention, industry experience, review of compliance records, and firm nominations.
Quantitative criteria include assets that are under management as well as revenue generated for their firms. Investment performance is not considered criteria, because client objectives and risk tolerances vary, and advisors often don't have audited performance reports.
Who is Clinton Orr?
Clinton Orr is a financial services professional who earned his start in the industry in 2003. He is a founding member of Becker Orr Wealth Management, a branch of Canaccord Wealth Management, and is a Senior Wealth Advisor and Senior Portfolio Manager with Canaccord Genuity.
Clinton Orr has been able to successfully establish relationships with his clients, who consist of business owners, retirees and professionals. His success in the wealth management space has been achieved through dedication, hard work, a love for the profession, and genuine compassion and caring for his clients.
Orr has been able to set himself apart by developing a strong team and utilizing a unique process called Financial Architecture, which allows him and his team to build customized financial plans that address all of their clients' needs.
Orr earned a Bachelor's of Commerce degree and has earned professional designations in financial planning, investment management, and derivatives markets. He has previously been recognized for his efforts in 2021, winning the Wealth Management Advisor of the Year for Canada, as a part of Finance Monthly's Global Awards. He was also the central region winner of the Client Dedication Award presented by Canaccord Genuity.
Orr is a regular contributor to the Clipper Weekly, providing his professional insights in a regular column that is published monthly. He also makes regular appearances on Global News Winnipeg.
Orr lives with his wife, Jodi, in rural Manitoba where they operate their own charitable initiative, the Pet Life Animal Fund. Both are passionate dog lovers who enjoy giving back.
When Clinton Orr isn't working, he trains in Jiu-Jitsu and currently holds a blue belt. He and his wife also enjoy spending plenty of time together watching the Winnipeg Jets and the Winnipeg Blue Bombers.