Average Ontario Real Estate Agent Commissions on Track to Drop $45K – Storeys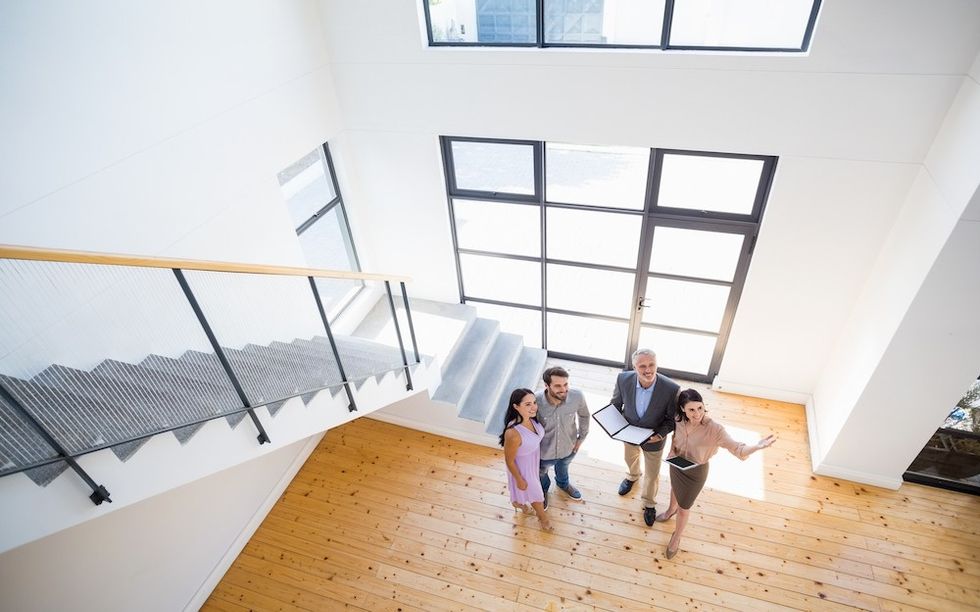 There's no denying that 2022 has been a year of reckoning for the housing market. Coming off an unprecedented pandemic bull run — 2021 was the biggest year on record for sales — the average Canadian home price skyrocketed over 40% from April 2020, to what we now know was the peak this February, a dollar difference of over $320,000.
Things chilled rapidly thereafter, once the Bank of Canada kicked off its hiking cycle in March; prices have since plummeted $170,000 from early spring with transactions culminating in a nearly 40% drop this October.
The losses are more acute when drilled down into the Greater Toronto Area — the October data from the Toronto Regional Real Estate Association shows sales down across the region by 49%.
Of course, fewer deals equal shrinking real estate commission — and today's agents are feeling the financial pain. In fact, the average agent can expect their annual earnings to be chopped by $45,000, says broker and real estate analyst Daniel Foch, who crunched the numbers based on year-to-date Ontario transaction data as reported by the Canadian Real Estate Association.
According to his calculations, the province's market is on track to lose out on $3B in real estate commission this year when compared to activity in 2021, with the average agent commission dropping from $125,000 to $80,000. This is based on a total sales volume of $227B in 2021, which would have netted $11B in total commission, compared to the forecasted $151B sales volume expected this year — bringing in just $7.5B in commission.
"We're seeing a lot of defeatedness from people in the profession, a little desperation for sure, and almost denial because people are saying, 'It can't stay this bad,'" he tells STOREYS.
"Things were so good for two years during COVID — if you look at the Canadian Real Estate Association website and look at their number of transactions, it was well above the 10-year average over the last two years during COVID, and now it's plummeted way down below that… and that recoil is going to hurt."
READ: Ontario Expects Housing Starts, Sales and Prices to Fall in 2023
As well, Foch adds, "If sales are down 30%, prices are down 8.5%, you can compute the contraction of what is basically 1% of our GDP in Ontario. It's a lot of income taken out of the economy."
Veteran agents, of course, have seen their fair share of market boom and bust — but even they are in awe of the ferocious sellers' conditions that prevailed over the course of the last two years. Virginia Munden, realtor at Munden Realty and CEO and Founder of The Buzz Conference, says that while today's slowdown is "no different" than previous down periods, 2021 remains an outlier in terms of demand — and the resulting whiplash is a lot for newer agents to bear.
"In my three decades in the business, I haven't seen a year like last year. Ever," she says, recalling one particular property with over 41 offers. "It went for a million dollars over the asking price; that is not a normal market."
In comparison, today she's seen properties sell for 20 – 35% less than they would have since last spring, and agents making 30 – 40% less in compensation. Others, she adds, haven't had a deal since this past March.
The ones who will make it through will be those who take the opportunity to invest in themselves.
"If realtors are struggling right now, I would not call it a struggle — this is a changing market, and every single market has an opportunity," she says.
"…I think it's really important to settle realtors down [from negative news media], especially this new generation of real estate agents that have never seen this market before. My husband and I have seen this market over the years maybe three, four, five times in our almost three decades in the industry. It is normal. This is the time to stay educated, to look for those opportunities where buyers are going to jump back in."
Munden remains optimistic about the market in the short term, given the number of buyers who — rather than contend with rapidly rising interest rates and historically low inventory — have simply put their purchase plans on hold. Once the Bank of Canada starts to ease up on their rate hiking cycle, many prospective buyers will come back out of the woodwork, she asserts, pointing out that today's interest rates remain low from a historical perspective.
"I think we're heading into a buyers' market in 2023," she says. "I still think, whether it's five or five-and-a-half to six-and-a-half percent, those are still really good rates. When I bought my first home almost 32 years ago, the rate was 14.25%. So these rates right now, are still considerably low, if pricing has come down. If buyers can get back into the market, and if they feel comfortable, based on their current situation — work, life, etc. — it is a great time to buy real estate."
But even in a best-case scenario, market recovery remains a few months off — and the industry is doing what it can in the meantime to staunch the bleeding.
One such move is a fee reduction from the Real Estate Council of Ontario, which informed member agents via email that as of March 1, 2023, their costs will drop from $390 to $306 for all new, renewal, and reinstatement applications. Agents transferring from one brokerage to another will only need to pay $25 compared to the previous $100.
Brokerages are also getting creative with their compensation packages in order to keep agents engaged and recruitment flowing.
"I think you're seeing a lot of brokerages exploring alternatives," says Foch. "A lot of people are getting more into the leasing space; residential leasing has been pretty popular in Toronto and a lot of brokerages are encouraging people to just do that to keep the deal flow going."
He adds that he's seeing many brokerages introduce fee capping structures for agents, or reduce their overhead by going cloud based rather than hanging on to their brick and mortar. Others are offering stock options, and incentives for existing agents to recruit new ones.
"Brokerages, whether big brands or boutique brands — if they are bringing opportunity to their agents, and they're compensating them through these new models, they're going to win in 2023, because this younger generation specifically, they want to be compensated for their time, they're pretty savvy, they know they hold value right now, there's a lot of them doing really great things," adds Munden.
According to both Foch and Munden, there's one type of agent unlikely to survive the downturn — part timers.
"I know an agent who only had two deals last year and he made himself $180,000 just through two listings," says Munden. "But will you have those opportunities again? The agents that are not working on their business, innovating and adding to their designation portfolio, improving their value proposition, updating their website, adding pre-construction to their service repertoire; agents that continue to adapt and innovate and add are the ones that will win in 2023."
'We saved probably close to $100K': Affluent Americans are snatching up prime real estate in other parts of the world — as the US housing market slumps. Here's how to do it too – Yahoo Finance
Laetitia Laurent knows the value of looking far and wide for a good deal. The Florida-based business owner and her husband had been hunting for a second home for five years before snagging an incredible bargain — in Paris.
She made an offer in January on a 415-square-foot, one-bedroom apartment in the coveted Golden Triangle area between the Champs-Élysées and the Seine, and closed in June.
While the U.S. housing market has been slowing down — thanks to elevated home prices and mortgage rates — there's been a growing trend of wealthy American buyers investing in overseas homes, buoyed by favorable exchange rates and a strong dollar.
"I think we saved probably close to $100,000 between the time we made the offer and the time we closed," says Laurent, who will use the property as a vacation home and a space to host clients for her interior design firm, Laure Nell Interiors. The euro-dollar exchange rate plunged over 12% last year, falling below parity in August.
Whether you're a retiree looking to spend your golden years somewhere warm and tropical, or someone investing in a second home for some extra rental income, international properties are currently all the rage.
Don't miss
American buyers are buying properties abroad
The numbers show a clear trend. Coldwell Banker surveyed wealthy American buyers and noted that 67% of respondents own properties outside the U.S. According to Wealth-X figures, the number of high net worth Americans who purchased property abroad in 2022 was also expected to rise by 14% from 2021 and 29% from 2019.
Kelly Cutchin, country manager USA at global payments services provider Moneycorp Americas, says some of these buyers may be looking for an investment property or vacation home, while others could be "jumping the pond" and looking to relocate entirely.
Central America is currently the top preference for affluent Americans, followed by Canada, Mexico, Asia, South America and Europe.
Some countries, such as Portugal, also offer "golden visa" programs, in which wealthy individuals obtain residency or citizenship in exchange for a substantial investment, like in real estate.
The Trend report indicates that while the 55+ age group has the largest share of foreign property ownership, the 25-34 age group has moved up from last to second position.
Cutchin says this is due to generational wealth. "There are a lot more high net worth individuals (HNWI) under the age of 30 than before. These youngsters are looking to diversify their portfolios and starting young is almost never a bad idea."
An October Bank of America study indicated that rich young Americans are looking to alternative investments, such as real estate and cryptocurrency to boost their wealth.
Why overseas locations may offer more perks
Laurent says that aside from her apartment's Haussmanian architecture, the declining exchange rate and low mortgage rates in France at the time made it an excellent investment. Even now, French mortgage rates are just above 2%, while American rates remain over 6%.
American home prices, inflation and the political climate may be contributing to buyers looking abroad. If you're thinking of relocating to a different country, you could sell your home for a high price now and potentially score a lower price elsewhere.
Read more: Rich young Americans have lost confidence in the stock market — and are betting on these assets instead. Get in now for strong long-term tailwinds
The rise of remote work and social media posts with enticing photos and reels of different countries could also encourage buyers to look outside of the U.S.
Cutchin says some buyers may be motivated by others in their social circle buying homes overseas. "We all have a bit of FOMO, right? 'Everyone in my country club is doing it — so I want to have that same status as Suzy, and so therefore, I too need to buy a property in Paris, and we can vacation together with our families.'"
What US buyers need to know
Cutchin says the most important thing is to do your research. Speak to a real estate agent and an international tax consultant, and look into foreign ownership laws.
In some countries, you may need to afford an all-cash purchase. You could look into financing through your local bank or foreign mortgage products — but Cutchin says these can be limited and could require a larger down payment than what you might see in the U.S. "It's not uncommon to see a deposit amount of upwards of 30%."
You may also need to account for extra costs, like translator, tax and legal fees, international bank transfer fees and insurance.
Laurent, who has dual American and French citizenship, went through a French bank to secure her mortgage and needed to purchase life insurance to protect her loan.
Although Laurent benefited from the exchange rate declining last year, Morgan Stanley foreign exchange strategists are predicting it to rise back to $1.15 by the end of 2023. You could consider speaking to a currency expert to lock in your rate before making an investment overseas — for example, Moneycorp allows clients to lock in an exchange rate for up to two years.
"Let's face it, if the rate moves against you 10 cents between now and June of next year — when you go to actually facilitate that transaction — it might actually place you in a situation where you can no longer afford to make that investment, or you're not as comfortable as you were previously," Cutchin says.
What to read next
This article provides information only and should not be construed as advice. It is provided without warranty of any kind.
Irish Commercial Real Estate Deals Plummet as Buyers Bide Time – Bloomberg
[unable to retrieve full-text content]
Irish Commercial Real Estate Deals Plummet as Buyers Bide Time Bloomberg




Source link
Increasingly large down payments could help GTA homeowners weather downturn: Report – CP24
A new analysis by realtor firm Re/Max says the Toronto real estate market may be better positioned than previously thought to weather the financial downturn expected this year, though there still may be some choppy waters ahead.
The new report compared average price and new mortgage values in different markets across the country between the third quarter of 2012 and the third quarter of 2022.
It found that in Toronto, loan-to-value ratios hovered at around 53 per cent in the third quarter of 2022, compared to 63 per cent 10 years earlier, suggesting people are putting down a higher percentage of the costs of a new home than they were a decade ago.
Loan to value ratios are used to express how much debt a person holds on an asset compared to its value. The higher the percentage, the greater the debt level on the asset.
Back in the third quarter of 2012, the average Toronto home price was $483,900, while the average new mortgage amount was $305,776, yielding a loan-to-value ratio of about 63 per cent.
In the third quarter of last year, the average Toronto home price was 1,079,957 while the average amount for a new mortgage was $567,441, yielding a loan-to-value ratio of about 53 per cent.
So what explains the fact that homebuyers in Toronto are putting down more money even as prices have skyrocketed over the last number of years?
Rising prices, Re/Max Canada President Christopher Alexander told CP24, are in fact part of the answer.
"Some people have generated a lot of equity over the years," he said, alluding to people who have made hundreds of thousands of dollars from properties as the housing market took off.
A few other factors have also contributed to people having more money to put toward a home, the report says, including large profits realized in the stock market over a lengthy bull run.
"You've had the remote work phenomenon, people are allowed to keep their jobs and move to more affordable markets," Alexander said.
"And the big, big story is the transition of generational wealth that's been going on. The 'bank of mom and dad,' as we like to call it in the industry, has played a huge role in supporting — whether they're first time homebuyers or move-up buyers — into purchasing homes at much higher down payment rates with chunks so that they can manage payments a lot easier."
But while people in the Toronto area may be putting down a higher percentage of a home's value than they were 10 years ago, there is no getting around the fact that the loans are nevertheless much larger than they were a decade ago — nearly double the size on average.
The report notes that given the steady climb in interest rates last year, "banks are tightening their own lending practices and proceeding with caution when qualifying today's borrowers."
The report says some bank appraisals are coming in lower than values paid in recent months, "sending buyers scrambling to make up the difference."
"With overnight rates poised to climb on at least two more occasions the first half of 2023, market stability will undoubtedly be tested, but the latter half of the year is forecast to improve as homebuyers and sellers continue to acclimatize to new market realities."
Limited supply of housing and a steady flow of new immigrants to the GTA are expected to buoy the housing market in the next year, the report says.
Alexander said that supply remains "shockingly low" and that some potential sellers may be holding back now because they perceive that they won't get top dollar for their properties.
"I think the majority of sellers are hoping to get the most for their money just like buyers want to pay the least," he said. "So you have a lot of them that don't need to move, just wait. And right now what you're really seeing is situational transactions. People that have kids, or have gotten married, divorced — the ones that really need to make a move are the ones you're seeing bringing product to the market right now."
He said potential job losses triggered by an economic downturn could also send more homes to market if people can no longer afford their payments.
The report noted that mortgage delinquency rates remain low in Canada.
"While challenges certainly exist in today's high interest rate environment, risk factors for the overall housing market are greatly reduced when homeowners own a larger proportion of their homes," Alexander said in a statement with the report. "With half of loan-to-value ratios within the 50- and 60-per cent range in Canadian markets, homeowners are better able to withstand downward pressure on housing values and fewer will find themselves underwater, carrying upside down loans."
Another report from Re/Max several months ago said GTA home prices could drop around 12 per cent in 2023, while one bank recently declared the GTA a buyer's market.