Bank of Canada holds rates, still sees economic recovery in second half
The Bank of Canada left rates unchanged on Wednesday and said it expects growth to strengthen in the second half following a shock contraction last quarter, though a fourth wave of COVID-19 and supply bottlenecks could weigh on the recovery.
As expected, the central bank left its key interest rate at a record low 0.25% and maintained its current quantitative easing program, in a regular rate decision less than two weeks ahead of a hotly contested federal election.
"The Bank continues to expect the economy to strengthen in the second half of 2021, although the fourth wave of COVID-19 infections and ongoing supply bottlenecks could weigh on the recovery," the Bank of Canada said in a statement.
The central bank kept its guidance that economic slack would be absorbed sometime in the second half of 2022, even with the surprise economic contraction in the second quarter and a softer start to the third quarter.
"I detected a hint of cautious optimism that the soft patch we're going through is something they're prepared to look through," said Derek Holt, head of capital market economics at Scotiabank.
"For now they're still planning that first rate hike to happen … sometime in the second half of 2022," he added.
Canada's economy unexpectedly shrank in the second quarter, data showed last week, and a preliminary estimate for July showed another contraction, putting economic activity https://www.reuters.com/business/canadian-economy-shrank-11-q2-july-gdp-seen-down-04-2021-08-31 front and center on Canada's campaign trail.
Analysts said the central bank's statement was unlikely to cause ripples ahead of the Sept. 20 vote, a race between the ruling Liberals and their main rival https://www.reuters.com/article/us-canada-election-o-toole-newsmaker/slow-and-steady-may-win-the-race-canada-opposition-leader-seeks-to-dethrone-trudeau-idUSKBN2G40ZT Conservatives.
"The Bank has probably gone about as far as they could to stay out of the election, and to make this as neutral a statement as possible," said Doug Porter, chief economist at BMO Capital Markets.
The Canadian dollar was trading 0.8% lower at 1.2748 to the greenback, or 78.44 U.S. cents, its second day of sharp declines.
($1 = 1.2691 Canadian dollars)
(Reporting by Julie Gordon in Ottawa, additional reporting by Fergal Smith and Nichola Saminather in Toronto and Nia WilliamsEditing by Nick Zieminski)
Five strange things that were up for rent in the 'sharing economy' – Maclean's
There's an Airbnb-type service for far more than home rentals these days
What happens when the "sharing economy" meets blistering real estate and rental markets? A world where the tiniest slices of one's life can fetch a fee. Increasingly, if it's bolted down, it can be had for a price. Some examples:
Swimming pool · $45/hour, St. Boniface, Man.
These homeowners have dubbed their backyard saltwater pool "Dabs Resort," as an acronym for parents Darren and Andrea and two kids. Listed on Swimply, comes with tubloads of water toys.
---
Backyard & garden · $100/hour, Vancouver
Spacefy offers short-term venue rentals or film/photo locations like a grassy space off Cambie and King Edward with a vine-accented pergola and various chair-table setups. Complete with view of the laneway house.
---
Bicycle · $15/day, Musquodoboit Harbour, N.S.
You can rent out your bicycle on Spinlister, whether it's a mountain bike for weekend warriors or a road ride like this Newport Cruiser. Catherine B. throws in a helmet and lock, plus a pannier bag if you'd like to picnic.
---
Backyard shed · $75/month, Laval, Que.
SpaceiShare lets out private parking stalls and storage spaces that go beyond condo lockers and include spare rooms, basements—and a 10-by-10-foot backyard structure. "Ideal for Christmas decorations and sports equipment," the ad reads.
---
Penthouse balcony · $25/hour, Toronto
Well, maybe not everything can be rented. A tiny 60th-storey downtown balcony with an Instagram-worthy view of Dundas Square and Lake Ontario was offered for hourly lease, but the venture came to a quick end when the condo management firm received complaints.
Five Lessons Evergrande Taught Us About The Chinese Economy – NPR
Last week, global markets shook after a Chinese company named Evergrande fell into what looks like a downward spiral into oblivion. Evergrande is — or was — the second-largest real estate company in China. A couple years ago, it was the world's most valuable real estate stock. It's also been involved in an eclectic mix of other businesses, from mineral water to electric cars to pig farming. It even owns a professional soccer team. But recently it's been having a really hard time repaying a mammoth amount of debt, a whopping $300 billion worth.
The Evergrande story is bigger than just one company. It's about China's unsustainable model of economic growth, which has relied on endless investment and a mad, debt-fueled development frenzy in recent years. That model helped China soar, but the country is now experiencing some turbulence. Last week, some alarmist observers were calling this China's "Lehman moment" — a reference to the collapse of Lehman Brothers that preceded the 2008 financial crisis — but China-focused economists argue that's overblown.
Nonetheless, given how interconnected the global economy is, investors remain worried about the future of the Chinese economy. It's been a nuclear reactor powering the globe's economic growth. Troubles there could have ripple effects around the world.
[Editor's note: This is an excerpt of Planet Money's newsletter. You can sign up here.]
We decided to put together a little listicle about what we've learned from the Evergrande story so far.
1) Real estate has been a huge part of China's economic growth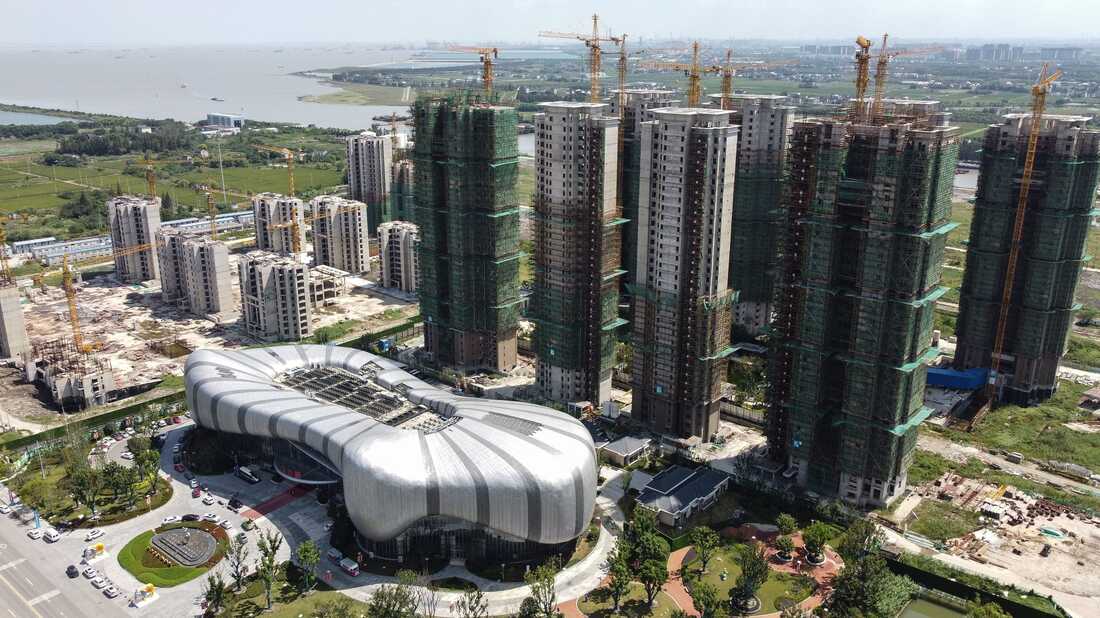 China's economic growth in recent years has been powered in large part by its roaring real estate market. The real estate industry, directly and indirectly, accounts for as much as 29 percent of China's entire GDP. This growth has been fueled by a ginormous property bubble and mounting amounts of debt. For a while, China's national and local governments used their massive powers of command-and-control over the economy to keep the bubble inflating. As is commonly the case in bubbles, investors and companies have taken on massive amounts of debt to capitalize on surging real estate prices. Evergrande itself amassed more than $300 billion in debt, to its banks, its bondholders, its suppliers, and its customers, many of whom pre-bought homes months, even years, before they were built.
2) China's property bubble has created spooky "ghost cities" and "ghost apartments" throughout the nation
The Chinese property bubble, which observers have been talking about for years, has encouraged more and more speculation, with investors buying up properties with no intention of living in them. Unfinished and vacant buildings and apartments litter the provinces of China. Estimates vary, but around 20%of China's total housing stock now sits unoccupied. The Financial Times saysthere is now enough vacant property in the nation to house more than 90 million people. That's enough empty homes to fit the entire population of Canada. Or France. Or Germany.
In some cases, entire urban areas lie empty. These so-called "ghost cities" include replicas of Paris, Venice, and even Jackson Hole, Wyoming.
3) The Communist Party of China is now working to reduce financial risks and change its model for economic growth
One of the main differences between Evergrande's debt crunch and the collapse of Lehman Brothers is that this crunch was brought about on purpose. The Communist Party of China (CPC) has been aware of the dangers posed by its wild real estate market for some time. In 2017, President Xi Jinping began signaling he wanted to do something about it with a speech to the 19th Party Congress. He said, "Houses are built to be inhabited, not for speculation."
Last year, the government followed up with a policy known as "three red lines," which aims to reduce debt in the property market, crack down on reckless borrowing, and prevent a market correction from turning into a cataclysm. The historian Adam Tooze calls it "controlled demolition" of the real estate bubble.
More broadly, Xi has been pursuing radical new policies in the name of "common prosperity," an effort to fight growing inequality in China and intervene more forcefully in private industries.
In July, Xi released an essay outlining his ambitions for China. He said he wants the country to focus on "pursuing genuine rather than inflated GDP growth and achieving high-quality, efficient, and sustainable development." Evergrande, a poster child for excesses of the real estate market, apparently does not represent genuine economic growth. And government policies, which once boosted the company, are now strangling it.
4) Cronyism May Have Lulled Investors and Creditors Into Overconfidence In Evergrande
Evergrande was founded by Xu Jiayin, who not that long ago was the richest man in China. Jiayin is well connected. He is a member of the Chinese People's Political Consultative Conference, an elite group of advisers to the government. He's also politically shrewd. For example, he reportedly got Evergrande to buy Guangzhou Football Club after President Xi Jinping said he wanted China to have a great soccer team. The company then sank millions buying some of the best soccer players in the world.
The New York Times suggests that Xu Jiayin's connections gave investors and creditors confidence that the company could keep borrowing and get bailed out by the government if things went bad. They thought Evergrande was too big and too connected to fail. In August, however, as the company began to wobble, Xu resigned as chairman of Evergrande's real estate arm, sending it tumbling further.
5) Evergrande may be just the tip of the iceberg
China's growth in recent years has depended heavily on a gargantuan expansion of real estate and all its accoutrements — trains, bridges and sewers. China has been building and building and building, creating lots of economic activity in the country. With Evergrande, that type of growth is finally showing itself to be unsustainable — and the Chinese economy is in for a period of turbulence. The weird part is this seems to be, in part, by design. We still have questions. How forcefully will China act to contain the damage done by Evergrande? Will China be able to successfully shift its economic model away from real estate and endless development? How will this shift affect the broader global economy? We'll be paying attention in future weeks.
Did you enjoy this newsletter segment? Well, it looks even better in your inbox! You can sign up here.
U.S. Commerce chief to push investment in domestic economy – Reuters
WASHINGTON, Sept 28 (Reuters) – U.S. Commerce Secretary Gina Raimondo plans to outline her vision for U.S. investment in its domestic economy and doing more to compete with China, in a speech on Tuesday.
"For America to compete globally, we must invest domestically − in American workers, American businesses, and American innovation," Raimondo will say at the Washington Economic Club, according to excerpts from the speech.
Congress is considering awarding the Department of Commerce tens of billions of dollars to extend broadband services to areas lacking high-speed internet and $52 billion to boost U.S. semiconductor chip production.
Raimondo's prepared excerpts say she will argue China's R&D spending requires a response: "We must expand R&D investments and move innovations from the lab to the marketplace at 21st century speed."
In a roundtable media interview Friday, Raimondo singled out China, saying it was dumping cheap steal and aluminum and not living up to a 2020 trade agreement to buy U.S. products.
"We are going to look to work with our allies to counteract China's anticompetitive behavior," Raimondo said. "That's a big difference between the last administration's approach and our administration's approach."
She said tariffs on steel and aluminum imposed by the Trump administration "worked" to increase U.S. production but said the national security tariffs imposed on allies was not "necessarily the right way to go…It was really irritating to Europeans and now we've got to, like, clean that up… The enemy of course isn't Europeans. The enemy is excess supply of cheap steel being dumped by China into Europe."
EU trade chief Valdis Dombrovskis said on Monday he was "moderately optimistic" that the U.S. and European Union could resolve their dispute over steel and aluminum tariffs.
Raimondo called efforts by the Trump administration to address data security issues surrounding TikTok "hamhanded and ineffective."
In June, President Joe Biden withdrew executive orders issued by former President Donald Trump that unsuccessfully sought to ban new downloads of WeChat, TikTok and other Chinese-owned apps and directed the Commerce Department to make recommendations by early October on how to protect U.S. data accessible by companies controlled by foreign adversaries.
Raimondo said "we're in the middle of the TikTok review" and added she was limited about what she could say.
She said the Biden administration is "very serious about protecting Americans' data" and is working with allies. "That's really hard work," Raimondo said. "Doing some executive order that's meaningless on TikTok is not the way to do it."
Reporting by David Shepardson; Editing by Raju Gopalakrishnan
Our Standards: The Thomson Reuters Trust Principles.