Bank of Canada to hold rates steady at 4.50% through this year
BENGALURU, March 3 (Reuters) – The Bank of Canada will keep its key interest rate on hold at 4.50% for the rest of this year, according to economists polled by Reuters, who said the bank was more likely to sound a hawkish tone on March 8 than dovish as inflation remains a worry.
A slowing housing market, weak business investment and consumer spending and data showing a halt to economic growth at the end of 2022 suggest 425 basis points of BoC rate hikes over the past year are starting to take hold.
With inflation heading lower, BoC Governor Tiff Macklem has said the central bank can now afford to wait and see before doing anything more but has made clear a pause is conditional on supportive incoming data.
All 32 economists polled Feb. 24 to March 3 expect the BoC to hold its overnight rate at 4.50% on March 8. A majority forecast the BoC to keep it there for the rest of 2023, despite several more rate hikes expected from the U.S. Federal Reserve.
"Our view is that having taken a pause at this meeting, the Bank of Canada will see enough reassurance the economy is slowing and inflation pressures are abating to keep rates on hold for the rest of the year," said Avery Shenfeld, chief economist at CIBC Capital Markets.
Interest rate futures pricing diverges from the Reuters poll consensus, showing an additional 25 basis point hike to 4.75% around mid-year. There was a divide amongst economists over where the rate would be by end-December with 17 expecting it to stay at 4.50%, 13 forecasting it to be lower and two saying it would be higher.
In the meantime, Canada inflation data are headed in the right direction. Inflation slowed by more than expected to 5.9% in January, although still well above the 2% target.
But the latest gross domestic product data showed the economy in a weaker state than forecast, generating no growth in the fourth quarter of last year compared with the BoC's own expectation for a 1.3% expansion.
"It's pretty clear the data have not surprised to the upside and therefore the bank should be comfortable and keep policy on hold," said Stephen Brown, deputy chief North America economist at Capital Economics.
"Well, the interesting thing could be in the tone of the statement," said Brown, who expects a hawkish tone.
All but one of 15 respondents to an additional question said policymakers are more likely to adopt a hawkish tone at the March 8 meeting than a dovish one.
That could be partly due to expectations the Canadian dollar may weaken in coming months as the U.S. Fed and BoC diverge with rate policy, raising the risk of imported inflation through the exchange rate.
"The Federal Reserve's continued rate hikes will eventually make their way into Canadian inflation through exchange rates…so that will certainly push the Bank of Canada to do more," said Shelly Kaushik, an economist at BMO Capital Markets.
Reporting by Milounee Purohit, Polling by Milounee Purohit and Mumal Rathore; Editing by Sharon Singleton
Sharp hike in federal alcohol excise duty will drive up price of booze, Ottawa distilleries and breweries say – Ottawa Citizen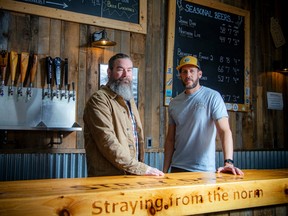 Article content
For Ottawa distilleries and breweries, April 1 each year brings, rather than jokes or pranks, increases in the federal excise duty they must pay. This year, the especially steep hike is no laughing matter.
Article content
The alcohol excise duties imposed on manufacturers are adjusted annually based on inflation. But while booze businesses have coped in recent years with two-per-cent increases, this year's duty is set to increase 6.3 per cent as of Saturday.
The result, Ottawa distilleries and breweries say, will be more expensive alcoholic beverages for consumers, including restaurants, bars and the general public, as manufacturers who are still coping with pandemic-induced pressures, are forced to recoup the latest additional expenses.
"It's pretty much a foregone conclusion that prices across the board have to go up. They have to," says Marc Plante, a co-owner of Stray Dog Brewing Company in Orléans. "It's not going to be, 'Boom! Here comes the increase,' and everyone's going to see it. It will be slow. It will be subtle."
Article content
Citing a press secretary for Finance Minister Chrystia Freeland and Canada Revenue Agency figures, the Canadian Press reported that the increased federal excise tax works out to less than a penny on a can of beer and three cents on a 750-mL bottle of wine.
Still, Plante says the beers his micro-brewery makes will be more expensive "eventually," although he can't when the hike will happen or how big it will be. Stray Dog, which launched in 2017, has held its prices stable for several years, absorbing increased expenses and even debts incurred during the pandemic, Plante says.
He compares his company's efforts to cope with COVID-19 to "a death by a thousand cuts."
"Unfortunately, there's only so much that small businesses like mine can absorb, and so we have to start passing some of those costs down to the consumers," he says.
Article content
On a litre of wine, the excise duty rate is increasing to $0.731 from $0.688, or a little over four cents, according to figures provided by the Canada Revenue Agency. For a 750 ml bottle of wine, the increase would be closer to three cents.
Plante says he feels sorry for consumers. "The way inflation is right now, consumers are the ones getting the hits the hardest," he says. Calling beer "one of the few pleasures in life," and adds: "When you start pricing that out of people's wallets, what do they have left?"
He adds that he feels worse for distilleries, who face a tougher tax regimen than do breweries and wineries.
"I would never get into that business," he says.
The Ontario Spirits Tax is 61.5 per cent on the cost of the goods. Given that, Adam Brierley, founder of Ogham Craft Spirits in Kanata, says that if he tries to recoup the extra 25 cents of excise duty per bottle imposed this year, he'll be taxed provincially for that effort and need to raise his prices again to break even.
Article content
"On the surface, we're talking about 25 cents a bottle, but there are ripple effects," Brierley says. "It's just another thing that continues to kick the industry while it's down."
The increased excise duty hits distillers even as the costs of bottles, labels, grains, botanicals and more are getting more expensive, driving down profit margins, says Brierley, who launched Ogham in late 2021.
He figures that he will maintain the prices of some of his products until the current batch is sold, and then re-assess. The price of upcoming products will increase, he says, giving the example of Ogham's maple eau de vie, currently priced at $60 but likely to rise by $5 or more due to the excise hike and the increased cost of maple syrup.
Article content
John Criswick, co-founder of Perth-based Top Shelf Distillers, says he intends to hold the line and not raise the price of Top Shelf's products "for now."
Still, he faults the increased excise duty for helping to increase liquor prices and, with them, inflation.
Brierley contends that while excise duty increases are pegged to inflation, he would have liked to have seen the federal government freeze the increase at two per cent, as in recent years.
Greg Lipin, a co-founder of North of 7 Distillery on St. Laurent Boulevard, says Canadian craft distillers as a whole want relief from the federal excise regimen, which applies equally to mega-distilleries and to comparatively much smaller operations such as theirs.
Article content
In the U.S., there's one rate for craft distillers and another for bigger players, "which is what we're looking for," Lipin says.
During its decade of being in business, North of 7 has not changed its prices, preferring to absorb tax hikes, Lipin says.
"I haven't entertained raising the prices of my products. But I will at some point, with these increases," he says.
Rod Castro, the owner of 10Fourteen and Pubblico Eatery, two Wellington Street West restaurants, said the spike in the excise duty should not be surprising, as it follows on recent reports on the negative impact of alcohol and revised recommendations for alcohol consumption.
Still, he says: "As is usual, the government fails to really show they have a care or have a pulse for small- and medium-sized businesses and burden us as they do the consumer."
Twitter source code leaked online: legal filing
NEW YORK –
Some parts of Twitter's source code — the fundamental computer code on which the social network runs — were leaked online, the social media company said in a legal filing on Sunday.
According to the legal document, filed with the U.S. District Court of the Northern District of California, Twitter had asked GitHub, an internet hosting service for software development, to take down the code where it was posted. The platform complied and said the content had been disabled, according to the filing. Twitter also asked the court to identify the alleged infringer or infringers who posted Twitter's source code on systems operated by GitHub without Twitter's authorization.
Twitter noted in the filing that the postings infringe copyrights held by Twitter.
The leak creates more challenges for billionaire Elon Musk, who bought Twitter last October for US$44 billion and has had massive layoffs since then.
The news was first reported by the New York Times.
Thousands without power after Ontario windstorm
More than 10,000 customers remain without power in Ontario today after strong winds hit the southern and eastern parts of the province on Saturday.
Hydro One spokeswoman Bianca Teixeira says more than 11,500 customers are without power as of 9:30 a.m.
She says there are more than 300 active outages and utility crews are working to restore power to customers.
The outages stretch from just outside Ottawa to Pembroke, Parry Sound and Kingston and are scattered across the Greater Toronto and Hamilton Area to parts of Niagara and westward to just outside Windsor.
Environment Canada issued wind warnings on Saturday for areas including Kingston, Prince Edward County, Niagara Region, Hamilton, London, Middlesex, Chatham-Kent and Windsor.
The agency said affected areas would experience strong southwesterly winds gusting up to 90 or 100 km/h beginning Saturday evening.
This report by The Canadian Press was first published March 26, 2023.