Banksy Margate Valentine's Day artwork has piece removed within hours
A Banksy artwork that appeared in Margate has been dismantled by the local council hours after the elusive artist claimed the piece as his.
The mural shows a 1950s housewife with a swollen eye and missing tooth, apparently shutting a man in a freezer.
The piece – called "Valentine's day mascara" by Banksy – had also incorporated a broken freezer and other items, which were all later removed.
A statement from Thanet District Council added: "A fridge freezer which is believed to have been part of the installation has been removed by council operatives on the grounds of safety as it was on public land."
Banksy published a picture of the work on his Instagram page on Valentine's Day morning, and many of the comments suggest he is referencing fighting violence against women.
The artist also posted pictures showing a close-up of the woman's smiling, but seemingly battered face.
The artwork also featured a variety of rubbish on the ground, including a broken white garden chair, a blue crate and an empty beer bottle.
The resident of the property where the painting was created, who asked not to be named, said the freezer and other items had been removed "very quickly" and put into a truck at midday on Tuesday.
Discussing how she felt about the removal, the tenant said: "I'm absolutely upset because it's not really nice. It was part of the art, they should be very happy because Margate could get bigger attention, positive attention.
"Why did they move those parts? It's just silly."
Referring to the council, she added: "Earlier, no-one was interested if the rubbish was on the street. I mean, they were, but not that quickly.
"Even if you report something to them about taking the rubbish, they are acting one or two weeks later, not immediately."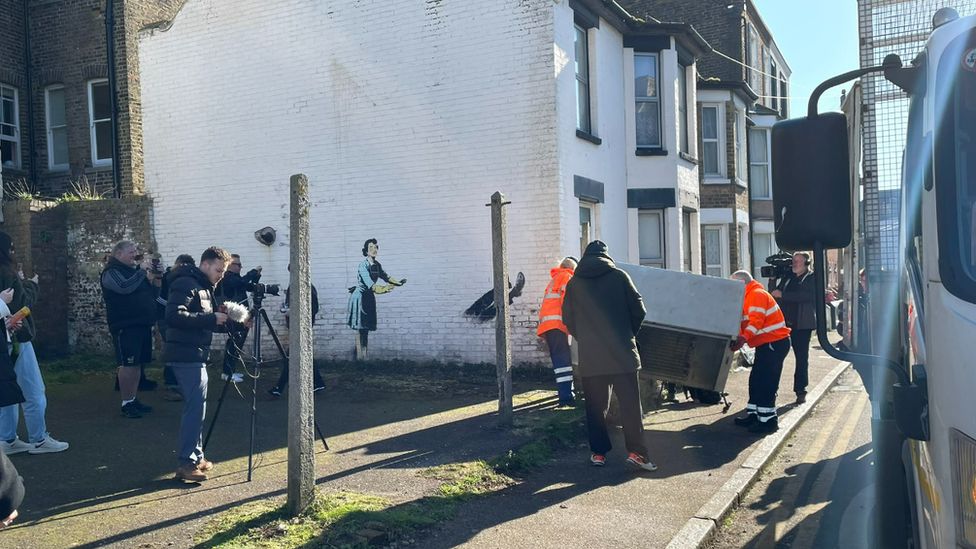 Many local Margate residents commented on the removal of the freezer on social media, with some accusing the council of spoiling the artwork.
Among them was Richard Llewellyn, who said: "The alley, a public footpath that leads almost to where the Banksy art piece is, has been like this for weeks and weeks. It's shocking what is in the pile.
"Yet the council can arrive as quick as anything to remove part of the artwork 200 metres away. Someone's priorities a little wrong me thinks."
Another comment said: "Probably been there for months….only became a health and safety issue once it became a piece of art."
The council said the fridge freezer "is now in storage and will be returned once it has been made safe to the public".
The statement added: "We will be contacting the owner of the property to discuss the options to preserve the artwork for the district."
Banksy has previously created artwork for Valentines Day, including a piece which appeared three years ago in Bristol, the reputed home city of the artist.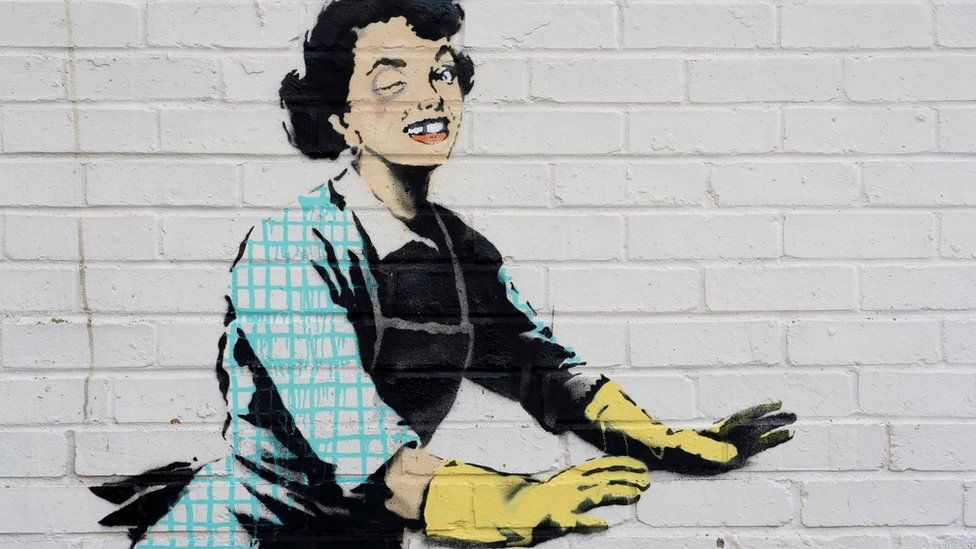 In December, Banksy created 50 screenprints which are to be sold to raise funds for a charity supporting the people of Ukraine.
The anonymous graffiti artist previously confirmed he had spent time in Ukraine after posting a video of an artist spray-painting designs in the war-torn country and speaking to locals.


Elton John lyricist Bernie Taupin to stage first UK visual art show – The Guardian
They are one of the most successful songwriting duos in pop music, but while the musician Elton John is the ultimate flamboyant showman, the lyricist Bernie Taupin has always preferred to be out of the spotlight.
However Taupin, who has been writing songs with John for more than half a century, will now take centerstage – as a visual artist – with his first UK exhibition taking place next month at the Iconic Images gallery in central London.
In a rare interview, he told the Guardian: "I'm by no means Greta Garbo, but I couldn't do the kind of things that he [John] does. He's probably one of the most identifiable characters in the world and it's tough to live in that bubble. I couldn't do that.
"He's absolutely exemplary at it, but I like to be able to go to the market on my own and go and get my coffee in the morning. I keep very much to myself. I'm a very private person. I don't enjoy celebrity that much," he added.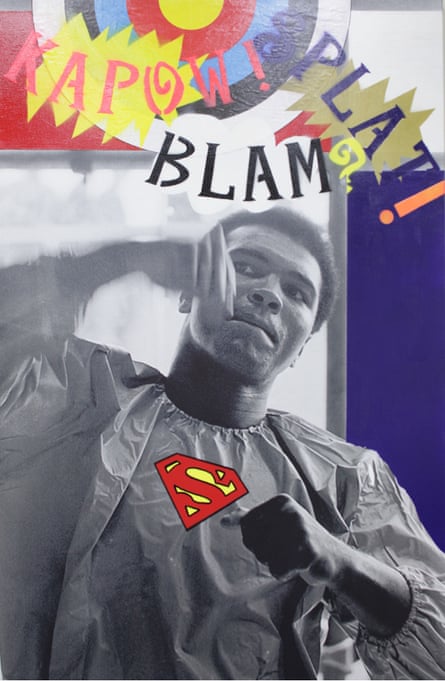 Art has been a lifelong passion for Taupin and, if he had not got lucky as a songwriter, he might well have pursued it as a career. The son of a farmer from Lincolnshire, he met John in London in 1967, after they each answered the same record company advertisement for songwriters. Taupin was 17 and could not write melodies, and the singer and pianist John – then still known as Reginald Dwight – was 20 and could not write lyrics.
They hit it off immediately, becoming the closest of musical partners, the lyricism of Taupin's words inspiring John's melodies. Their many classic songs include Rocket Man, Crocodile Rock, Candle in the Wind, Sorry Seems to Be the Hardest Word, Goodbye Yellow Brick Road and Daniel.
The duo have always written separately. Taupin says he has written dozens of new songs, but they are in an early stage and he has yet to show them to John: "Too early to say anything about that right now," he adds.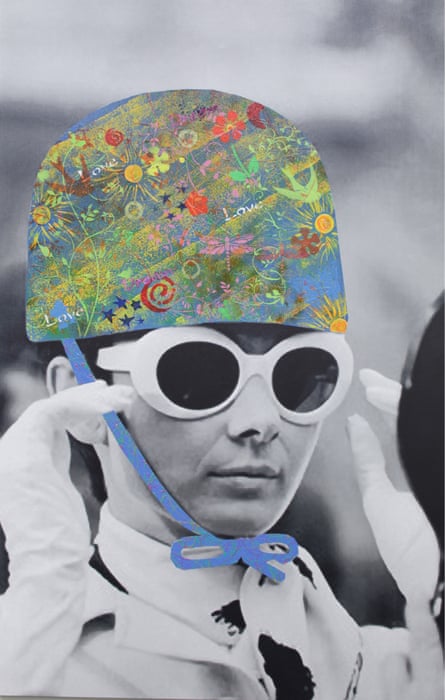 Since 1970, Taupin has lived primarily in the US, where he has had exhibitions of his abstracts and mixed-media pieces with found objects, among other works.
His show at the Iconic Images gallery is inspired by his friend, the photographer Terry O'Neill, whose shots captured the spirit of the pop and film worlds of the 1960s and 1970s.
Called Taupin and O'Neill: Two Sides of the '60s, the exhibition features 15 mixed-media paintings, each a pop-art reworking of one of the photographer's images of famous faces of the decade, including Audrey Hepburn, John Lennon and Queen Elizabeth: "The 1960s were very alive and colourful," says Taupin. "Times were changing rapidly and these were the people that were on the cusp of that change … They were the lights that burned brightest."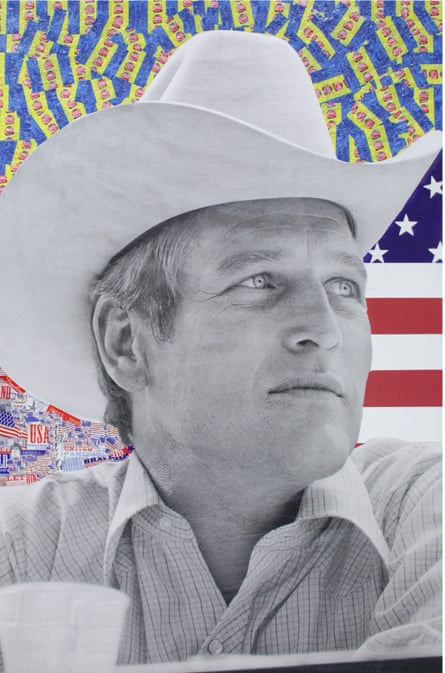 Before O'Neill's death in 2019, they had collaborated on the project, Taupin says. "[Terry was] very keen … We didn't really know how or when to present them. That's why they got pushed into the background for a while."
Discussing the reworked images, he said: "The portrait of Paul Newman, for instance, is a combination of acrylic spray paint and bubblegum wrappers … [With] the portrait of the Queen and Prince Philip, I took out the tapestry that's in the rear of them and filled it in with [a collage of] things that are wholly English [including Marmite and custard wrappers].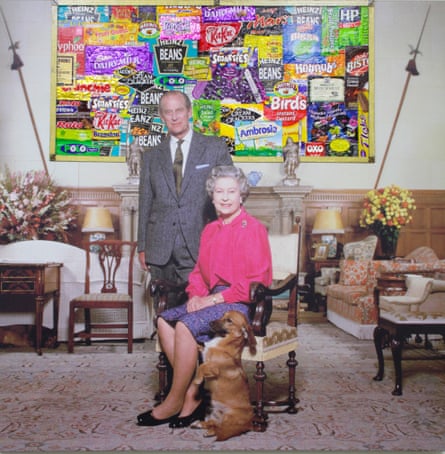 "The thing about this particular exhibition is it's all done in great good humour … Hopefully, [it'll] make you smile."
While Taupin speaks of feeling a "little gun-shy" about unveiling his work in the UK – "I'm always wary of how people react to things" – he pays tribute to O'Neill: "Terry was such a dynamic photographer … When you did a photo session with Terry – usually photo sessions are laboured and time-consuming – he made them fun. It was like having your picture taken by an East End barrow boy. He got the very best out of the best. You can see that totally in his work."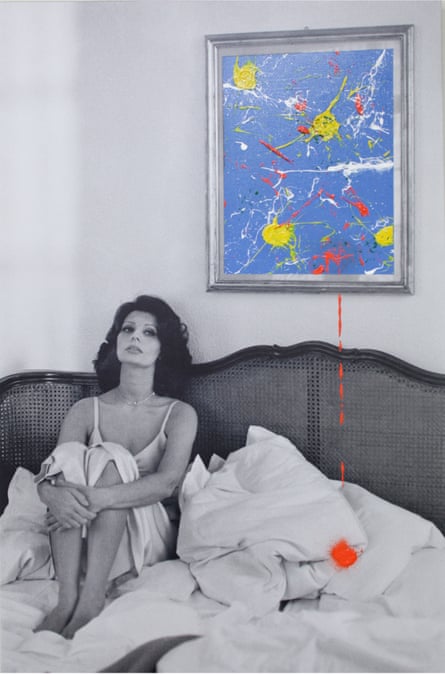 When Taupin is working on his art, he listens to music, everything from jazz to blues: "I'm not much of a pop guy."
He does not listen to songs that he co-wrote with John: "I think you have to be of a certain ego to sit around listening to your own."
20th century Japanese poster art – in pictures | Art and design – The Guardian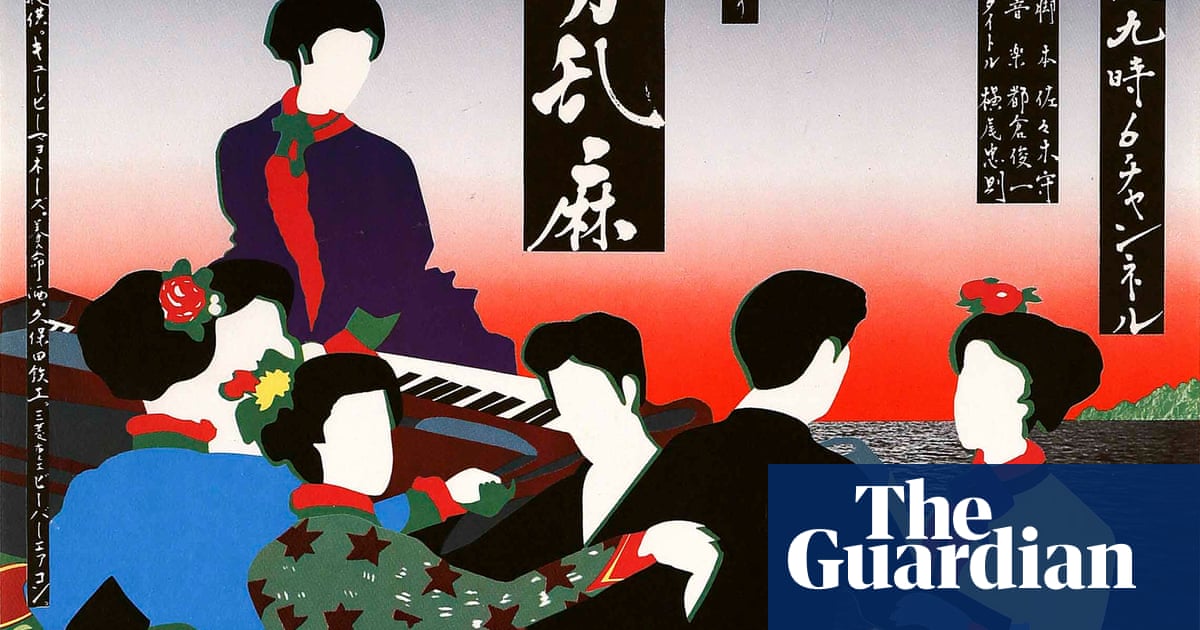 Petticoat Osen: A Tale of Forgetfulness, 1966, Tadanori Yokoo
This poster for Jōkyō Gekijō's performance of Petticoat Osen is emblematic of Tadanori Yokoo's playful and subversive approach to design. The bright hues and dynamic composition not only channel the powerful emotions, energy and bravado of Edo-period kabuki theater, but are also representative of an experimental artistic style that combines western imagery with Japanese motifs, symbols and photography, creating a synthesis between avant-garde happenings, consumer culture and everyday objects
Photograph: The Merrill C Berman Collection
Putin and his allies love buying art. To help us win the war in Ukraine, we should confiscate it – The Guardian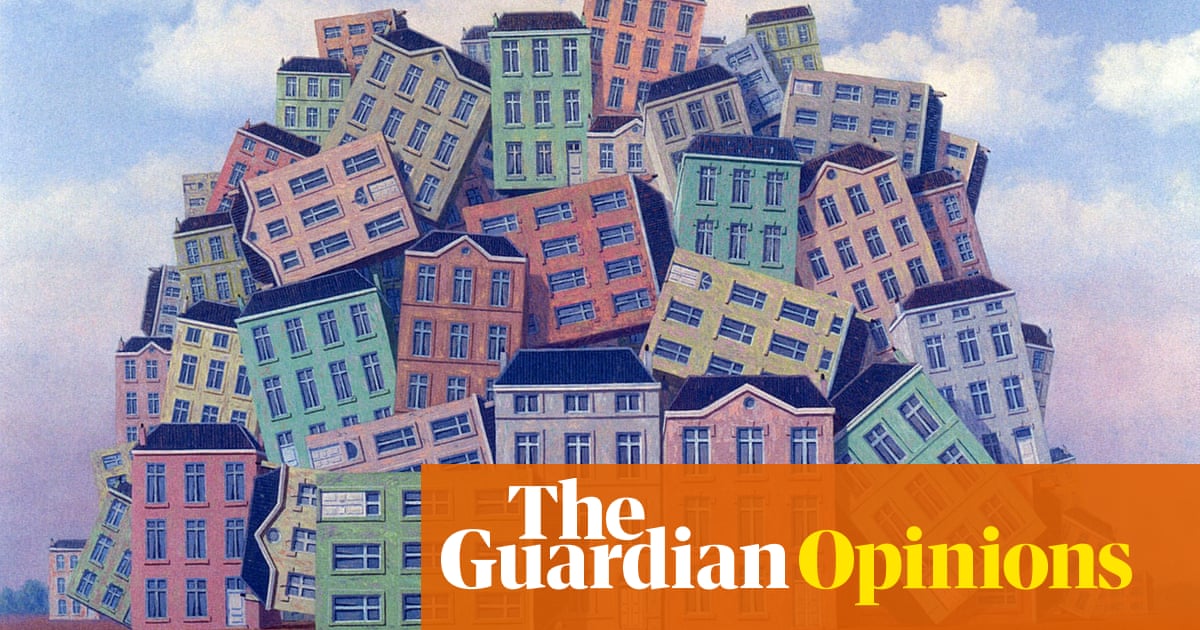 René Magritte, one of Belgium's most famous artists, was a leading member of the 1920s movement called surrealism, which sought revolution against the constraints of the rational mind. When describing his paintings, Magritte said they "evoke mystery" and strived to ask beholders: "What does that mean? It does not mean anything, because mystery means nothing, it is unknowable." I sometimes feel as if I am looking at a Magritte painting when examining Russians' ability to evade western sanctions policies.
Arkady Rotenberg, worth a reported $3.5bn (£2.9bn), is a childhood friend of Vladimir Putin. He used to be the Russian president's judo sparring partner, before progressing to become a rich businessman. Rotenberg has publicly claimed to own the $1bn so-called "Putin's Palace", a huge Italianate complex on the Black Sea coast said to be secretly owned by the Russian president.
In March 2014, Rotenberg was one of the first Russians to be hit with sanctions after Russia unlawfully invaded Ukraine and annexed Crimea. Yet two months after the restrictions were imposed, a complex web of shell companies linked to Rotenberg and his family was used to buy Magritte's La Poitrine for $7.5m at a Sotheby's auction in New York.
According to a US Senate investigation, the painting was shipped to a storage facility in Germany called Hasenkamp where it rested for five years. In August 2019, when the committee started investigating the purchase, the artwork was whisked off to Moscow. In its report, the congressional committee said the lack of banking regulations over art transactions was "shocking" and created an "environment ripe for laundering money and evading sanctions". It directed sharp criticism at auction houses and art dealers for doing little to screen or stop sanctioned people from trading art.
Since the full-scale invasion of Ukraine last year, some additional measures have been taken. The auction houses Christie's, Sotheby's and Bonhams cancelled sales of Russian art in London in response to western sanctions on the Kremlin and its wealthy cronies. But so much more could be done to tackle a notoriously opaque market which has been long favoured by Russian oligarchs looking to shift money around. After all, paintings and sculptures are easier to transport and hide than yachts and private jets, many of which have been seized over the last year. Art also provides oligarchs with a mechanism to launder their reputations – weaving themselves into such a gilded world provides cultural, social and political standing.
The arrival of the Russian super-rich in the art world was announced in May 2008 when Roman Abramovich, the then owner of Chelsea football club, bought Lucian Freud's Benefits Supervisor Sleeping for £17m at Christie's in New York. The next evening, he bought Francis Bacon's Triptych for £43m from Sotheby's. This largesse came one week after Putin flipped from Russian president to prime minister, extending his power beyond the two consecutive terms allowed under the constitution.
Leonid Mikhelson is the major shareholder in Novatek, a Russian gas company, and has done business with Gennady Timchenko, an oligarch who has been close to the Russian president for decades. Mikhelson was one of several oligarchs summoned to the Kremlin the day after the full-scale Russian invasion of Ukraine last year. He has been sanctioned since 2014. Yet during the same time period, Mikhelson's foundation has also had a presence in London's public art institutions, staging four shows at the Whitechapel Gallery between 2014 and 2018.
Western allies of Ukraine seeking to put pressure on the Kremlin over the war crimes extravaganza unleashed on Ukraine could ban sanctioned Russians from their prestigious art markets, including auction houses. More stringent regulations about beneficial ownership could be introduced, which would help to clean up the real estate market as well as the art world. An international taskforce should be established to recover priceless works of art looted from Ukrainian galleries and museums by Russian occupiers. And western authorities should confiscate pieces bought by sanctioned individuals and their proxies. The money should go towards the reconstruction of Ukraine.
The UK will not have to look far for such items. Two months after the war started last year, its authorities could have made a real statement. The Victoria and Albert Museum hosted a blockbuster Fabergé in London: Romance to Revolution exhibition displaying objet d'arts that the Russian jeweller sold to the British royal family and aristocracy at the beginning of the last century. In prized place was the Rothschild Fabergé clock egg from 1902, which includes a diamond-set cockerel popping out of the top every hour. The Rothschild egg had been bought at Christie's in London in 2007 for £9m by Russian businessman Alexander Ivanov. It was transferred to the V&A exhibition by Ivanov's Hermitage Museum in St Petersburg after receiving assurances from the UK that it would be exempt from seizure by the courts.
The egg was eventually returned to Russia months after Putin ordered his troops into a conflict in Ukraine that is increasingly defined by the deliberate targeting of civilians – in complete breach of all international laws.
Last week, the international criminal court in The Hague indicted Putin for the mass abduction of Ukrainian children and issued a warrant for his arrest. Given the current situation, it is unlikely that Putin will ever risk visiting a country that would honour the arrest warrant.
But another measure might have been taken to show the Russian president that the west means business. Some time after Ivanov bought the Rothschild Fabergé clock egg, he surprisingly decided to give it away. The ownership was transferred in 2015 to a Russian individual who was hit by UK, EU and US sanctions last year as Russian tanks rolled into Ukraine. His name is Vladimir Putin.
Vladyslav Vlasiuk is a sanctions expert working in the Ukrainian presidential office

Do you have an opinion on the issues raised in this article? If you would like to submit a response of up to 300 words by email to be considered for publication in our letters section, please click here.