BBC plan for regional hubs makes financial sense and is good politics for the government – The Conversation UK
The BBC is calling it a "blueprint for the biggest transformation in decades". The UK's national public service broadcaster has announced plans to move hundreds of journalists' jobs and some programme commissioning out of London, to strengthen both local reporting and the creative economy in the UK's nations and regions.
With hard questions about the BBC's long-term financial future being asked, it is one of new director general Tim Davie's big initiatives to win over a sceptical government that does not believe the BBC represents a balanced view of Britain.
Despite vibrant creative sectors outside of London, politicians have long worried the capital has too large a slice of the creative economy, with almost one in three creative jobs based there. But relocating posts means existing members of staff face uncertainty about the future.
The Conservative government has made it plain that it does not believe its supporters' views are given enough prominence by the broadcaster. It's a view that has been reinforced by recent opinion polling.
But Cardiff University research has discovered that, despite noisy criticism from the right, there is no evidence that the BBC's news coverage leans to the left. Indeed, one study found that during the Brexit referendum, politicians from right-wing parties were quoted five times as often as those in the centre or left of centre parties.
---


Read more:
BBC 'Brexit bias' claims need to be based on hard evidence


---
The BBC intends to use the drive to get out of London to better reflect the makeup and views of other parts of the UK. Too often England has been treated as the default setting. But just because BBC2's Newsnight is broadcast from Cardiff or Manchester a handful of times a year, does not mean that stories about viewers living in those cities are any more likely to get on air. Or – perhaps worse – there is a risk of clumsy, patronising stories being produced because London-based journalists on tour do not understand the nuances of local issues.
London calling?
One of the big questions that a regionalisation strategy must answer is: to what extent are the teams independent of the view from London? A programme that is commissioned locally and broadcast to a regional audience should be largely independent of London. A specialist team based in the nations or regions that is pitching stories to London-based programme makers will still have to take account of the view from W1A.
The big success story for regionalisation has been the development of the BBC's northern base at MediaCityUK in Salford. The move of BBC Breakfast, 5 Live and BBC Sport has breathed new life into the media scene in the north-west. But that success is often analysed in economic terms – the extent to which has it aided the regeneration of Salford – rather than in demonstrating plurality or diversity of views in news coverage.
After all – notwithstanding its success in recent years, BBC Breakfast has tended to follow a similar news agenda to other morning news shows that are based in London.
Economies of place
Senior editors at BBC News believe the regionalisation plans are a radical shake up that will use the best of BBC journalism across more broadcast and digital platforms and that will cut down on repetition.
The BBC has long faced criticism that it doesn't make the best use of its resources. All too often, different programmes have deployed their own teams to report the same story. Meanwhile some high-profile and well-paid journalists work exclusively for one programme. That's now unaffordable.
According to the consumer group Voice of the Listener & Viewer (VLV), since 2010 cuts have reduced the net public funding of the BBC's UK services by 30% in real terms. With BBC News cutting back on staff as it strives to implement a further £80m worth of cuts announced in January, there's a strong case for more sharing of content between different show. An interview recorded for BBC 5 Live, should be equally at home on Radio 4's Today programme. Gone are the days of programmes rejecting content just because it was made by a rival part of the BBC.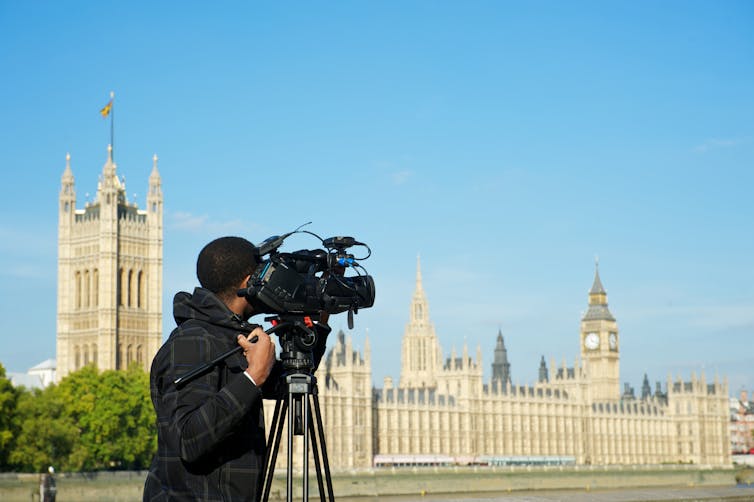 The COVID-19 crisis has made it clear that even traditionally newsroom-based journalists and production staff can work from home, meaning cost-cutting on offices is an inevitability. If guests can be interviewed via Zoom and viewers will accept lower-quality production values on-air, then broadcasters no longer need to maintain expensive regional studios and newsrooms.
A new culture?
ITV was established in the 1950s as a truly regional public service broadcaster, with franchises and bases around the UK. But during the pandemic, one senior ITV executive told me that its response to the crisis meant the company was getting out of the bricks and mortar business for good.
Journalists will have to come to terms with the culture change of working from either a large regional hub or from home. That is especially true for people starting out in their careers, as some older hands have pointed out.
A balance of risks and benefits then for the BBC in its move to push jobs and commissioning outside of London.
But there is one other big winner in all of this. The UK's government. The Conservative party's scepticism of the ongoing and future value of the BBC has meant that it has been able to strong-arm the Beeb into backing its "levelling-up" agenda.
For a party with an eye on both the post-COVID recovery and the election of 2024, there is a lot to be said for moving jobs and money to parts of the country that, perhaps surprisingly, backed it in 2019. That may just be the price for putting up with the status quo in BBC funding for another decade.
Why do Republicans want to punish Facebook and Google? That's not conservative. – USA TODAY
---
Don't use Big Government to hammer tech billionaires. Do harness their platforms to push for conservative causes like gun rights and charter schools.
Since when did it become "conservative" to punish private companies for being successful? In recent years, a bizarre and ill-advised frenzy has gripped the right, which has focused intense efforts on breaking up or otherwise hamstringing social media companies. Conservative groups and their dedicated donors have spent vast amounts of money on these anti-"Big Tech" efforts.
Meanwhile, this war on Silicon Valley is distracting the right from once-in-a-generation opportunities to tackle longstanding conservative priorities – in ways that would only be helped along by effectively using social media instead of lambasting it.
What has social media grievance politics yielded for Republicans? Florida Republicans tried to ax the First Amendment rights of tech companies to moderate content but were swiftly rebuffed by a federal judge. In Washington, swamp creatures are supposedly making plans to repeal the Section 230 protections for moderating online content, which would be a strange victory coming from the onetime party of tort reform.
GOP once stood for choice and growth
There also seems to be a buzz of general complaints that tech billionaires – who spend most of their time backbiting and trying to outdo one another, as the Jeff Bezos-Richard Branson space wars make clear – are somehow not competitive enough.
The reality is that these people create a product that Americans can choose to use or not use. And Republicans used to be the party of free choice.
Attacking American innovators and job creators is usually a tactic of the radical left. The right has traditionally criticized its political opponents for this sort of grievance politics, which do not allow space for growth-focused policies. To justify taxing successful Americans, the left's traditional playbook has been to vilify their success. Naturally, if you're preoccupied with slicing the pie, you're not focused on growing the pie. Republicans used to be the party of growth, too.
That's why the right's current sideshow struggle against Big Tech, which puts Sen. Josh Hawley, R-Mo., on the same side as Sen. Elizabeth Warren, D-Mass., makes so little sense. Instead of focusing on free choice for our citizens and economic growth for our nation, the right has made enemies of companies that specialize in sharing cat photos and vacation videos.
There are so many better things the American conservative movement could be doing with its time, by taking advantage of our post-COVID moment.
We need fair rules: Apple and Google totally control what you do on your smartphones
The pandemic saw a major surge in starting small businesses, which are key job creators and drivers of economic growth.
That's hundreds of thousands of Americans who will, for the first time, butt up against brazen bureaucrats, unrelenting regulations and a torrent of blood-sucking taxes from federal, state and local authorities. This should be a treasure trove of new conservatives, the vast majority of whom also use social media to promote their businesses and sell their products. But they won't flock to the GOP if they hear confusing anti-growth messaging that vilifies the online tools they use to promote their businesses.
Conservatives are a diverse group
Meanwhile, the debate over the Second Amendment shows no signs of slowing down, and it looks like conservatives are getting some new recruits. Online surveys of firearm retailers by the trade association National Shooting Sports Foundation indicated that in the first four months of 2020, 4 in 10 pandemic first-time gun buyers were women, and gun purchases by African Americans in the first six months of last year were 58.2% higher than the same period in 2019.
These demographics suggest that pro-gun rights Americans are a lot less "pale, male and stale" than previously thought. But these folks also use social media to share their photos from the shooting range, so why make them feel like "bad conservatives" for doing so?
Left-to-right mistake: Sen. Josh Hawley isn't a censorship victim, he's a free speech menace
We may also be on the cusp of major education reform. Education Week reported in late June that over the pandemic, America's public school systems lost more than 1.4 million students, noting the "loss was spread out across the nation, touching almost every demographic group and concentrated in lower grades. It will likely have academic, financial and staffing repercussions for years to come."
With alternatives like charter schools looking better and better, and teacher unions drawing ire from even liberal parents for holding up a return to normalcy in classrooms, parent groups should be organizing (on sites like Facebook) to take these issues on.
It's often easy (and even cathartic) for conservatives to join in the ritual pillorying of some group that you may find annoying, like tech billionaires who, in their personal politics, do lean to the left. But if the American right stopped and took a collective breath, they'd realize that sticking to their tried-and-true message of free choice and pro-growth policies – and focusing on issues that matter, like small business freedom, gun rights and education reform – are a much better recipe for success than using the hammer of Big Government to give the likes of Mark Zuckerberg and Jeff Bezos a black eye.
Bret Jacobson is the co-founder of Red Edge, a digital advocacy agency for conservative and center-right causes. Follow him on Twitter: @bretjacobson
Paul Quassa quits Nunavut legislature after 40 years in politics – CBC.ca
Nunavut Speaker Paul Quassa has resigned from his role as MLA for Aggu.
The news was first reported by Nunatsiaq News. Quassa confirmed his resignation to the CBC and said he is done with politics. He said he's been thinking about the decision since the spring.
"I really cherish the time that I spent [in] my life here at the Legislative Assembly," Quassa said.
"I knew that I could do at least two terms. And once … that term is up, I think it's high time that we see somebody else there. And I have great confidence in in the next person that's going to be elected."
Quassa was elected as the Nunavut premier in 2017, but was ousted in 2018, though he continued in his role as MLA for Aggu.
He said he stayed on because he made a commitment to represent his community.
"No matter what happens, you just continue, keep going because you were elected … you're representing your community. You cannot just stop there just because the other MLAs don't agree with you," he said.
His resignation, which will be effective as of Aug. 13, comes just shy of the end of his term, with Nunavut's general upcoming election scheduled for Oct. 25.
Quassa said he wanted to give others the chance to be in leadership, and in particular, he encouraged young people to step forward and consider the opportunity of running for MLA.
"I thought this would be the right timing after talking with my family and my constituents, that it would be only right for me to step down and give other opportunities," he said.
"I believe that our young people should really go for it, because again, we have to remember that at least 60 per cent of our population is under 25. So, you know, that's a big population to represent. And I think it is high time that we start getting new ideas, new challenges, and then young people can make that difference."
Though he didn't say specifically what he plans to do next, Quassa hinted it might be something in the public sphere.
"I'm looking forward to do something else where I can speak my mind on behalf of Inuit and Nunavut," he said.
N.W.T. Métis activist remembered as unfiltered politician, caring friend – CBC.ca
A leading figure in the Northwest Territories Métis community has died.
Clem Paul passed away on July 30. He was 64.
During his entire adult life, Paul was a champion of Métis rights in the Northwest Territories, specifically in the North Slave region. He is a former president of the old Yellowknife Métis Council and one of the founding leaders and a former president of the North Slave Métis Alliance, which was formed when three Métis groups in the North Slave region merged.
Trevor Teed was a friend of Paul's since they were Grade 1 students in Yellowknife.
"Quite often in life you'll hear somebody say in times of trouble, 'I sure wish I had a friend to lean on' or 'I sure wish I had a shoulder to cry on' — something like that," said Teed. "That's an experience I have never felt … because I always had a friend, Clem. He was always there for me."
In 1991 Paul was awarded the Governor General's medal of bravery for hauling Teed out of the frigid waters of Harding Lake. Teed and another man, who perished in the accident, had gone through the ice on their snowmobile. Paul used his gun case to paddle his sled out across 30 meters of open water, pulled Teed in, and paddled back to solid ice.
Teed said Paul was someone who spoke his mind, regardless of the effect his words had on those they were directed at.
"Clem was involved in politics but he wasn't really a politician because he was point blank," said Teed. "He often told people things they did not want to hear. If you were working with Clem on a project he was engaged in and weren't putting in the effort he thought was warranted, he'd let you know about it."
Taking time for strangers
Paul's softer side was evident one of the first times I met him. On a paddling trip about 20 years ago, I stopped into an area on Great Slave Lake known as Old Fort Rae or Mountain Island, once a thriving community. My paddling partner and I were surprised to find a group of men building cabins there in the sweltering August heat.
They were led by Paul. He stopped his work and explained to us that they were revitalizing the community to re-establish it as a base for Métis in the region. Paul then told us about the history of the place, how it was an ideal location for a settlement because you could dock on either side of the peninsula, depending on which way the wind was blowing.
Paul spent the next hour giving us a tour of the remnants of the community and talking about the history of Métis in the area. He showed us where those who lived in the community were buried and talked about his plans for the place. He was obviously very busy, but took the time to show around two strangers.
Youngest certified journeyman welder in N.W.T.
Alongside his political activities, Paul initiated several high-profile court cases aimed at asserting and protecting Métis rights in the region, but his sister, Kathy Paul-Drover, said he was also very much a working man.
When he was 18, she said, he became the youngest person in the N.W.T. to be certified as a journeyman welder. He helped found Paul Brothers Welding, a longstanding Yellowknife business.
Paul-Drover said her brother got his work ethic and strong-willed nature from their mother, the late Theresa Paul.
One of Clem's first political experiences was seeing his mother fight off an attempt by the City of Yellowknife to evict their family and others in a small Métis community that had settled in the School Draw Avenue area. The attempt happened in the mid-60s, shortly after Yellowknife was named the capital of the N.W.T.
"We had a fairly big Métis community here in the School Draw and she was the only one that maintained title to her land," said Paul-Drover of her mother.
A difficult year
Paul-Drover said the past year has been difficult for her brother. He had fought off an earlier bout of cancer, but it returned.
"He was in and out of hospital for months, and with all of the restrictions with COVID he wasn't able to see his grandchildren or children," said Paul-Drover. "That was very difficult for him. That's why he and his wife decided he should go home from the hospital despite not being able to take food or water. He was home for two days and he passed."
A service will be held at the Yellowknife River on Thursday starting at 2 p.m. with a final viewing held shortly before. The gathering will then move to Lakeview Cemetery for the burial. Then it will return to the Yellowknife River for a celebration of life.